SACKETS HARBOR — The quilt creations of Mary B. Knapp contain reflections of the north country: bird migrations, waves, flora, fauna, toads and more.
Textures and shapes help to add sparkle to her creations as are the details not evident at first glance.
"That's part of the fun of doing it, to draw the viewer in beyond the 'I like that color,'" Mrs. Knapp said.
Mrs. Knapp will be one of the featured artists at the annual Sackets Harbor Quilt Show Friday to next Sunday at locations throughout the village of Sackets Harbor. A 6 p.m. reception on Friday at the village municipal building will kick things off.
Mrs. Knapp's "Patterns in the Wild" show will be at Hay Memorial Library, 105 S. Broad St. She will host a related lecture, "Patterns in the Wild," at 2 p.m. Saturday at the library.
"I'll treat it as a trunk show with many pieces to be passed around as I explain the design details," Mrs. Knapp said.
Her works at the exhibit explore transitions and the environment along the St. Lawrence River and Lake Ontario shorelines.
Works by M.C. Escher, celebrating the "metamorphosis of art and life," helped to inspire Mrs. Knapp's latest quilt art series.
The Dutch artist Maurits C. Escher (1898-1972) worked primarily as a printmaker, but also was a draftsman, book illustrator, tapestry designer and muralist. The National Gallery of Art says he was known for his "mental imagery," often based on theoretical premises.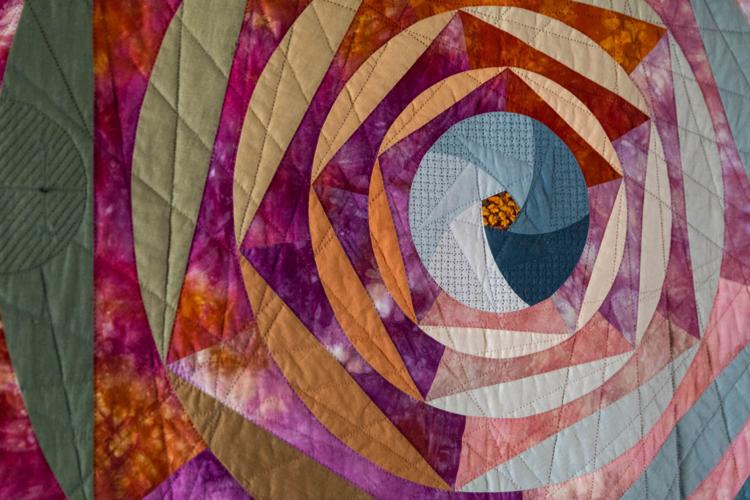 Mrs. Knapp is a retired Watertown High School biology teacher, but she has a mind for math, which she also infuses into her quilts.
"I've always liked the precision of math," she said.
Mrs. Knapp's works have been featured in various exhibits, including "Higher Mathematics and Traditional Patterns: The Quilts of Mary Knapp" in 2009 hosted by Traditional Arts in Upstate New York in Canton. In 2013, C&T Publishing released her book, "Star Quilts," which explores how quilters can create stars by using a grid system with no complex calculations.
In 2005, Roger Cooke, the author of "The History of Mathematics — A Brief Course" was so impressed by her work that he put a photo of one of her quilts on the cover of his book.
Mrs. Knapp's quilt subjects range from wildlife and landscapes of the Thousand Islands to precise, complex geometric patterns. She has collaborated with area artists Scott Ouderkirk and Greg Lago to perfect a technique of hand-dyeing fabric and hand-inking it with carved stamps reflecting nature scenes. The inking of individual patches is done before the pieces are joined together.
After all the pieces are joined together, Mrs. Knapp continues to add quilting texture using her home sewing machine.
"The quilting is dynamic and unplanned, usually incorporating many organic shapes," she said.
At the quilt show, she said she'll have on display "some intricate designs and some very simple designs."
"If I had to describe it, it's beyond the tessellation, it is shapes, but also the color and texture," she said.
When Mrs. Knapp creates a quilt, she begins with what she calls a "blank slate": a piece of white fabric. She said she then "begins to play."
She begins with shapes, her "mathematically precise" building blocks, and revels in the use of color and texture.
"The texture kind of polishes it off," Mrs. Knapp said. "You're going by two senses, the sight and the touch. I always invite people to touch. The pieces that I've made are used. I have kids, grandkids and a dog, so everything I do has to be user-friendly."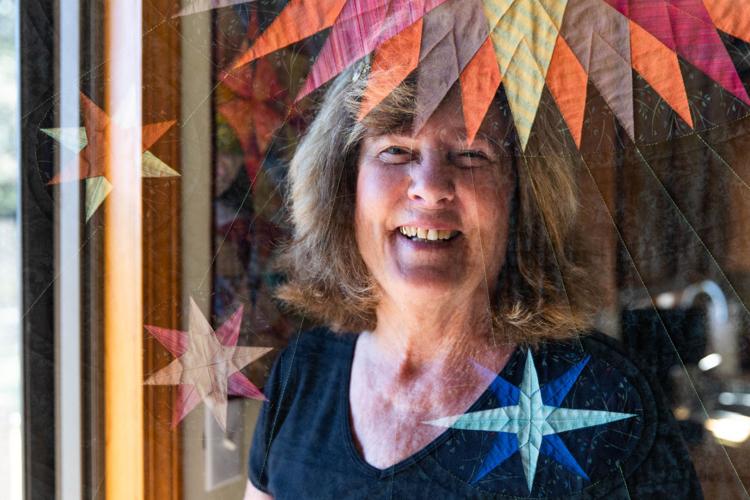 OTHER QUILT SHOW HIGHLIGHTS:
A community heritage exhibit of utility and decorative quilts will be on display at the village's municipal building honoring local quilters and family traditions along Lake Ontario. It will be open during Friday's preview reception and during regular show hours of 10 a.m. to 5 p.m. Saturday and 10 a.m. to 3 p.m. next Sunday.
"Log Cabin Fever" at the old Union Hotel
With the same hours as above, this will involve a quilter's challenge sponsored by Sew Crazy Fabric Shop in Glenfield and voting for awards. Quilts will line the hallways of the building.
Quilt appraisals by American Quilters Society-certified appraiser Linda Hunter at the old Union Hotel. Appraisals are by appointment: noon to 4 p.m. Saturday and 10 a.m. to 2 p.m. on Sunday.
Mrs. Hunter will also be available to discuss vintage and contemporary quilting.
Barn quilts
Also at the Union Hotel, Marina Loew will present a one-person show and discussion of silhouette and cut-paper construction, highlighting barn quilts. She will host a program at 1 p.m. Saturday and doing demos during regular show hours.
The Sackets Harbor Visitor Center will host several rooms of art with its "Patchwork Painting" show and sale by the Arts Association of Northern New York.
Stone Houses
Authors of "Stone Houses of Jefferson County," published in 2015, will be on hand at the visitor center for informal talks during regular show hours.
Talk and exhibit
At 1 p.m. next Sunday at the Sackets Harbor Ballroom, quilt enthusiast Louise Tiemann will have a gallery talk about and exhibit on "Building on the Foundations of Log Cabin Quilts." The exhibit will be featured Sunday only, from 10 a.m. to 3 p.m. Log cabin quilts are made of arrangements of a repeated single block pattern.