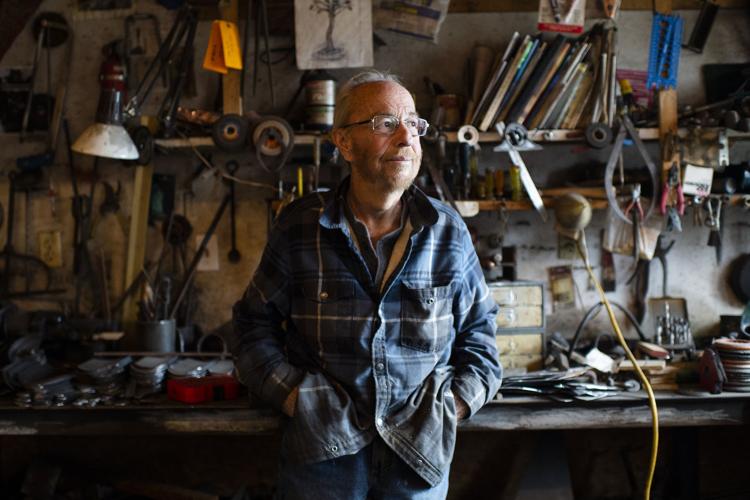 FISHERS LANDING — For all the symbolism linked to crows, three distinct ones — intelligence, flexibility and destiny — are being forged in the jumbled, creatively cluttered workshop of artist William Salisbury in the hamlet of Omar.
Mr. Salisbury, a multi-faceted social commentary artist, is best known for his "Three Crows," located on his property and behind his workshop on the west side of southbound Interstate 81 in the town of Alexandria. Other popular public creations include "Breaching Muskie Monument" at Clayton's Frink Park.
Last year, home owners on Comfort Island commissioned Mr. Salisbury to create three crows for their estate in Maryland. The new crows, taking shape in the workshop, have much more detail, highlighting the skill of the artist who, realizing his own destiny, sees his energy ebbing and his days as an artist ending.
"It's basically my last hurrah," Mr. Salisbury said. "I've been depleted physically; hugely lately."
He sees the crows as something like bookends to an artistic career that began in the mid-1960s in Syracuse carving images of Ethiopian famine refugees in his family's cellar using plaster pillars. A series on Haitian boat people soon followed.
He didn't attend college and almost didn't finish secondary school.
"I went to the school of life," Mr. Salisbury told the Times in 2019.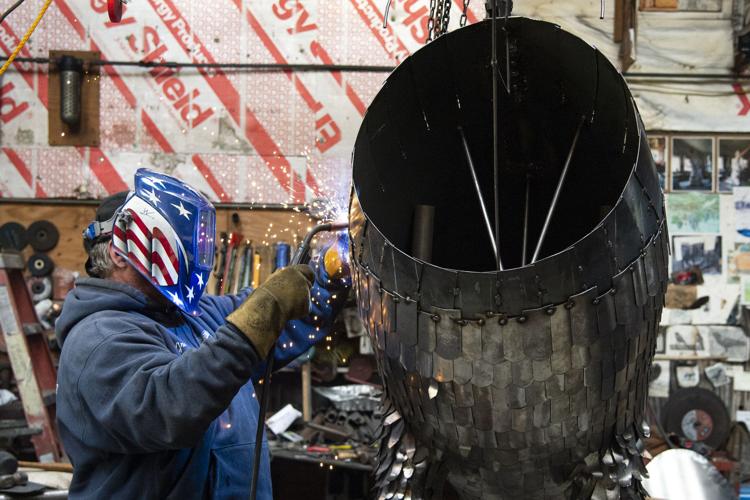 For months, a literal retrospective of that life as an artist has been taking shape at the Thousand Islands Arts Center in Clayton. The exhibition "Will Salisbury, Sculptor, a Retrospective," runs from July 18 to the end of August, with an opening reception July 22.
"It's really extraordinary," said Leslie W. Rowland, TIAC's executive director. "His breadth of talent is far reaching. I've been at the center for almost eight years and I cannot think of an artist who does as many different mediums as Will does, and so well. We're not talking about someone who draws a picture one day and paints the next day. This is serious work in a vast collection. He's really quite prolific."
One of his works, installed in 2016 as a weather vane on an island home in the form of a life-sized bear, sparked his new crow project.
Stephen Brown, executive vice president of programming and development at Fox Television Stations, purchased the 1883 Victorian home on Comfort Island in 2013. The home, which faces Boldt Castle, is one of three homes on the island. Mr. Brown began its restoration with partner James Hoff, who works at Warner Bros. in its intellectual property management division.
The pair would drive by Mr. Salisbury's "Three Crows" off Route 81 and the scene got them to wonder who created the birds. They asked around and discovered Mr. Salisbury, who was commissioned for the weather vane project for their island home.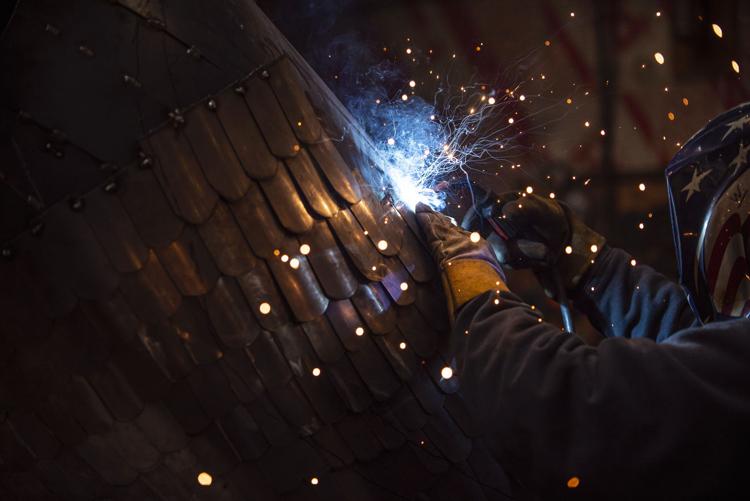 "He and I got together and came up with the design of the bear," Mr. Brown said in a phone interview from his residence in Los Angeles.
Mr. Brown, who previously owned the production company Brown Bear productions, wanted the bear to appear reaching for the sun.
"I've always loved bears, and that's in the same way that Jim really likes crows," Mr. Brown said.
The bear/weather vane is 7 feet tall and weighs 700 pounds.
"And it spins in the wind," Mr. Brown said. "They talk about it on the boat tours and come up with funny stories about what it could possibly mean."
Victorian cottages, Mr. Brown said, traditionally have "follies."
"That's what I think of the giant weather van as a bear — a folly," he said. "It's perfect for that style of architecture."
Mr. Brown is amazed at the detail that Mr. Salisbury worked into the bear.
"If you went and saw the bear up-front, you could see that there are thousands of individual pieces that have been soldered on to create the effect of fur," he said. "And it's the same thing with the (new) crows. It's minute pieces, because he knows that people are going to see that up close."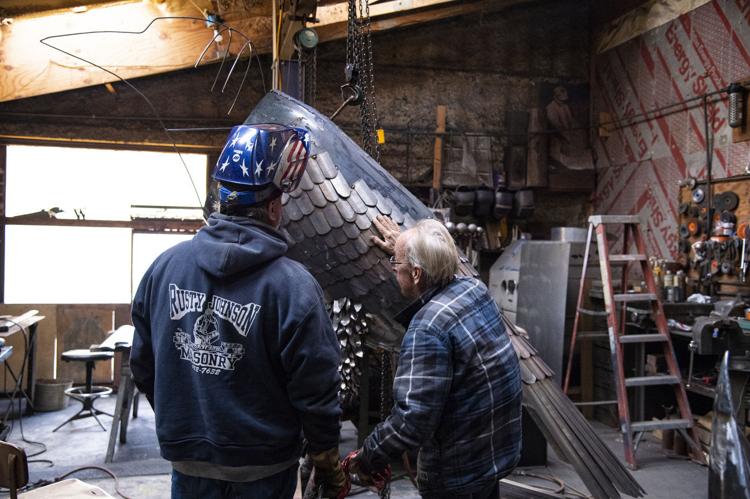 The crows are bound for Cambridge, Md., and the home owned by Mr. Brown and Mr. Hoff. The residence, built in 1760, is a Federal style structure listed on the National Register of Historic Places. Earlier this month, it was on the Maryland House & Garden Pilgrimage.
The three crows are in different poses. The tallest reaches 7-feet.
"We worked with Will again on the design and how they should be," Mr. Brown said. "One has its wings up like it's landing, one has its claw on a walnut and the other is just kind of looking around, keeping guard."
Crows, Mr. Brown said, can signify great change coming up, an aspect that was Mr. Salisbury's inspiration for his crows off Route 81, installed on the eve of 2000, when many people were nervous about the arrival of the new millennium.
"We're both looking toward our retirement," Mr. Brown said of himself and Mr. Hoff.
Mr. Salisbury has had assistance with his new crow project by relatives Nolan and Greg Irvine along with Tyler Baitz and Skip Keszler. The crows took shape from 16-and-14-gauge flat sheets of steel.
"I do a lot more pointing than actual work these days," Mr. Salisbury said. "But it's fun getting together, and I really hope it'll be another success."
In 2018, Mr. Salisbury seriously returned to work after treatment for throat cancer. He lost muscle mass and several pounds. Earlier this year, he spent three weeks at Upstate Medical University in Syracuse while being treated for pneumonia. Other ailments include neuropathy and an injured back.
"I had a rough time getting it going because certain things were happening," Mr. Salisbury said. "There were lots of pressures, but we did finally get it going. All the hiccups had to do with me mostly, self-imposed."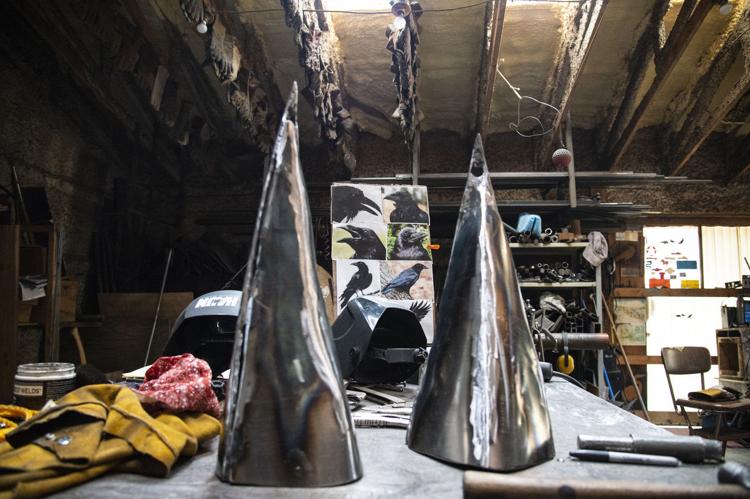 The crow clutching the walnut was 90 percent complete when his pneumonia struck.
"I was still managing to get a lot done, all the welding under it," Mr. Salisbury said. "I was the only one who could fit under there. It was a real challenge, but we get her done."
The three crows will be installed in Maryland sometime in the fall.
"We're not in any hurry," Mr. Brown said of the exhibit, which will be on the 3 acres of Glasgow. "It needs a space that allows them to be seen and discovered."
One of the crows, Mr. Salisbury said, will be set up at his retrospective exhibit at the Thousand Islands Arts Center this summer. Later, all three will be trucked to Hubbell Galvanizing, Utica, which uses a hot dip process that metallurgically alloys zinc to steel.
Mr. Salisbury was interviewed a few weeks ago when the birds were getting layers of feathers.
"It's quite a process," he said. "It's a ton of feathers. We don't even have a close count. They're still making feathers."
Beaks were also being made and the eyes of the crows are glass, 2½ inches in diameter. Such detail is partially why Mr. Brown and Mr. Hoff sought out Mr. Salisbury for their crows.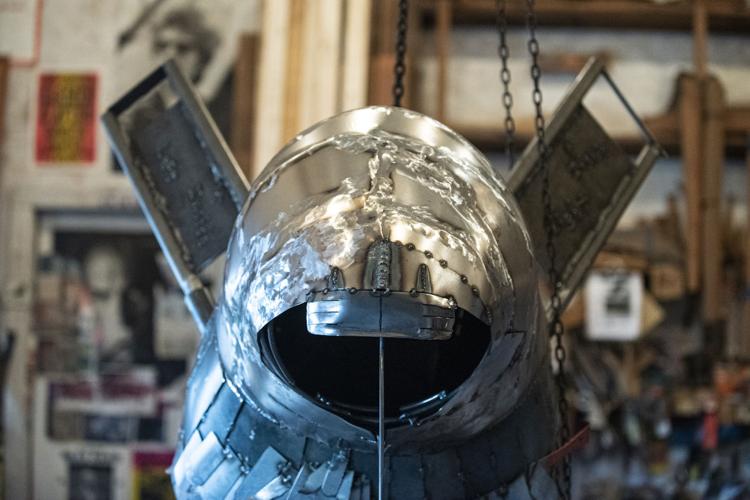 "He's so collaborative, and so imaginative," Mr. Brown said. "And to take what was just an idea and to do it in a drawing and then execute it into something that is so massive? That's the thing with Will. Nothing's small. Everything's over-sized, which I love."
The scope of the upcoming retrospective exhibit at TIAC is also massive. The reception will be outdoors, under a tent. Ms. Rowland said exact details of the exhibit were still being worked out, pending the status of the coranavirus pandemic.
"Pre-COVID, we were expecting several hundred people," she said. "It's hard to know now, but it will be outdoors, which I feel will make people feel a little more at ease."
The artwork of Mr. Salisbury will be outside and inside the TIAC.
"Most people know him for the crows and some of the other larger-than-life pieces," Ms. Rowland said. "But he's also talented in many other ways. His wood carvings are beautiful."
Mr. Salisbury is also a writer, and he anticipates doing more of that craft.
In June, Rochester photographer and seasonal Thousand Islands resident Richard Margolis will self-publish a book about Mr. Salisbury. The book will include 160 photographs with essays and stories by friends and colleagues of Mr. Salisbury.
Mr. Margolis said he met Mr. Salisbury by chance at Swan Bay Resort in Alexandria Bay.
"He was installing the Crows along Route 81 at about that time and I am pretty sure I had seen them as we drove back to Rochester," Mr. Margolis said of him and his wife, Sherry.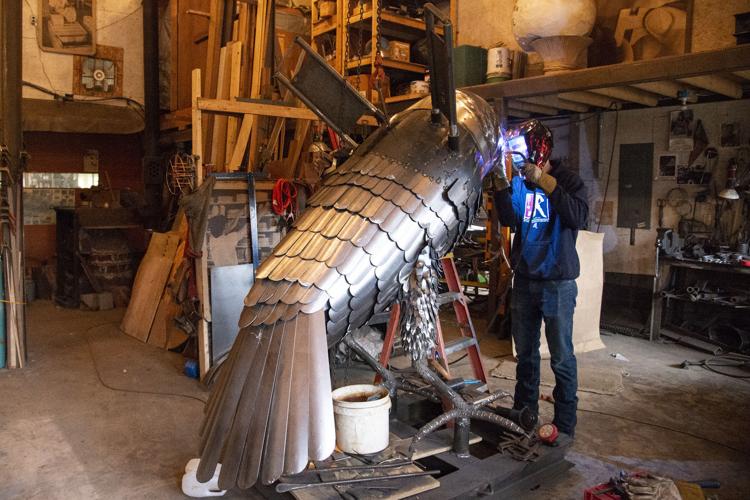 "Initially I thought it would be a picture book, perhaps with captions, but then I began hearing stories from Will's friends," Mr. Margolis said. '"I found that each of Will's sculptures have stories attached and that there are people willing, actually eager, to write about them."
"Even after all these years, he does not slow down and coast on his accomplishments,"Mr. Margolis said. "That's the story I want to tell."
But Mr. Salisbury will tell you that the latest chapter of his story does indeed involve a plot line of slowing down.
"Thirty years ago, I did some crows and 30 years later I'm finishing up with some crows," he said. "It seems to bring it all back around."
The six crows are linked by coincidence, but also something more for Mr. Salisbury.
"Crows are heralds of change," he said. "They know something is afoot."