NORWOOD — Finen Maple products and Elite Events by Lenny have combined efforts this year to host the Devil's Cove — a mile-long haunted trail in the woods at 529 Austin Ridge Road.
The event is a fundraiser for the Potsdam High School Drama Club and nearly 30 of the club's members will be providing the scares as people make their way through the trail.
It is not for the faint of heart.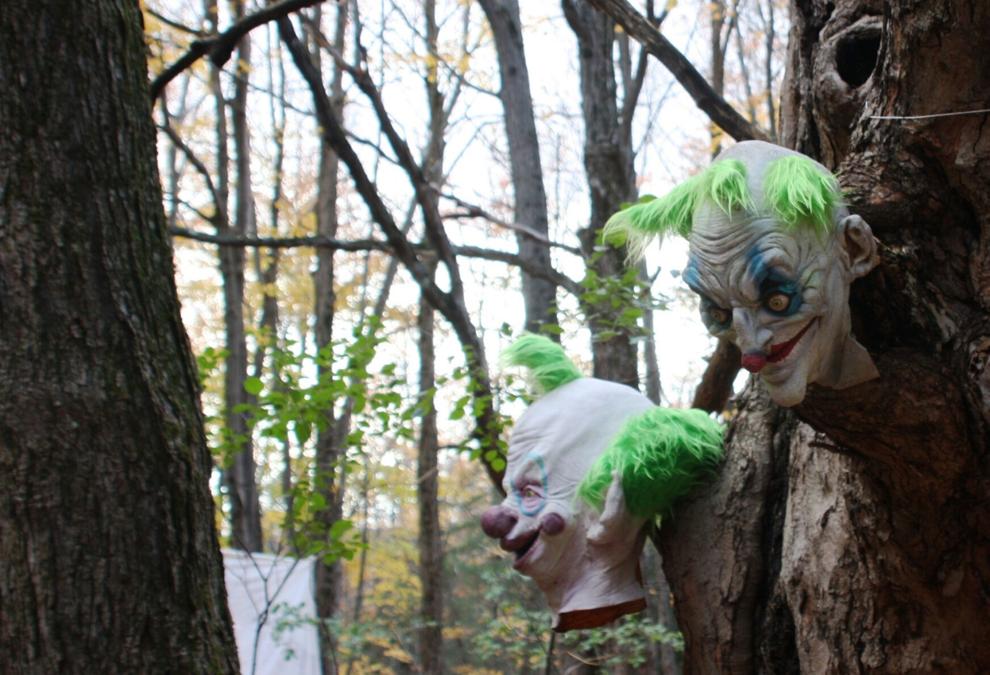 "It's not something that you couldn't bring a 13-year-old to," Margaret Finen said. "We're just not recommending it. But, some people have 13-year-olds that aren't afraid of scary movies. But, it is not R-rated."
Leonard Nesbit of Elite Events by Lenny has designed several scenes, all dramatically designed to elicit feelings of dread in participants. The organizers don't want to talk about too many details because suspense is key to the experience.
"Once you start messing with people's senses with lighting, with darkness and you mix it with the unknown, that's where we are looking to toy with people's minds," Mr. Nesbitt said.
On Saturday, an hour before the first visitors would wander down the trail, a dozen or so students were putting on their costumes and getting their makeup done by Tia Bush. Ms. Bush normally does wedding makeup.
"'Tis the season," she said as she turned one kid after another into a sallow and creepy monster.
Saanvi Dahniyala, a junior at Potsdam High School, was being made up as a broken China doll.
"I think I am just supposed to walk around and look dead," she said.
Traversing the mile-long trail will take between 20 to 30 minutes, Mr. Nesbit said. The twisty trail takes visitors through several scenes with plenty of surprises and nightmarish scenes.
Mr. Nesbits's design company gained experience in scaring people by running the haunted house at the St. Lawrence Center Mall in Massena. This is the first time Finen Maple Products has gotten into the scaring business.
The fundraiser for the Drama Club is sponsored by Adirondack Energy and Lake Ontario Reality in Chaumont, Jefferson County. The cost is $10 per person.
The Haunted Trail is open from 6:30 to 9:30 p.m. on Oct 24, 30 and 31.
In addition to the haunted trail, there will be a bonfire, hot apple cider, hot dogs, hamburgers and other fall treats available.
Participants will be expected to wear masks and abide by social distancing rules. Temperatures will be taken before and a liability waiver will need to be signed before entry.