Once fading into a grim reality, bald eagles have returned to the United States — in force.
Through a series of lenses — the pair framed by his glasses and the convex-concave layers affixed to his Nikon camera — William B. Straite sees what no one else can.
With cameras clipped to a chest harness, Mr. Straite is a watchful documentarian: of doe and buck, of waterfowl and of the nation's abiding avian emblem, the American bald eagle.
Now an Oneida County resident, Mr. Straite was born in New Berlin, about 40 miles south of Utica in Chenango County. At 16, he looked through a camera lens for the first time.
The rest, as they say, is history.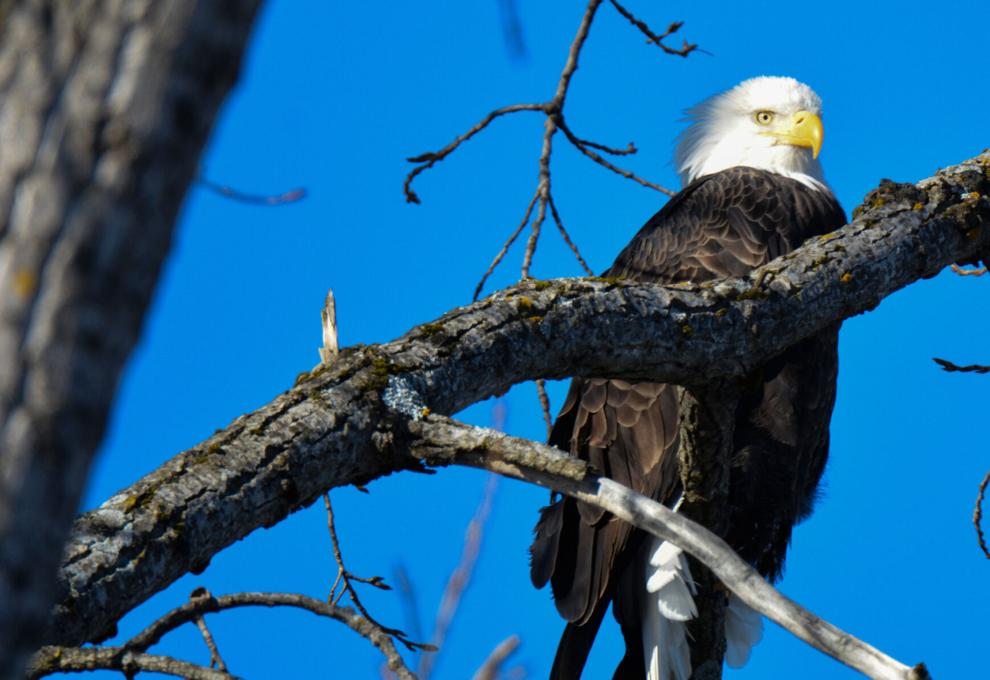 The 61-year-old only hears "William" when an automated message informs him his vehicle's warranty is about to expire. Family and friends know him as Bill, and so do thousands of people around the world, his art reaching social media users and wildlife enthusiasts from the states, Canada, the United Kingdom and Spain.
Across more than three decades of law enforcement and paramedic service, Mr. Straite has carried a camera with him. He responded to ground zero on 9/11, volunteering with hundreds from around the country and recording the aftermath; he's photographed weddings; and he continues to explore his beloved New York waters and forests.
"In EMS, you're at someone's house in the worst moment of their life," he said, adding that the trauma-imbued work is a lifelong load. "You don't always realize how scrambled your brains can get."
In retirement, Mr. Straite ventures daily from his Prospect home, finding bald eagles in feeding frenzies, owls at sunrise and mist-veiled landscapes in the Adirondacks.
"Now I can dress how I want, I can be out in the woods all I want, I can fart as loud as I want," he said, standing near the edge of the Deer River earlier this month in Copenhagen, Lewis County.
On the 50-mile drive from Prospect to Copenhagen, he spotted a bald eagle off Route 12. Several frames later, he was on the road again.
Dressed in camouflage with an International Freelance Photographers Organization patch sewn on his left sleeve, Mr. Straite wears a gold earring that glimmers when his head shifts in conversation, and he loves — loves — sharing his photographs.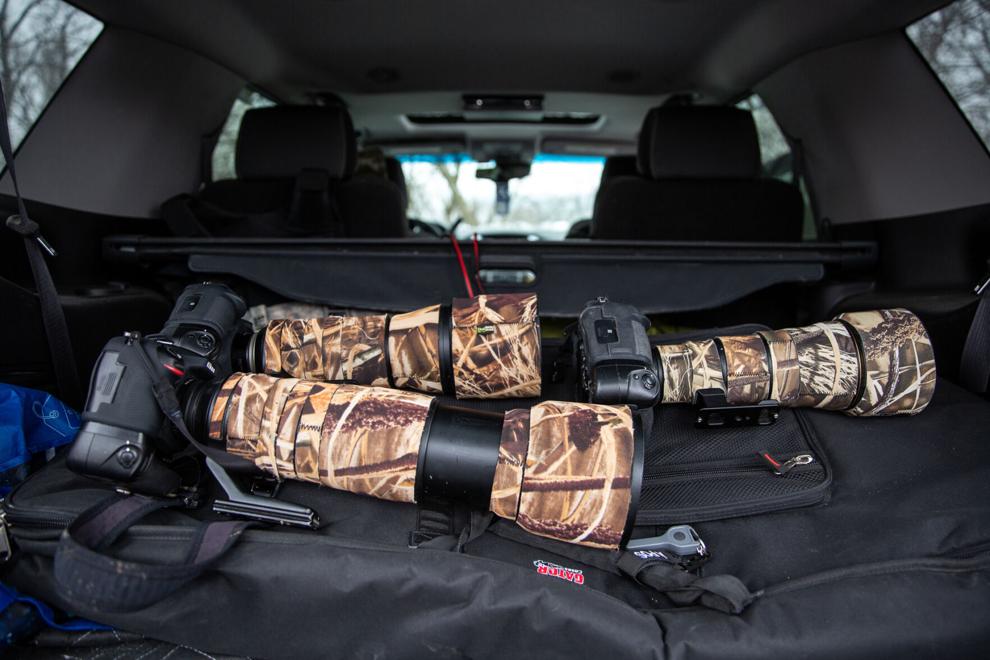 In January, Mr. Straite submitted a few shots to Big Frog 104, "Central New York's No. 1 for New Country." The submission captured the regionally famous Mr. and Mrs. Peebles, a nesting pair of bald eagles living at Peebles Island State Park in Cohoes, about 12 miles north of downtown Albany.
When Big Frog, WFRG-FM in Utica, posted Mr. Straite's photos on its website, listener interest piqued.
"It was quite by accident that this happened, as cool things tend to do," Big Frog Operations Manager William McAdams said.
As the ongoing COVID-19 pandemic was approaching a full year and snow had pummeled communities statewide, Mr. Straite hoped his photos would reach a few Big Frog listeners online.
But friends and followers have clicked, liked and shared Big Frog and Facebook posts thousands of times. The response, Mr. Straite said, has been heartening.
"If I can make one person smile, especially in the middle of a snowstorm and in the middle of COVID, then I'm happy," he said.
Mr. Straite's photography has been featured in The Conservationist, a magazine published by the state Department of Environmental Conservation every two months. In January, he snapped dozens of pictures of a group of eagles a few miles south of Lowville, sending one to DEC wildlife biologists after noticing a banded bird.
Confirmed by the Federal Bird Banding Laboratory, the photographed eagle was banded for tracking and research by state environmental officials 26 years ago in Parishville, St. Lawrence County. Lifespans commonly range between 20 and 30 years.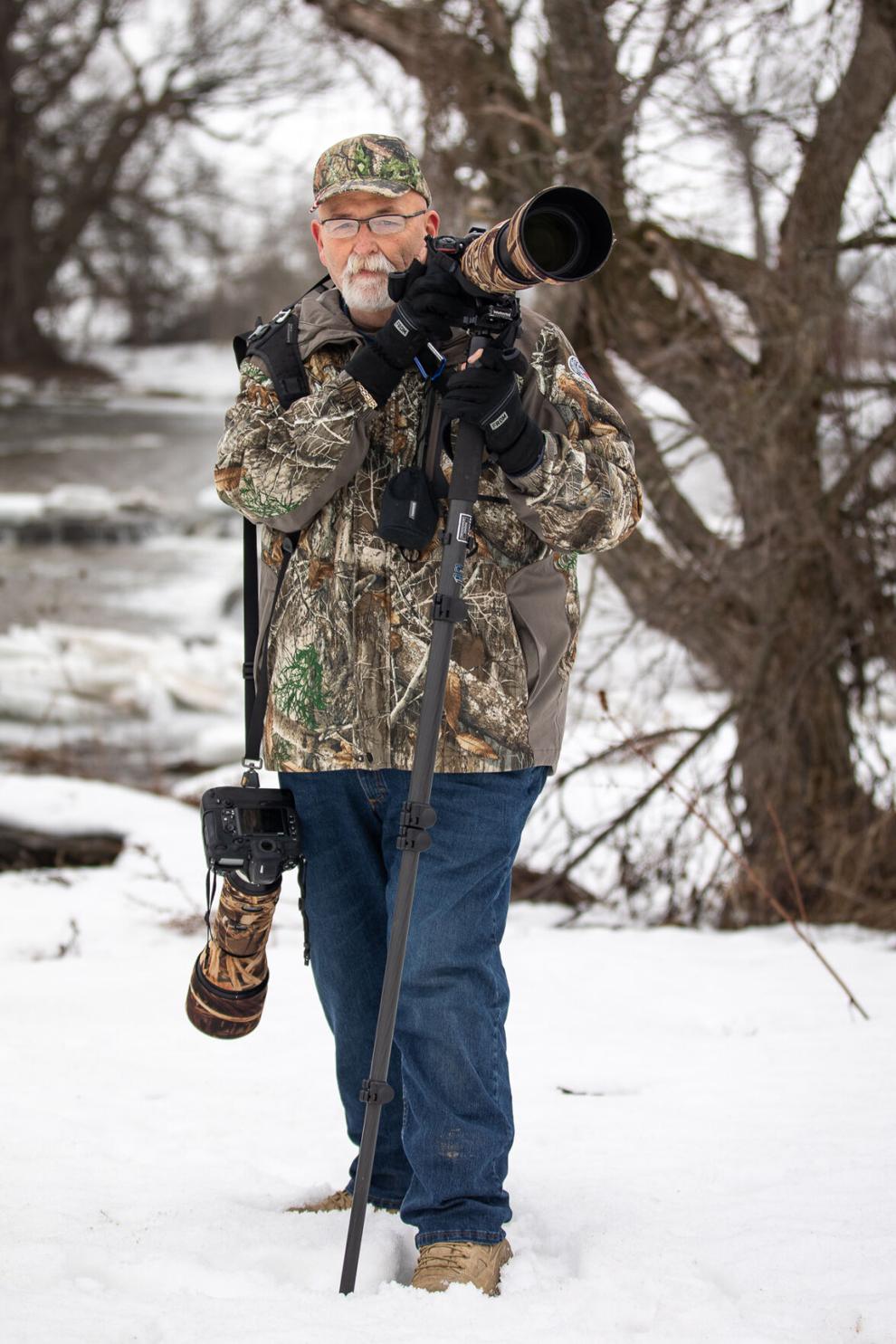 Getting that shot, and getting any "good shot" is a calculated journey, Mr. Straite said.
"If I take 50 pictures, I'll throw out 49," he said. "It's about the look, the lighting, the ambiance. I want you to see it through my eyes."
But with wildlife, "the picture is second."
"The most important thing isn't the picture — it's about the safety of the animals," he said.
Mr. Straite works camouflaged and distanced to avoid stressing his subjects, especially nesting or breeding wildlife. For those without telephoto camera lenses, Mr. Straite recommends using binoculars to observe. Frequent approaches with a camera phone for a close-up of an eagle nest, for instance, can prompt mates to abandon nests and relocate.
"It's never a good idea to disturb their homes," he said.
In the north-central states, including New York, bald eagle egg-laying and incubation is under way, according to the U.S. Fish and Wildlife Service. Hatching and rearing typically begins in March and April, and fledglings can be spotted by June.
Entering the world with dark brown plumage, the birds start developing their characteristic white head between two and three years after hatching.
Some 60 years ago, only a few hundred bald eagles flew their range in the contiguous United States. Just this week, the Fish and Wildlife Service issued a population and distribution update based on data collected in 2018 and 2019. With the banning of the insecticide DDT in 1972, and decades of breeding and release efforts headed by state and federal agencies, U.S. eagle populations have recovered. Since 2009, according to the new report, populations have more than quadrupled. More than 71,000 nesting pairs and 316,000 individuals were accounted for in the 2019 breeding season.
This month, Mr. Straite has been watching over nests in Oneida County, patiently waiting for eaglets to emerge. He's planning an outing to scout eagles in Jefferson County in April.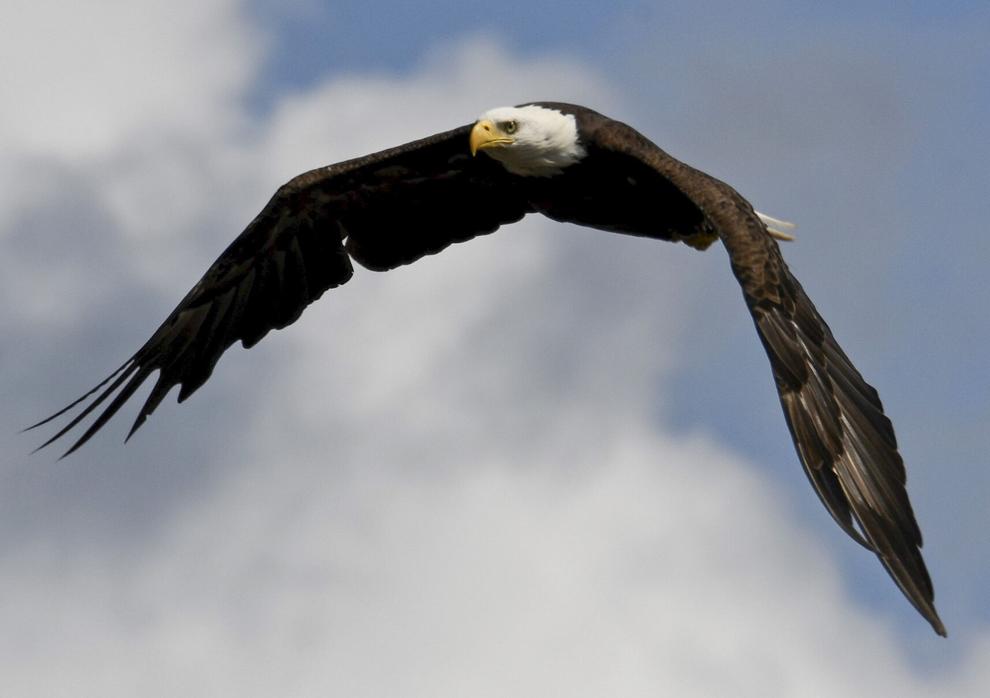 Mr. Straite chooses not to sell his work, only asking those who wish to print or use his photos to credit him. He's arranged calendars and books for close friends and family, and a goal he's maintained for decades stands. He seeks a connection to air, land and water, and to the wild beings that evoke joy and awe.
"When will I take the ultimate photograph?" he wonders. "Never" is printed on the back of the photo album he gifted to family members for Christmas. "As the eyes and mind know no limits."