CAPE VINCENT — The French Festival returned this weekend as just one example of how a town proves that even people who have never been there will realize in quick order why there's so much dedication and love in Cape Vincent.
The town has been opening this summer after more than a year of COVID-19 restrictions, but it seemed like a coming out party for Cape Vincent, with longtime friends reuniting and vendors preparing for the event they call the Super Bowl. The Cape Vincent Brewing Company was pouring out the sides with people. There was rarely an open barstool at the American Legion.
It was the return of the French Festival on Friday and Saturday after a year-long hiatus. Broadway Street cut the festival in half and was barricaded off. Summer was back in a big way. The fried dough and hamburgers were cooking, and the aroma of popcorn swept through the noses of just about every person there.
"Words can't even describe it," said Norm L. Wightman, owner of Brier's Riverside Market located at one end of the festival. "The whole thing is surreal."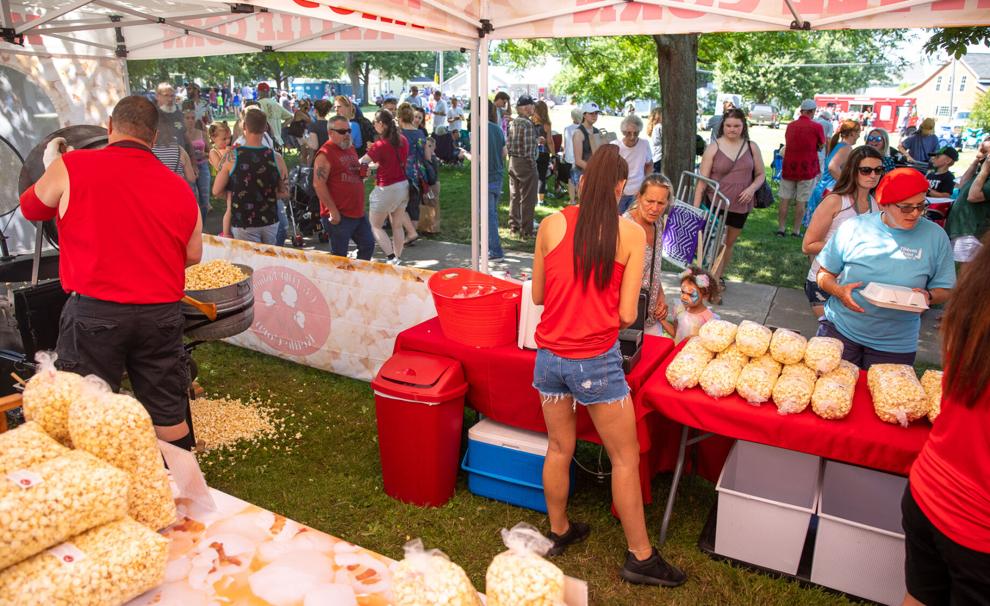 Mr. Wightman has owned his market for five years, selling anything from in-season produce to fresh jams and jellies and kayak rentals.
"To me, it's not all about my business," he said. "I like to see this town go somewhere. I came here seven years ago to help a buddy out and I fell in love with the place."
He said Cape Vincent is a perfect blend of quiet and busy, with the former leading the way in recent months, making the return of the festival a relief.
"I look at Cape Vincent as the heart of the Thousand Islands because within thirty minutes you can be anywhere," he said. "You can be in Watertown, Sackets, Henderson, A-Bay and Clayton."
C&J Old Fashion Kettle Corn was preparing for Saturday on Friday night. By Saturday, they couldn't keep up with the demand. Two years ago, Jerry Sherman, who owns C&J with his wife, Cathy, was popping corn in the kettle under their tent nonstop for 10 hours. By 1 p.m., C&J was out of the kettle corn they had popped before opening.
"We have nightmares from past events," said Mrs. Sherman. "We're going to be very busy."
C&J will do roughly two events a month during the summer, from the Can-Am in Sackets Harbor to Punkin Chunkin in Clayton, but the French Festival is their biggest.
"This is the Super Bowl of kettle corn," Mrs. Sherman said. 'The French Festival is our Super Bowl."
They expect to sell around 250 pounds of popcorn this weekend, which they said was once described to them as crack cocaine. It's the sugar that Mr. Sherman puts in the oil, which makes a popcorn cube when he pulls it out of the kettle. The kernels will then slowly pull apart as it cools.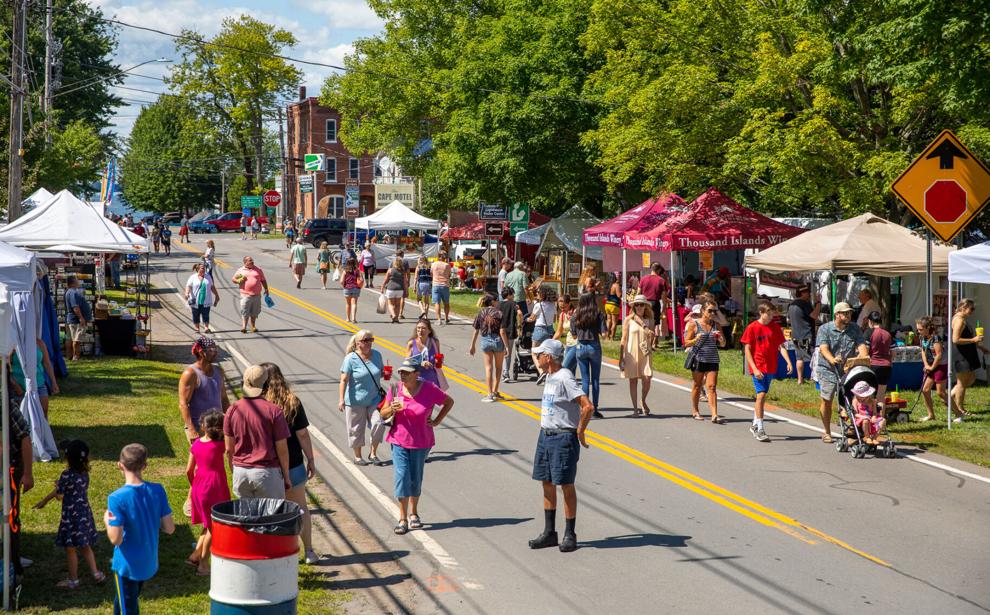 Fran J. Oliver lives with her husband at the corner of Broadway Street and James Street, the perfect location to watch the return of the festival from their front porch.
"Unless you know about Cape Vincent, you don't," Mrs. Oliver said. "Once you're here, you understand why people love it."
Ms. Oliver moved to Cape Vincent about four years ago with her husband, James, after she was traveling almost weekly for her job at a software company. She has admiration for the big cities she traveled through, but it was time for her to settle down a bit. It doesn't hurt that if Cape Vincent gets a little too hectic this weekend, they can just take their boat to a place they have on a nearby island.
"It's like all of a sudden there are a lot of cars," she said. "You go from zero to a lot. It's almost a lot to get used to, and it's good. I just like talking with people, and I just think this festival helps our community."