WATERTOWN — Braving the heat and threat of storms to come, visitors Tuesday were able to enjoy in-person rides, food and entertainment at the Jefferson County Fair for the first time since 2019.
Touted as the longest continuously operating fair in the United States, it made its triumphant return to the Alex T. Duffy Fairgrounds on Tuesday for its 204th continuous year, which it is able to say thanks to the fact that the fair hosted a virtual event last year.
The fair, canceled last year at the hands of COVID-19, runs through Sunday. New this year are featured performances from The Flying Wallendas Family Circus, who will be doing two shows a day, and three on Friday and Saturday.
One thing was assured Tuesday: vendors and fair-goers alike are happy to be back. Guests are again able to indulge in their favorite fair foods like funnel cake, chicken tenders, loaded waffles, gyro and more.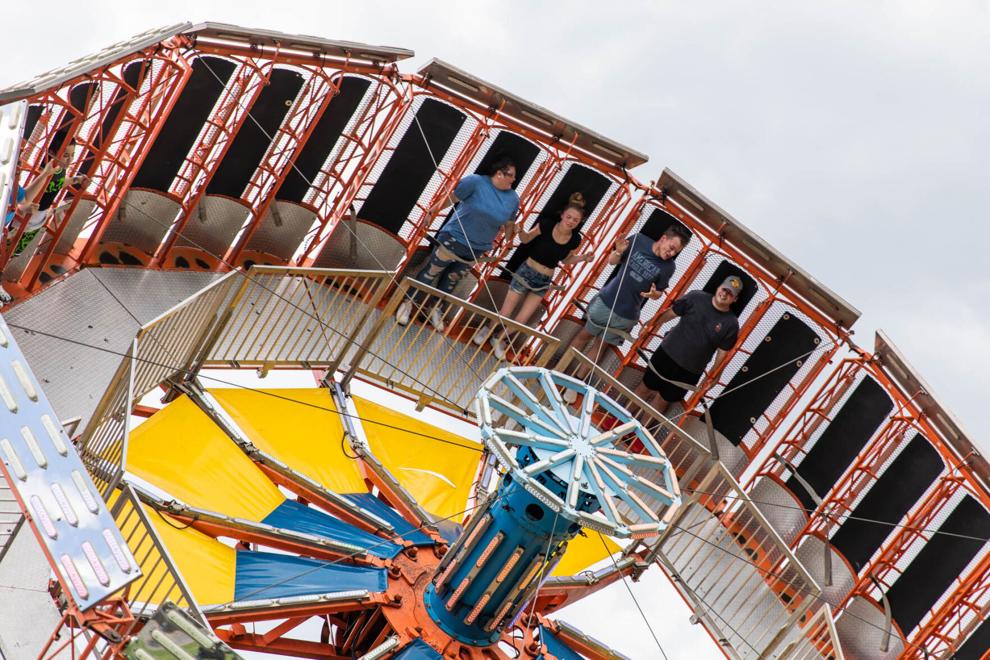 Kettle corn is also on the menu, all the way from the North Pole — in this case, also known as Boonville.
Portrayers of Mr. and Mrs. Kris Kringle, also known as Santa and Mrs. Claus, Vernon L. Phillips and Bonnie S. Williams, have been selling their kettle corn on and off at the Jefferson County Fair for the past 15 years with Kris Kringle Kettle Korn.
"We have other friends, vendors here, so it's nice to see them again," Mr. Phillips said. "Everybody wants to get out and get back some normalcy."
Ms. Williams said events like the Jefferson County Fair are important in the community to keep the little mom and pop businesses going, as well as crafters and vendors. Sitting out on the Midway on Tuesday afternoon, she introduced people to the littlest elf behind the kettle corn operation: Teddy Bear the Yorkshire Terrier.
According to Mr. Phillips, the North Pole is too cold to make the kettle corn, and aside from that, the elves would surely burn it. Kris Kringle Kettle Korn sells both original kettle corn, as well as novelty flavors, sure to appeal to those looking for a treat. Mr. Phillips said it can even be frozen in the bags and enjoyed months later, just as fresh as the day it was made.
Sponsors of this year's fair include, but are not limited to, FX Caprara Honda, Midas, Watertown Savings Bank, Cheney Tire, Stewart's Shops and Renzi Foodservice. Parking at the Jefferson Community College parking lot is free and visitors to the fair can catch a trolley ride to the fair, or a $5 charge is associated with parking on the grounds of the fair. Building hours during the fair will be from 10 a.m. to 9:30 p.m. Tuesday through Saturday and 10 a.m. to 6:30 p.m. Sunday.
The Fireman's Parade was set to take place at 7 p.m. Tuesday, but due to the threat of impending storms, the fair's opening ceremony and Fireman's Parade was postponed. Instead, it is scheduled to be held at 7 p.m. Wednesday.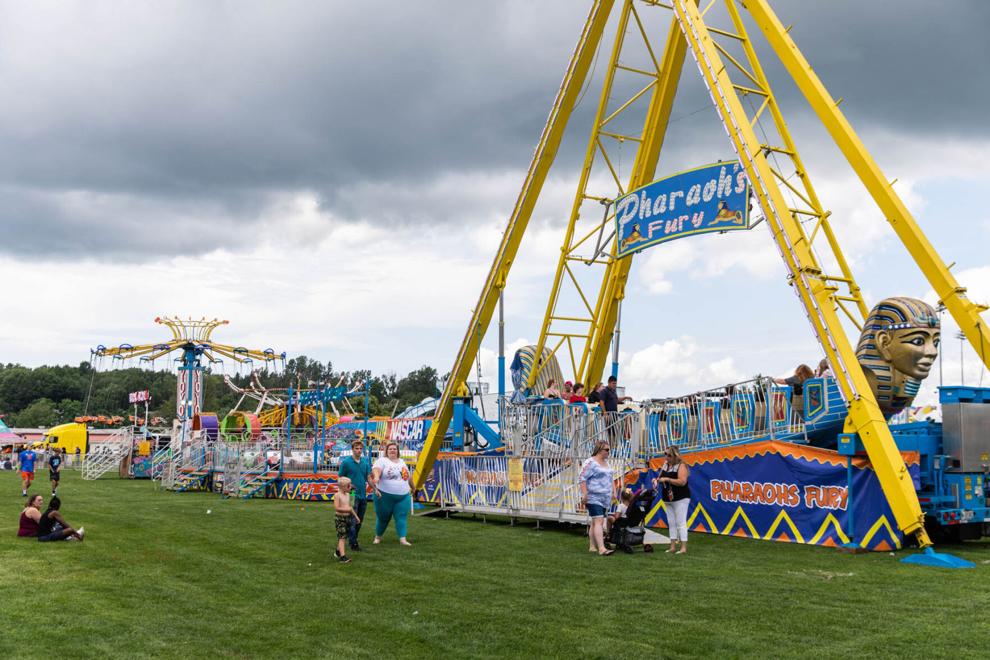 Locals Rob and Jessica Chapman arrived at the fair Tuesday with their two kids Evan, 6, and Charlotte, 2, in tow, as well as Evan's friend Gage, 7. Mrs. Chapman said they were happy to get to the fair and get the kids "the heck out of the house."
Charlotte, being so young, had never experienced anything like this before, living most of her life so far during COVID times.
According to Mr. Chapman, he and his wife enjoy the fair foods the most, but the kids were all itching to get on the rides.
What Evan was looking forward to most was the "spinning roller coaster," Charlotte wanted to go on a ride that featured puppies, and Gage wanted to go on the dragon coaster. Charlotte, so invested in all that was happening at the fair, defected from her group slightly to go toward the merry go round, anxious to try all she could.
Erika K. Bondurant also took advantage of the warm weather to bring her son Forrest, who will be turning 5 in August, to the fair for the first time Tuesday. Before hopping on the rides, he had his face painted with a partial Spiderman mask.
"He was excited for the rides," she said. "He didn't care which one would be the first one he went on, but he saw that Ferris wheel and that was probably the one that he noticed the most."
Admission to the fair is free, with unlimited ride wristbands available for $25 or $30 on Saturday without military I.D. Along with various vendors and foods and rides, the fair features chain saw carver Jennifer Black, who will do four shows every day at noon, 2:30, 5:30 and 8 p.m. The Stony Roberts Demolition Derby will take place on Thursday and Saturday at 7 p.m. and Chee Chee the clown will be around entertaining guests with balloon creations.
Daily events​ include Agriculture in the North Country, a fire safety display, a military display, the Jefferson County Sheriff's Office and more. Contests this year include an airplane throwing contest and basket bingo Wednesday, a bale toss and celebrity milk-off Thursday, a hula hoop contest by the pool and ice cream eating contest Friday, a cow chip contest Saturday and a cupcake contest Sunday.
First-time vendors at the Jefferson County Fair, Amy and Bill McMullen of The Vinyl Image, sell items like clocks and silhouette art made from vinyl records. The two are expanding out and will be vending at several fairs this year, but the Jefferson County Fair is their first of the season. They said they hope the rain holds off while they're there and they will see how the week goes.
Megan L. Payne and Matt J. Peacock enjoyed the rides the fair had to offer Tuesday, such as the Scrambler.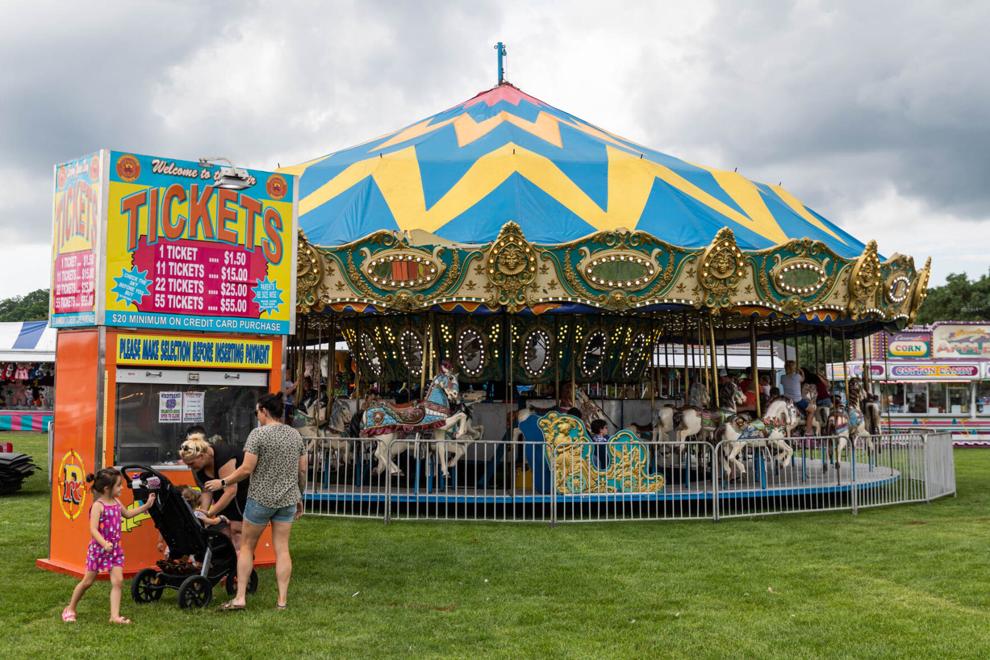 "It's just good to be back out here," Mr. Peacock said. "We had been last time it was here, and being in lockdown for so long, it's good to do stuff again."
Ms. Payne said she likes to go on the rides and feel like a kid again and that it's nice to have a little fun after such a stressful year.
"I think it's super important to have people back together, especially with precautions where we can feel safe outside," Ms. Payne said. "I've gone (to the fair) my whole life, and it's so sad that we didn't get to last year."
More information on the fair, along with a daily event schedule, can be found at: www.jeffcofair.org. The schedule is subject to change without notice.