BRASHER FALLS — They were dancing on the lawn July 26 in Brasher Falls.
As part of the Tri-Town Summer Festival, Len Mackey and Friends entertained the audience with an interactive experience of African drumming, singing and dancing.
"You guys want to do some singing today?" Mr. Mackey asked the crowd that had gathered behind the Badenhausen Library on a cloudless day.
Raising his arms to the sky, he said, "Take a minute to appreciate this beautiful day."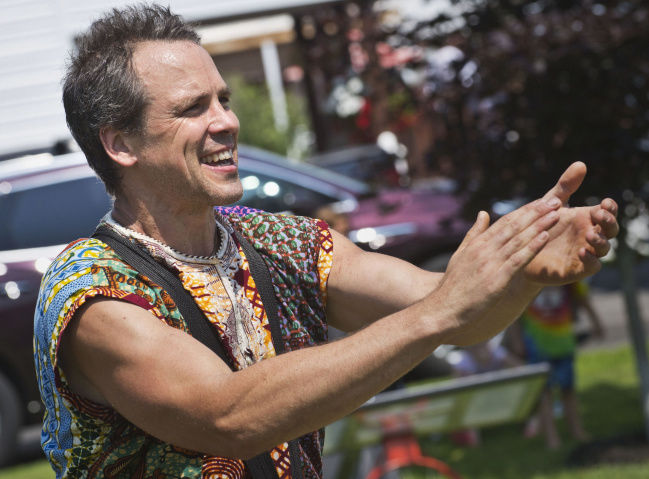 He asked how many liked to dance and play the drums, and an army of hands went up in the air. The audience later had an opportunity to sing, dance and play a set of drums.
But first, Mr. Mackey took them through several songs that originated in Guinea, West Africa, explaining the history behind each one.
Strung around his neck was the djembe, the most popular drum from Africa, known for its deep bass and crisp highs.
"It literally means everybody come together. Djembe means unity," Mr. Mackey explained.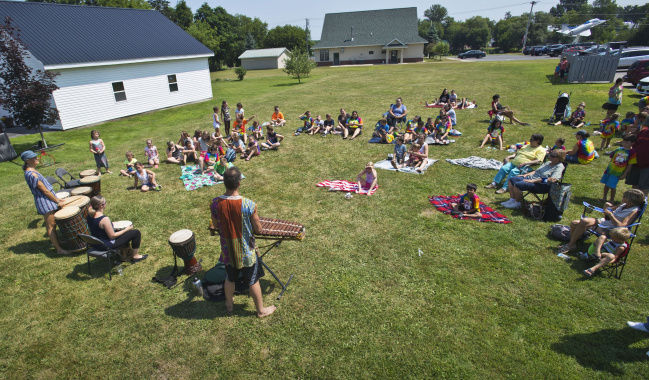 Also among the other eight drums was a dun dun, a rope-tuned cylindrical drum with a rawhide skin at both ends, played with a stick.
The musical lineup also contained a balafon, a gourd-resonated xylophone. Turning it over revealed several squash gourds tucked underneath.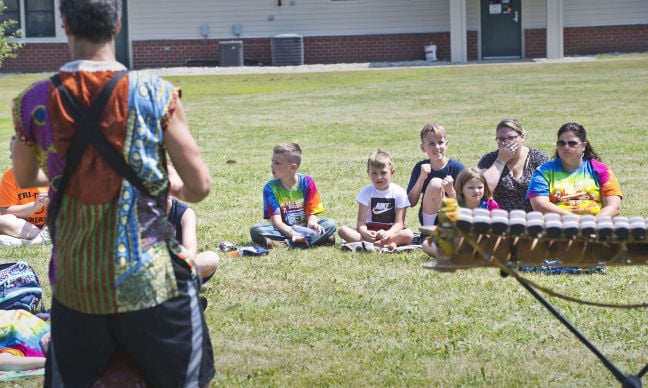 "It's a kind of marimba," a percussion instrument consisting of a set of wooden bars struck with yarn or rubber mallets to produce musical tones, Mr. Mackey said.
After introducing the drums to the audience, he began a series of songs that would be performed in West Africa, also explaining each one.
One song, for instance, was inspired by the "dance of the jeli." A jeli, he said, is a West African historian.
"This was inspired by that music. If I was a jeli, this is what I'd want to sing to people," Mr. Mackey said.
Another song was played for women and girls, "especially girls becoming women. During initiation, they sing this song," he said.
Following several songs, Mr. Mackey invited some of the audience members to come up and play a set of smaller drums, while everyone else stood up and danced in the grass as the music was playing. They weren't your typical dances either, with Mr. Mackey leading them in the steps.
His performance was one of a number of events taking place during the course of the four-day Tri-Town Summer Festival. July 27 events include a frog jumping contest at the Tri-Town Arena, the traditional summer festival parade, a car show at the Lawrenceville Fire Department, fun around the arena, margarita tasting and tarot card reading at Spirits of Downtown, alumni lacrosse game behind St. Lawrence Central Elementary School, live music at the Riverview, steak dinner at the Brasher-Winthrop Fire Department and human foosball at the Riverview.
The festival wraps up on July 28 with a fishing derby at Tower's Pond, chicken barbecue at the North Lawrence Fire Department, free car wash at the Brasher-Winthrop Fire Department, "Touch a Truck" event at the North Lawrence baseball field, live music at the Riverview, and free movies and snacks at Victory Baptist.