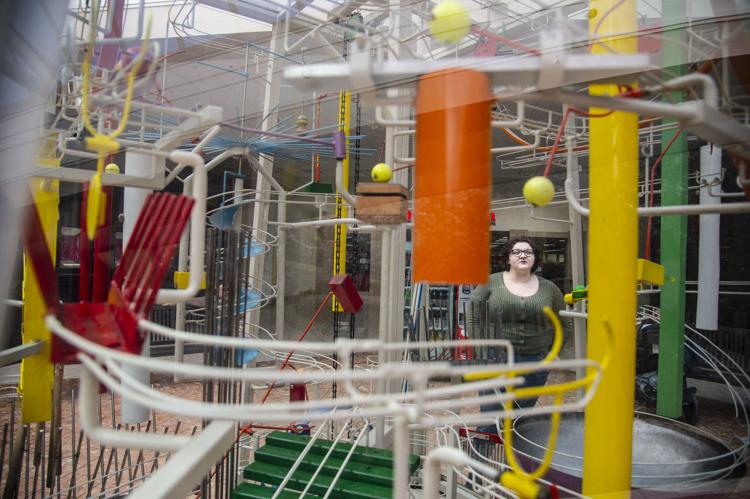 WATERTOWN — The closest the north country has to a time machine is entrenched inside Salmon Run Mall near the entrance to Burlington department store. It's there where a 25-foot tall gizmo is engaged — whirling, pinging, spinning and clanging, with its diving, dipping and backsliding billiard balls attracting mesmerized patrons.
The device, "Perpetuball Motion Machine No. 1" has been performing its daily grind since the mall opened in 1986; enough time for a new generation to grow up in the shadows of the 25-foot-tall apparatus, a mixture of art, architecture and sculpture.
On Presidents Day, 17-year-old Ashlyn L. Pastor, a junior at South Jefferson School District, sat alone at a bench near the motion machine, switching glances between it and her phone.
The bench, Miss Pastor said, is a good spot for her to reminisce and meditate.
"I've watched this since I was 2," she said of the machine. "My mom would usually go shopping in the store behind me and she'd leave me here with a friend or whatever. It was a way to spend time, but very relaxing and soothing."
She recalled pressing her nose up against the "glass" of the machine, amazed at its workings.
"I think I did that for an hour or two," Miss Pastor said. "And I never got bored for some reason."
A few minutes later, Miss Pastor's mother, Lindsey Pastor, returned from a store, meeting up with her daughter at the machine.
"Isn't it mesmerizing?" You never get tired of watching it," said Mrs. Pastor, a third-grade teacher at Mannsville Elementary School.
Mrs. Pastor moved to the north country seven years after the mall opened, but would visit it previously.
"Even as a child I also came here and watched this with my sister for quite a while," Mrs. Pastor said. "Now, it's neat because when my daughter was born, she and her best friend would come up here."
Mrs. Pastor said that as a child, Ashlyn would never ask to go to other mall attractions such as an arcade.
"It would always be here. You would think as kids, they would go to the arcade and play the games and stuff," she said. "It was this, and then the pet store."
Mall operations manager Karla R. Woods said the machine acts as a kind of a beacon, especially for summer visitors.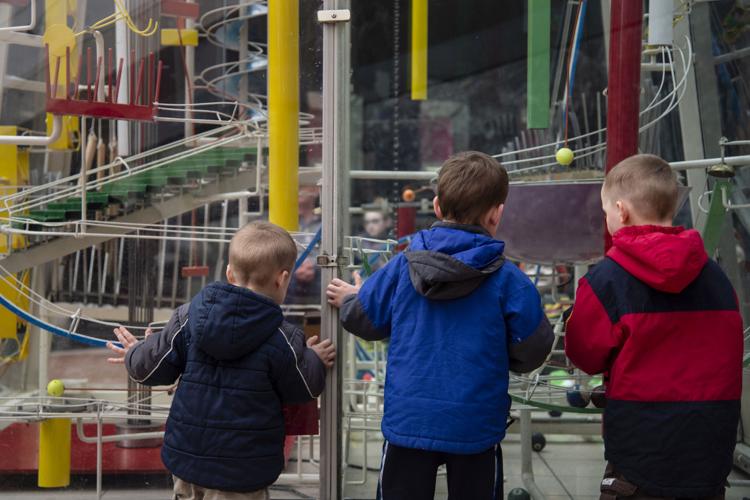 "They always make the mall part of their stop for the summer," Ms. Woods said. "That's what they'll always comment on, 'That ball machine,' they call it."
It also attracts many grandparents with their grandchildren, Ms. Woods has noticed.
"If something's not working, they'll come to us and we'll go start the machine up again," she said.
It's a mall reference point and meditation location.
"It's kind of relaxing and soothing when you just sit there and listen to it and watch how all the pieces work together," Ms. Woods said.
Miles and miles away from "Perpetuball Motion Machine No. 1," there's an elderly man, the machine's creator, living in Chinon, France, who if he could hear such accolades, may very well likely sigh, "Mission Accomplished."
Besides malls, the "audiokinetic" creations of George Rhoads can be found in airports, science museums and hospitals throughout the world. His machines, designed and built at his Rock Stream Studios in Ithaca, were designed to play, ranging in size from small wall-mounted pieces to ones that fill entire rooms and spanning multiple stories.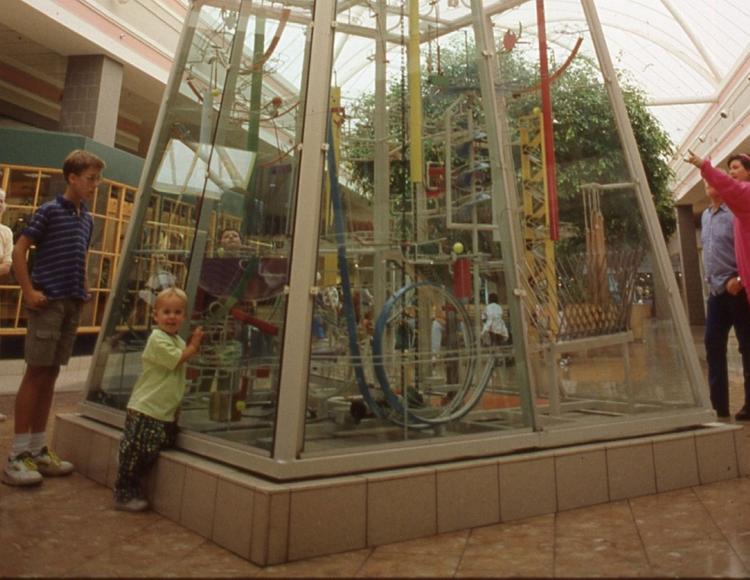 Mr. Rhoads, a nonagenarian, was unable to answer questions for this story. He lives in France with one of his two children.
"He's not well at 94, but he's doing OK," said Emily Rhoads Johnson, Ithaca, the youngest sister of Mr. Rhoads.
He's lived in France for about two years, a country he first visited at the age of 25, hoping to find more success with his talents as a painter.
"He always wanted to be known as a painter," said Mrs. Rhoads Johnson. "He always thought the ball machines — yes, they brought him money and they were fun — but he didn't see that as art. Other people did. I think he later realized he was creating art with the ball machines. But it was painting that he was really, really passionate about."
Mr. Rhoads was born in January of 1926 in Evanston, Ill., the oldest of four children and the only boy in the family. One sister died at the age of 50. Their father was a doctor at Cook County Hospital.
Mrs. Rhoads Johnson, the youngest sister, is a writer, editor and retired teacher. In 2010, she wrote a book about her brother, "Wizard at Work: The Life and Art of George Rhoads," self-published through Dog Ear Publishing. She has also written three young adult novels.
Mrs. Rhoads Johnson said that growing up with George made for some interesting times.
"Even though he was 10 years older, I was kind of the one who got along with him best," Mrs. Rhoads Johnson said in a phone interview. "For me, it was just fun. As I said in the book, I was kind of like his pet. I liked him because he was so much fun and funny with a very quick wit. He loved jokes and pranks."
George, she said, had a basement workshop where he was always working on something. He often took watches apart, just to see how they worked and made his own clocks. One day, in that basement, a 16-year-old George persuaded Emily to go on an adventure. With his help, she climbed through a 12-inch hole in the basement wall. She recounts the adventure in "Wizard at Work":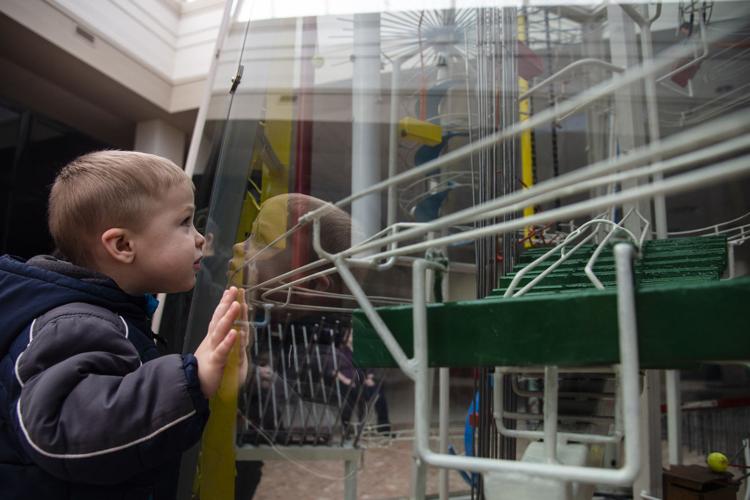 "What's it like in there?" George asked her.
Emily shined her flashlight. "Like a long tunnel. It's spooky..."
George, she wrote, responded: "OK, now walk as far as you can and tell me what you see."
"My father and I went back years later to that house and told the people about this hole in the basement," Mrs. Rhoads Johnson said. "They didn't know anything about it. So we took them down there, and it was still there."
A trip to the 1939 World's Fair in New York City inspired a 13-year-old George to create a contraption in which he again sought Emily's assistance: a simplified version of a Ferris wheel.
"It would be 10 feet in diameter and would carry a rider at each end on swinging seats suspended from ropes," Mrs. Rhoads Johnson wrote in "Wizard at Work." "Since the ride was suitable only for small children, I was, as usual, enlisted to be the guinea pig."
She fetched a friend, as two riders were needed for the device. They clung to the ropes as George turned a crank. "All went well until my friend suddenly hopped off at the bottom, sending me tumbling down from the top. I wasn't hurt, but the accident put an end to plans for a backyard carnival," she recalls in the book.
One of Mr. Rhoads's primary aesthetic influences was the machinery at Chicago's Museum of Science and Industry.
Mr. Rhoads enlisted in the Army in 1943 at the age of 17 and reported to Army Engineering School at the University of Wisconsin. Due to issues with his back and a leg, he received a medical discharge. He then studied painting at the Art Institute of Chicago and then in Paris.
He later moved to New York City, "supplementing his income by doing medical and commercial illustration," Mrs. Rhoads Johnson wrote in her book. But he began to make a name for himself with his whimsical, working sculptures. In the late 1960s, Mr. Rhoads met shopping mall magnate David Bermant, who began commissioning his work.
In the early 1970s, Mr. Rhoads moved to Dundee, Yates County, where he met Robert McGuire. Mr. Rhoads hired Mr. McGuire to help construct his sculptures. The partnership lasted more than 30 years as they created works at Rockstream Studios in Ithaca, where Mr. Rhoads eventually moved to.
In 1972, Mr. Rhoads appeared on "The David Frost Show," which helped to spread the word of his sculptures. By the mid-1980s, his creations were selling for $16,000 to $100,000 apiece. Fred Rogers visited his studio in 1994 for an episode of "Mr. Rogers' Neighborhood."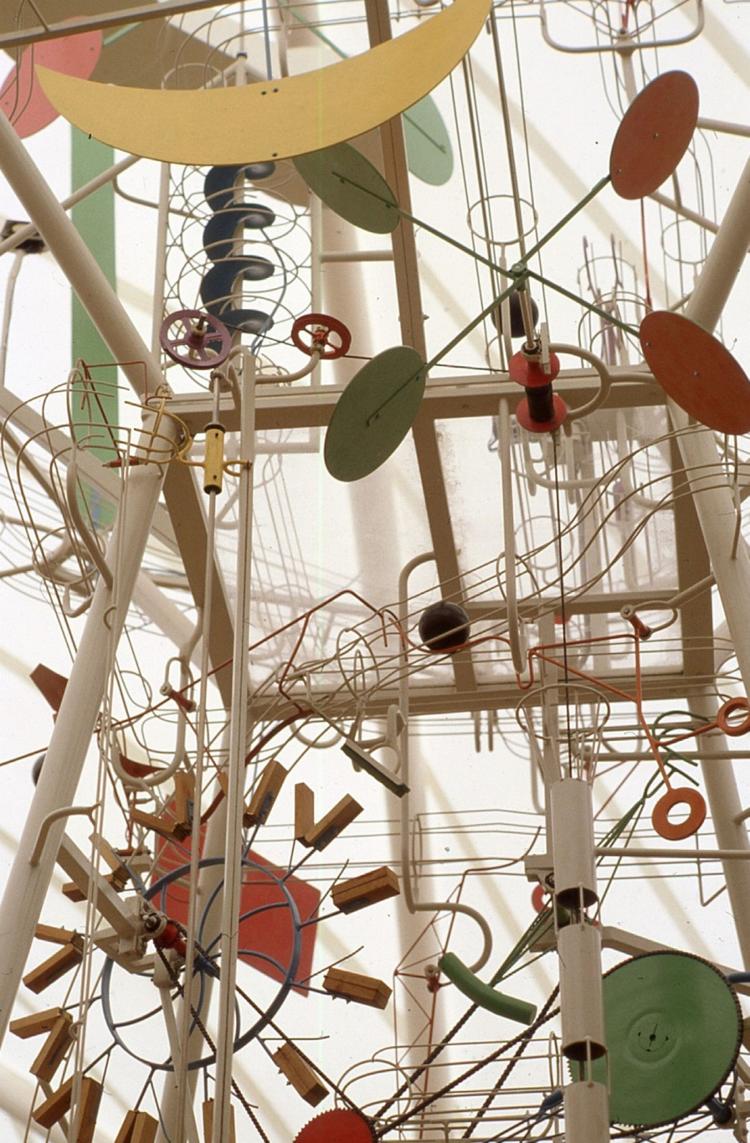 In 2007, Creative Machines, Tucson, Ariz. purchased Rockstream and continues the tradition of Mr. Rhoads's artwork.
Mrs. Rhoads Johnson often receives letters from people across the country wanting to know more about her brother.
"He has these ball machines all over the country," she said. "It means a great deal to many, many people. It becomes part of a community, something they will always remember in their lifetimes when they look back on the important things in their lives."
She is especially proud of the ball machines located in hospitals.
"Kids who are sick can watch these balls for hours and it takes their minds off whatever else is going on in their lives," she said. "It's something they can do with their parents, right there in the hospital.'
Like Mrs. Rhoads Johnson, Joe O'Connell, president and founder of Creative Machines, which purchased Rockstream Studios, often receives correspondence from fans of the ball machines. Topics of the letters range from reminiscing about time spent together with a parent or about learning about physics. But many of the letters mention hospital stays.
"People love his work," Mr. O'Connell said in a phone interview. "People don't always love art. Some people like it, admire it and appreciate its influence. But people love George's ball machines for some reason."
Mr. O'Connell first met Mr. Rhoads and Mr. McGuire in the early 1990s when he was designing exhibits for a science museum in the New York City area. He traveled to Ithaca because Mr. McGuire was fabricating some of the exhibits. Initially, Mr. O'Connell was hesitant when the owners of Rockstream Studios wanted to know if he was interested in taking the company over.
"But then I realized it was a nice complement to the work we already did in kinetic art and attractive museum exhibits, etcetera, that it was a really nice fit," Mr. O'Connell said. "And I've always loved George's work and it seemed like a way to carry it one for another generation."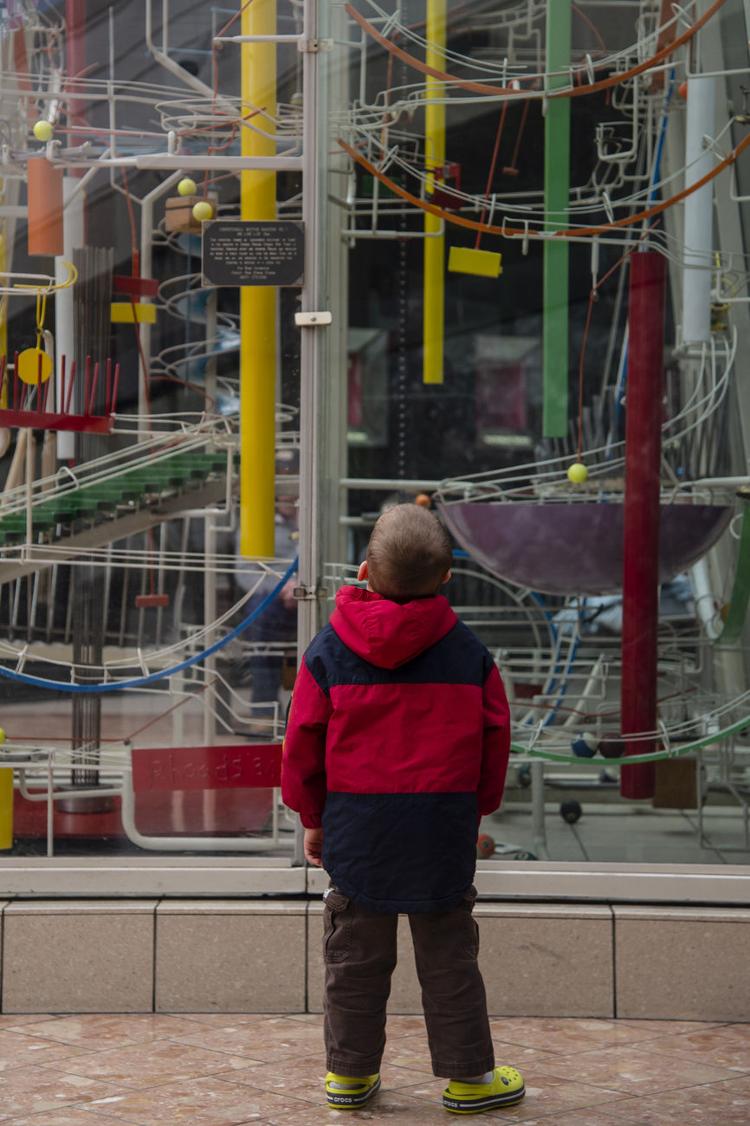 Creative Machines is a multi-disciplinary firm whose abilities, in addition to ball machine sculptures, spans exhibition design and monumental public art. Mr. O'Connell said his company employs about 32 people. The creations of Mr. Rhoads, he said, have influenced him.
"Most of my public art has developed in the years after I started making the ball machines," he said. "I've always prized the public's reception. We have to be popular. It's inspired me to do a lot of our own work in children's hospitals with audiences that are lesser served and where there's maybe less glamor than doing stuff for an art museum. The more I know about the real economics of the art world, I would rather bring joy to these kids who are stuck in a hospital than to do stuff for a gallery."
Creative Machines worked with Mr. Rhoads and Mr. McGuire for a few years after it took over Rockstream.
"Gradually, we took on more of the design," Mr. O'Connell said. "At first, George would design it and we would engineer it."
Now, Mr. O'Connell said, Mr. Rhoads sees the works of Creative Machines as "sort of a dynamic evolution" of his ball machines.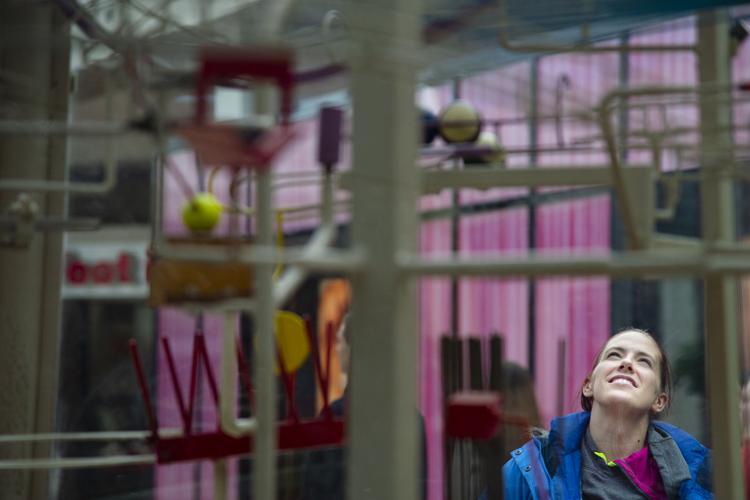 "George would say, 'You know, if I was still designing them now, I wouldn't necessarily be using the same color palette. I would probably evolve them to use LED lighting with more contemporary colors — everything you guys are doing.'"
No art form is static, Mr. O'Connell said. It evolves.
"We're still in pretty frequent touch with him and enjoy the chance to move his work forward in time," he said.
Unlike when designed by Rockstream Studios, Creative Machines uses 3D computer modeling programs to design the ball machines.
"We like to design it on the computer because you can rotate it around and look at it from different views," Mr. O'Connell said.
His studio has binders filled with data of the ball machines from Rockstream.
"But he (George) also left a few designs that we haven't built yet," Mr. O'Connell said. "If anyone wants one truly designed by George's own hand, we still have a few of those designs in the archive."
Mr. O'Connell said the worldwide appeal of the ball machines relate to them being so different from current technology.
"There's no screens. It's all physical," he said.
Also, following the paths of the balls can become spell-binding, he said.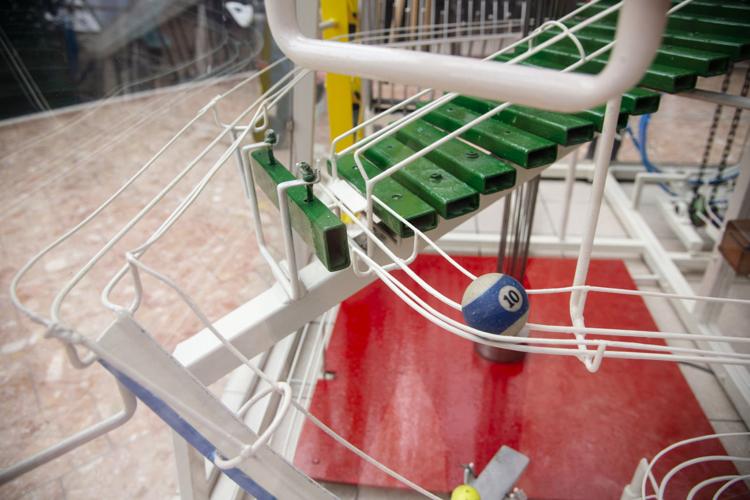 "The first time they see the ball bounce and fly through the air and get caught, it's a little surprising," Mr. O'Connell said. "The second time, it's a little less surprising. Then the appeal switches to coming to expect it, and it still happens again and again. I think that's a reminder of when the working parts of a machine were visible."
That visibility has inspired viewers like Miss Pastor, the South Jefferson Central junior who visited the Salmon Run Mall's "Perpetuball Motion Machine No. 1" on Presidents Day.
"I had a Marblesworks where I would build stuff all the time," Miss Pastor said. "I remember when I was 7 or 8, I would try to recreate this and never be able to quite get it because it was so elaborate. I think it's inspiring. Especially when you tell me that guy has done them all over the nation. It's incredible."
Miss Pastor plans to enter a science field of study in college. She believes the mall gizmo helped to inspire that plan.
"I'm interested in how the body works," she said. "It used to be mechanical stuff."
Her mom, Lindsey Pastor, said the attraction is a wonderful addition to the mall.
"It'll inspire kids to think outside the box and ask, 'What can I create on my own? What can I create with other people and other minds?' Rather than just having something on a screen to watch. It'd be a sad day if it was ever not here."
The motion machine is an art piece, and something that some people in the art world look down upon, Mr. O'Connell said. Nearby, in Syracuse, people can also see one of Mr. Rhoads's creations, Technotown, at the Museum of Science and Technology.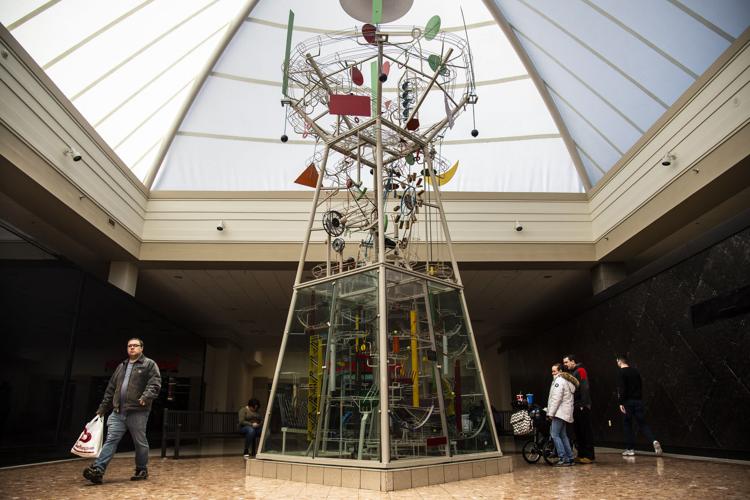 "The art world goes through different pendulum swings," Mr. O'Connell said. "We've often had people in the serious art world dismiss George because his work is popular. But George will say, 'You know, the black turtleneck crowd can keep their art world prima donnas and I'll keep the stack of letters from people who just love the machines. I'll take that over art world accolades.'"
As Mrs. Pastor and her daughter prepared to leave, they took another appreciative glance at the machine — something that for 34 years has withstood the fluctuating, up and down business world of the mall.
"I think it's going to be around for a long time," she said.