CANTON — What started as a senior project is now ongoing; what started as clinically white walls are now alive with color.
Christina M. Adams has walked the halls of the St. Lawrence County Department of Social Services building as an employee for the last 15 years. DSS houses disability, career, supplemental nutrition, home energy and medical assistance programs, as well as Child Support and Child Protective Services.
As a senior Child Support investigator, Mrs. Adams is partly responsible for reviewing cases and testifying in court. She knows why children visit the Judson Street building, and she knows the first thing they see when they walk in: bulletin boards with memos, a security guard, three floors of offices and empty walls.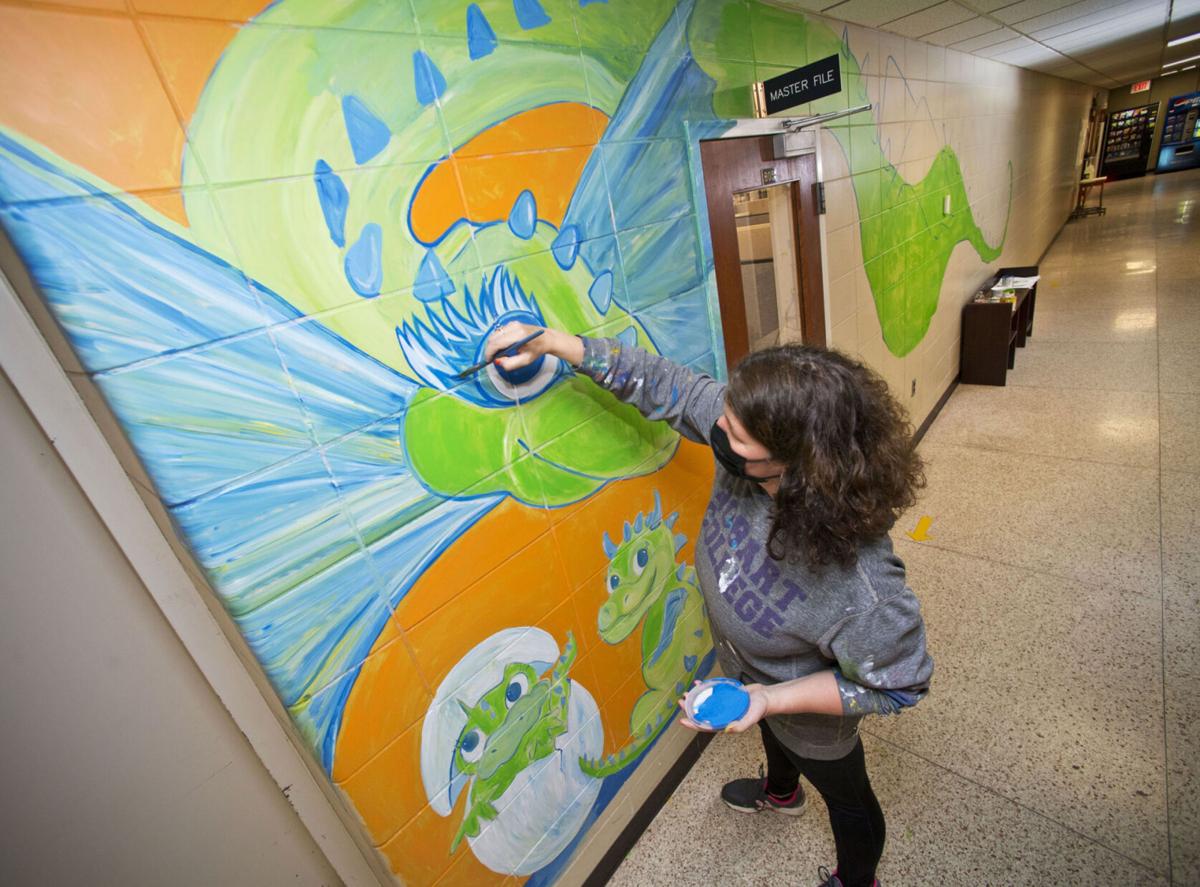 New memos are posted, security staff monitor entrances and the building hasn't been expanded or truncated, but the DSS walls changed in February, when Mrs. Adams walked in with leftover house paint.
"Since I've been here, I've wanted to do this," she said Tuesday, standing next to a green-and-blue dragon near a basement visitation room. "I love my job, but there's not a lot of room for creativity."
Her idea to paint the interior walls — with dragons, seascapes, mice reading books and more animal whimsy — was presented as a senior project this semester.
Mrs. Adams studied graphic and multimedia design at SUNY Canton, and graduated on May 15, with a Bachelor of Science and magna cum laude honors with the Class of 2021. She shared the weekend with her son, Jonas, who graduated with sociology honors from Hobart College in Geneva. Mrs. Adams' daughter, Lydia, attends St. Lawrence University in Canton.
A native of Keene Valley and always a lover of art, Mrs. Adams said she's never been a trained painter, and she had never attempted to paint a mural before February. Still, she loved the idea of exploring a more public, community-oriented kind of art, and the color splash at DSS, she said, "needed to be done."
"This changes the atmosphere," she said. "When you think of a place like this, you don't think of brightness, so this enhances the whole environment."
When scenes first started to take shape, Mrs. Adams said she was timid, carefully stenciling and taping her designs. But after almost three months, she feels freer.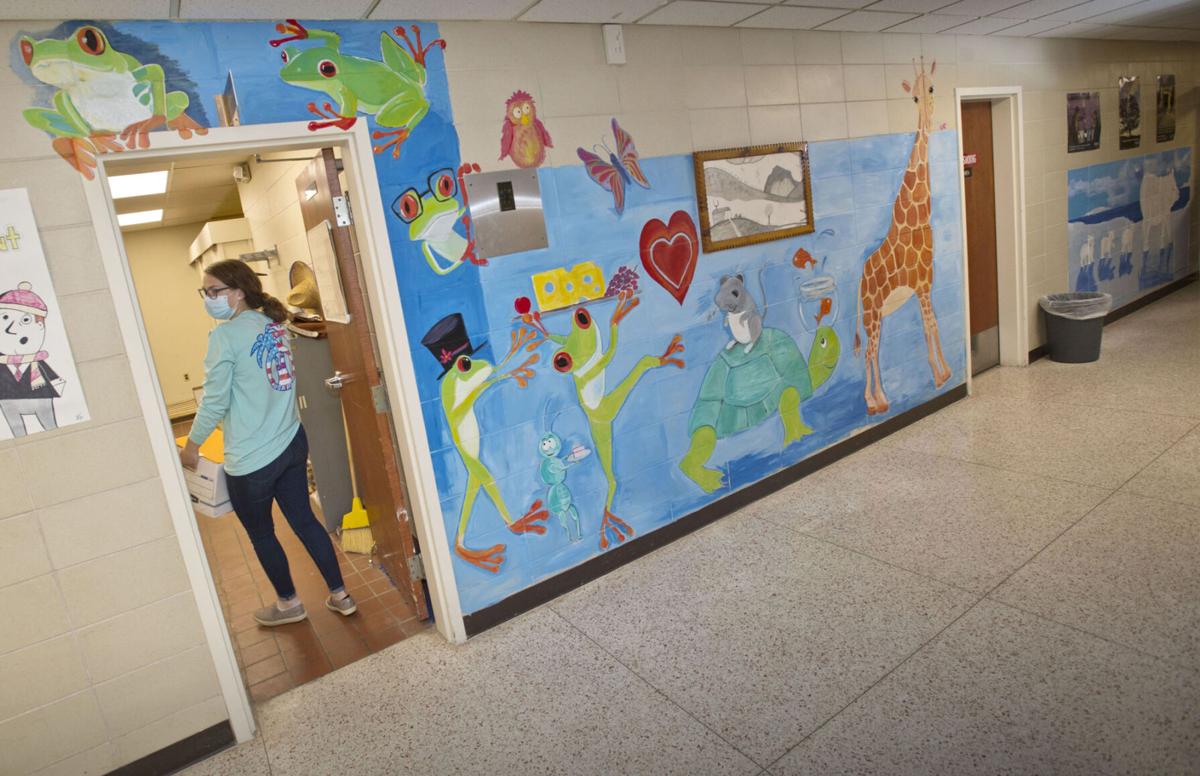 "Now I just wing it," she said. "I've learned I can paint over anything."
Though her SUNY Canton project is complete, there are more walls to be painted, and Mrs. Adams usually spends a weekend afternoon and Tuesday mornings in paint clothes.
Children meeting with CPS staff at DSS most often spend time in the basement spaces, but also use the stairwells and see other areas of the building, Mrs. Adams said. After she completed her first mural — a mother polar bear with three trailing cubs in the basement's main hallway — she turned to the rest of the lower level, visitation areas and a stairwell.
A frequently used visitation room is a work in progress. This week, a sweeping landscape backdrops a few creatures in the foreground, and Mrs. Adams will be adding more animals "having a big party." A pair of penguins now greets elevator users on the first floor, and Mrs. Adams said she'll keep going until someone tells her to stop.
DSS Commissioner Cynthia M. Ackerman, who was appointed to the position in August, said she thought Mrs. Adams' idea was "fabulous."
Ms. Ackerman's certain, two-word response when Mrs. Adams requested to continue: "Paint away."
"We have received such positive feedback, not only from the parents and children, but from the staff," Ms. Ackerman said.
Mrs. Adams said she's now keeping track of requests from kids and staff, and the building will soon feature a tree of life, a panda and a dragonfly.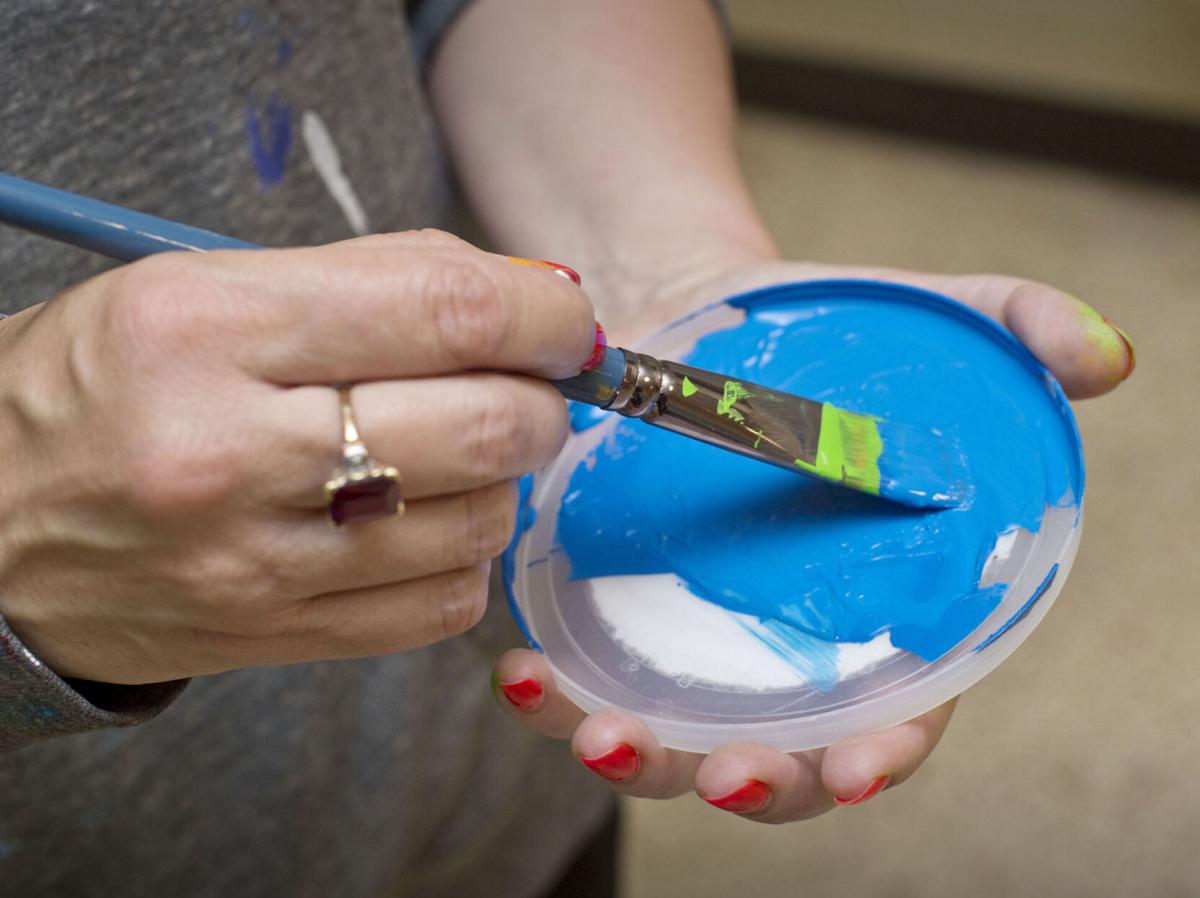 A locally administered arm of the state Office of Children and Family Services, St. Lawrence County DSS has 335 children in its caseload as of this week.
Ms. Ackerman briefed county lawmakers during a Board of Legislators' Services Committee meeting on Monday, saying 122 of those children, or 36%, are in kinship foster care with relatives. Another 16 kids, or a total 4.7% of the 335, are in congregate care — an institutional setting, group home or qualified residential treatment program, for example.
With an increased staff approved in increments by the county since last summer, the department is working toward 2023 CPS goals based on the federal Family First Prevention Services Act, passed in 2018. The FFPSA prioritizes funding for family-based foster placements over residential facility placements, and incentivizes increasing kinship care and decreasing congregate care.
Congregate care, according to the OCFS, includes institutions, group homes, and agency-operated boarding homes.
Foster homes, foster-to-adopt and kinship homes are all considered non-congregate care.
Statewide for the third quarter of 2020 — the most recent custody data period published by the OCFS — more than 15,300 minors were in congregate and non-congregate care settings through local DSS agencies as of Sept. 30.
St. Lawrence County's goals, Ms. Ackerman said, have been set to increase kinship care relationships to nearly 90% of cases, and maintain congregate care cases below 12% by 2023.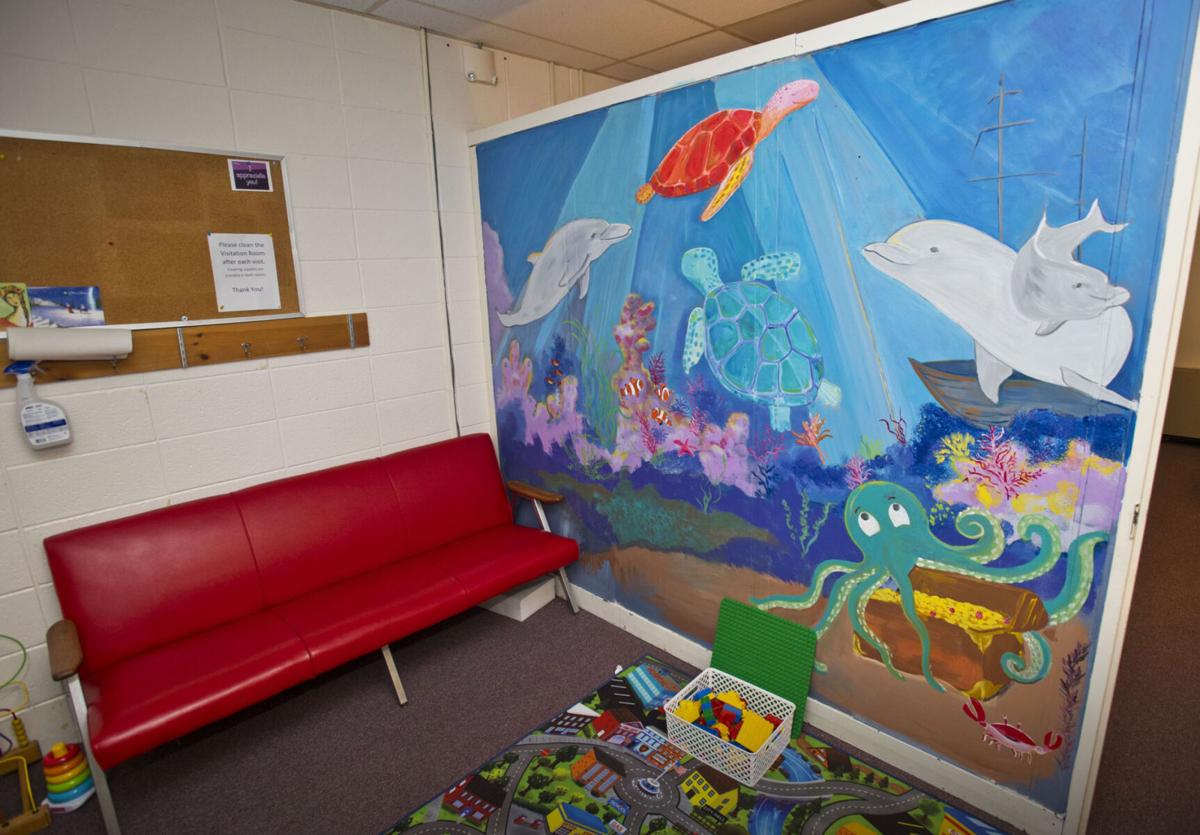 In the broader picture of DSS operations across all programs involving children, a frog peaking out from a doorway and an elephant spraying a rainbow river play a small, yet vibrant and vital role. The painted walls as conversation starters for young kids visiting any office, Ms. Ackerman said, help to thwart some of the "stress and fear" associated with social services.
Mrs. Adams has so far spent about $250 in paint and supplies to stain the building's starkness. Like the thinly spread acrylic itself, passing fingers that trace the colorful characters represent much more.
"A little goes a long way," Mrs. Adams said.