CLAYTON — Part of the reasoning as to how and why Allen M. Jackson came to have the coolest garage door around can be found in a back room at his Valley Drive home.
It's there where he keeps his penguin. It's stuffed and under glass, preserved for more than 60 years.
A visitor who is allowed into the Jackson home will see other keepsakes of a military life of adventure and travel: models and pictures of airplanes the retired Navy veteran flew in, including over Vietnam, and patches from his uniforms, noting the ranks he rose to over his career, eventually reaching the highest rank for an enlisted Navy service member — master chief petty officer.
He is most proud of his keepsakes from Antarctica, from rocks to maps. The garage door of the 86-year-old veteran now reflects that noble service and for the world to see in the form of mountains, a helicopter, penguins and the badge of Operation Deep Freeze II, which led to a peak in Antarctica being named after him.
The mural was completed a few days ago by Thousand Islands-area artist Kelly Curry.
Mr. Jackson and his wife, the former Katherine McDonald, first came to appreciate murals during a visit to Athens, Ontario, Canada, which has several historic murals dotted around town. The couple has also always appreciated the murals of Ms. Curry. One day this past spring, the Jacksons were in the village of Clayton and saw Ms. Curry working on one of her projects on Webb Street.
"They started telling me how much they love my murals and they had been watching them for a long time," Ms. Curry said. "They said, 'You probably wouldn't do anything like what we're interested in, and we probably couldn't afford you.' They were already talking to me for 45 minutes so I was already in love with their cuteness. So I agreed to come over and take a look at what they had and what they were thinking."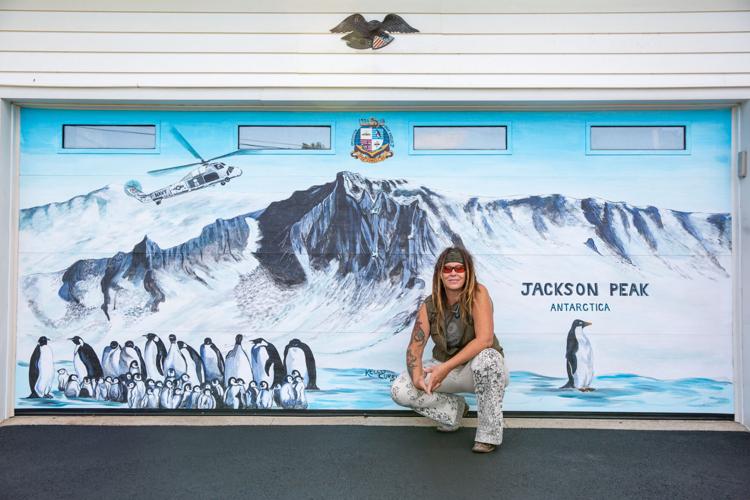 When Ms. Curry pulled into their driveway, she knew that this was a patriotic couple, with American flags outside and a wooden bench that has an engraving of a Navy Lockheed P3 Orion.
"When they were talking to me, he did mention something about that he had been in the Arctic and they had a penguin, which really piqued my curiosity," Ms. Curry said. "When I got there, the first thing they said was, 'We'll take you to see the penguin. It's in the back room.'"
It was then explained to Ms. Curry how Mr. Jackson came to be in Antarctica. A picture began to form in her mind for the garage door artwork. Her canvasses have included a wide range of buildings, including dozens of garage doors, where she honed her craft. But the garage door of the Jacksons is special for the artist.
"It's a very unique challenge in that everything in that environment is based on blues and black and white," Ms. Curry said. "I'm happy to have the challenge, because who knows if I will ever paint the Antarctic again in my life. I can't imagine myself running out of paintings to do for ships in the river but I hadn't really thought about the impact of doing a mural like this. But I did today."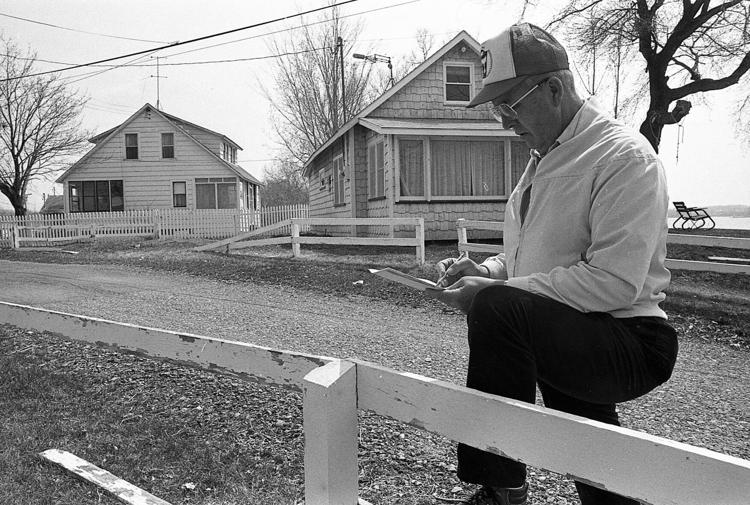 Mr. Jackson, a 1951 graduate of Clayton Central School, grew up in Fishers Landing. He was a farm boy and the oldest of five children of Henry and Madelyn Jackson.
In 1953, while Mr. Jackson was attending Canton ATC, he returned home one semester and didn't feel like returning to campus. One day his mother said she was heading to Watertown.
"I said, 'I'm going with you.' So I went to the recruiting office."
The interview included some exams.
The next morning, he received a call from an eager Navy recruiter.
"They said, 'When can you leave?' In about two weeks, I was gone," he said.
After boot camp in Bainbridge, Md., Mr. Jackson saw service in Oklahoma, Tennessee, Louisiana and Florida.
"Then, I got orders to train for Antarctica," he said.
Mr. Jackson had always followed the plights of Arctic explorers, especially of Paul A. Siple. As an Eagle Scout, Mr. Siple (1908-1968) took part in two Antarctic expeditions — 1928-1930 and 1933-1935 — with Adm. Richard E. Beard Jr.
"That interested me, I guess, and the desire to travel," said Mr. Jackson, who also earned an Eagle Scout badge in his youth.
In November of 1956, Mr. Jackson, 29 other Navy men and nine civilian scientists boarded the cargo ship USS Wyandotte, named after a county in Ohio, in Davisville, R.I. At Panama, the ship was joined by an ice breaker for the trek south. The ships traveled down the west coast of South America, through the Straits of Magellan and into the ice pack.
Around the first of January 1957, the expedition became wedged in an ice pack.
"The wind blew the ice in and we were stuck in that ice for a month," Mr. Jackson said.
Late in January of 1957, the expedition arrived at Filchner-Ronne Ice Shelf. Supplies were unloaded and Navy seabees got to work erecting prefabricated buildings.
The skipper of the Wyandotte, Mr. Jackson said, was eager to be on his way due to the risk of getting caught in the ice again.
"It was getting late in the season," he said. "The seabees had about 40 percent of the base put together when they finished unloading the ship and left."
The experiments at the base ranged from meteorology to seismology.
"Another thing we checked was the whistlers," Mr. Jackson said.
The whistlers?
"At the time, there was a phenomena," Mr. Jackson said. "A sound track would start in the northern hemisphere and come down, and just kind of whistle.''
Mr. Jackson was assigned to the expedition's aviation unit, supplying a group of scientists who took treks around the area. The coldest temperature he recorded was minus 68 degrees Fahrenheit, with the average temperature 20 below.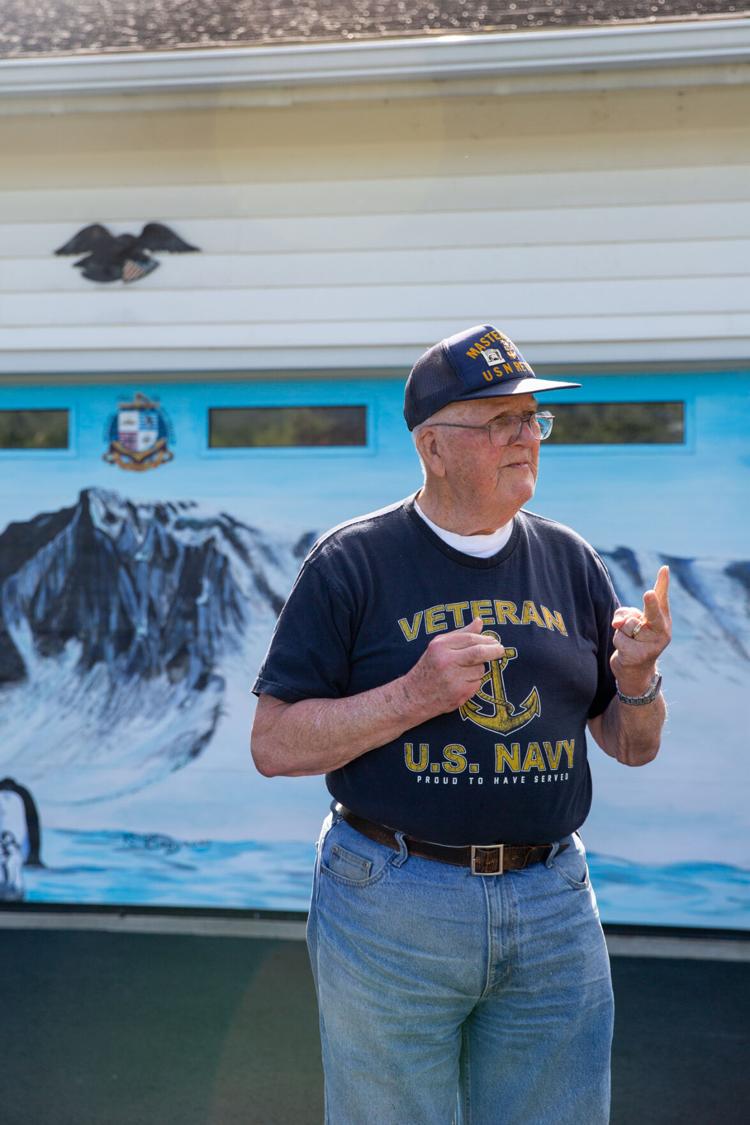 During one trip, Mr. Jackson, riding in a helicopter, pointed out some penguins to the pilot. The pilot touched down and Mr. Jackson, after an hour's chase, caught an Adélie penguin and brought it back to base.
But in order to bring it back home, he was told the penguin had to be euthanized. It was and was packed into an instrument can, packed with snow. When the Wyandotte returned in January of 1958, the penguin was put in the ship's freezer. Mr. Jackson disembarked the ship in Brazil. One of Mr. Jackson's friends who remained on board later had the penguin stuffed and forwarded it to him.
Mr. Jackson had a full beard when he returned home to his wife, who was staying with her parents at the time with the couple's first child, Judy, who was less then 2 years old.
"For 16 months, I never heard from him," Mrs. Jackson said. "There was no communication like there is today. It was just like he was off the Earth."
The Jacksons would have two more children, Sabrina (Patterson), who now lives in Chaumont and Stephen Jackson, who lives in California. Daughter Judy Rattley lives in Oregon. The Jacksons have six grandchildren and nine great-grandchildren.
A few years after his Antarctic expedition, Mr. Jackson discovered that the Advisory Committee on Antarctic Names (US-ACAN) named several sites in Antarctica for people on the 1957-58 Deep Freeze expedition. Mr. Jackson became associated with Jackson Peak in the Pensacola Mountains, mapped by the U.S. Geological Survey data and U.S. Navy air photos.
After his Antarctic mission, Mr. Jackson continued in the Navy. Duties included serving as a crew member on an airplane conducting anti-submarine missions on the waters off Vietnam, often flying at around 200 feet.
"The thing that scared us most was when we had the fighter jets returning to base and they hadn't expended all their bombs and they'd be dropping those," Mr. Jackson said. "You'd be flying along and all of a sudden you'd see these things falling out of the sky."
He retired from the Navy in August 1974. His last duty involved serving as an aide to the admiral at Moffett Field, Santa Clara County, Calif. He stayed in California for five years afterward, working at NASA's Ames Research Center.
The Jacksons, who have been married for 66 years, then decided to move back to their native north country. Mr. Jackson would eventually get a job as assessor for the town of Clayton, where he had a 16-year career.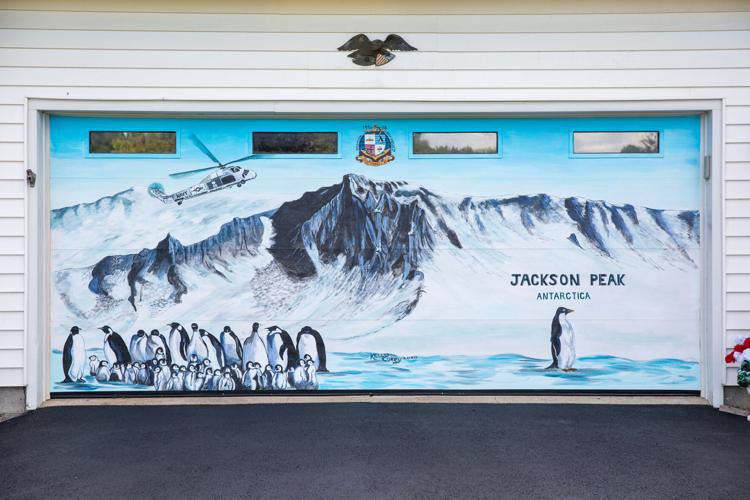 It's been a life seemingly a world away from his time in Antarctica, but Mr. Jackson now has a badge of honor on his garage door to recall the expedition and to share something with neighbors and passersby who may not know about the intriguing Navy vet in their midst.
Mrs. Jackson, a proud wife, also appreciates the mural. She recalled talking to Ms. Curry as she was painting it.
"I told her it was like it was coming alive," Mrs. Jackson said. "But yet it gave me a sad feeling because I was thinking of him being gone and every night our little one would kiss his picture good night."