POTSDAM — After more than a year of being closed due to renovations and hiccups from COVID-19, the Potsdam Public Library aims to reopen to the public Sunday.
Emphasis on "aims," Library Director Annie T. Davey said.
"We have been aiming to open as soon as we possibly could, but I've always been vague about the date because it's such a big job getting books on shelves and cleaning," among other needed preparations, she said.
Public Service Manager Sarah L. Sachs detailed some of the improvements patrons can expect upon reopening. She said there are a lot more "targeted" lights, as well as shelf-level lights, so that squinting to see book titles on shelves will be a thing of the past.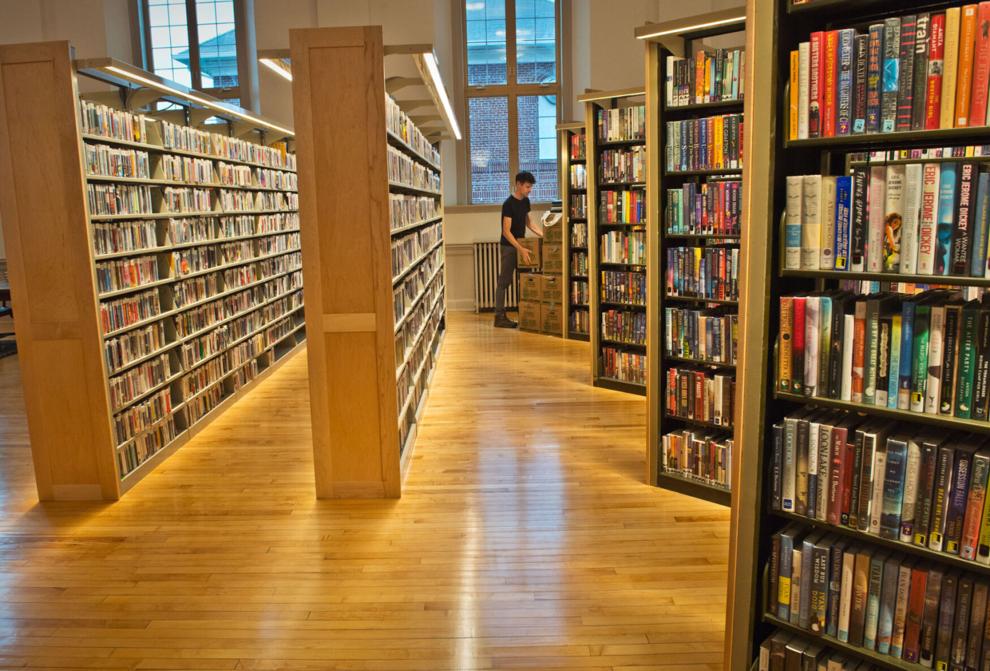 "It feels a lot more open because the ceilings are eight feet higher," she said.
Perhaps most importantly, she added how "there's air-conditioning now," meaning people can swing by to save themselves from the summer swelter.
Ms. Sachs said the new layout will make a significant difference.
"Almost everything is in a different place," she said. "For instance, having the circulation desk in the middle of things will allow the staff to be more helpful."
Ms. Davey said the added mezzanine allowed a lot of shelving to be moved upstairs, opening up the once-suffocated floor space.
Once the library opens to the public, new guidelines will be introduced to help keep everyone safe.
For instance, according to the library's reopening plan, no more than 10 patrons will be permitted in the library simultaneously.
Ms. Davey said this "is the amount of people we thought we could keep track of at one time, as we really want to make sure everything is disinfected between uses."
Also, everyone must wear a mask inside regardless of vaccination status.
The hours are being reduced to 10 a.m. to 4 p.m. Monday through Saturday, and noon to 4 p.m. on Sunday.
From 9-10 a.m. Monday through Saturday, the library is reserving this hour for individual access by appointment only. There is also flexibility to schedule individual appointments outside of normal business hours, according to the reopening plan.
Ms. Davey said these individual appointments are meant to serve vulnerable populations.
"If someone is immunocompromised, we've got an option for those people to be in the library by themselves," she said.
Not all of the doors to the library will be used. Patrons can now enter only through the garden entrance or the ramp.
Ms. Sachs said that, while there isn't a concrete date for the public reopening, there is one for the grand opening, which she said will be held from 2 to 4 p.m. Sept. 19. At which, she said, there will be "speeches, tours, a time lapse video of the whole renovations process, and hopefully a food truck."
"We're so excited to be able to open. I can't wait to see the looks on people's faces when they come back to the library and it's completely transformed," Ms. Davey said. "It's like we got inside our cocoon in March and now we're bursting out as a butterfly."
"It's the library that Potsdam deserves," she said.