POTSDAM — It all began some 17 years ago, when Frederick J. "Hank" Robar Sr. asked the village for a zoning change at one of his properties on…
POTSDAM — When Morgan D. Elliott was 8 years old, the village's first toilet garden was seeded. Now 22 years later, Mr. Elliott is finalizing the details of a documentary years in the making.
"Potty Town: Where Protest Meets Porcelain" chronicles the emergence of Potsdam's toilet gardens, the community in which they grow and Frederick J. "Hank" Robar Sr., the man behind the internationally recognized floral privies.
"I grew up alongside this story," Mr. Elliott said in an interview this month. "As a kid I'd think, 'why are there toilets when we drive through Potsdam, mom?'"
The Canton native graduated with a bachelor's degree in video production from SUNY Plattsburgh and holds a Master of Fine Arts in creative writing from Boston University. Mr. Elliott has headed photography for festival short films, but "Potty Town" is his directorial debut.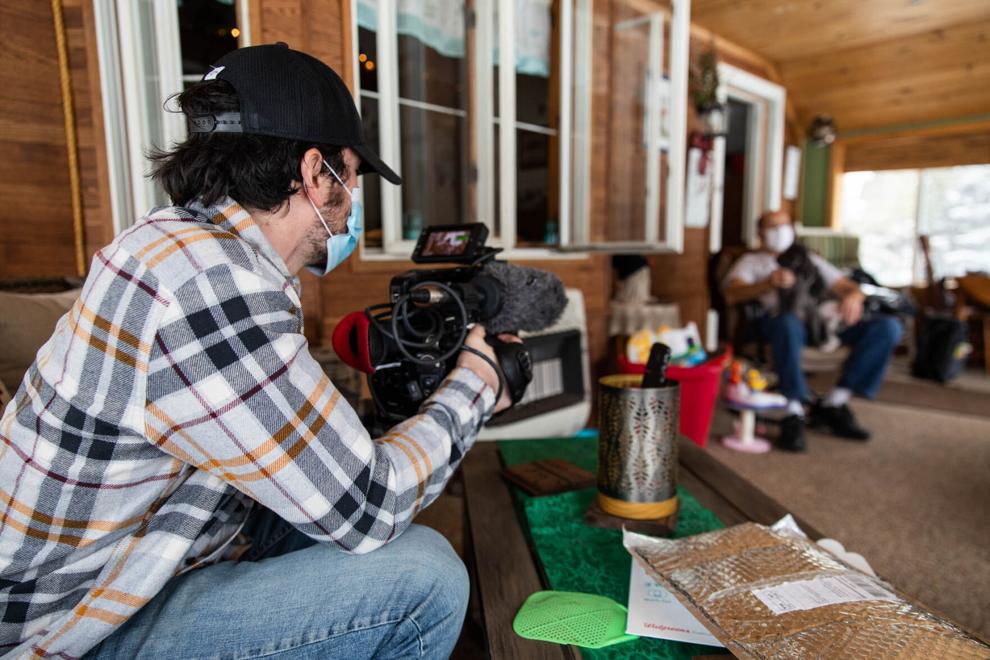 Working as a videographer for SUNY Canton in 2017, Mr. Elliott had no intention of crafting a feature-length film about the toilet gardens at the time. His curiosity led him to interview Mr. Robar, and after talking with the then 76-year-old for two hours, he realized: "There's definitely more to this than I thought."
The would-be project sat on a shelf for three years while Mr. Elliott pulled in other personal and professional directions. But in June, three months after the COVID-19 health crisis first gripped New York state, a new chapter in the living history of the toilet gardens was written. The village renewed a longstanding effort to have Mr. Robar's gardens on his several properties removed, this time based on an alleged violation of the village's most recent junk storage law adopted in December 2018.
The village Board of Trustees in July passed a resolution ordering the removal of the toilets, which was met with an August lawsuit filed in federal court against village officials. Mr. Robar's legal team, Jon E. Crain, Albany, and Mark F. Snider, Massena, argue the village violated the Potsdam native's First Amendment rights to artistic expression and political protest, his Fourteenth Amendment rights to equal protection under the law and rights protected under the Visual Artists Rights Act of 1990.
In a 2008 interview with the Times, Mr. Robar said "there ain't nothing wrong with toilets."
"People use them every day, don't they?" he said.
Just last week, Mr. Robar said he has become a sort of florist, adjusting his porcelain planters every spring and watching them hibernate, fixed in snow, every winter.
Mr. Robar's federal case continues, but the village rescinded its July resolution earlier this month, so the gardens are staying for now.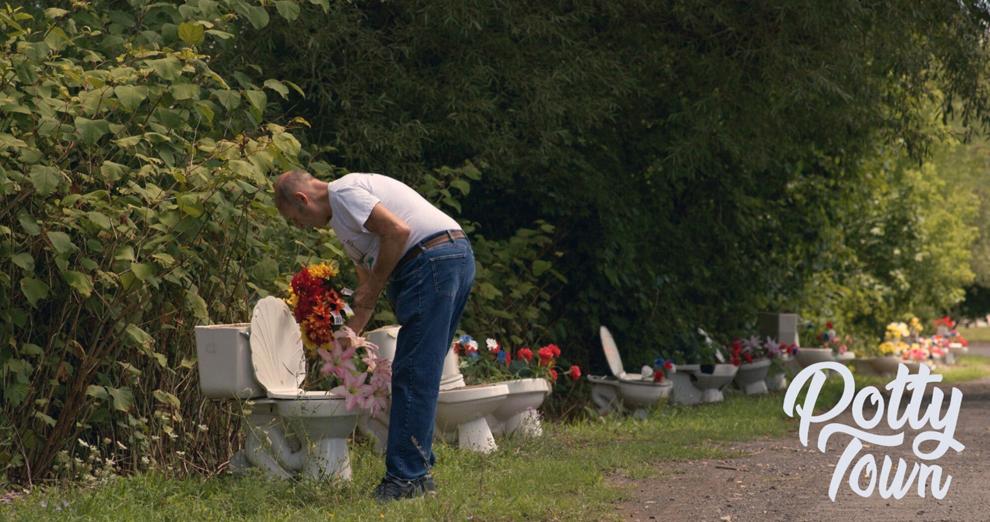 Mr. Elliott said last year's development — the third time the village unsuccessfully attempted to uproot the toilets — prompted him to revisit the initial interviews and B-roll he filmed in 2017.
"From there," he said, "it became toilets all the time."
Production has involved interviewing a few dozen people central to the unfinished story, and Mr. Elliott having cultivated a friendship with Mr. Robar. The players include former village code enforcement officers, SUNY Potsdam and Clarkson University professors, journalists and neighbors. All have a vision for what the village could and should be, staggeringly varied visions, Mr. Elliott said.
This story's "enemy," he said, is neither the village board nor Mr. Robar. It's not St. Lawrence Health System or Clarkson University — both institutions having been staunchly opposed to Mr. Robar's gardens over the last decade. Perhaps the story doesn't even have an "enemy" and is better understood through the community's evolving sense of identity.
"It's one of those iceberg stories," Mr. Elliott said. "All the themes are below the surface."
Beneath the "quirky toilets on top," Mr. Robar's story — and Potsdam's story — is further formulated every day by how the community views itself, though most Potsdam residents, Mr. Elliott said, already know what they think about Mr. Robar's toilets. Whether the gardens are celebrated as art or viewed as empty johns, "Potty Town" is not written to change anyone's mind.
Mr. Elliott is working through his production company, Ridge 44 Productions, with Potsdam native John B. Sovie II, who is directing photography through his company Sov's Media. With a distribution contract through Margrette Bird Pictures, Mr. Elliott said he's "cautiously optimistic" the film will land a buyer this year.
"If nothing else, we'll find an audience at film festivals," he said. "I just want to tell the story well, have people appreciate it and do the story justice. I think if we do that, the other stuff will come."
Production and distribution updates are anticipated this spring.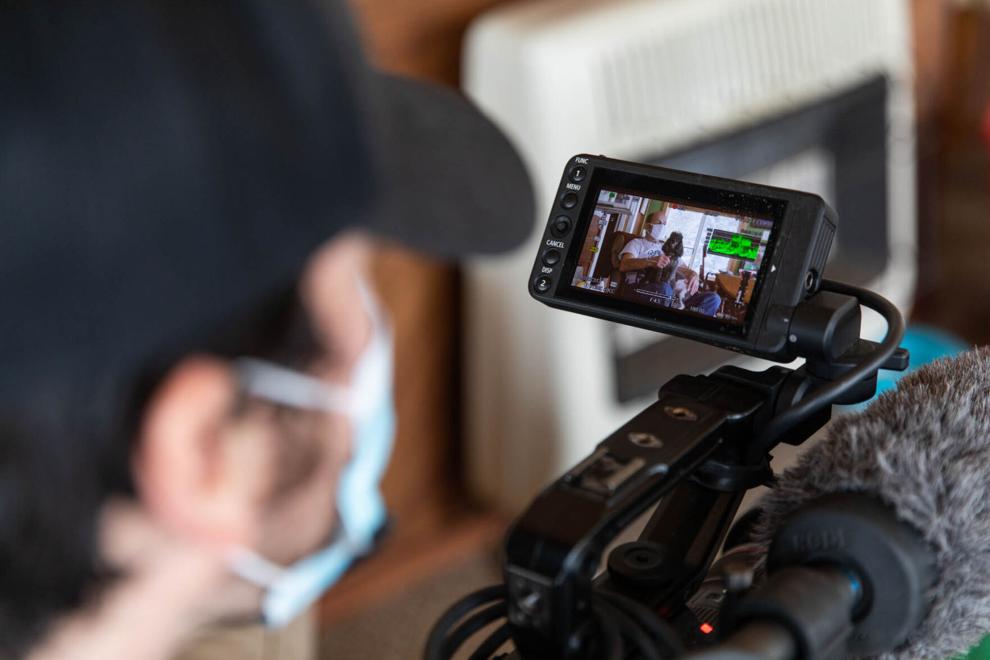 Filming is mostly complete, and editing continues, Mr. Elliott said, adding that securing media permissions is a final-stage process. Classical music in the public domain, though, does not require express permission for use, and Pyotr Ilyich Tchaikovsky's "Waltz of the Flowers" makes an appearance.
Opening with steady oboe and playful harp, the waltz closes the second act of "The Nutcracker" ballet. Strings and darting flutes accompany en pointe dancers, an inherent grace and beauty reflected in their polished movement. Such whimsy is reflected in the "naturally amusing" image of Potsdam's toilet gardens, an image Mr. Elliott said he didn't want to fight.
"It really feels like you're walking through this meadow of flowers," he said of Mr. Robar's blooms as he managed to reel in a smile over Zoom. "But they're in toilets."