CANTON — Jeanna N. Matthews stood in the middle of a dozen or so masked salsa dancers Saturday morning on the bridge at Heritage Park, talking about ways to add sparkle to a dance step.
The local artist, photographer, poet, dancer and professor of computer science at Clarkson University has been spending the summer doing a series of outdoor art projects under the name #AsyncArts. Saturday's art project was an outdoor salsa lesson.
There's a box around the salsa dancer, Ms. Matthews said, and as the dancer moves through the box, her partners responds.
Ms. Matthews showed the participants increasingly complicated series of steps interspersed with lively dancing to spirited salsa music broadcast on a Bluetooth speaker.
"Here we go, forward, two, three, again, forward six, seven again and forward, two, three. Now we are going to do two more of these and then we are going to do two backs," she said as she stepped through the moves.
It might seem complicated, but she assured there's always a way out.
"The wonderful thing about this is if you ever get a little muddled in where you are you can always just go back to the basic step," she said. "As long as you are moving and having fun and liking the music, you're dancing, and that's what matters."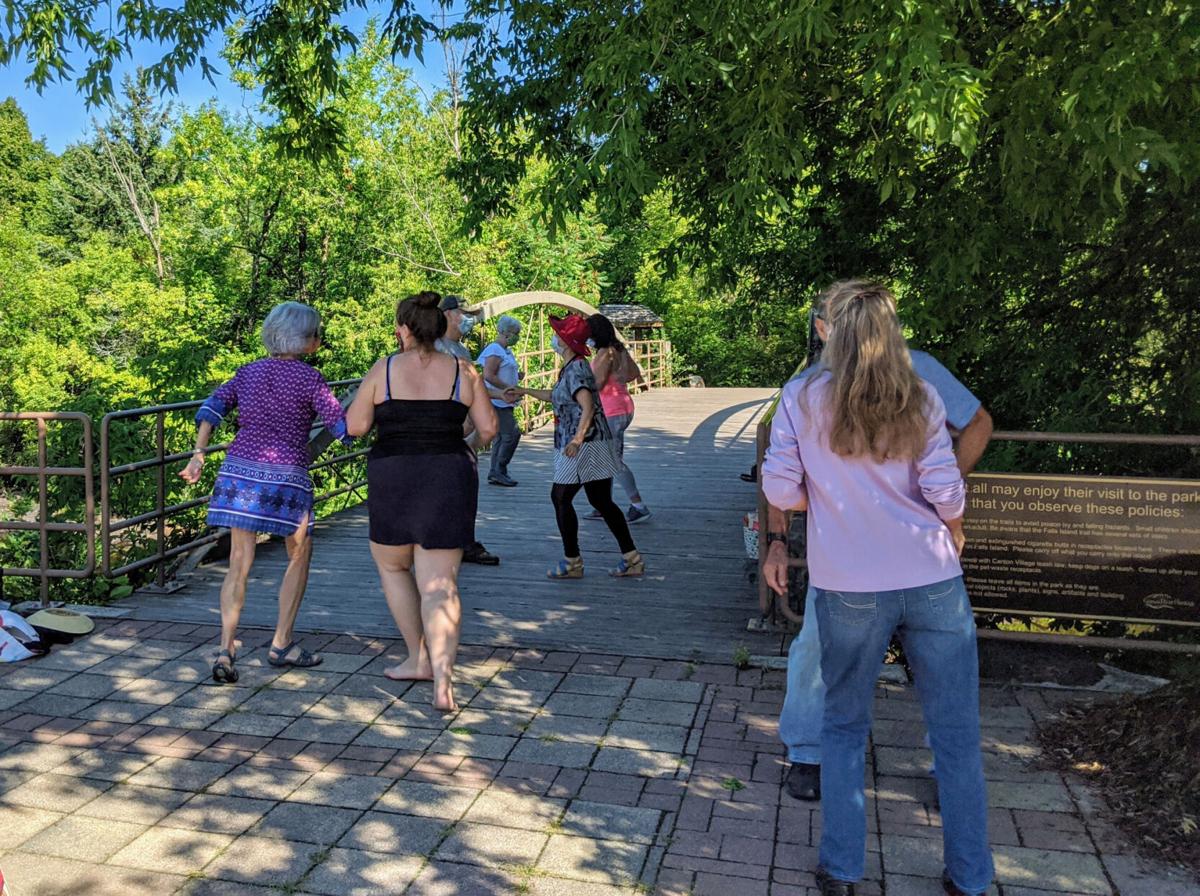 Ms. Matthews has been teaching Latin dance in the north country since 2012. She's taught salsa at SUNY Potsdam, at St. Lawrence University in the athletic department, at Clarkson University as a club, at local schools, often in Spanish classes, and for many local organizations and fundraisers. She's been teaching at the Yoga Loft, 17 Main St., since 2016, but in the spring those classes were held on Zoom while she has had some outdoor classes in the summer months.
Other #AsyncArts projects Ms. Matthews has worked on this summer include chalk art and a project called Arts Village with poems and photos in the windows of local businesses.
On Aug. 29, the #AsyncArts project will be Plein Air Live figure drawing at Birdsfoot Farm. The event is from 2 p.m. to 4 p.m., and advance registration is required. More information is available at http://wdt.me/AAgMsb. The event is a fundraiser for SLC Arts.