CLAYTON — A boatload of entries is expected for a summer art exhibit with its topic focusing on a ramshackle vessel that hasn't been in the water for 20 years. Despite her decrepit nature, fans of the Anna have traveled for miles to see her and to pose for photos with the boat, stored along the shores of the St. Lawrence River at Anchor Marina in Cape Vincent. A popular Facebook page devoted to Anna calls her the "unofficial beloved icon of the Cape Vincent community."
Hope Marshall, co-founder of River Muse Art Gallery and Studio, 229 John St., Clayton, first noticed the growing interest and intrigue surrounding Anna, a 30-foot Block Island trawler, on the Facebook group "1000 Island River Rats Now and Then."
"During the pandemic, people started to make a pilgrimage to Anna and share the photos," Ms. Marshall said. "It was a way for people to connect in a way that we weren't able to during the early stages of the lockdown. And then, she became a collective interest, a common challenge to photograph her in a unique way."
A few art pieces relating to Anna were displayed at River Muse, which attracted the attention of seasonal Thousand Islands resident and photographer Richard Margolis of Rochester.
"He suggested I make an exhibit of Anna art," Ms. Marshall said.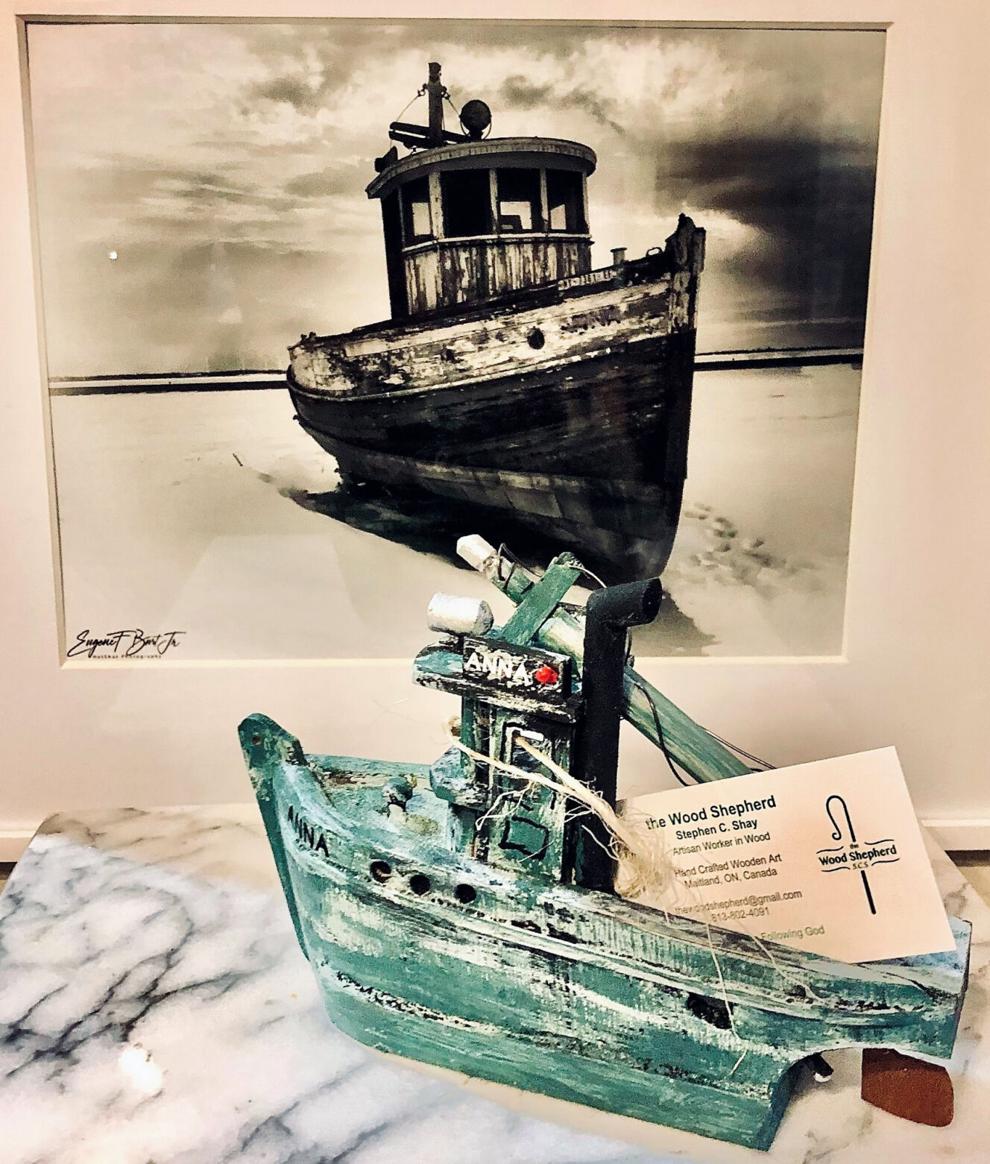 "She's a symbol of change, a beautiful wood boat displayed next to the river that will never float again," Mr. Margolis said. "She's getting more and more textured and fragile as she ages. Everyone who sees her must wonder how long she can last. Time must eventually spell her demise."
Mr. Margolis has noticed pictures of Anna at shows like the Thousand Island Art Center's annual "Along The River's Edge."
"There must be hundreds of such paintings in the north country," he said. "That's why I suggested the show to Hope."
Ms. Marshall felt the timing was right for an Anna exhibit. Anna's Facebook group, "The Anna," was started last July. Since then, the site has featured Anna-inspired art ranging from wood burnings to miniature magnets — all proudly displayed on the Facebook page.
"I knew I would have the artist base and public interest for this type of exhibit," Ms. Marshall said.
A few weeks ago, she announced a call for open entries for "The Art of Anna, A River Icon." The exhibit at River Muse will run from Saturday, July 30 through Monday, Sept. 5. The exhibit is open to all mediums and skill levels.
Ms. Marshall received four entries within days of announcing the exhibit. They include a quilt, a painting and shutters.
"I would love to see some artists really go to new creative heights," she said. "I would like to see some stained glass and traditional arts, not just fine arts."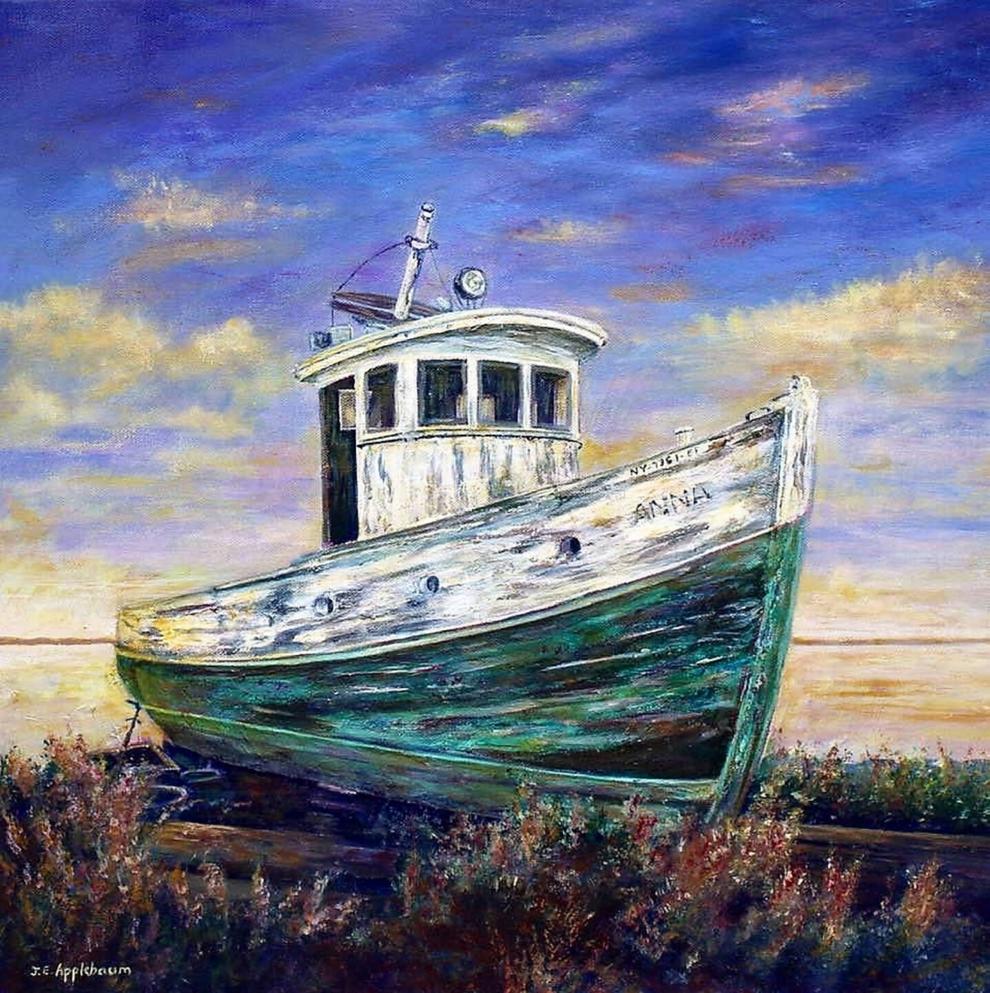 Ms. Marshall, a digital and multi-media artist, photographed the Anna in 2009 — before the vessel reached its "iconic" status.
"I think Anna attracts people because she is a mystery," Ms. Marshall said. "She's beautiful in her decrepit state juxtaposed near the river."
'something about her'
In the fall of 2018, artist Joan Applebaum, who finds artistic inspiration in her natural surroundings, visited the Anna to take photos.
"The more I took pictures and the more I looked at it, the more I wanted to paint it," said Ms. Applebaum, who moved to Lewes, Del,. about three years ago, but who maintains a seasonal home in the Indian River lakes region.
"The Anna is intriguing because I think people wonder about her story," Ms. Applebaum said. "There are plenty of boats that we see on the river but she's on shore and there's just something about her."
She also appreciated "the lines" of the boat, despite the craft being in such a state of disrepair.
"For artists, that is also very intriguing," Ms. Applebaum said. "We love to draw or paint things like that. That's what attracted me to the boat."
She took photos of Anna with the intention of painting her. But first, she had to do a sketch to further base the painting on.
"As I was doing the sketching, I got more involved in the details of the boat and realized I was actually doing a drawing, not a sketch," Ms. Applebaum said.
So she started over "on a decent piece" of art paper.
"There's something about the simplicity of pencil — just black and white and a series of grays against a stark white background can be very elegant," Ms. Applebaum said.
She liked the way it turned out, but said that her husband came into her studio and said he thought she was doing a painting.
She waited a few weeks and started her acrylic painting of the Anna. When finished three years ago, it was displayed at Bay House Artisans in Alexandria Bay. It sold quickly.
The Anna exhibit, Ms. Marshall said, is an effort to do some special exhibits at River Muse.
"I mostly bring in guest artist features every two months along with our regular rotation of talented local artists," she said. "This exhibit, being an open call for art, will do much to create a good community spirit and allow some folks to display their art who might be intimated in a gallery setting otherwise."
She said the niche for river-themed art exhibits is well represented by the annual "Along the Rivers Edge" exhibit hosted by TIAC.
"I'm seeking to complement and create opportunities and garnered greater support of the arts in our area," she said. "Of the artists who exhibit their work on a regular basis, I believe it's a tiny fraction of the talent in our area. Shining a light for more people will be a great outcome."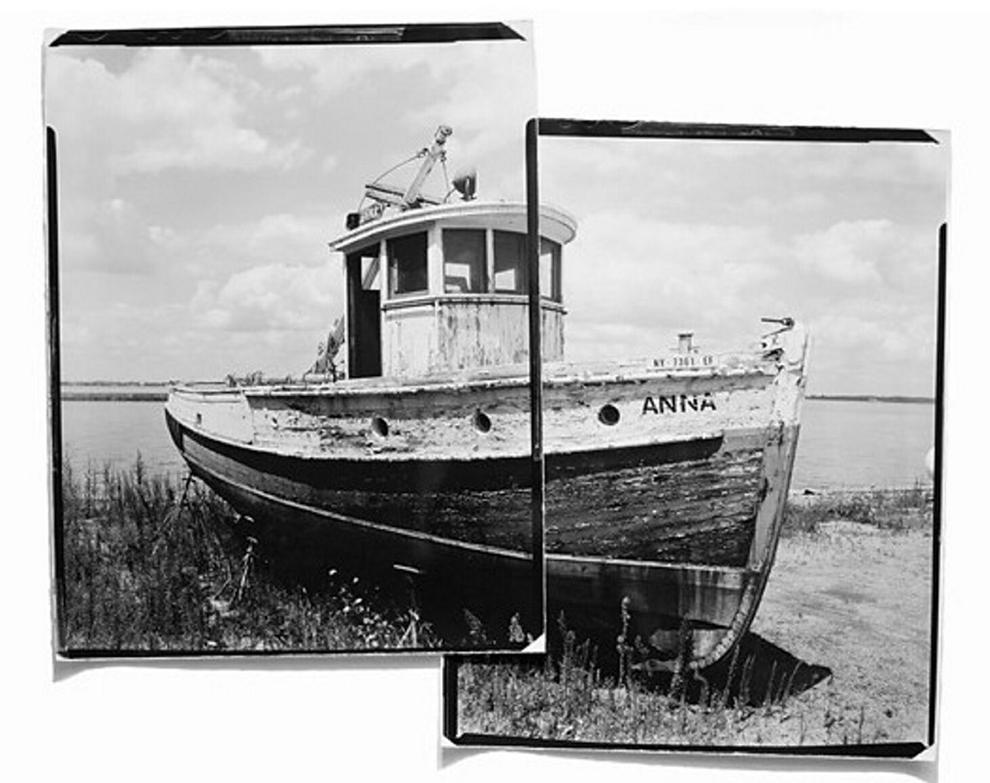 John L. Stiefel of Cape Vincent, with the help of two other crew members, piloted Anna to Cape Vincent two decades ago.
Mr. Stiefel, who spent five years in the U.S. Coast Guard, is a diver and relic hunter. He needed a companion boat for his operation and found Anna for sale in Providence, R.I. The stop-and-go voyage took a little more than three weeks, he told the Times in August. But her local service was short lived. Anna was put up on shore after about a year of service. In a barter pact, Mr. Stiefel traded Anna to Anchor Marina owner Ronald J. Trottier in return for dock space for another boat.