WATERTOWN — Maeltopia is a dark, strange fantasy world a leap and a nightmare or two away from here. What lurks there is a creative dystopian vision largely created on a couch in the early morning hours on Columbia Street by a deep-thinking and prolific, middle-aged man with degrees in philosophy and sociology.
That main writer about the land of Maeltopia is Mark A. Anzalone. He is assisted by his brother, Steven J. Anzalone, Atlanta, Ga. Together, the Watertown natives founded Maeltopia LLC. They are joined by Walker Kornfeld, Watertown, who acts as sort of the Maeltopia pathfinder — the editor of what the brothers create.
Their work has gained more attention as the three have found success working off each others' strengths to create the stories of Maeltopia along with its multi-faceted spin-off projects.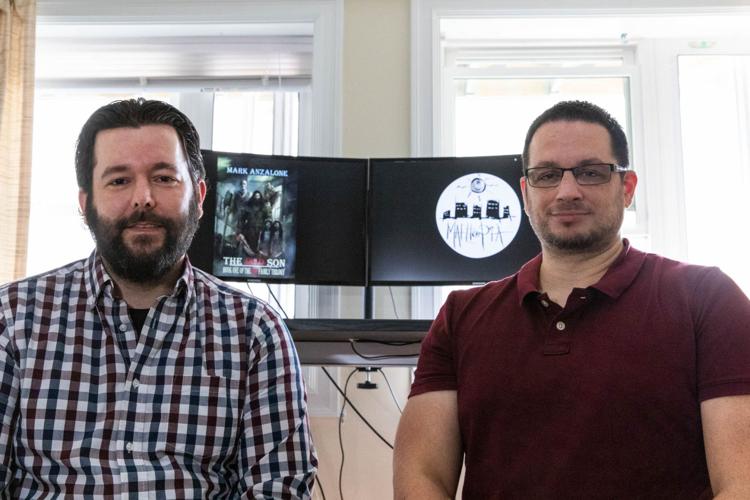 The nearly five-year collaboration has resulted in a novel, "The Red Son," by Mark Anzalone that will be released Tuesday by Denver-based Wildblue Press. It is book one of the "Red Family" trilogy.
But the novel is just scratching the ragged surface of Maeltopia. There are plans for graphic novels, comic books, games and other projects related to their vision. All projects have gained attention of people who produce fantasy content and their projects are in addition to their popular podcasts and YouTube productions about the dark, fantasy land and those who live there.
The success is a far cry from when the three self-described "nerds" found similar likenesses and began hanging out a couple decades ago. Now, there are others around the world who want to jump into the land of Maeltopia.
"Mostly, in the past year or two years, we're starting to see signs that we were right — that we thought we really had something between the three of us," Mr. Kornfeld said Monday at his apartment on Washington Street and joined by Mark Anzalone. "Creatively, we thought we had what it takes to turn Maeltopia into something."
"We started out as very cynical people, that this isn't going to work," Mark said.
Mark is a 1992 graduate of Immaculate Heart Central High School, Watertown. He then went to Binghamton University, where he received a bachelor's degree in philosophy and a master's degree in sociology.
"From there, it's been pretty much just a lot of writing, a lot of freelance and illustration," he said.
His younger brother, Steven, works for the Georgia Institute of Technology's Institutional Review Board. He's also a graduate of Binghamton University, with a bachelor's degree in psychology and a master's degree in behavioral neuroscience.
Steven is also a writer for Maeltopia, but he also produces the video work and music for the company's podcasts and videos.
"I'm not a musician, but there are programs where you can compose music and put in different sound effects," Steven said in a phone interview from his home In Atlanta.
Mr. Kornfeld, a 1996 graduate of Watertown High School, and who has a paralegal degree from Jefferson Community College, founded Watchword Writing & Editing Services in 2018. About three years ago, he did some editing for Mark Anzalone, who was very happy with the result.
"We started working together," Mark said. "He likes fantasy, and I'm more of a horror guy. We both jumped into a fusion."
"Developmentally, I just offer opinions regarding the characters and things like that," Mr. Kornfeld said. "When it comes to the tone and themes that are generally involved, I leave that to them and don't challenge too much of it."
"I've had other people edit some of the work that I've done," Mark said. "You get some very technical edits and advice about how things should work and whatnot. That's always great, but when we started working together, Walker would give me advice as to how to construct the ideas. So it was well beyond editing. It was giving me substantive advice about how to construct the ideas."
"We bounce ideas off each other to help develop the ideas, mythology and origins that go with Maeltopia," Steven said.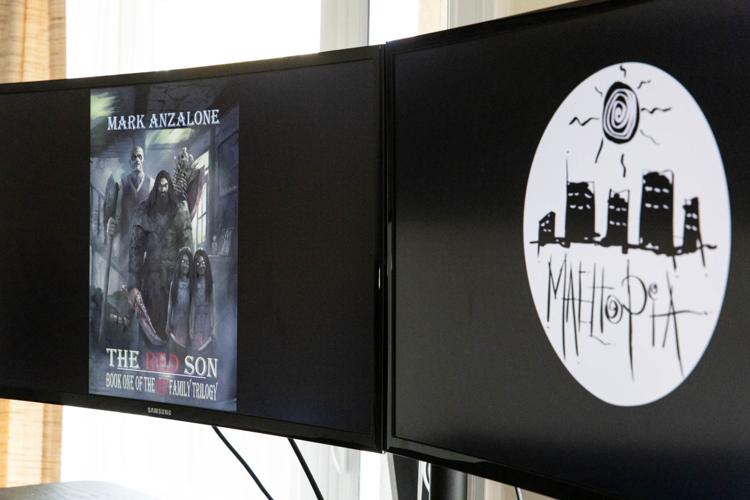 A NOVEL IDEA
The Maeltopia trilogy is based on a short story that Mark wrote. The first novel in the series, "The Red Son," will be released Tuesday. The second is half-finished.
"It's based on a mythology that I put together a long time ago and retooled over the years and developed with my brother," Mark said. "When Walker came on, we all jumped right in and started playing with a lot of the ideas."
It began with stories posted on the brothers' Facebook page dedicated to Maeltopia. Stories were posted once a week for a couple of years.
"When I came on board, I said, 'Guys, this is clearly a novel. It would take a lot of work, but it can be done,'" Mr. Kornfeld said.
The publisher, Wildblue Press, agreed. The world the trio created seems endless. It's all there in a couple of bookcases and large plastic tubs. They are filled with notebooks that have the writings of Mr. Anzalone.
"He could stop writing today and we would be set for life when it comes to material," Mr. Kornfeld said.
"We're in a unique position because one of the things I found in talking to other authors is that we don't have any paucity of material," Mark said. "Anytime anyone wants us to do something, we always have something we've already done. It's more of a process of organizing what we have than producing anything new."
Steven said he had to encourage his brother to submit what he wrote to publishers.
"I sent out some stories and got published," Steven said. "I told Mark, 'You're a better writer than I am. If I can do it, so can you.' It took him a little bit of time to submit these things and to get it rolling. But once we did it, he became more confident and we've been going at it ever since."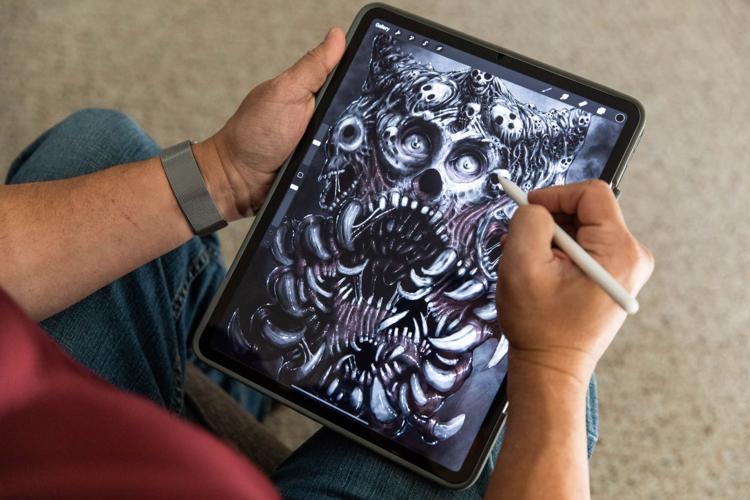 THE LORE and LURE OF MAELTOPIA
Mark Anzalone described Maeltopia as a "very dark, supernatural dystopia." It's basically our world, but with one very striking event.
"It's referred to in the stories as The Great Darkness of 1999," he said. "In September of 1999, everybody lost their memory for an entire year. They woke up the following year and the entire world has changed in dark, unusual ways. It seemed as if everyone had gone crazy for that year and erected monuments to that insanity."
In addition to the strange material things noticed (e.g., a skyscraper-sized tower of teeth) after the Great Darkness, Mark explores concepts of religion and science.
"Some things that happen don't smack of human capacity," said Mr. Anzalone, who has been influenced by writers such as H.P. Lovecraft, Robert Bloch and Thomas Ligotti.
"Maeltopia is pretty much about what the world looks like after a very dark catastrophe of mind more so than matter," Mark said. "It's a catastrophe that hasn't just physically changed the landscape, but it also changed the way people are forced to look at the world in a sense of doubting traditional notions of what they might have once had."
Into this landscape enters the protagonist, The Family Man: "A serial killer for whom dreaming and killing are intertwined" and who "wanders the strange new landscape searching for answers."
KEEPING IT ORIGINAL
The company's podcasts and YouTube videos feature narration of Maeltopia stories and are voiced by the trio.
"That's what sets us apart on YouTube," Mr. Kornfeld said. "Most of the narrations are somebody else's work. They get permission from the creator to narrate the story. In ours, everything is original."
When it became clear their web serial needed art, Mark sharpened his skills in that genre.
"I hadn't drawn in quite some time, and my background is traditional art with pencil," Mark said. "I thought rather than pay for artists, I thought maybe I should do some art, so I experimented with digital art. It's gotten to the point where I'm doing full-blown commission art."
A table-top game about the world of Maeltopia is in development. A prototype was created and it's been play-tested in the Atlanta area under Steven's guidance.
"During play-testing, people really liked it," Steven said. "We have a lot of the art done. The boards are in development. We're taking characters from Maeltopia, specifically from the books. There's a dark underpinning to it, but I think people are attracted to that."
Mr. Kornfeld said they are biding their time on the table-top game project.
"We need a bigger audience, so we're slowly growing a following on YouTube and the podcast," he said. "We believe getting books published will help. Secondly, we need to keep our eye out for collaborators who recognize what we have and want to partner with us to make it a reality. Ideally, this partner or partners knows a great deal more about the gaming industry than we do."
There are also plans for a role-playing game with mechanics similar to "Dungeons and Dragons," but to give an example of how expansive the world they created has become, Walker said the trio recently began collaborating with a firm in the United Kingdom that wants to implement some of their work into an Autonomous Sensory Meridian Response project through narrated Maeltopia stories.
ASMR describes a feeling of tingling and/or relaxation that can come over someone when he or she watches certain videos or hears certain sounds.
"That was strange for me," Mark said. "I had just recently been introduced to the (ASMR) genre. I didn't even know what it was and when I was told, I thought I don't exactly know if what I write fits into this genre. I write weird fiction, dark themes which is not generally something people relax to."
Mark wrote one story for the ASMR project and its creators asked for another.
"We've been going places and getting noticed from people and organizations that I didn't think we'd be resonating with at all," Mark said.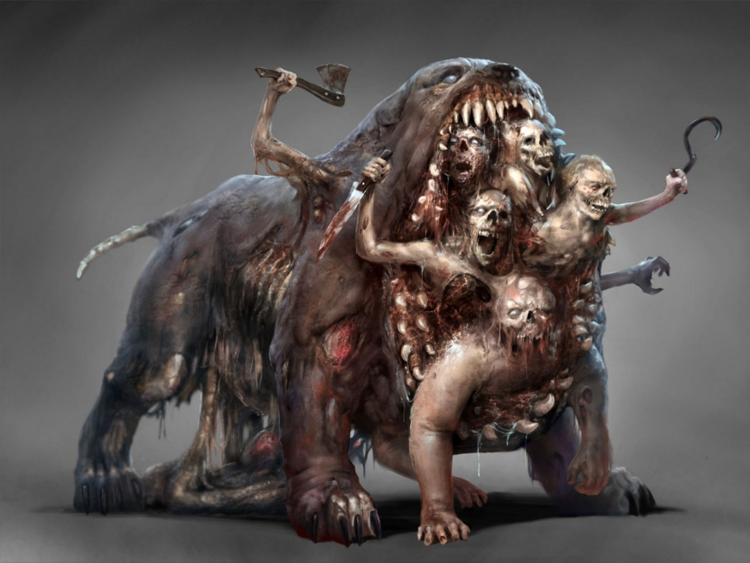 GOOD TIMING
The trio believes their success is partially due to timing. Stories with broad narratives, from "Game of Thrones" to the plethora of superhero movies are very popular.
"People are looking to have their stories situated in a larger universe that has a lot going on with more moving parts and intrigue," Mark said. "All of sudden, that seems to be popular and we came in on that."
"People are attracted to those alternative worlds, something they can dive into and immerse themselves in," Steven said.
The trio is motivated to create more of their Maeltopia world.
"Our main goal here is for all three of us to do this full time, to wake up every day and work on Maeltopia, be it graphic novels, books, the table top game, role-playing games and our YouTube channel," Mr. Kornfeld said.
Mark, the main writer for Maeltopia, will be there to spin more tales about it, usually at night. During the day he cares for his 3-year-old son while his wife works.
"He doesn't let me write very much, so I usually write into the wee hours of the morning," Mark said.
He said he has a dedicated spot on his couch for writing.
"I set up my laptop, I've got my notebook and cup of coffee," he said. "If I'm coming up with ideas or organizing ideas or sketching, I'll sit at a desk with my laptop. But once it's done and organized, I go back on the couch."
His wife, Stephanie, seems down to earth when it comes to Maeltopia.
"She's been enormously supportive," Mark said. "But there are moments when she preferred I keep a more normal schedule,"