Yes, William Shatner is a multi-award-winning actor, director, producer, writer and musician.
But he's also a pretty good comedian. For example, on Monday afternoon when a Times reporter asked him where he was talking from at the beginning of a phone interview, Mr. Shatner couldn't resist a quip.
"Next door, in Syracuse," he said. "Or wouldn't it be fun to say, 'Downstairs. Come down?'"
It would, but he was actually calling from southern California, where he lives. He also owns a 360-acre horse farm in Kentucky.
Mr. Shatner will be in Syracuse on Saturday, Jan. 18 for his "William Shatner: Live on Stage" show at the OnCenter. Audiences will enjoy a screening of the classic 1982 film "Star Trek II: The Wrath of Khan" followed by a conversation with the actor.
Playing Capt. James T. Kirk in the legendary 1960s' television show and in "Star Trek" films and becoming a cultural icon for it is just one of the numerous roles, gigs and stints that Mr. Shatner has taken on over the years.
He played the title role of the hit ABC television show "T.J. Hooker" from 1982-85 and he won an Emmy Award for his role on ABC's "The Practice" and a Golden Globe award and an Emmy for his role on ABC's "Boston Legal."
He has been a talk show host, "The Negotiator" on television commercials, performed on Broadway and recorded several albums. He's authored over 30 fiction and non-fiction books, including his 2008 autobiography, "Up Until Now," a New York Times bestseller. His "Star Trek" memoir, "Star Trek Memories," was published in 1993. His latest book, "Spirit of the Horse: A Celebration in Fact and Fable," was released in 2017. He's also a philanthropist and environmentalist.
Mr. Shatner, in his 2000 book, "Shatner Rules: Your Guide to Understanding the Shatnerverse and the World at Large," wrote that some people view "Star Trek" with mockery, and he had also endorsed that attitude "to beat the mockers to the punch."
But one day he talked to Shakespearean actor Patrick Stewart, who also has played the role of a captain (Picard) in "Star Trek" in TV shows and films. Mr. Stewart made it clear to Mr. Shatner there was "no joke to be had" when it came to "Star Trek." Mr. Shatner "took the pride back" about the show, he wrote.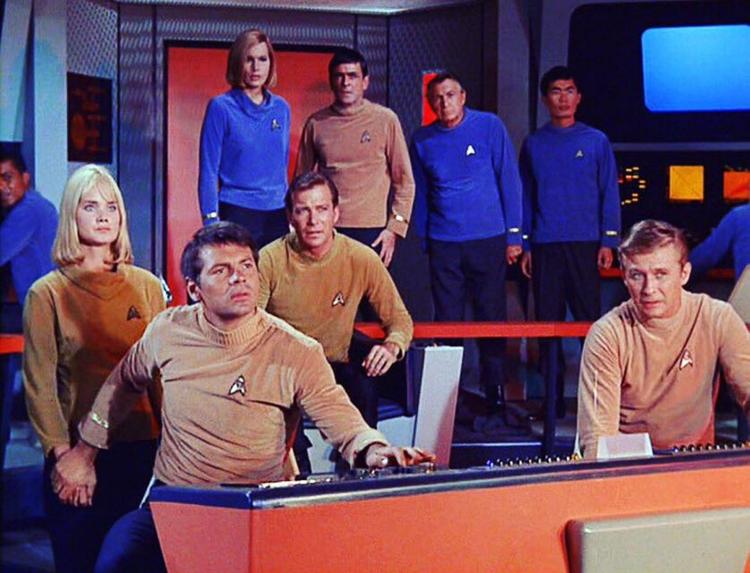 "Somewhere along the way I got caught up in the derisive laughs of the haters," Mr. Shatner wrote in "Shatner Rules."
On Monday, when asked about that meeting with Mr. Stewart, Mr. Shatner said, "That's the abbreviation of a lengthy story. That's about it — although — yes. That's it," he said, with a laugh. "In the realm of succinctness, that's it."
For his Syracuse show on Jan. 18, Mr. Shatner said he will spend about an hour-and-a-half after the film is shown, talking to the audience and fielding questions.
When asked about the legacy of "Star Trek," he said it's "manyfold." Mainly, it's entertaining. He also said it offers morality tales, has good characters and is an adventure story.
"At its best, it was good entertainment," Mr. Shatner said. "The legacy though, which is a more serious term, is that a lot of people over the years have come up to me — and that must mean there are many others that exist — whose lives were shaped by watching 'Star Trek' as kids and adults, choosing a profession that moved them into sciences and things like that."
Mr. Shatner said that earlier Monday morning he was watching the program, "How the Universe Works" on the Science Channel. The episode "Battle of the Dark Universe" was shown.
"They were describing dark matter and dark energy and the mystery of it all," Mr. Shatner said. "It's profound that people entered into those areas because of 'Star Trek.' So the legacy of 'Star Trek' may be its influence on scientists and people who enjoyed 'Star Trek' and who chose a profession relating to it."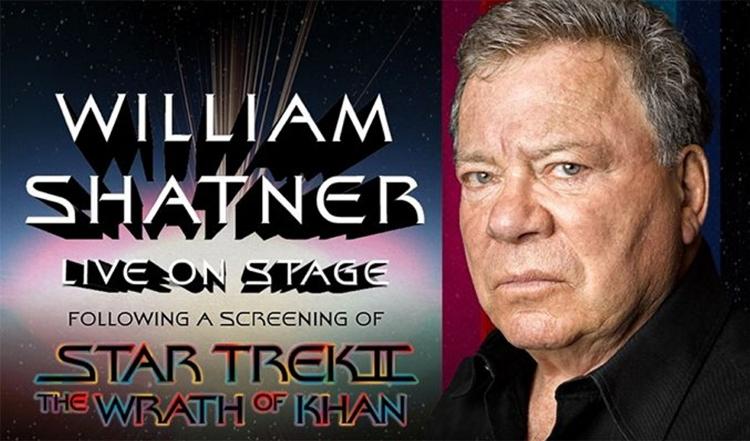 Science, he said, is more important than ever, especially when he considers the future of his grandchildren. He spoke passionately about the affects of global warming.
"I'm frightened to death what the future holds," Mr. Shatner, 88, said. "Right now, authorities in this country don't believe that there's global warming. The ecologists I know who are well educated and in the know of science say we've already past the tipping point. No country on Earth is making strides to take care of this."
Coastal cities, Mr. Shatner said, will have to be damned up because of rising seas.
"There's no question that seas are going to rise," he said. "But it's just a question if they're going to rise 6 feet or 60 feet. It's absolutely absurd we don't have a Manhattan Project of all the countries on Earth trying to fend off carbon and methane gasses. It's absolutely insane. The insanity comes from our desire not to look at this terrible fate that's going to happen to our grandchildren and not face it. It's better to ignore it and say, 'It's not going to happen.' That's what moves me to emotions that are indescribable; anger because we're not doing anything."
DOESN'T PLAY FAVORITES
Mr. Shatner is a native of Montreal and a graduate of McGill University in that city and was active in campus theater productions. He received a bachelor's degree in commerce from McGill in 1952 and in 2011 received an honorary degree from the university.
Mr. Shatner has been inducted into the Hollywood Walk of Fame and Canada's Walk of Fame. In 2011, he received Canada's most prestigious honor in the performing arts when he was awarded the Lifetime Artistic Achievement Award by the Governor General's Performing Arts Awards Foundation.
Mr. Shatner said it would be difficult for him to select a favorite role from his career.
"I bring what I am to each role as I change and get older and have new and different experiences," he said. "They change. Capt. Kirk is different from whatever I'm doing now because I'm different. It's not like having a favorite. It's just everything is my favorite."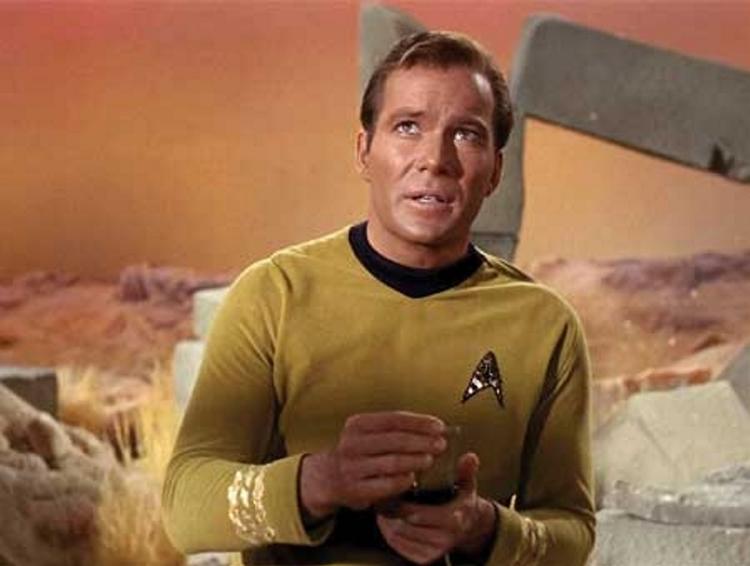 And he's looking forward to finding new favorites.
"After I put this phone down, I'm meeting with people to agree on what our pitch is involving a new show involving the L.A. Police Department," he said. "I'm really seriously over-busy."
He hosts the History channel show, "The Unexplained" and he just finished a blues album. That musical project grew out of working with musicians for his 2018 holiday album, "Shatner Claus — The Christmas Album."
"It's a progression of me trying to find a way of expressing myself musically," Mr. Shatner said of the blues project. "I'm handicapped without being musical."
Mr. Shatner has never taken a sick day.
"The sickest I've been would be performing in a movie or on stage or in a series — something that had continuity to it — where I couldn't afford to be sick for one day and I wouldn't be — until the show was over and somehow, mysteriously, catch a cold and be laid up for a day or two. But it's amazing what your body is capable of doing."
What he does is partially governed by a simple edict that he promotes in "Shatner Rules": Saying "Yes" to opportunities will lead to other opportunities.
"Don't say yes to jumping off a bridge," Mr. Shatner said. "But say yes to going out with friends. Say yes to new love. Say yes to new opportunity. Go for it. Otherwise, you're just moldering."