SACKETS HARBOR — An early morning trip Stephen W. Yaussi made to Zenda Farms Preserve last August is paying artistic dividends for the artist.
His pastel painting, "Zenda Dawn" has won the North Country Theme Award at the 20th annual Summer Art Show sponsored by the Sackets Harbor Art Center/Arts Association of Northern New York.
In August, "Zenda Dawn" also won Mr. Yaussi two awards — best in show and second place — at the annual Clayton Plein Air Competition, where it was literally created on the spot.
"I was up at 5 o'clock in the morning to see the sunrise with my easel on the road to get there," Mr. Yaussi, Henderson Harbor, said. "The place has always fascinated me. I just thought it'd make a good painting for the local plein air competition."
Zenda, a former dairy and beef farm that operated through the 1950s just outside the village of Clayton, is now managed by the Thousand Islands Land trust, which preserves its agricultural history. It features the Lois Jean and John MacFarlane Trail and hay meadows, conserved for nesting grassland birds.
Mr. Yaussi said it took him less than four hours to complete "Zenda Dawn." His primary medium to work in is pastel.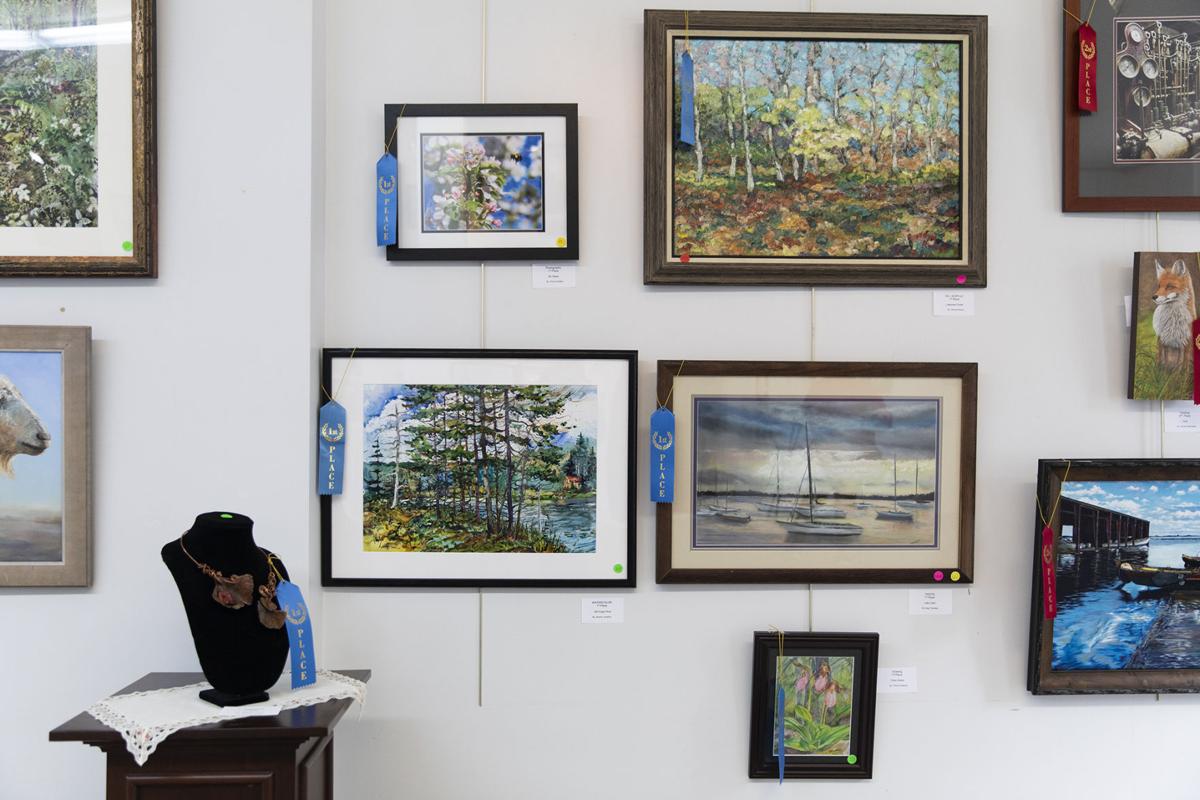 "It's truly a painting, but pastels are a chalky binder and they put pure pigment in them so the colors are very strong, very nice," Mr. Yaussi said. "It's faster because you don't have to wait for it to dry and things like that. That's basically why I use that medium to do plein air in."
Mr. Yaussi retired in 2011 with more than 40 years of experience as a professional architect. For the last 27 years of his professional career, he was principal architect and co-founder of GYMO PC, Watertown, a multi-disciplined architectural, engineering and land surveying firm.
"In my architectural practice, I used a lot of art in presentations of designs and things like that," Mr. Yaussi said. "I've always been interested in art and wanted to do more art but didn't have a lot of time while I was working."
Painting and architecture have similarities, Mr. Yaussi said.
"They're both creative endeavors," he said. "I've always looked upon architecture as a form of art. Primarily, it's functional art and you have a lot of parameters and constraints you need to work in. Some of the greatest architects are some of the most creative artists around."
"He's a very accomplished pastel artist and I took my first lesson from him," Mr. Yaussi said.
He was also inspired by Albert Ernest Backus, 1906-1990, a Florida artist who was known for his vivid Florida landscapes. Mr. Yaussi spends three months each year in the Sunshine State.
"He was a very impressionistic painter," Mr. Yaussi said.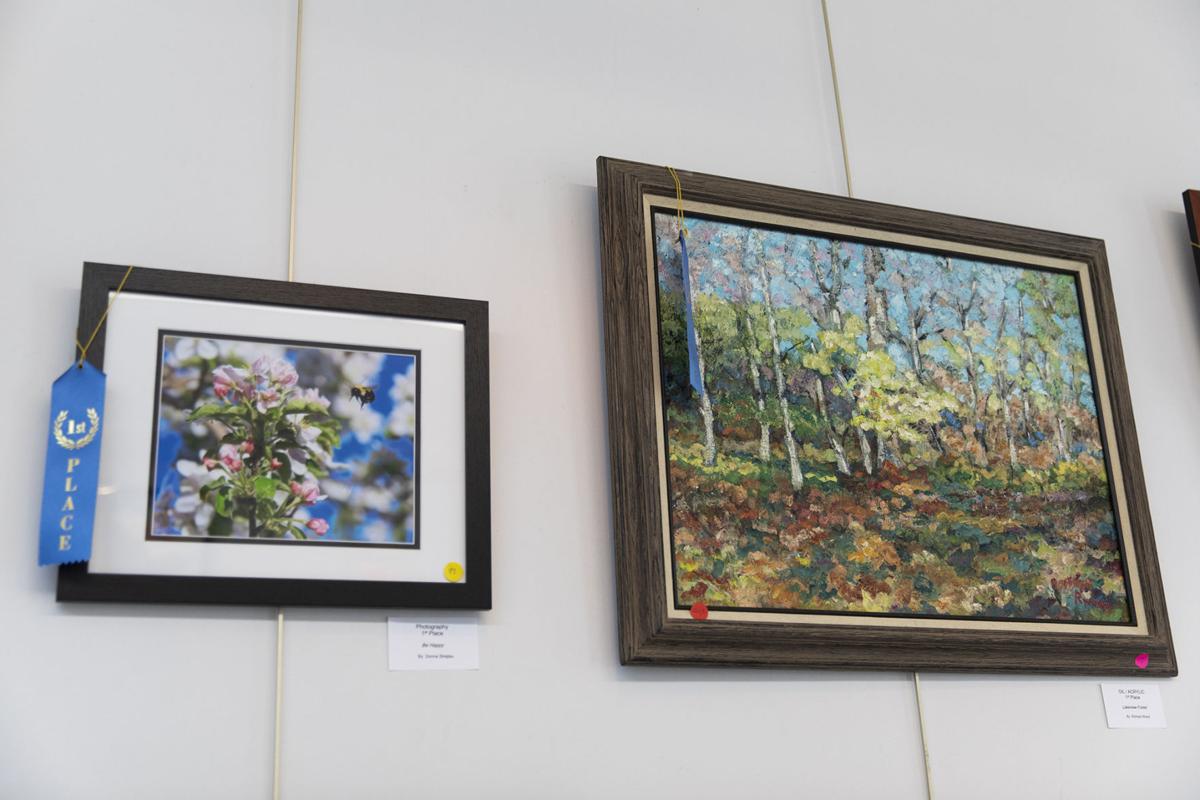 Watercolor: First Place, Jeanne Lampson, "Old Forge Pond"
Second Place, Bill Christopherson, "Labor Day 2019"
Third Place, Diana Lawlor, "Moochas Grassyas"
Honorable Mention, Jill Newton "Ye Olde Pump"
Oil/Acrylic: First Place, Richard Wood, "Lakeview Forest"
Second Place, Mark Tollner, "The Great Flood"
Third Place, Jerry Merrill,"Mom"
Honorable Mention, Jan Byington "Coming in Waves"
Pastel: First Place, Greg Trombly, "Lake Calm"
Second Place, Stephen Yaussi, "Zenda Dawn"
Third Place, Ruth Uhlig, "Loosestrife on Wolf Island"
Honorable Mention, Greg Trombly, "Pastel Beaches
Drawing: First Place, Cheryl Simeone,"Three Sisters"
Second Place, Cindy Eisenhauer, "Foxy"
Third Place, Kat Mereand, "Time Without Meaning Crow"
Honorable Mention, Janet Evers, "Feeding Time"
Photography/Digital Art: First Place, Donna Strejlau, "Bee Happy"
Second Place, Melissa Green, "Powerhouse"
Third Place, Teresa Strife, "Sunset"
Honorable Mention, Teresa Strife, "Copenhagen"
Three-Dimensional: First Place, Theresa Mehaffy, "Just Hanging Around"
Second Place, Robert Wormwood "Verticle Obsession"
Third Place, Lida Small "Flower of the Sea"
Honorable Mention, Cindy Eisenhauer "Ninja"
Youth (age 15 and under): First Place, Andrew Freeman, "Color Storm"
Second Place, Layla Gould, "Schroom"
Third Place, Olivia Freeman, "Rosie"
Honorable Mention, Thiquelle Vanguilder, "Cosmic Explosion"
North Country Theme Award: Stephen Yaussi, "Zenda Dawn"