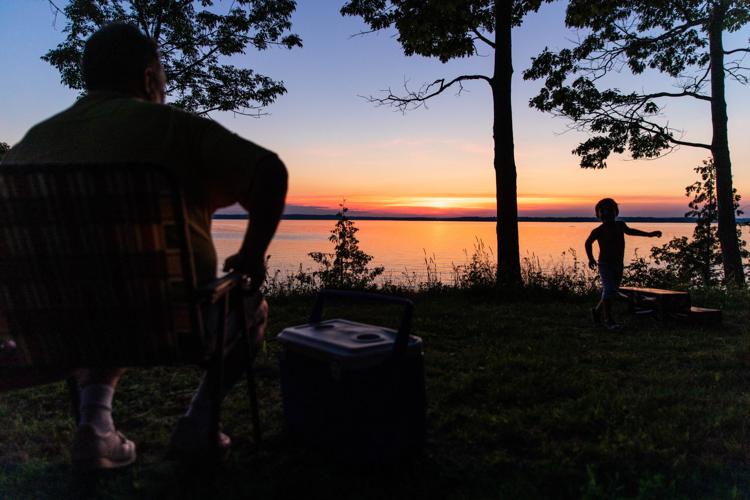 GRINDSTONE ISLAND — Late summer sun breaks through tall trees as Chris Carlisle drives down Cross Island Road in his black side-by-side. I'm riding along in the passenger seat. A sense of calm washes over me as we bump along the gravel road. I'm finally on the island again.
GRINDSTONE ISLAND — In the mid-1880s, Scottish stone cutters made their way to Grindstone to…
It's been six months since I first set foot on Grindstone Island, stretched along the St. Lawrence River between Clayton and Gananoque, Ontario. That first trip was in the dead of winter. Bundled up in snow pants, boots and mittens it was the beginning of an assignment — To tell the story of those who brave the winter when the island population drops from hundreds to eight. (Read "Life on the Grind" here.)
On this summer day, Chris sees Audie Cerow pulled over in his silver SUV on the side of the road, just past the old upper schoolhouse. He stops in the middle of the road to say hello.
No cars are coming, but even if they were, the driver would just smile, wave and go around. 
"Are Brian and Patsy around?," Audie asks.
Chris and I both nod. "Stop over," he adds. 
Brian and Patsy Parker are Chris' neighbors on the island, and the generous people who fed me and gave me a bed to sleep in over the course of the summer during my second assignment — learning about summertime on Grindstone.
They've become like a second set of parents to me. 
Chris and I say our goodbyes to Audie and drive toward the north side of the island. We arrive at the intersection of Cross Island and North Shore roads, where the island's church and Dodge Hall are on opposite corners. 
A cloud of dust forms behind us as we barrel down the hill toward Brian and Patsy's house. Patsy is on the porch. She waves as we make our way down. 
Chris turns into their driveway. 
"Door-to-door service," he says.
"Your parcel has arrived!" I yell.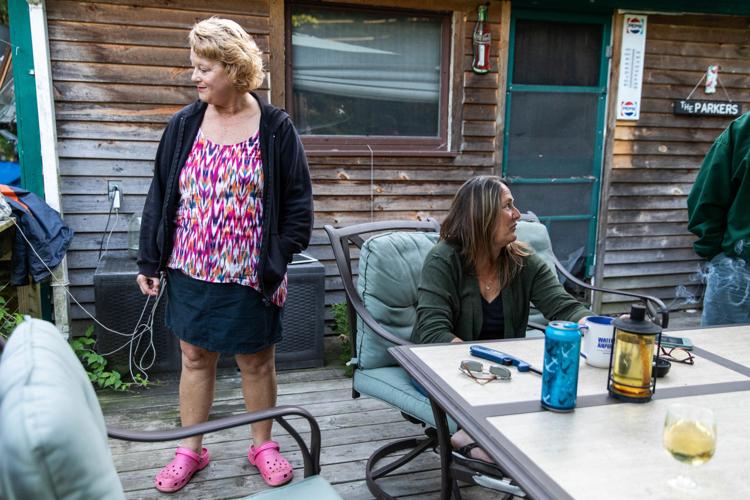 I run up the stairs to greet Patsy. "I'm so happy you're here," she says as we hug.
This is summer on Grindstone.
THE RIVER
I fell in love with the river when I moved upstate last year.
I'd never been to, or even heard of, the 1000 Islands, which is a group of 1,864 islands in the St. Lawrence River between the United States and Canada.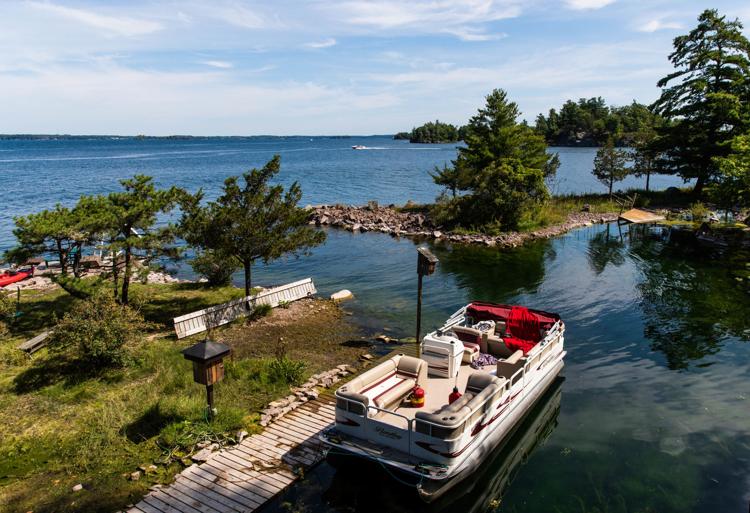 But, despite not knowing what I was getting myself into, I packed up my tiny apartment in Philadelphia, Pa. and moved the more than 300 miles north to Watertown for my first post-grad job. 
I visited the river during my first few months in the north country, but I'd say my first real experience with the river was earlier this year — about six months after moving here.
Watertown Daily Times reporter Marcus Wolf and I worked on a story about living on an island through a harsh north country winter. 
Brian and Patsy, who became two of our main subjects for the story published in February, are two of fewer than 10 people who live on Grindstone Island year-round.
It was a bone-chillingly cold January morning. There wasn't a cloud in the sky. Brian picked Marcus, WPBS producer Kane Grant and me up at the village docks in Clayton and hauled us and all our equipment over to the island. 
The river wasn't quite frozen. The aluminum boat cracked through skim ice, the rippling sound reverberating through the hull.
There wasn't a single other boat on the water that morning. There was a peaceful solitude to being nearly alone on the water. The river has a way of doing that to you, even in the winter. 
That was the day I fell in love with the river.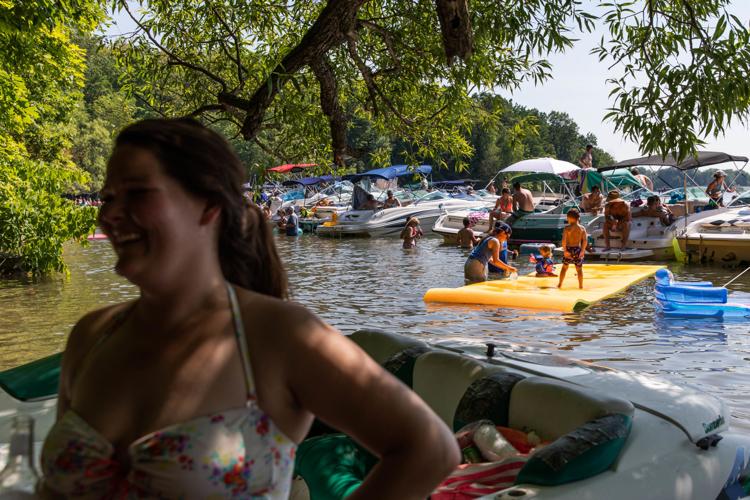 MEMORIAL DAY TO LABOR DAY
The island population booms for three months each summer, from Memorial Day to Labor Day. Generations of families travel from near and far to spend their summer within this island community. 
While reporting the winter story, Eileen "Urch" Slate, a year-round island resident, and Patsy said we should come back in the summer. I took them up on their invitation, and from Memorial Day to Labor Day I spent about 10 days and nights on the island, including Memorial Day, Independence Day and Labor Day, each time experiencing, and photographing, another part of island life shared first as anecdotes on cold winter days.
The island in the winter is nothing compared to the summertime, Urch told me in January.
Hundreds of thousands of people flock to the 1000 Islands during the summer season, but Grindstone is something special.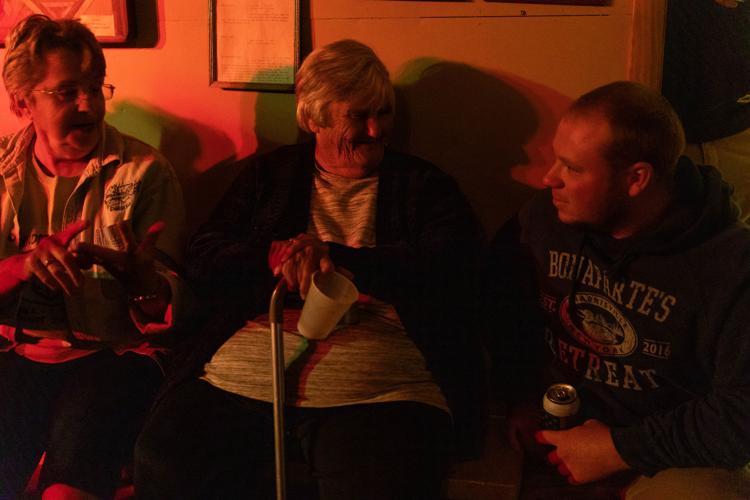 There are roads, but it is more common to see four-wheelers and side-by-sides carrying residents and visitors around the island, their drivers and passengers smiling and waving as they pass. 
Potters Beach — which wasn't a beach at all this summer because of the high water — is lined with rows of rafted boats, a large floating party. 
Dances on three Saturday nights are a throwback to the days when Dodge Hall was filled to capacity each Saturday night of the season. Music and light spill from the windows as teenagers and adults congregate on warm summer nights.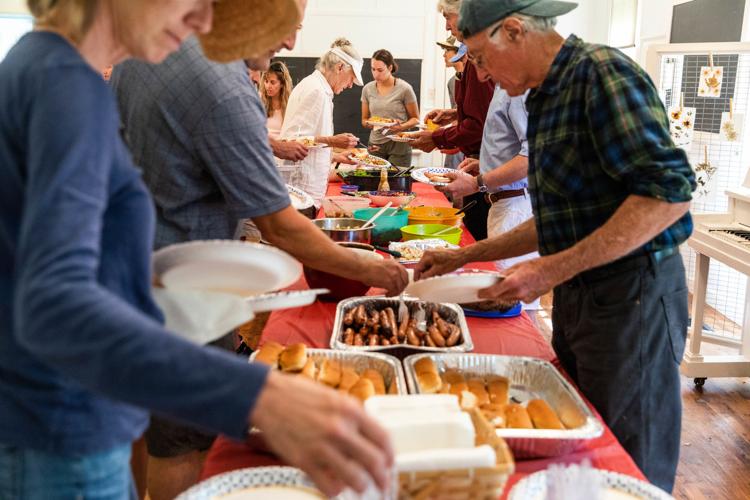 The Upper School, which was the last one room schoolhouse in the state to close in June of 1989, hosts its annual picnic on the lawn. The picnic tradition stemmed from those who attended the schoolhouse when it was still open, explains Janice McPhail, a sitting board member of the Grindstone Island Research and Heritage Center.
Back when the schoolhouse was open, they celebrated the end of the school year with a big picnic. When the schoolhouse closed, Grindstone Island Research and Heritage Center was formed in its place, which is now a registered museum with the state and collects family genealogy from the generations of Grindstone Island families.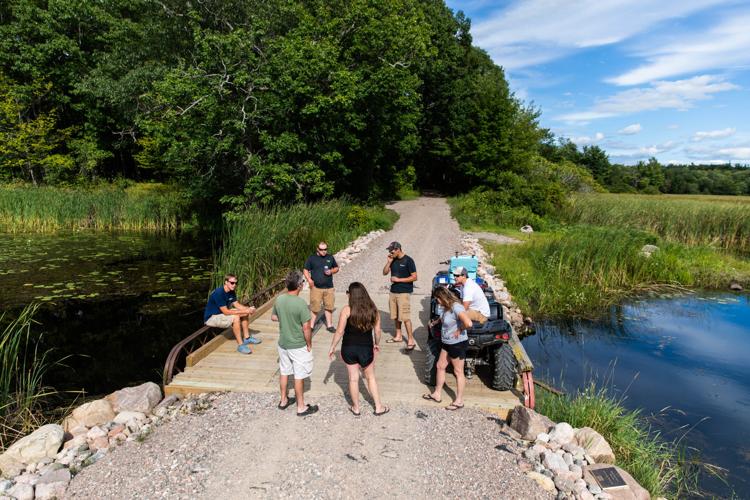 On summer days you can find Grindstoners hanging out at Lower Bridge, skipping rocks and sipping on beers, or at the Grindstone Island Winery, where the wine slushy is a summertime specialty. On Sunday mornings from May through October the Grindstone Island United Methodist Church opens for worship.
From Memorial Day to Columbus Day, Acorn Studios, a small shop off the island's main roads sells apparel, embroidered blankets and totes, hats and about anything you can write the words Grindstone Island on.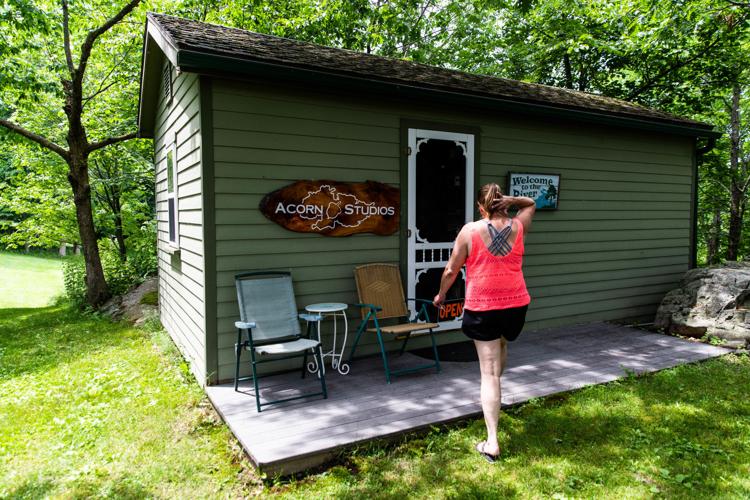 I cherish my blue polka-dot windbreaker embroidered with "Grindstone Island," on the upper left. I wore it to work one rainy August day, and upon seeing it, my editor laughed and asked: "Have you moved there yet?"
Among the welcoming families on the island I met Dr. Bruce Baird. He's a surgeon at North Country Orthopaedic Group in Watertown and commutes to work from the island all summer. He's said he may be the only surgeon in the nation who can say he starts his morning commute by boat.
Dr. Baird took me on a 12-mile bike ride around the island in August. We rode from his house on Thurso Bay to Canoe-Picnic Point, on the eastern tip of the island, where we stumbled on a shore dinner.
I tried my first fatback sandwich.
THE PORCH
I walk into Brian and Patsy's house after Chris drops me off, and when I come out, there's Audie, his wife Laura, and their grandson, KK. 
Turns out Audie took Chris' advice to stop over.
I take a seat at the Parkers' infamous front porch table alongside those I spent the summer with who have become like family to me.
Audie's brother, Bruce Cerow, and his wife Michelle came to join the party a short while later. We laughed, drank and ate; we even fed dog biscuits to an eight-point deer that frequents Brian and Patsy's front yard.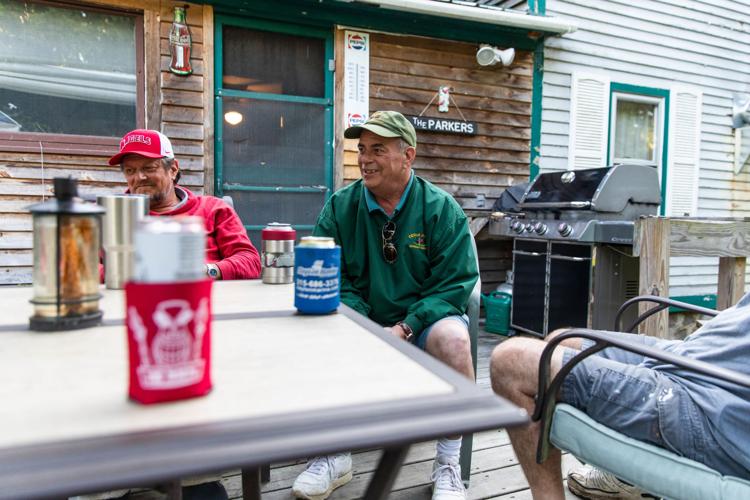 As the sun set, and company came and went, we sat at that table well into the night. I lived like a true Grindstoner. The island and its community took me in. I felt at home, and I'm forever grateful. 
Here are more photos from summer spent on Grindstone: