As a hiker with thousands of miles trekked, numerous peaks climbed and considerable trips guided, Alan Via has heard a similar refrain on the trails: "Don't worry, he won't bite!"
That's easy for the dog owner to say. Not so easy for a hiker on a trail who sees an unleashed dog barreling toward him or her.
That phrase, "He won't bite," became the title of Mr. Via's first chapter in his new book, "Doghiker: Great Hikes With Dogs From he Adirondacks Through the Catskills," published by Excelsior Editions, an imprint of SUNY Press.
The American Veterinary Medical Association reports there are nearly 77 million dogs owned in the United States. Many of those dogs are being brought along on hikes, and the results are often unsettling.
For example, in the "He won't bite" scenario, Mr. Via said, "They (dog owners) don't know if the person coming the other way is afraid of dogs, are allergic to dogs or are afraid their 4-year-old is going to be bowled over by a huge dog."
In one incident that Mr. Via shares in "Doghiker," he recalled the group his was leading running into two large, snarling dogs on the summit of Santanoni Peak in the Adirondacks.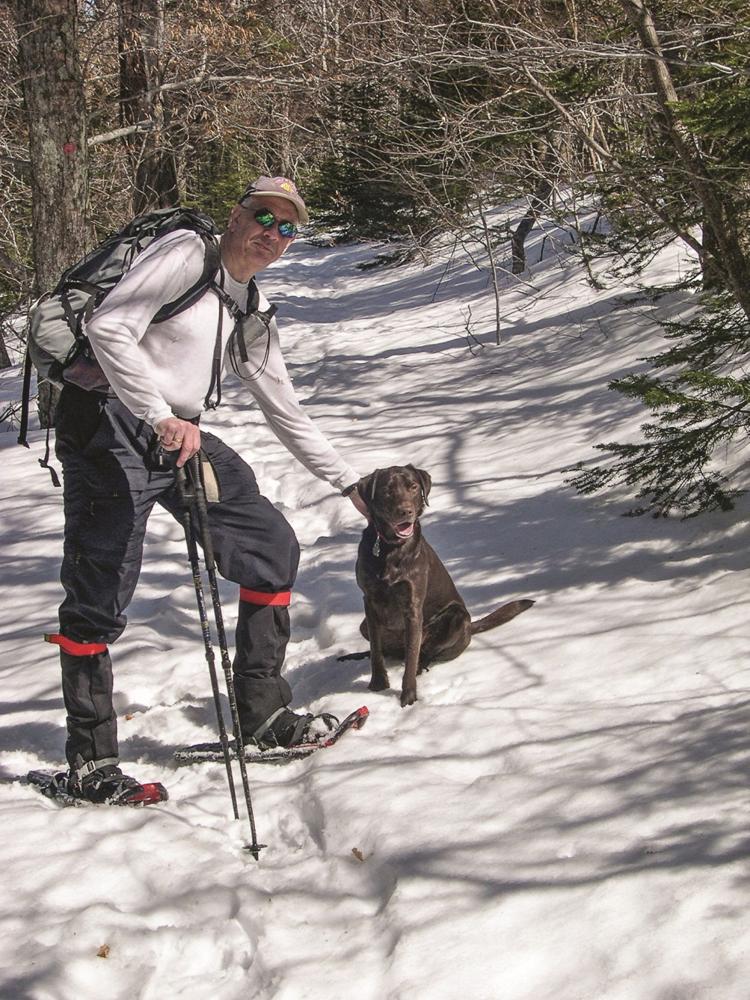 "The dogs were clearly threatening, while the unconcerned owners were eating lunch, ignoring our discomfort," he wrote.
He recalls another incident from the Catskills in the book: "A friend and I had our backs to a large tree while a mastiff-sized dog had us trapped."
There is a correct way and wrong way to hike with a dog and "Doghiker" guides those who are considering taking their canine along as a hiking companion. Its publisher says the book "is a dog owner's operating manual and tool kit."
It's also, standing on its own, a comprehensive guidebook showing readers great places to hike, with our without a dog. In addition to maps, the book is interspersed with photographs, paintings of outdoor scenes and poetry.
Mr. Via is an Adirondack 46er, a hiker who has climbed all 46 of the traditionally recognized High Peaks of the Adirondack Mountains and repeated the feat in winter. For 14 years, he served as outings chairman for the Adirondack Mountain Club. He's led end-to-end hikes on the Taconic Crest Trail five times. He completed the Catskill 100 Highest with his Labrador retriever, Bookah. In addition to ranges in the east coast, he's hiked and climbed in California, Arizona, Colorado and other states.
"Doghiker" is Mr. Via's second book. His "The Catskill 67: A Hiker's Guide to the Catskill 100 Highest Peaks Under 3,500 Feet" was published in 2012 by the Adirondack Mountain Club.
"I've had dogs since I was a toddler," Mr. Via said in a phone interview from his home in Slingerlands, a suburb of Albany. "Eight dogs have owned me since I was little. I grew up not ever being in the woods without a fishing rod or a shotgun or rifle."
On his hikes, he's seen numerous people with dogs.
"I started thinking, there's so much bad behavior with dogs in the woods and justifiably, people annoyed at dogs growling at them and running down the trail and jumping up," Mr. Via said.
Mr. Via, who moderates hiking forums on the web, said that those who hike with dogs have said on those forums, "Hey, if you don't like it, go someplace else."
"That's not a good answer," he said. "So I figured, let's start from the beginning, talk right off the back about your right to be out in the woods with your dog and the dog enjoying it and you enjoying the dog."
But first, there's lots to be learned about hiking with dogs.
In the book's foreword, Mr. Via writes: "It's not my intent to recruit, encourage or otherwise get more dogs hiking." He hopes to "encourage good behavior rather than wishing away potential problems."
The first few chapters of the book are about selecting a dog suitable for hikes, training, first aid and gear. Dr. Jennifer Bull, a veterinarian at Delmar Animal Hospital, collaborated with Mr. Via on those sections and more.
"She spent two years going through all those early chapters," Mr. Via said. "To use a pun, she vetted the entire front of the book."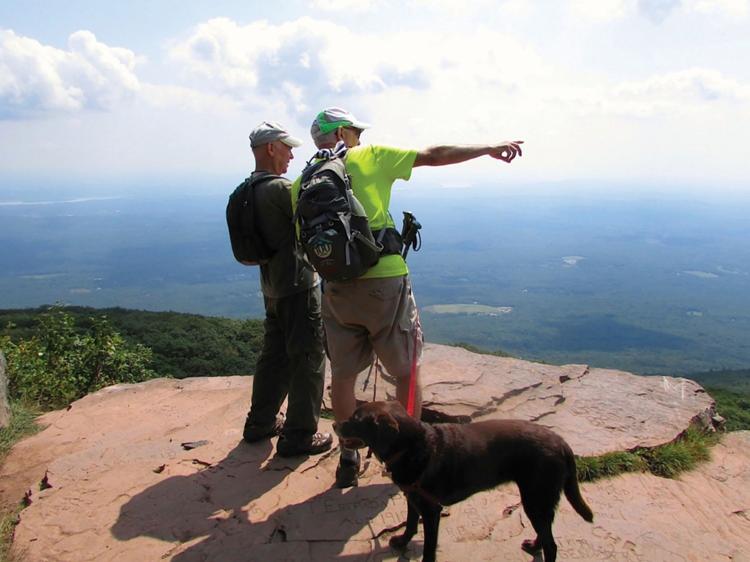 One tip by Dr. Bull was especially appreciated by the author.
"I had a really comprehensive first aid kit," Mr. Via said. "Dr. Bull improved it and she had a bunch of ideas that I incorporated into field and emergency first aid."
The maps in the book chart 77 hikes "great for dogs." Maps of the hikes, recorded by GPS by Mr. Via, have a topographic map showing parking areas, trails, viewpoints, water sources and other points of interest.
"Both of my guide books are meant to be books that people will enjoy reading and will learn something about the mountain and the hike before they step into the woods," Mr. Via said. "I talk about the flora, the flowers, where you're going to run into fern glades, or this is a great spot to listen for bard owls if you're quiet, or at a certain elevation in 'Doghiker' — look for a small, unmarked path on the left that leads for 100 yards to a beautiful viewing spot."
He added, "I'm not trying to insult other guidebooks, but there's so much 'put your left foot here and your right foot there.' What I wanted to do, for the Catskill book and 'Doghiker' is to make people feel they're walking with me."
But what is it about hiking with a well-trained dog that make the trips so enjoyable and something worthy of nearly 300-page book on the topic?
For that answer, Mr. Via referred to an essay by American naturalist and nature essayist, John Burroughs (1837-1921). Part of Mr. Burrough's essay, "The Exhilarations of the Road," leads off "Doghiker":
"The dog enters thoroughly into the spirit of the enterprise; he is not indifferent or preoccupied; he is constantly sniffing adventure, laps at every spring, looks upon every field and wood as a new world to be explored, is ever on some fresh trail, knows something important will happen a little farther on ..."
"Watching their enjoyment in exploring, it adds another dimension to being out in the woods," Mr. Via said.