PARISHVILLE — Situated under canopy cover east of Parkhurst Brook and the West Parishville State Forest, BirchBark Book Shop draws book lovers each weekend from across the north country.
For 33 years, owner Timothy Strong has tended the shelves and grown his collection from 10,000 to more than 75,000 used volumes, and for 30 of those years, Mr. Strong has worked to add his own work to the shop's titles.
After developing and adjusting his characters, searching for a fitting agent and cutting 100 pages of his original 400-page manuscript — a move he described as necessary but "like cutting an arm off" — Mr. Strong published his first novel this summer, "Whippoorwill Chronicles."
"I remember when I was a kid, some friends of mine had a treehouse," he said Wednesday, sitting among stacks at his Ashton Road shop. "From that treehouse we could hear the whippoorwills every night."
Inspired by that memory and composite characters based on people he has known, "Whippoorwill Chronicles" follows Sam, from his perspective, in adolescence and young adulthood through 287 pages and 45 chapters of fiction.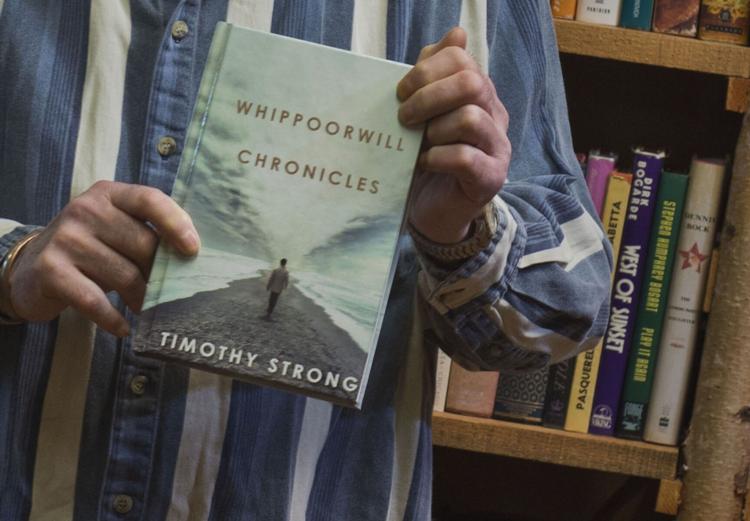 Named for its three-toned song, the whip-poor-will is a type of North American nocturnal nightjar that flits from page to page, as Sam explores his mind — its illness, its instability and its strength.
Central to Sam's story, Mr. Strong said, is a stay in a psychiatric hospital and his ongoing confrontation with reality, relationships and mental illness.
"In small towns especially, the stigma of mental illness can be devastating," Mr. Strong said, adding that his own family history of diagnoses has deeply informed his storytelling. "People see you differently."
In waves of mania and detachment, Sam attempts to discern his brain and body functions and regain a sense of personal sovereignty.
The start of his eventual healing process is prompted by an intentional push to a breaking point, through what Mr. Strong described as a "coiled" approach to character development. Like a metal coil under pressure, Mr. Strong said, layers of stress add up until "something has to pop." The coil concept is based on advice from one of Mr. Strong's former SUNY Plattsburgh English professors, Peter N. Corodimas.
Applying the concept to "Whippoorwill Chronicles," Mr. Strong said, gave essential dimension to his characters and fueled a more compelling story.
"The moon came up over the horizon and I wanted oblivion." a chapter 18 passage reads. "Was life waiting for death, or death some presence in each of us waiting for life to end? Both life and death surprised me — sometimes like a child peeking around a corner unexpectedly, then like a tractor trailer coming head on. I knew how to cure that. More beer. Like Morrison sang, 'We all is stoned, immaculate.'"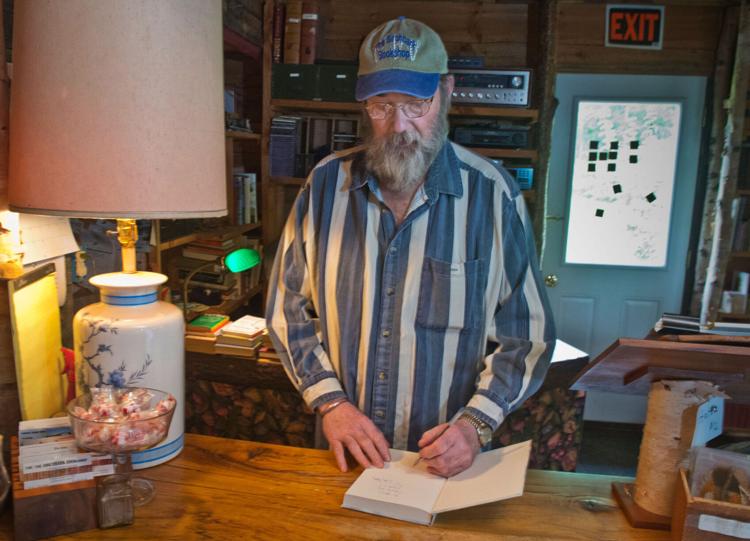 Released Aug. 13, by Black Rose Writing, Mr. Strong's novel is now available for purchase through Amazon and at BirchBark.
"It's the same old story," he said of the years-long publisher search. "You can't get an agent unless you've been published, and you can't get published unless you have an agent."
An Elizabethtown native and lifelong writer, Mr. Strong recalled working for his high school newspaper before graduating from SUNY Plattsburgh with an English degree. He earned a master's degree in English and creative writing from Binghamton University, where he was mentored by then-creative writing director Larry A. Woiwode, nationally-known writer and North Dakota's poet laureate since 1995.
Mr. Strong's poetry and short stories have previously appeared in the Alabama Review, the Mississippi Review, Blueline, False Grief and the Awakenings Review.
BirchBark Book Shop, 40 Ashton Road, houses books, magazines, local wares and vinyl records across two floors and several rooms lined with birch shelves. An extensive science fiction collection has been organized from an Elizabethtown estate, and the shop is organized alphabetically by genre. BirchBark is open from 1 to 6 p.m. Saturdays and Sundays.