WATERTOWN — The pen, the adage goes, is mightier than the sword. Chief Warrant Officer 3 Edwin L. Anderson Jr., who through his deployments, has spent 52 months of his life in Afghanistan, is a warrior/scribe who is using the written word to help battle the demons of his post-traumatic stress disorder.
His book, describing just one of those deployments, is an eye-opening, laugh-out-loud mix of insight and strife.
"I dedicate this book to humanity. You are welcome," he writes, tongue-in-cheek, in its dedication.
"Wombat: That One Story My Mom Wanted Me To Write — Or, How Not to Lead a Convoy" is published by A15 Publishing, a Williamsburg, Va., company established in 2015 by a team of combat veterans.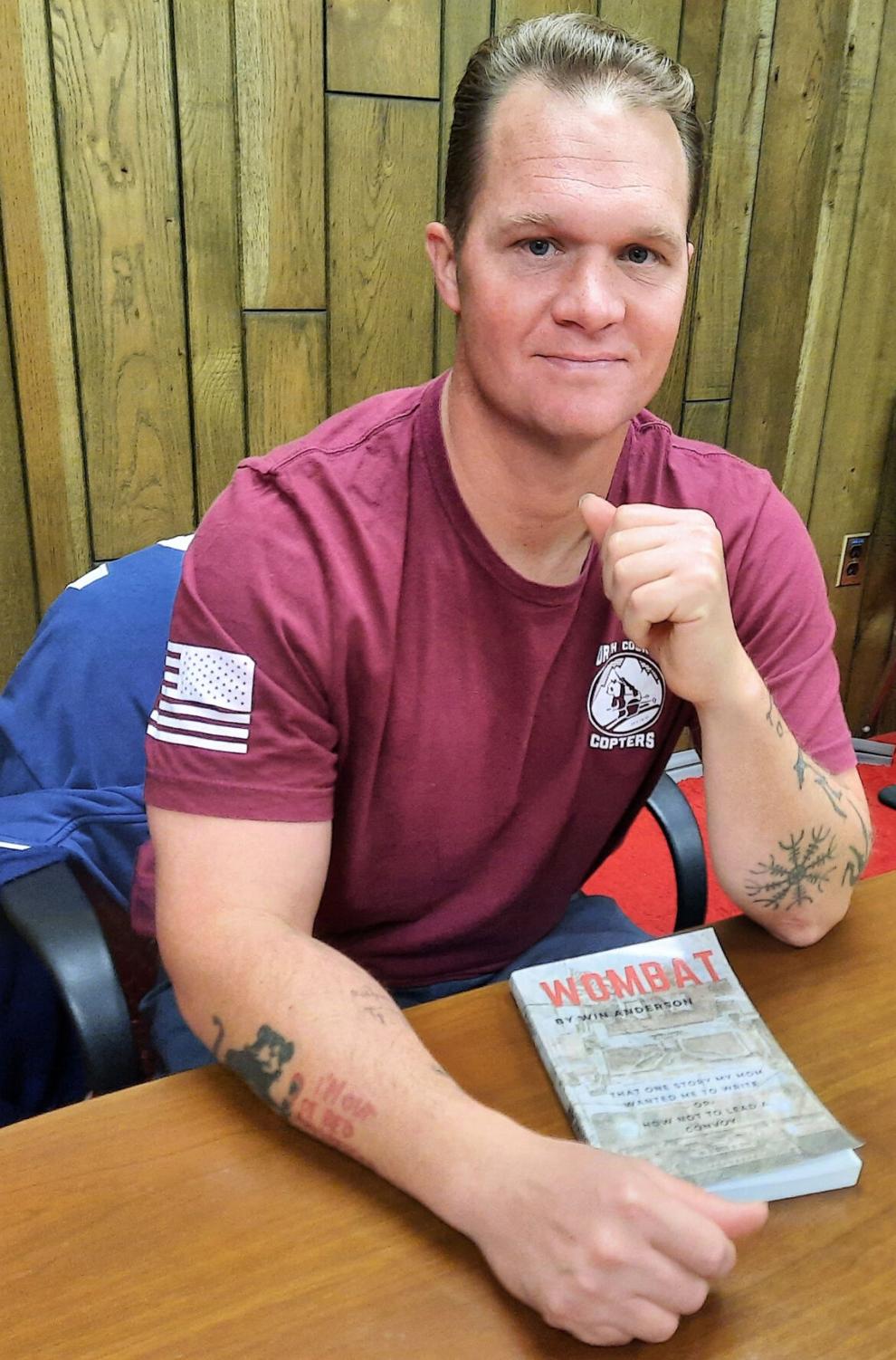 CWO Anderson, who goes by Win, uses self-deprecating humor, sarcasm and whimsical insight to get his point across.
For example, a book excerpt on traveling from Afghanistan to Italy to join his wife for the birth of their first child:
"It turns out that being a father is way different than combat in the mountains. Who knew? Mostly, my job involved waking up a million times a night and being utterly useless.
Author: 'The kid's crying again. I've got this.'
Wife: 'OK, you're going to breast-fed with your boobs?'
Author: 'Ummm ... nooo.'
Wife: 'Well, then I'll take care of it.'
Author: 'OK. Can I help in any way?'
Wife: 'Can you lactate?'
Author: 'Right, got it. Well, I'll just lie here awake in solidarity.'"
CWO Anderson has been deployed to Afghanistan five times. "Wombat" is about his second deployment to that country, in 2007-2008. He selected that deployment to document because that's when his PTSD manifested itself, although he didn't know it at the time. Writing "Wombat" was part of his self-directed therapy and he also wants to help others suffering from the affliction.
But CWO Anderson also gives insight into the life of a grunt soldier.
"The vast majority of individuals who serve are not part of the elite units that are involved in high-level, named operations," he writes in the book's preamble. "We are still highly-trained soldiers, but serve as the daily grinders that enable book-worthy events to occur. However, within this daily grind are many small-scale situations that still require unique bravery and are far outside the daily life of most folks back home."
He also provides insight of adjusting to being back home from a combat zone.
CWO is a native of Missouri and received his undergraduate degree in English literature from Truman State University in Kirksville, Mo. In December of 2019, he received a master of fine arts degree in writing from Lyndonwood University in Missouri.
"When we weren't on a mission or planning, I would work on it," CWO Anderson said.
He entered Army basic training in 2004. His first duty station was at Caserma Ederle in Vicenza, Italy.
"I hit the jackpot there — in beautiful northern Italy," he said.
In 2009, seeking a change of pace after two deployments to Afghanistan, he was accepted to Army flight school. He now pilots CH-47F Chinook helicopters. After flight school, his first duty station was out of Fort Campbell, Ky., with the 101st Airborne Division. He did two deployments out of Fort Campbell before getting assigned to Fort Rucker in Alabama as a flight school instructor. In June of 2019, he was ordered to Fort Drum, where he's with Bravo Company, 3-10 General Support Aviation Battalion, aka the "Mountain Movers." In two years, CWO Anderson will have spent 20 years in the Army, and he plans to retire in the north country. He now lives outside of Black River, on a woodsy bluff, with wife, Susan, a native of Red Bud, Ill., and their two children, ages 12 and 14.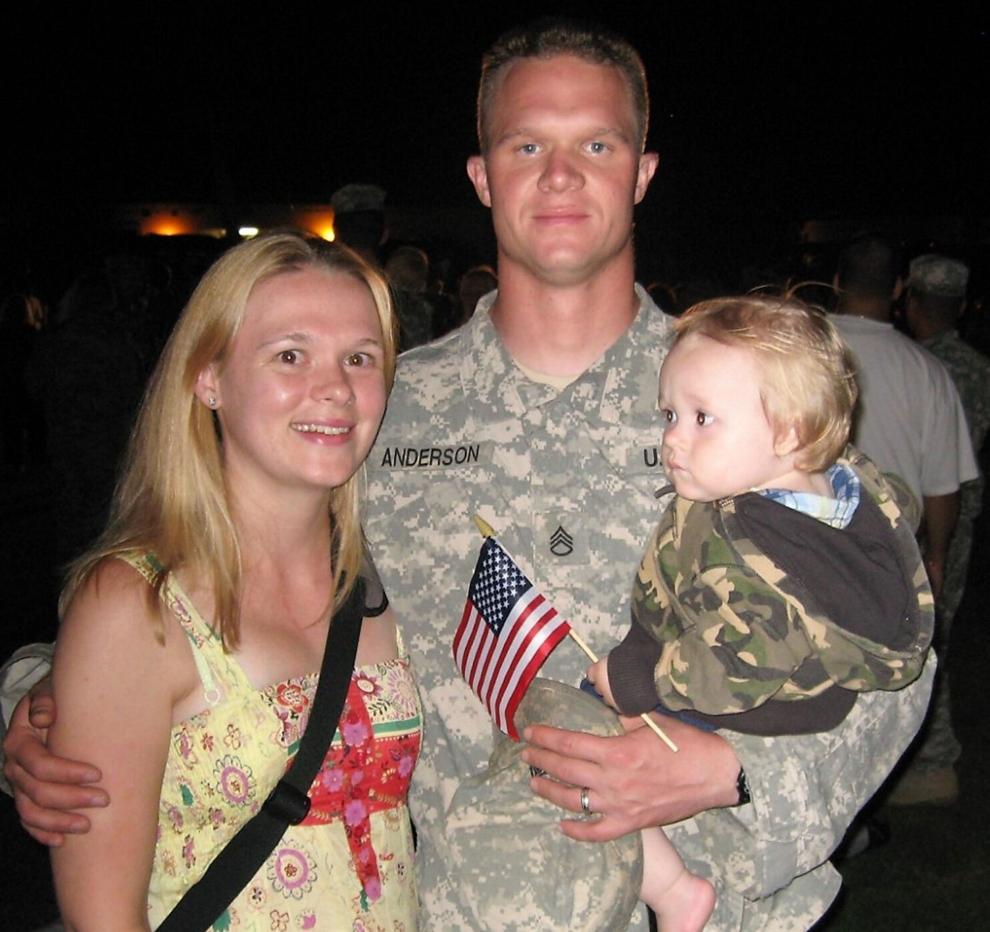 Coping with Despair
For CWO Anderson, PTSD feels "sort of like an extended, overwhelming panic attack," although he notes that it manifests itself in different ways to those who suffer from it. To deal with his PTSD, CWO Anderson, in addition to writing, relies on self-directed therapy and seeing a therapist.
"I've never needed medications," CWO Anderson said during a visit to the Times offices. "I'm not grounded and I've been flying my whole career."
His self-directed therapy also includes morning yoga sessions. Time spent in nature — hiking, fishing and hunting — also helps him.
"It's something a lot of soldiers deal with," CWO Anderson said. "Some deal with it in different manners, not always the right way, unfortunately. That's one of the reasons why I wrote this book — a sort of self-directed therapy in getting the word out. It helped me process things and I hope ultimately, that it's able to help other people if I can get it pushed out there more and people are able to read it and see there are ways of managing this. There are ways forward."
But looking back, CWO Anderson recalled the exact date he knew that he had been dealing with the effects of PTSD. It was about five months after he returned from a deployment to Afghanistan: July 5, 2013. It was his third deployment and his second as a pilot. He was with 3rd Platoon, the Combat Wombats, of Attack Company 1-503d Airborne Infantry Regiment.
He describes his particular symptoms in "Wombat":
"I become plunged in a dark whirlpool of spiraling despair that exists within my mind, without cease. I cannot breathe correctly, my mind races ever forward and then reels back to moments of doubt and weakness and cowardice and panic and terror ..."
"It was just like the bottom fell out of my life," CWO Anderson said in describing that July day. "I get a little queasy just thinking about it."
With panic setting in, he eventually called an Army buddy.
"I told him what was going on, that, 'Man, I'm losing my mind.' And he's like, 'Bro — you've got friggin' PTSD. I've got it too! Call the doctors.'"
So he sought treatment.
"It helped, but I think most people deployed to combat, especially people who have seen actual stuff, have had to sort of justify, or rationalize for lack of a better word, that combat side of life with their everyday side of life. It's a balancing act. It takes a lifetime. You're basically dealing with that to some extent for the rest of your life and the manner in which you balance it is up to you. But you have to balance it, or you'll lose your mind."
bland and confused
One of the most difficult parts of being in a combat zone, CWO Anderson said, is the return home.
"When you're deployed, there are moments that are very bad and all that, but you're surrounded by people kind of doing the same thing. It's not until you come back and trying to adjust back to that mundane ... " here, he paused. "That sounds negative, but comparatively, it sort of is mundane in a way."
He recalled trying to explain the feeling to his wife after his first couple of deployments.
"It's like you come back and everything feels like vanilla, like kind of bland," CWO Anderson said. "Wrapping your mind around that is one of the most difficult aspects for a lot of soldiers that have deployed to combat."
All together, CWO Anderson spent more than four years of his life in Afghanistan.
"That cycle you end up in it's a difficult thing for the brain to process," he said. "Because as soon as you get one deployment over, and you get back and finally get adjusted to being back home, you know in the back of your mind — 'I'm still in. I'm going back over.' It's like this little voice in the back of your head."
The 'infantry voice'
Throughout "Wombat," the author's narrative is constantly interrupted by a "voice" that provides running commentary. One example is when CWO Anderson notes that he once wrote an "exceptionally weird" poem in an attempt to describe his PTSD.
The voice: "You're really weird. Also, screw poetry, it's stupid. You sound like a teenage girl, 'Do you want to read my poetry?'"
Author: "You're a meathead."
The voice: "Thank you."
Author: "You're welcome. And this is my book, so I'm putting the damn poem in."
The voice: "Fine."
Author: "Fine."
"What I was trying to do there was to capture the sort of unique infantry voice," CWO Anderson said of his use of the interruptive voice. "Because there's groups of us always hanging around and we're all making fun of each other. When I'm writing, I can like hear them talking to me and what they would be saying, like, 'What the hell are you doing? What are you writing over there?'"
It's also the voice of his conscience and friends, some of whom he lost in combat.
"I was trying to combine all of that, in some sort of realistic manner of how conversations that we would actually have, kind of sound."
playful and serious insight
"Wombat," named after the Combat Wombats airborne infantry platoon of which CWO Anderson was 3rd squad leader, provides insight into military life, from basic training to being wounded, and the characters along the way. For example, in basic training, there was the soap eater.
"To this day, that is one of the funniest things I've ever seen in my life," CWO Anderson said. "I was writing in a somewhat exaggerated manner, but that wasn't exaggerated. I was laughing so hard, I could not hold myself upright anymore."
The episode involves a recruit who "was willing to take almost any bet, so long as there was money involved." A group bet five dollars apiece that the recruit could not eat an entire bar of soap.
Irish Spring was selected as the choice in the bet. "With a look of agonized acceptance, he took as big a bite as he could manage," CWO Anderson wrote.
The results weren't pleasant. "The dude projectile vomited in a way I have never seen before," he wrote.
The recruit gave up on his quest.
CWO Anderson also manages to put some humor into recounting when a bullet found him during a firefight. The mission of the Combat Wombats was to move out into the mountains surrounding Foreword Operating Base Tillman and provide security for a team setting up a listening and observation post.
"Suddenly, and seemingly out of nowhere, we were engaged in a firefight," CWO Anderson writes. "Rounds came from all over the place. Most of the incoming fire was concentrated on me and Willis, my SAW (squad automatic weapon) gunner."
CWO Anderson was in the prone position when a bullet hit his helmet.
"My legs remained on the ground while my head and back arched backward," he writes in "Wombat." "I was briefly in a violent, forced version of that yoga position they use for like, back stretches."
His forearms then propped him up.
"It was one of those things where I was like sort of going unconscious," he said. "It was literally where my vision tunneled to black. As that was happening, I was sitting there looking and there was blood dripping into the dirt. I thought they'd killed me. That was my last conscious thought, like, 'Oh, my God, I'm dead.' I was only out for a few seconds. It was like a movie or something, like a cliché almost, because everything came back."
He told Willis he was hit. The SAW gunner thought the worse.
"He said it looked like there was a hole through my helmet," CWO Anderson said.
A medic was called and it was later discovered that the bullet had hit the base plate of the night optical device on his helmet.
"It hit the spot where the metal is like doubled over," CWO Anderson said. "That, and the helmet itself, saved my life because it kept it from penetrating."
Once back at FOB Tillman, he was taken to the medics. In "Wombat," he recalls part of his treatment by and what he was told by a medic this way:
"Also, since we have ordered bed rest for you, we slipped you suppositories of Ambien and painkillers during your examination. You have about seven minutes to make it back to your room."
Before that firefight, CWO Anderson recalled that he and Willis, "deep thinkers," were talking about the value of "sustainably sourced tuna."
"I was trying to portray how something can go from something so mundane to all of a sudden, you're fighting for your life," he said.
Sequel planned
CWO Anderson said he's found that humor is a good coping mechanism for him.
"It's like gallows humor. You're in these situations where you can either laugh or cry and a lot of times, it's better to laugh."
He's inspired by Joseph Heller and his satirical war novel, "Catch-22," first published in 1961. CWO Anderson is also influenced by David E. Petzal and Bill Heavey, who write for Field & Stream magazine.
"It's sort of self-deprecating humor, to some extent," CWO Anderson said. "They make fun of themselves, which is something I think is important. It keeps you humble and realize you're just a meat sack on this molten rock."
He's working on a sequel to "Wombat." Its title, "Pachyderm," relates to his former aviation battalion at Fort Campbell. It will discuss his exit of Italy, attending flight school and will lead up to his third deployment, which was his first as a pilot.
All of his deployments were in Afghanistan. The 20-year presence of U.S. troops in that country that began after the attacks on 9-11 concluded chaotically in August. Of U.S. troops being no longer active in that country, CWO Anderson said simply, "I'm glad we're out."
The details
  WHAT: "Wombat: That One Story My Mom Wanted Me To Write — Or, How Not To Lead a Convoy," by Win Anderson.
  PUBLISHED BY: A15 Publishing.
  COST: $11.99, $7.99 on Kindle. Available at online book stores, the publisher's website and some signed copies are available at The Little Bookstore in Clayton.
  PUBLISHER'S DESCRIPTION: "A satirical book chronicling the misadventures of a mostly well-intentioned infantry soldier experiencing his second stint in the rocky land of Afghanistan. Curl up in a comfortable chair at home, you are probably stuck there anyway, and enjoy our hero flail around like an idiot. Witness him slog his way through basic training, plummet from perfectly good airplanes, fall down a mountain, get crotch-stung by a scorpion, and almost get blown to bits — all while attempting to stay married and make it home for the birth of his firstborn son."
OF NOTE: Chief Warrant Officer Anderson said he's open to invitations of book talks and signings. He may be contacted at bamfer47@gmail.com