How Madrid native David G. Rupert went from a debt-ridden businessman to an undercover agent in order to infiltrate an Irish terrorist group boils down to a simple recipe.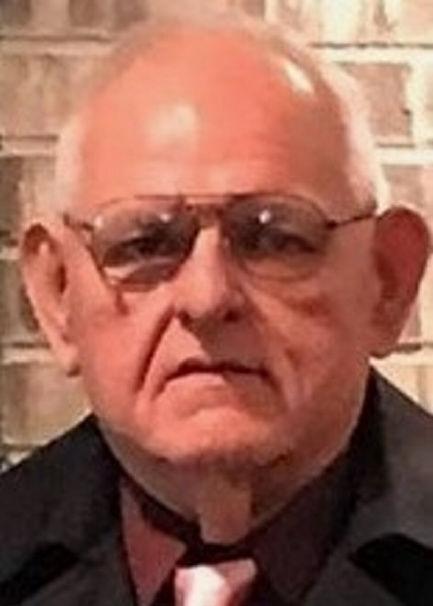 "It all comes back to a bar, booze and a woman," he said. Actually, the recipe involved more than one woman — all part of Mr. Rupert's meandering plot line of helping to take down the suspected head of the guerrilla group Real Irish Republican Army in Ireland.
The former Massena businessman turned international spy was interviewed by phone last month from an undisclosed location. The interview was supplemented by e-mail correspondence.
Mr. Rupert went into the FBI's witness protection program in August of 2003 after Ireland's no-jury anti-terrorism court convicted the head of the guerilla group Real IRA, Michael McKevitt, for directing terrorism. Prosecutors said the organization's car bomb in Omagh, Northern Ireland, killed 29 people in 1998.
Prosecutors also said Real IRA also planned to partner with Iraqi dictator Saddam Hussein. Mr. Rupert also had something to do with that plot being foiled.
It all resembles a big budget movie, which Mr. Rupert said, there is also talk of.
Mr. Rupert declined to disclose where he was talking from in his phone interview. He was asked if he's still in the witness protection program.
"I can't comment on that," he said. "The IRA has a very long memory."
But the fact that he is talking extensively about his involvement in the undercover world is a change for the 1968 graduate of Madrid-Waddington Central School.
"I hope I live to be 100," Mr. Rupert, 68, said. "But if I don't, I have done something in life that has saved a good many lives and everyone should be so lucky."
It was the testimony of Mr. Rupert, the youngest of seven children of the late Donald and Emma D. Rupert, that was key for McKevitt's conviction.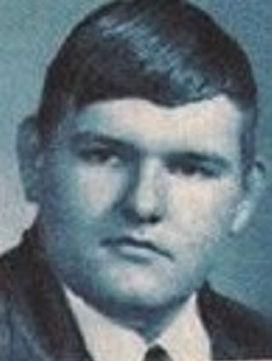 In Madrid, as word of his involvement as a spy and as star witness became known, it astonished his family. The 6-foot-6-inch David, dubbed "Joby" (short for Joe Beef) as a toddler, was always known to be outgoing, but this was at a different level.
"I was very surprised," said sister Betty Dawley. "I thought he was doing something illegal. I was happy to know that he wasn't."
"Growing up, I remember him as a very big presence," said niece Kerrie Dawley Cooper, a 1979 MWCS graduate. "He was always into something and I don't mean that in a bad way. He was just very outgoing."
"I happened to be very good at what I did," Mr. Rupert said. "Just by a fluke."
"THE ACCIDENTAL SPY"
Mr. Rupert's activities as an international spy are gaining more attention after the release of the book "The Accidental Spy," by Irish journalist Sean O'Driscoll. Publisher Mirror Books calls it "The gripping real story of the ordinary American man who found himself at the center of a deadly terrorist organization — and working for both MI5 and the FBI."
The book was released in November in the U.S. and in 2018 in the United Kingdom.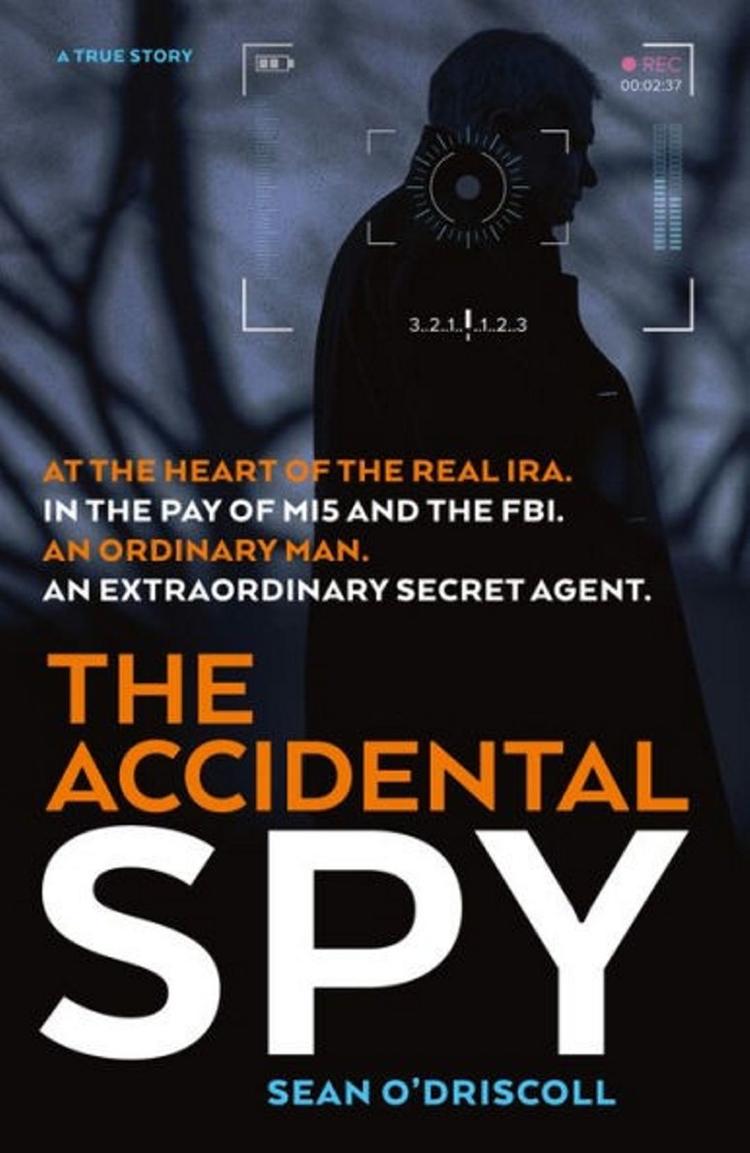 Mr. Rupert said "enough time" had passed where he had felt it appropriate to share his story with Mr. O'Driscoll.
"McKevitt was going to get out of jail and nobody knew the real story," Mr. Rupert said. "I wasn't alone in the deal, but we — myself and a number of people like me — wound up saving the peace deal in Ireland."
At first, Mr. Rupert said he "blew off" Mr. O'Driscoll's approaches to tell his story.
"Then he got back to me and he wrote kind of a chapter," Mr. Rupert said. "He only knew my side of the story from what was kind of out there in public and the trial. But there was stuff that he knew about McKevitt's side of the story that I knew about and that intrigued me in the way he wove it together."
In the introduction to "The Accidental Spy," Mr. O'Driscoll writes, "Reporter after reporter tried to interview his family and friends, his former workmates and his wives. Book deals were offered through his lawyer — there have been four journalists before me who tried to tell his story, but each time he walked away."
Mr. Rupert said he liked Mr. O'Driscoll's bold approach when researching and conducting various interviews for his book.
"There was stuff he knew from reporting that I would never have known," Mr. Rupert said. "The story he tells, as it turns out, turned out to be a combination of the stuff that he knew from reporting on the ground and my story."
Plus, he said, he wanted to put to rest perceptions about him that people were left with leading up to and after his testimony. He said he was called everything from a cocaine dealer to a smuggler.
"The only smuggling I remember doing was when I was 5 years old and my father would stuff firecrackers in our pants coming across the (Canadian) border," he said.
"SOUNDS OK TO ME — LET'S GO"
Mr. Rupert told the Times that one thing just led to another as he became one of Britain's most valuable spies inside the Real IRA and the Continuity IRA.
"It was like a trail of crumbs right from day one to the end," he said.
The Real IRA, formed in 1998 and an IRA splinter group, is dedicated to removing British forces from Northern Ireland and unifying Ireland. It also seeks to disrupt the Northern Ireland peace process. The Continuity IRA is another IRA splinter group.
From the 1960s to the 1990s, an era known as The Troubles, pitted the historically dominant Protestants against the Catholic minority in Northern Ireland. According to the BBC, the era resulted in the deaths of more than 3,600 people with thousands more injured.
In April of 1998, a peace agreement between the British and Irish governments was reached. It stipulated how Northern Ireland should be governed.
For Mr. Rupert, his involvement with Ireland began in Florida in 1992 when he was living in the city of Treasure Island, a barrier island in the Gulf of Mexico. He began a trucking business in the state.
"I was on the other side of my second wife and I was in Florida and ran into a woman," Mr. Rupert said. "She was from Massena, but she lived down there."
The woman, he said, was of Irish descent and they frequented a bar on St. Pete Beach, a resort city set on a barrier island, west of St. Petersburg. An Irish pub was located on the island and the pair commented to each other how they liked the music played there.
"We were drinking one day and she wanted to go to Ireland," Mr. Rupert said. "I said, 'Sounds OK to me. Let's go.' So we did."
He fell in love with the country.
"It was like going back to Madrid or Waddington in the 1950s," Mr. Rupert said. "Ireland progressed a lot in a very short period of time, but in the early '90s, it was still like the 1950s."
Mr. Rupert eventually stopped dating the woman from Massena who had moved to Florida. He then met Linda Sue Vaughn, a political consultant and lobbyist. In 1989 she was honored with the Sean MacBride Humanitarian Award. Mr. MacBride (1904-1988) was an Irish politician who was awarded the Nobel Prize for Peace in 1974 for his efforts on behalf of human rights.
Ms. Vaughn died in 2015. According to her obituary, the MacBride Award was for her "international recognition was for her work getting the MacBride principles passed in the Florida legislature forcing the state to divest interest in companies in the north of Ireland who used discriminatory hiring practices."
"She was at a beach bar and I met her," Mr. Rupert said. "We clicked. She was pretty well connected to Ireland."
They made about three trips to the country.
"As a result of that, I met some people that were relatively big time players in some of the dissident groups of the IRA," Mr. Rupert said.
The Irish Republican Army declared a cease fire in 1997. The Good Friday Agreement in 1998 followed. The Real IRA, a militant group, was formed by those opposed to the agreement. It has merged with other groups and is still active. The U.S. has designated it a terrorist organization.
"Anytime there was an effort toward peace in Ireland, the bottom end of the IRA would drop out and become another organization," Mr. Rupert said. "One of the bad guys was Michael McKevitt. I mean I like the guy, he was just a mass murderer. But he was personable."
In March of 2001, McKevitt was charged under a new anti-terrorism law in Ireland enacted after the August 1998 bombing of a market center in Omagh. It killed 29 people and wounded 370. McKevitt led the breakaway group.
'He was also the quartermaster," Mr. Rupert said. "He had all the weapons."
THE MOVE TO CHICAGO
In 1992, Mr. Rupert moved on to the Chicago area, where he set up a trucking company at Calumet Truck Plaza. He opened the business with his last $1,100 after his Massena-based trucking company filed for bankruptcy.
Mr. Rupert went personally bankrupt twice and business-related once.
"I was never very good at handling money," he said.
At Calumet, he met his present and fourth wife, Maureen, who managed the facility. They recently celebrated their 25th wedding anniversary.
"One day (July of 1994) the head dispatcher came and said, 'The FBI is here to see you,'" Mr. Rupert said.
As a trucking company owner of the south side of Chicago, Mr. Rupert said that was the last thing he wanted to hear.
"I couldn't think of anything offhand, but I had like 25 drivers," he said. "God knows what they were up to."
The visitor was FBI agent Patrick Buckley.
"He blows in the door and thinks he was going to blow me over by suggesting that I was somehow connected to the IRA," Mr. Rupert said. "He throws down some pictures of me with Joe O'Neill."
Mr. O'Neill was a hard-line Republican who ran a pub in Bundoran and a realty office in Ballyshannon. He died in 2013, with thousands attending his funeral. The Irish Examiner called him "one of the founding members of Provisional Sinn Féin" and a "towering figure of Irish republicanism."
Mr. Rupert knew him from his visits to Ireland.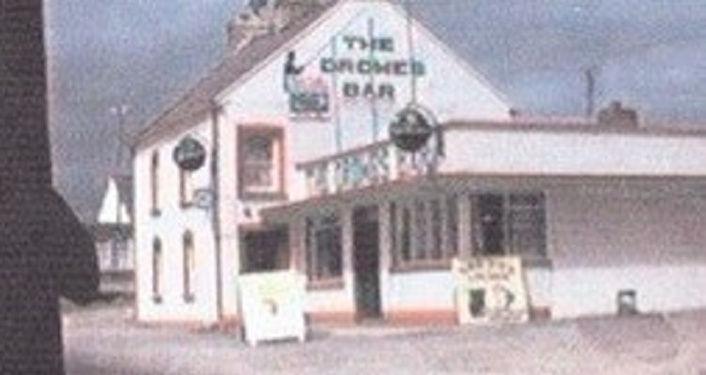 "He and I got along well," Mr. Rupert said. "I always liked history and thanks to Edith Finnegan, history teacher at Madrid-Waddington, I liked history a lot."
But history, Mr. Rupert said, was all he was interested in with his conversations with Mr. O'Neill.
"Talking to Joe O'Neill would have been like going back to like the Civil War and talking to somebody on the South's side, like a player," Mr. Rupert said. "He was a player in the IRA all his life. And he was really big on the history of Ireland — history with a Republican slant. He often said, 'The winners write the history and the losers write the legend.' I could have sat for hours and listened to him."
Mr. Rupert managed to convince the FBI agent that he was only interested in history in his meetings with Mr. O'Neill.
"When he figured out that probably what I was telling him was true, he wanted to know if I wanted to go work for them," Mr. Rupert said.
He began doing that in October of 1994. He would testify later in Dublin: "From my moral teachings, I found it morally acceptable to do."
He would conclude his undercover work on Jan. 8, 2001.
THE BAGMAN COMETH
Working for the FBI was a good way for Mr. Rupert to see the country he had fallen in love with.
"They offered to pay for my trips and kick in a little spending money," Mr. Rupert said. "It got my attention. I thought that can't be so bad: I don't know anything and nobody tells me anything."
Mr. Rupert said that the IRA received a lot of money from fundraising efforts in the U.S.
"That's what they were trying to stop and that's what it started out as," he said. "I started out as a bagman carrying money from U.S. groups over to the IRA. And when you're carrying the money, it's pretty easy to gain favor."
As part of that gaining favor, the FBI paid Mr. Rupert to start him in the pub business. The pub, in the village of Tullaghan, County Leitrim, came with an adjoining trailer park frequented by vacationing Irish Republicans.
Mr. Rupert said that Mr. O'Neill approached him one time and requested that he save some beer kegs to be used as bomb casings. He set aside about 10 of them.
"I wrote down all the serial numbers on them so if one was used, they'd know where it came from," Mr. Rupert said.
Mr. Rupert said one scene at the park near his pub that particularly upset him: he witnessed a grandmother bouncing her grandson on her knees.
"She's telling him how when he got older how honorable it would be to kill cops, which at the time was the RUC — the Royal Ulster Constabulary — considered British. They were the ones who arrested the IRA people."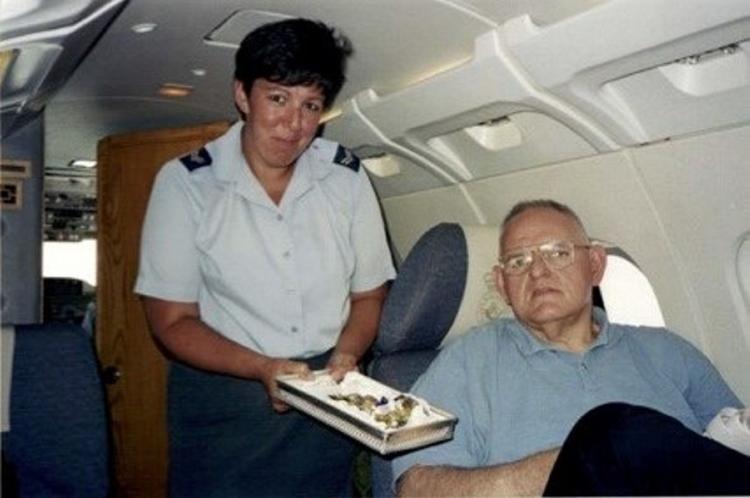 "You just got to see how deep the problem and the hatred was," Mr. Rupert said. "You'd see a sign that said, 'Integrated School.' It wasn't integrated black and white. It was integrated Catholic and Protestant."
Despite the hatred he saw, Mr. Rupert said he has grown very sympathetic to Ireland's plight, "just as I am to the plight of many repressed peoples" and noted there have been a number of Irish Republican campaigns over the years to rid the country of British rule, with none of them "completely successful."
These days, he believes the people of Ireland overwhelmingly want peace.
"The former terrorists are now in government," he said. "That is why it was so important to stop the dissident groups like the Real IRA and the Continuity IRA — so they did not subvert this process that began on Good Friday in 1998."
"The IRA morphed into more of a criminal gang than freedom fighters with the volunteers at the bottom believing they were fighting for Irish freedom and the members at the top reaping the profits from crime and donations meant for the freedom fight," he said.
On trips back to Ireland to the U.S. while undercover, Mr. Rupert said he was requested by Real IRA operatives to bring back detonators, Semtex (a plastic explosive) hidden in teddy bears and detonator chords. He was given instruction on how to hide such materials on flights.
Mr. Rupert's wife was with him during the seven years of his involvement and she would witness him getting into cars with terrorists along with other undercover operations.
CHIEF WITNESS
For nearly two weeks days in the summer of 2003, a closely guarded Mr. Rupert, hunched in a witness box, talked in front of three judges and a packed Special Criminal Court in Dublin. He was the Irish government's chief witness in the nonjury trial of McKevitt, who was 53 at the time.
The Sunday Times reported, "his flat monotonous drawl was more suited to narrating a ship's inventory."

He had previously told the court that he turned down his FBI handlers' request to testify. It was something that he had written into his previous FBI contract.
But the FBI continued to visit him, trying to persuade Mr. Rupert to cooperate.
"The handlers were paid to be good friends with me," he said. "It would be a long road because I could be hard to get along with."
Finally, one day Mr. Rupert told the FBI he just wasn't interested in testifying. But that night while channel surfing television, he came a cross a documentary on the 1988 bombing in Omagh, County Tyrone, carried out by the Real IRA which killed 29 people, including a woman pregnant with twins and three generations of one family. Mr. Rupert was in Ireland at the time of the bombing.
To this day, Mr. Rupert isn't sure that he stumbled over that documentary fortuitously.
"It might not have been a fluke," he said. "The Brits would do that type of thing. I made a joke that the Brits were probably down the road piping it (the documentary) into my house. That's the way they would do stuff."
In any case, in December of 2000, he decided he would testify — anything to help put the Real IRA out of business.
"I agreed to supply information relating to the U.S. Irish groups funding of terrorist groups in Ireland and those groups activities in soliciting money and arms in the U.S.," he said.
BLUEGRASS AND THE FBI
Back in Madrid, there were unusual visitors around the time of the trial. Mrs. Dawley Cooper, Mr. Rupert's niece, said that her mom, Betty Dawley, saw a strange man outside her home taking pictures one day.
Mrs. Dawley told the Times a woman called MWCS, where she worked as a secretary. The caller claimed she was a sister of Mr. Rupert and wanted to get ahold of him. But the caller didn't know she was talking to Mr. Rupert's actual sister.
Mrs. Dawley enlightened her of that fact.
"And click! It was over with," she said. "She hung up so fast."
There were other strange calls.
"Uncle Bud (Rupert) had received several calls from people with Irish accents and considered them threats to a certain point," Mrs. Dawley Cooper said.
There was talk of FBI visitors and their involvement of informing local law officials to "keep an eye out" for possible threats, Mrs. Dawley Cooper said.
It all meant for a fun diversion at the annual Madrid Bluegrass Festival, which the late "Bud" Rupert — Donald J. — co-founded. He died in 2005.
"We knew there were undercover FBI agents at the bluegrass festival," Mrs. Dawley Cooper said. "The family was having fun sitting there trying to pick out the people who didn't look like they belonged there."
She said the alleged FBI agents tried to dress like everyone else.
"But you know how you can just tell that somebody isn't necessarily from there?" Mrs. Dawley Cooper said.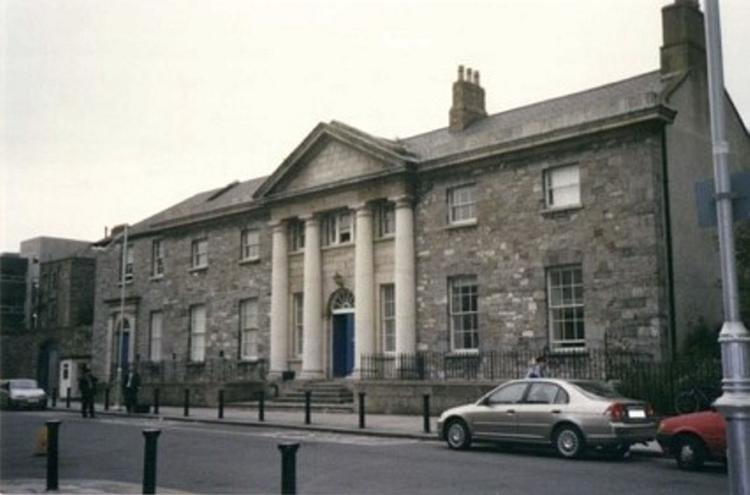 THE SLOVAK THREE
Earlier in 2000, before deciding to testify, Mr. Rupert had also become involved in the "Slovak Three Case" by providing key intelligence. Mainly, he told British intelligence officers that McKevitt "would like to find foreign state support such as he had with Gaddafi."
Three members of the Real IRA, which Mr. Rupert called, "McKevitt's henchmen," were arrested in a sting operation in Slovakia in July of 2001 after they thought they were to receive arms and explosives from Iraq.
"I didn't know about the Slovkain 3 deal until they did the arrests," he said.
Meanwhile, McKevitt had been arrested in March of 2001 by police in Ireland.
The Slovak Three case went to trial in London in 2002 with Mr. Rupert as a predication witness. The three pled guilty, but they were released from jail in 2014, The Irish Times reported, "over defective warrants under which they were detained."
"We sat for about three weeks in the U.K. waiting for trial and then the queen's mother died,"Mr. Rupert said. "The U.K. came to a halt. We came home and were going to go back for trial when it was rescheduled but the three pled guilty before we left."
FOR ALL IT'S WORTH
For his troubles, and cooperation, there were news reports that Mr. Rupert received $1.25 million from FBI and British security agencies.
"Whether the amount is $1.25 million or $5 million or $10 million, what does anyone think it's worth?" Mr. Rupert said. "I had a perfectly good business beforehand as a trucking broker in Chicago that I did very well at and would have easily made a couple of a million dollars in the same amount of time and only had a few drivers and/or shippers mad at me."
On the flip side, Mr. Rupert wondered what the cost would have been to him if those he was spying upon would have learned the truth about him.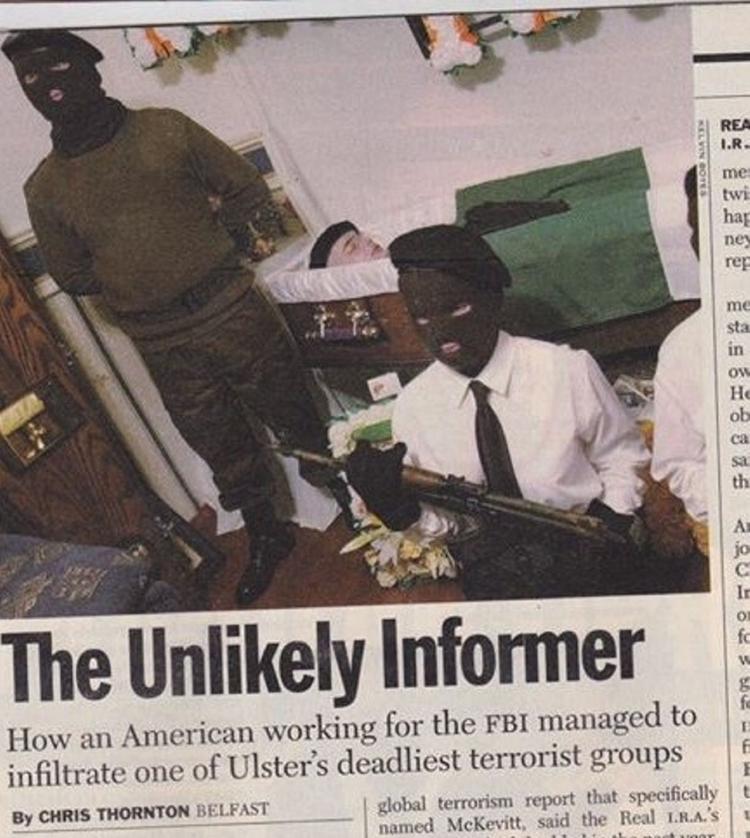 "I spent almost six years inside various IRA groups undercover," he said. "The price I would have paid if I were found out, or even suspected, as often would happen is, taken to a safe house, interrogated until I confessed, guilty or not."
He said the interrogation would include removing his fingers with bolt cutters, "then my privates, then a bullet in the head.
"That was the normal treatment for someone suspected doing what I was doing," he said. "Then, assuming I made it out as I did, my wife and I were in a position to have to avoid being the target of assassination the rest of our lives."
'SOMEWHERE' HE'S NOT
IRA leader McKevitt was released from prison in 2016. He told The Irish Times he was he was framed and wrongly blamed for the Omagh bomb. He's now battling kidney cancer. In November, the Belfast Telegraph reported he was critically ill.
"It's not him I'm worried about," Mr. Rupert said. "They have a hit list over there of people they want to kill. I'm on it. I know that. But it'd be like saying you wanted to kill Putin. You might want to say you wanted to kill him, but having access and ability to do it is another thing."
Mr. Rupert isn't afraid to say he plans to visit his home town of Madrid, and he has a Facebook page.
"Are they going to send an armed IRA squadron to Madrid or Waddington?" he said. "You know what I mean? And a lot of times I say I'm going to be somewhere that I'm not."
He said he's more worried about "the crazies out there."
"Just like you see with the white nationalists in the U.S., there are crazies involving the Irish situation," he said. "Somebody who wants to make a name for themselves."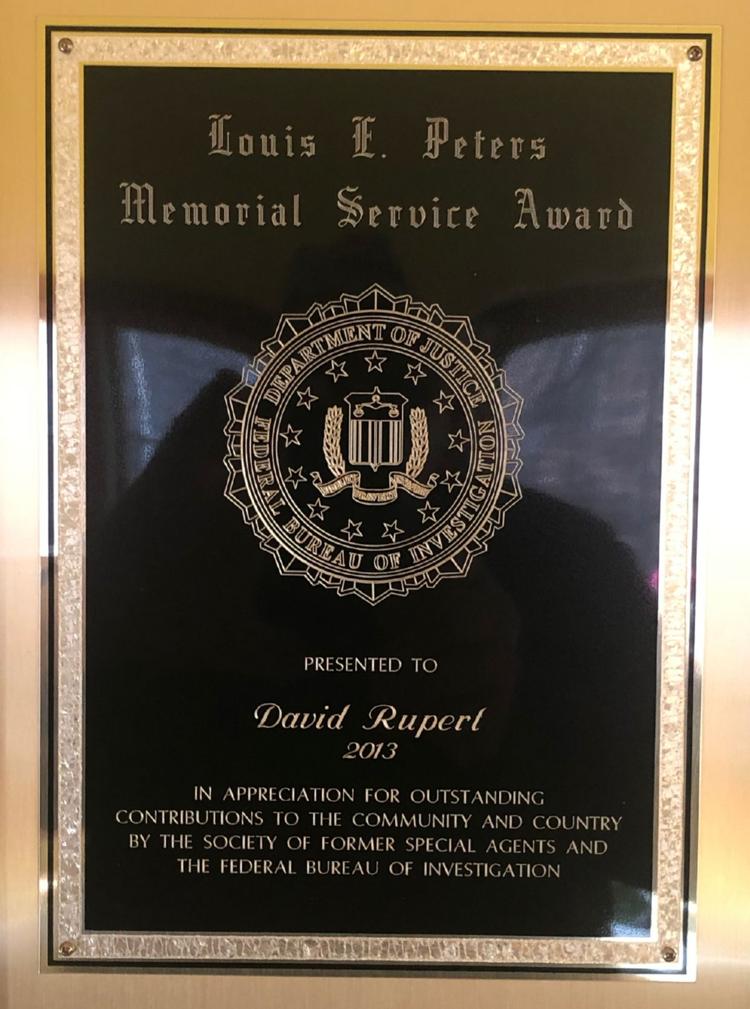 In 2013, Mr. Rupert received the Lou E. Peters Award, the FBI's highest public service award, presented jointly by the FBI and the Society of Former Special Agents to recognize individuals who assist the FBI without thought of personal gain.
And he noted he made a name for himself without any official training.
"Everything was a one-way street," he said. "I remember the Brits said at one time, they didn't want to create a monster. If along the way I wasn't going to be one of the good guys, they didn't want to have one of the bad guys who knew too much."
The award-winning former spy had his view on life change in 1987 when hospitalized with a serious illness that put him in a coma for 10 days. He said the near-death experience made him less afraid of the challenges he would later face in Ireland.
"I didn't become any more brave, just not scared to die," he said.
His lung-related illness may have had a touch of divine intervention. He recalled waking up from his coma in the Syracuse hospital and there were green items everywhere, including his bed, in celebration of St. Patrick's Day. He sharply told the nurses to remove it all — he wasn't Irish.
"The joke was that St. Patrick then picked me up, dusted me off and said, 'Hey, listen — I think we can use him. Let us have a crack at him.'"
Since then, Mr. Rupert said his family, exploring their genealogical roots, has uncovered something. They actually do have Irish heritage.