Taped to Ray Hansen's clunky, 60-year-old Royal typewriter that he still uses to clang out dispatches are words of wisdom and of inspiration.
One clipping says, "If you practice an art faithfully, it will make you wise, and most writers can use a little wising up." — William Saroyan.
Another, uncredited: "As we understand whence we came, the better we understand ourselves."
Ray, 93, came to Northern New York 34 years ago, laying anchor to a nomadic life in print journalism that began in his home state of Nebraska in 1947 at the Lincoln Star, where he received part-time work as he attended classes at the University of Nebraska, made possible by the G.I. Bill.
Seeking out newspaper to purchase and to then sell after a few years for a profit, Ray's career had stops in Wisconsin, Indiana, Kansas and Arkansas before he settled in Carthage to edit the Carthage Republican Tribune.
Along the way, Ray and his wife, Donna, had twin sons, who briefly joined the newspaper life as children. They and their buddies became eager young workers and did tasks such as inserting newspaper inserts and bundling those papers.
This past week, those twin sons, Eric and Christopher, arrived from their home state of Kansas and went to work again for Ray. This time, it was another type of deadline: to unclutter the Hansen home on Thorpe Street and to box up belongings. Ray and his wife, Donna, finalized on the selling of their home on Thursday and were to be escorted by their children back to Kansas on Friday.
This past Tuesday morning, Ray, seated at his dining room table, where his Royal typewriter was a linchpin, motioned to one of his legs. This past spring, a blood clot — a hematoma — developed. It's one of only a few health issues that have crept up on Ray. But combined, he and his wife realized it was best to sell the house and move on.
"I thought it best to get to some place where I have help, because we have no relatives close and the boys are all we have," Ray said. "We gotta go where they are."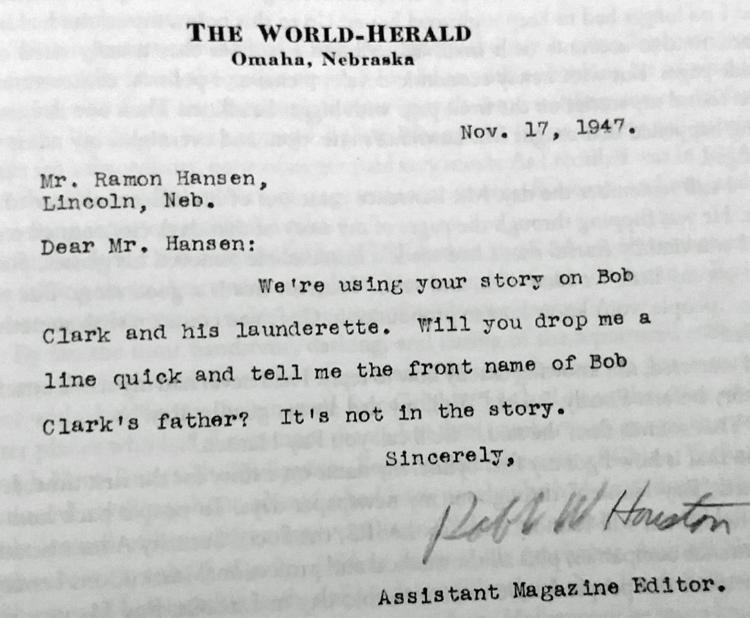 "MY NEWSPAPER LIFE"
It was the couple's boys that caused Ray to begin reviewing his life and career four years ago. That task culminated this year when he self-published his memoir: "30: My Newspaper Life."
"I was 40-years-old before my boys were born," Ray said. "They knew nothing of the first half of my life. I wanted them to know what I had done in my early life. They didn't know anything about it."
With details crafted by his still-vivid memory, his book records his "ride on the crazy carousel of life."
It is a life that spinned through the Depression, the Dust Bowl and served in World War II before it latched onto newspapers for a total of 74 years. He began with Linotype machines and hot metal type and then to the offset process, cold type and the computer revolution.
He retired from the Carthage Republican Tribune on Jan. 1, 2001. His wife then became editor and publisher until 2006, while Ray continued to contribute stories. The paper, published by Northern New York Newspaper Corp., ended publication this year like so many community newspapers across the country.
"I am so old I can remember when grapes had seeds and lawn had weeds," Mr. Hansen writes in his book. "In the house I grew up in, we learned to respect our government and our leaders. They didn't lie to us on a daily basis. Democracy was a simple and workable system because billionaires, their lobbyists and talk radio blowhards were not rewarded for lying to the country day in and day out."
In "30: My Newspaper Life," Ray documents cases where he fought for the truth and uncovered corruption. These days, he would be defined by our president as an "enemy of the people." Ray believes the country is worse off because of fewer newspapers and their lack of support.
"The decline is a shame," he said. "The young people aren't being informed as they should be. They run around with these gadgets, including my own boys, and think they're informed."
'I HAD TO DO SOMETHING'
Ramond D.(Ray) Hansen was born April 28, 1926, in Bloomfield, Neb., the first of eight children. His grandfather published the weekly newspaper in his hometown. His first job was as a helper to his father in his school janitor duties. Due to a farm accident, his father had only one hand. "I was needed to hold the dustpan," Ray recalls in "30."
In 1944, after Ray and six other high school senior classmates learned of the Battan Death March, they drove to Norfolk, Neb., and enlisted in the Navy. Ray, then 17, would serve as a Seabee in Guam for two-and-a-half years, helping to construct and maintain airfields.
Ray said he wasn't bitten by the newspaper bug, but it was something he sort of fell into.
"When I came back from overseas, I had to do something," he said. "When they give you your discharge papers, they have space for future plans. I just wrote, 'College and journalism' and I stuck to it."
Ray was sent to Washington, D.C., in 1950 to cover the Senate for the Lincoln Star. But he said that at one year out of college, he was too inexperienced and after a few weeks he was fired "with military finality" by his Washington-based boss, Robert S. Allen. During World War II, Mr. Allen served as an intelligence officer under Gen. George S. Patton Jr. and in his younger years, "once took part in the pursuit of Pancho Villa," Ray wrote in his book.
Ray then found a public relations job with the Reconstruction Finance Corporation, administered by the U.S. government, and then with the International Union of Electrical, Radio and Machine Workers.
While he worked at his non-newspaper jobs, Ray was looking around for one to purchase and had saved $10,000 for a down payment. In 1959, he bought the Waushara Argus in Wautoma, Wis. He sold it in 1964 and took some time to hunt game birds back in Nebraska while he kept in touch with Donna Toepper, who Ray had met one day when he took a photo for the Argus. They were wed in March of 1965.
Ray recalled the day when he took the photo of Donna, a music teacher at the time who was directing a high school choir.
"She was trim and slim, but I guess the main thing was she had an apartment in the building across the (White) river from where my newspaper was," Ray said. "She walked by the office regularly."
"He was always working at night," Donna said. "I guess I stuck my head in the door one night and said, "It's quitting time!' He didn't quit, of course. He worked until he got everything done."
Donna said she learned to appreciate her new profession.
"You're automatically pulled into a community when you own a newspaper," she said. "You start covering things and you meet people. We have good memories about each place we worked, and some not so good, of course. But it's been a lifetime learning experience, especially for me."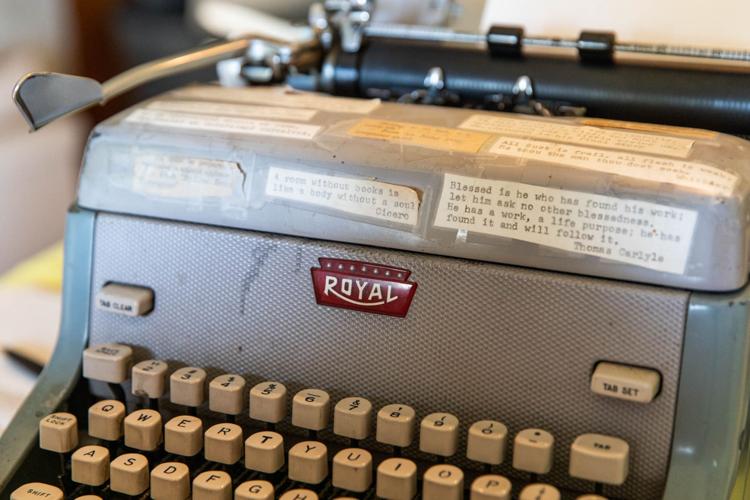 'EXTREME' JOURNALISM
While waiting for a new purchase opportunity to come along, Ray got a job as a night editor at the Frankfort Daily Times in Indiana and later for the Omaha Sun.
Ray and his wife would purchase three other papers: The Neodesha Sun in Kansas, The Prairie Drummer in Colby, Kansas and, before coming to Carthage, The Interstate News in northwest Arkansas.
Ray did it all at the papers he owned, working long hours while his wife worked as office manager.
"I was the only staff member 99% of the time," he said.
His work days would "easily" stretch into 15 hours.
"It was extreme, but when you're young, you can do it," Ray said. "It was a thrill — a challenging thrill."
He made a pact with himself that he wouldn't be paid more than $100 a week at the papers he owned.
"When I was growing up, a hundred dollars a week was an immense sum of money," Ray said. "I thought if I could earn a hundred dollars a week, I would be king. We lived frugally. A hundred dollars used to go an awful long ways."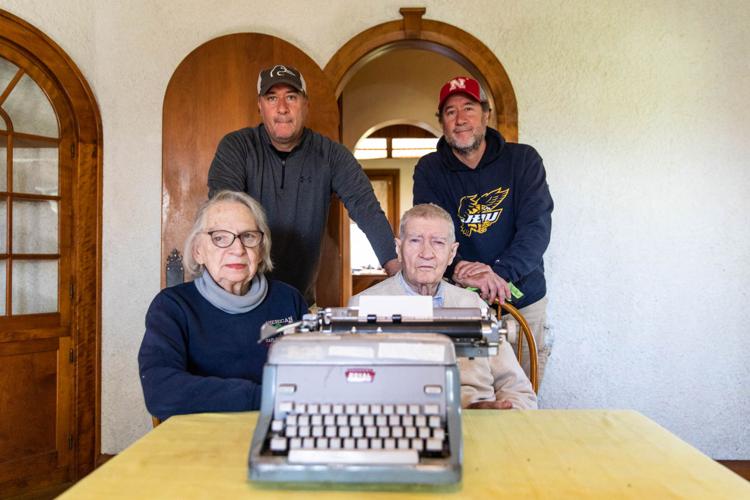 EDITING A COLLECTION
The Hansen home had been full of items collected from a life of journalism over the years. Ray kept bound issues of his newspapers, letters, and books ranging in topics from literature to history. Many items were donated to community members and organizations.
"Over the years, we've filled the house with clutter and junk, books and playbills and all the items we collected," Ray said.
It was the duty of sons Eric and Chris to help do some editing of that collection for the move to Kansas.
"It's interesting," Eric said. "They've kept things from the time we were born. We were just going over baby records from when they took us home from the hospital. It's sort of like going back in time."
Eric, and twin brother Chris are 53. Eric is a business manager and human resources manager for a school district and Chris is a plant manager for U.S. Gypsum Company. Both attended and graduated from John Brown University in Siloam Springs, Ark., on basketball scholarships.
The twins' first memories of the newspaper life are from their time in Colby at The Prairie Drummer. One of their jobs was to scrape up excess waxed news copy that had fallen to the floor.
"It got to the point where I was running the Addressograph," Erik said.
Meanwhile, Chris became "foreman" of the crew consisting of their buddies who helped to stuff the newspapers with inserts. He developed a spreadsheet to help him keep track.
"They were paid a generous three dollars an hour or something like that," Chris said.
The brothers didn't follow their father into the newspaper business, but his experience was a learning experience for them.
"It was like being in the military, we'd spend four or five years in one place and then move to the next place," Eric said. "But you get to see different parts of the country. It shows how much hard work goes into being a newspaper person and that sort of helps craft the decisions you make later in life and the kind of career you want to have."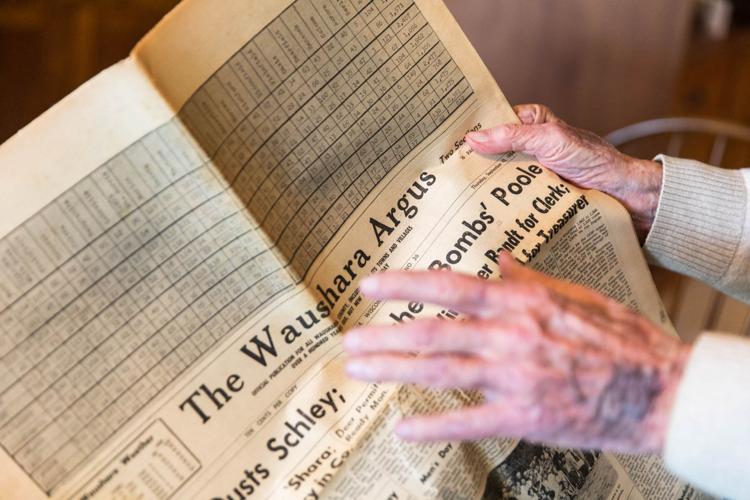 USED TO GOODBYES
When Ray sold his first paper, the Waushara Argus, he punched out a farewell to readers with his "High, Wide and Hansen" column. It ran on Oct. 8, 1964, with an introduction in the form of a poem:
"How does one say goodbye?
How could I be lonely for you, stranger?
I don't even know your mother's name
Or the town from which you came..."
In their latest goodbye, after living in several towns across the U.S., Ray and Donna are heading back to the Midwest. But Ray hopes people back in the north country, where he spent "a good third of his life" won't be strangers. He still plans to use his vintage typewriter for such correspondence.
Last Monday, Ray received a letter from a former high school classmate, now in California. They had enlisted in the Navy together. On Tuesday, Ray recalled how easy it was to type out a reply.
"I sat down and wrote him a post card and dropped it in the mail," he said. "It works. For a longer letter, I have all kinds of paper."
"Sunday Portrait" is an occasional column featured in the Watertown Daily Times' Sunday edition. Write to Chris Brock at cbrock@wdt.net or at the Watertown Daily Times, 260 Washington St., Watertown, NY, 13601.