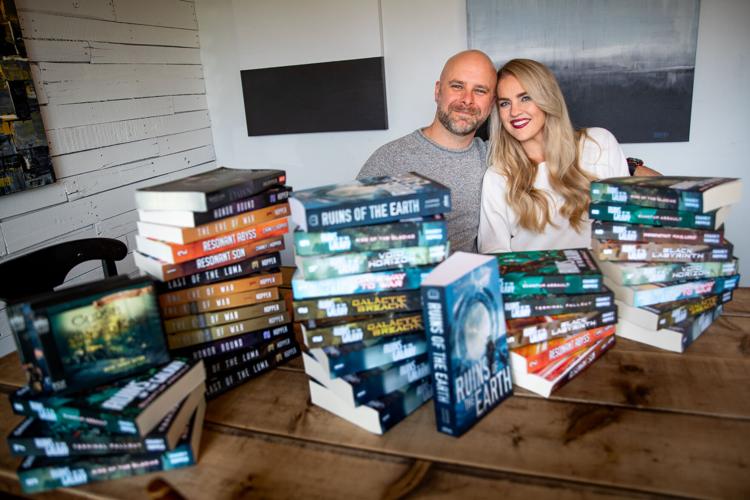 Christopher K. Hopper writes about fantastical far-away worlds that have landed on scores of Amazon best-seller lists. But it was his wife who brought him down to Earth so he could find his launching pad.
The former youth pastor and associate pastor at New Life Christian Church in Watertown just needed to put greater faith in his writing talents, which he took up with abandon two years ago.
Since then, in cooperation with writing partner Jeff N. Chaney of Las Vegas, the team has built a galactic empire of top-selling novels in a raft of science fiction genres.
Those genres, in which their books have hit No. 1 on Amazon:
Military Science Fiction
Space Marine Science Fiction
Galactic Empire Science Fiction
Alien Invasion Science Fiction
Colonization Science Fiction
First Contact Science Fiction
Also, the latest novel in the Hopper/Chaney universe, "Ruins of the Earth," a totally new series, hit number 119 on Amazon among all of its millions of ebooks sold earlier this month. Their novels are finding fans especially among members of the military.
"I definitely feel like it's one of those things where you discover you have this super power that, to you, seems kind of normal, but when you look at it in context to everyone else around you, you realize it's kind of exceptional," Mr. Hopper said. "The cool part is linking arms with other people who have the same sort of super power. Being able to partner with someone like Jeff — he's a phenomenal writer, mentor and friend. And you combine that with other people who are just as good if not better, and now you're running in this tight circle where everybody writes well, writes fast and produces great art that puts the reader in mind."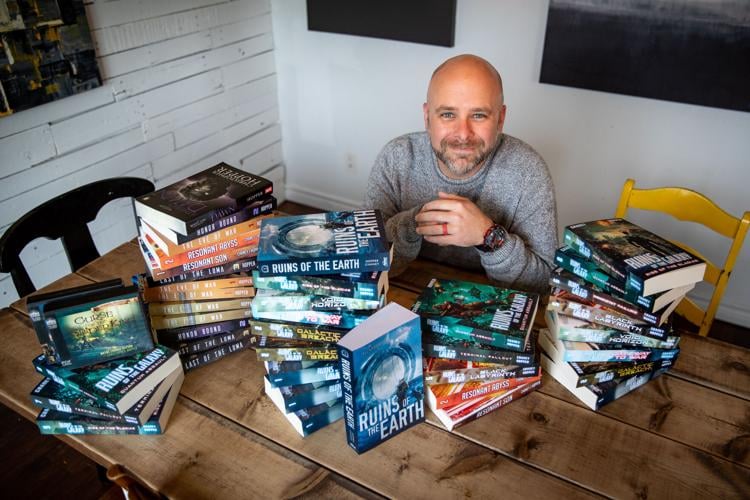 From concept to 'Ruins'
The Hopper/Chaney team puts out a new book about every eight weeks. Mr. Hopper is concept creator of the series.
"When I got the chance, it was kind of like letting the horses head for the barn — look out, here we come," Mr. Hopper said.
"We want to create great stories for our readers, so they feel entertained, and there's a sense of catharsis," Mr. Chaney said.
The floodgates of Mr. Hopper's imagination were opened fully two years ago and he's been writing at a fantastic clip since then.
"I was at the point of my life where I was knowing I wanted to do something different," said Mr. Hopper, who lives in Chaumont with his wife, Jennifer, a singer/songwriter who has toured the U.S. and Europe. Mr. Hopper acts as producer of her music. They have four children.
"You hit the proverbial glass ceiling," Mr. Hopper said. "And the problem with glass ceilings is that you can't see them. I just felt pressed up against this cap. And I'm wondering, 'What am I swinging at? What do I do next?'"
Mr. Hopper is also a musician and a sought-after speaker at conferences, seminars and retreats. But something was missing in his life.
"My wife said, 'The one thing that you can do that no one else can do like you is write,'" he said. "She said, 'You need to write the stories that no one else can write.' She's been saying that for years, probably 10 or more. But something the way she said that in the fall of 2018 startled me." He gave a good-natured laugh after adding: "And I recognized — wow! My wife is right!" "It's a gift," Jennifer said. "I've always encouraged him that he is his generation's C.S. Lewis — someone who can write both fiction and non-fiction and bridge the gap between the heart and the head."
A partnership from the 'ruins'
Mr. Hopper, who about a decade ago wrote a handful of fantasy novels that were released by traditional publishers, wrote and released three installments of "Ruins of the Galaxy" by the summer of 2019 following his wife's encouragement. Meanwhile, he and Mr. Chaney, founder of Variant Publications, had developed a friendship earlier that year.
"When he saw the series launch and not live up to what he knew the potential was, he reached out and offered to republish them," Mr. Hopper said. "So we worked together and went through them, and he passed them to his editor and had his artist create new cover art."
The re-released titles outperformed Mr. Hopper's original works "exponentially."
"Jeff is an amazing writer, but he's an even better businessman," Mr. Hopper said. "He knew just how to reposition the story I had created to hit the right market."
The revised first three titles in "Ruins of the Galaxy" series: the self-titled first, "Galactic Breach" and "Gateway to War."
Meanwhile, while the team was writing books about that world, Mr. Chaney, who has four co-writers for other projects, invited Mr. Hopper to create a new series within Mr. Chaney's "Renegade" universe, which already contained dozens of titles.
"I was honored and jumped at the chance," Mr. Hopper said.
The two "Renegade" titles, intergalactic thrillers, are "Resonant Son" and "Resonant Abyss."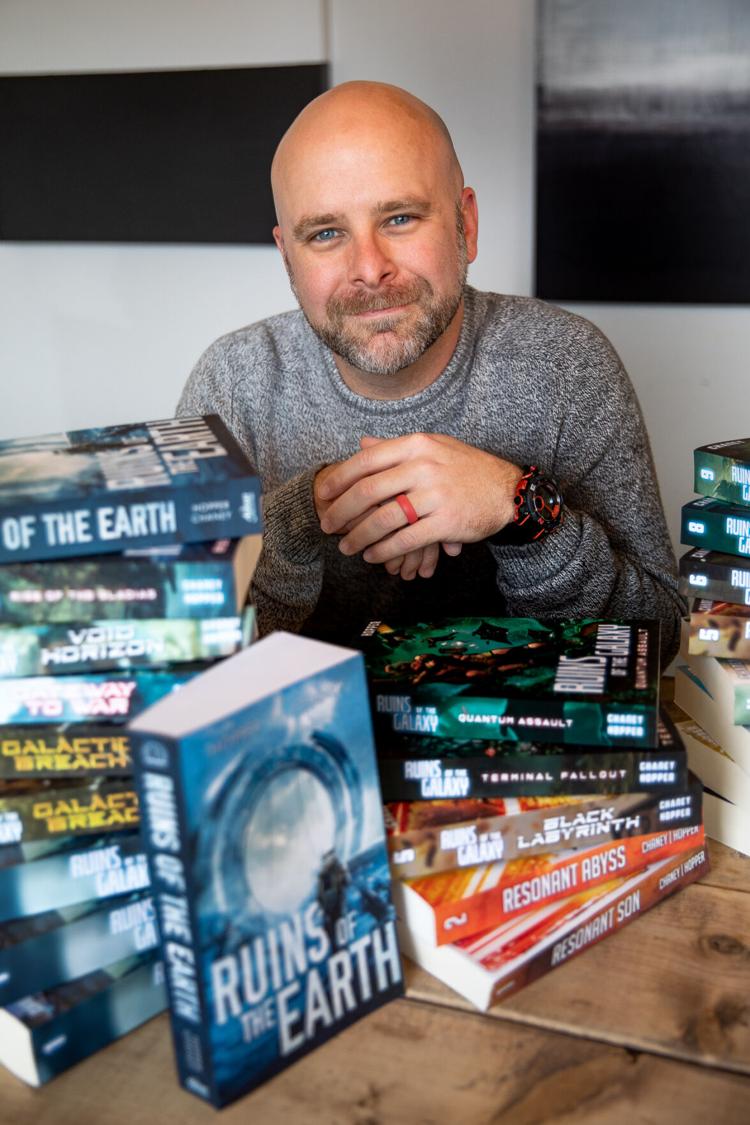 Mr. Hopper at times was writing stories in both series simultaneously. All of the books were released in the summer of 2019.
"It was a very busy season, but we had just discovered a massive market of voracious readers," Mr. Hopper said. "It was a perfect storm, and we were ready to ride the waves."
There are nine "Ruins of the Galaxy" novels, all released in 2019 and this year. "Ruins of the Earth," the book that hit 119 on the Amazon ebook list, is a prequel to the "Galaxy" series. Book two in the "Ruins of the Earth" series, "Gods and Men," will be released Nov. 18.
"There's a lot of excitement about this series, and it's done better than either of us had hoped for or expected," Mr. Chaney said of the new "Earth" series. "We're extremely thankful. It's actually outperformed 'Ruins of the Galaxy,' which tells me that people liked that series so much that when this one hit, they were waiting for something new."
Fans of audio books are also enjoying both series.
Award-winning science fiction audiobook narrator R.C. Bray is working to narrate all "Ruins of the Galaxy" and "Ruins of the Earth" titles through Podium Publishing. Mr. Bray has also narrated such notable works as "The Martian" by Andy Weir.
"We generally put out a book every six weeks or, no more than eight weeks at a time," Mr. Hopper said. "In the old days, it was a book a year. That just doesn't work anymore because readers are so hungry for content."
In the collaboration between Mr. Hopper and Mr. Chaney, each one writes a book.
"We try to maintain a consistent voice throughout the books," Mr. Chaney said. "With all the collaborations I have, whether I'm writing or they are, one person writes the entire book. A lot of times we'll brainstorm together and then one person will edit and the other person will write."
"It really works well because one of the classic models is shared chapters — a person writes this chapter and the next person writes chapter two and so forth," Mr. Hopper said. "The problem with that is that it can be very tedious, and therefore takes a lot of time."
Often, the two writers will walk through a story and do some outlining.
"And then it's kind of like, 'Hey, leave me alone, let me write my book!'" Mr. Hopper said. "When I'm done, I'll let go of it. And then it goes off to the other person, in this case, Jeff, as well as the editing team."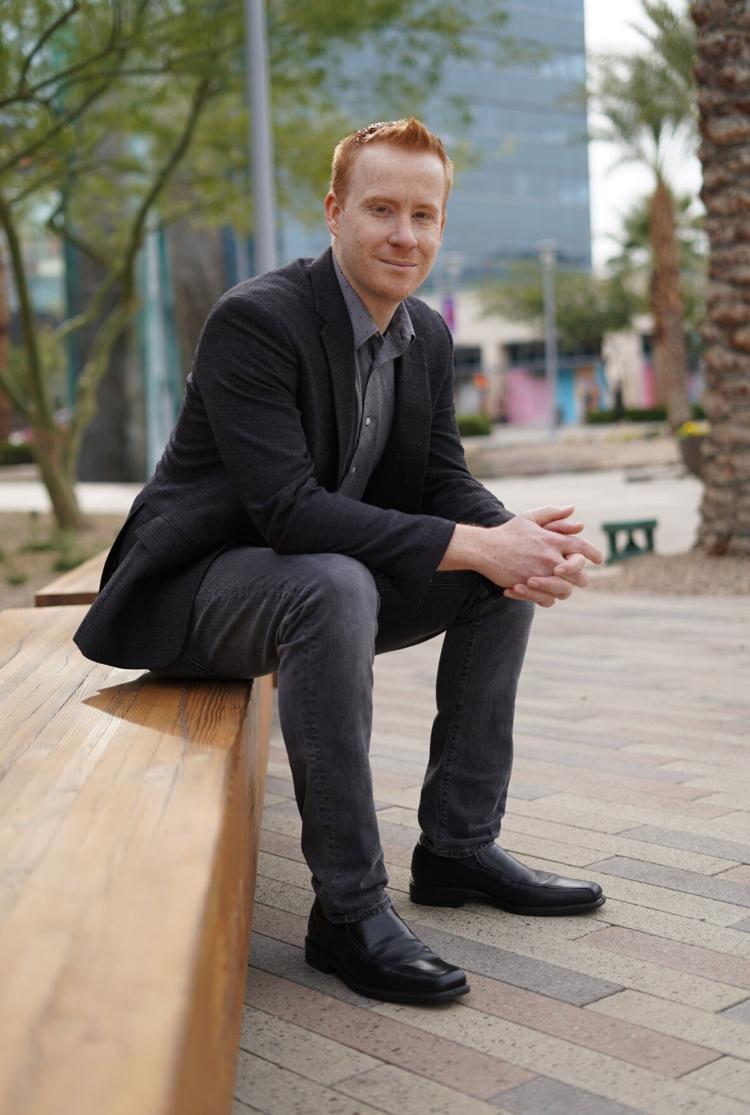 The team has an artist, whom they declined to identify.
"I'll work hand-in-hand with him to create this brand, this distinct look and feel for each individual series that sets it apart from everything else we've done," Mr. Chaney said.
"One of the things we worked hard on fine-tuning was that very first 'Ruins of the Earth' cover," Mr. Hopper said. "We had our artist draw something that looked like a soldier in the Antarctic, with a big portal in the background. It took a lot of fine-tuning to get that right and then we went out and hired an industry-leading typographer and they were able to use different styles for the font and we finally picked one that worked the best."
The team has earned the appreciation of soldiers with their military science fiction. Mr. Hopper doesn't have military experience, but Mr. Chaney served in the Air Force.
"We go through painstaking work just to make sure these books line up with the military experience," Mr. Chaney said.
Their "Alpha readers," members of the military, are given drafts of their books before being published.
"My background helped a lot when adjusting to the military sci-fi genre, but it wasn't nearly enough," Mr. Chaney said. "So that's why we put together this team of early readers. We don't want to mess anything up."
"They read every single chapter before it goes to our editors," Mr. Hopper said. "They are grooming and sifting it for terminology and tactics, like, 'We wouldn't enter a room that way. We'd do it this way.'"
"A lot of our readership is made up of veterans and plenty of active duty people," Mr. Chaney said. "I get messages all the time from former co-workers in the Air Force who are currently reading these books and they're some of their favorites."
"To put it in perspective, I just got off the phone about an hour ago with one of our alpha readers who is just returning from Kuwait," Mr. Hopper said. "He's boots on the ground, back at Fort Hood and getting ready to fly back up here to Fort Drum. He's been reading them while deployed, which is such a privilege. Think about it: you have a guy deployed, outside the wire, and he's reading these books and critiquing them as we write these chapters. It's really special."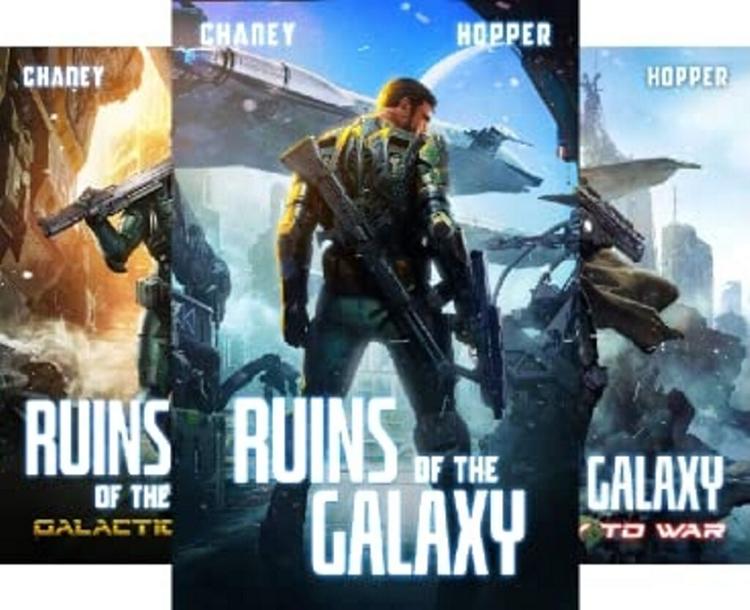 But the "Ruins" books are more than about galaxies and guns.
"Our hope is not just to create something that's entertaining, but something with heart value," Mr. Hopper said. "It's like science fiction with a soul, taking cues from the real life stories of men and women who are heroes."
In the real domestic life of Mr. Hopper, where his goal is to write 5,000 words a day, with a break to drop off and pick up his children from school, his wife Jennifer remains the Earthbound inspirational hero.
"It's one thing to be on the counsel-giving side of the desk, where I spent a lot of my time, and it's quite another thing to be on the other side of the desk and have someone offer you advice that might be challenging or difficult to hear but it's still right," Mr. Hopper said. "Here was my wife giving me something I really needed in a critical moment of my life. I'm forever grateful."
"I've told him that no one else can write the stories that are in his imagination," Jennifer said. "They're like a thumbprint, and he's the only one who can express them. That's what he was born to do."
"Sunday Portrait" is an occasional column featured in the Watertown Daily Times' Sunday edition. If you have an idea for a column subject, Write to Chris Brock at cbrock@wdt.net or at the Watertown Daily Times, 260 Washington St., Watertown, NY, 13601.