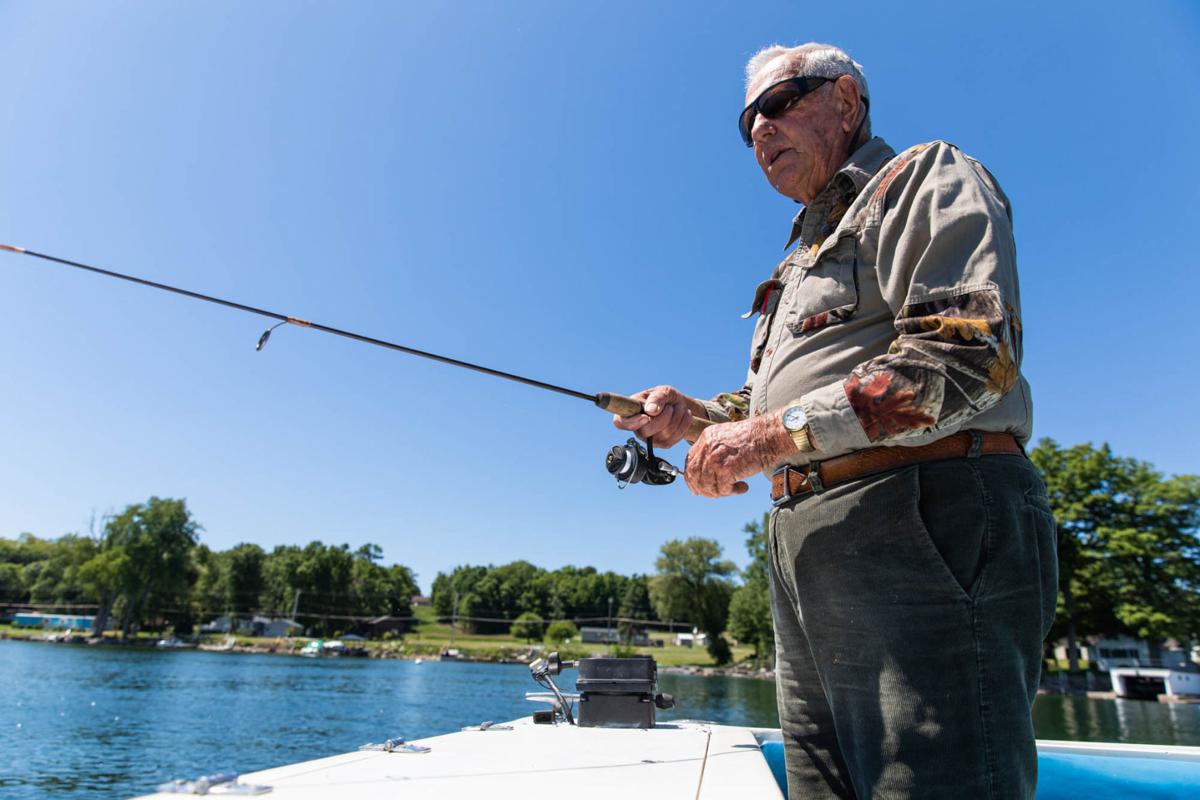 Ask Ronald J. Ditch about his "favorite place on Earth" and he'll reel in his answer leisurely but firmly, as if he's hooked onto a prized lunker, savoring the moment, letting out the line at proper length for some play before landing the big reveal.
"I remember setting out one time with a good friend of mine, Pete Jenkins, on Calf Island shoal," Ron begins. "And we sat there catching bass, and every once in a while we'd catch a brown trout or a walleye. And it was a really nice, peaceful, beautiful sort of day, with just the two of us in the boat.
"We were catching fish at our leisure and I sat there looking around on this beautiful sunny day, and I'm looking back over to this High Rock area where we were anchored, and I'm thinking to myself, you know, my whole life has been hunting and fishing. And I can sit here and I don't know anyplace else in the country, or maybe anyplace else on Earth, where you can sit back and look at the shore and say, 'Well, I could go over there and hunt pheasants or grouse or snowshoe rabbits or deer. From where I'm sitting, everything in my life is visible to me — everything I like and care about in the outdoors.'
"There's no place that I can think of that's like that, other than maybe New Zealand or Alaska. Henderson Harbor and Lake Ontario is a very special place. I was fortunate enough to grow up and to take advantage of that."
Now, he's written a book to document his life and to share the adventures he's had with others.
Ron, 85, has been a licensed charter captain on Lake Ontario since the age of 19, passing the Coast Guard test on his first try. His is a life of a love of the outdoors, especially of Lake Ontario and the waters off of Henderson Harbor. He titled his self-published book, "Hunting Fishing & Family."
He knows of no record-keeping on the matter, but Ron, owner of Ron Ditch & Sons Charters, 8405 Cornell Road, Henderson Harbor, believes he's the longest serving charter captain on Lake Ontario, if not the entire Great Lakes.
"I think when I started, around the age of 19, I don't think there were more than a dozen charter captains involved between all of Lake Ontario and the St. Lawrence River," Ron said. "Now, there are literally hundreds of them, from Buffalo to lord knows how far north."
In two years, Ron will face a decision when his captain's license expires. The licenses are good for five years.
"I may or may not decide to renew it at that time," he said. "It depends on how I feel at the time, I guess. A couple of years at this stage of life is quite a lot. But when you're a young punk growing up, two years doesn't mean anything. But when you get on the other end, it means quite a bit."
But when we talked about 10 days ago, Ron was looking forward to the opening of black bass season, which was Saturday.
"I don't care to charter on an every-day basis like I used to in my prime," Ron said. "I don't mind two or three, at the most four parties in a week. The season is coming up here a week from Saturday and I have three or four charters booked that first week. It's something you have to do. You have to go out. The fish are waiting for me."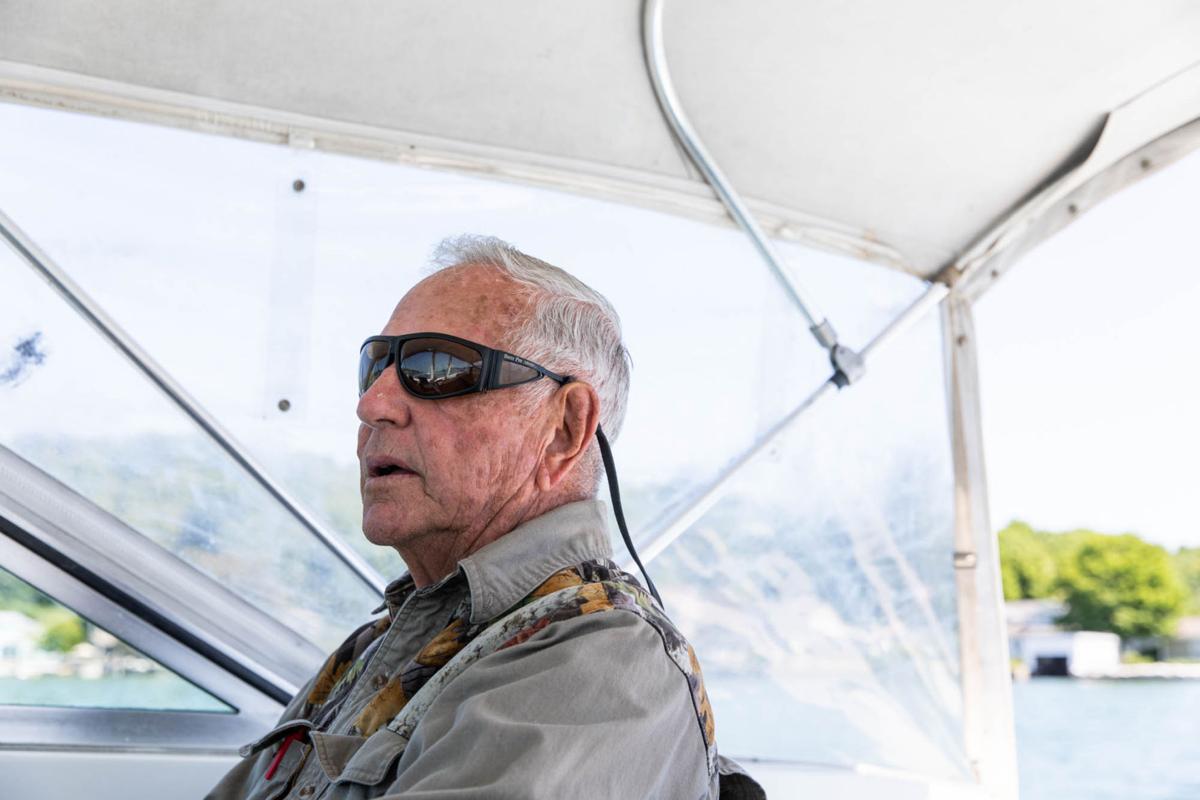 Ron has roots in Rochester, where his dad, Ruddy, operated a contracting business. In his free time, Ruddy would go to the Northeast end of Lake Ontario to fish. He eventually purchased a boat and got his guide license to carry passengers. "When I was 5 or 6, I started accompanying him on his charters every chance I got," Ron writes in his book.
They discovered Henderson Harbor and made routine trips to the area, purchasing a fishing camp (Henchen's) and hosting charters. Ron "captained" his first charter at age 14 at Henderson Harbor in the late 1940s after his dad broke some ribs on a job the day before. Not wanting to disappoint customers, Ron said he could captain the charter by himself. But as the afternoon wore on, the party was nearly fishless.
"Out of the blue, it dawned on me that with this light Northwest wind there might be fish at DeMill's Point on the Southwest side of Stony Island if we could hold up on the drop-off in about 25 feet of water," Ron wrote.
They ended up catching two dozen fish. Such knowledge of the lake only increased when Ron's family moved to Henderson Harbor in 1950. Ron was 12. He was asked about his first impressions on seeing the area as a resident.
"I thought, 'Boy what a great place.' You've got super fishing here, it's beautiful. Of course, it wasn't built up when I was a young man like it is today. It's changed somewhat but it isn't changed for the worse. It's changed, maybe, for the better. At any rate, I've been fortunate to spend a lifetime, or nearly a lifetime, here."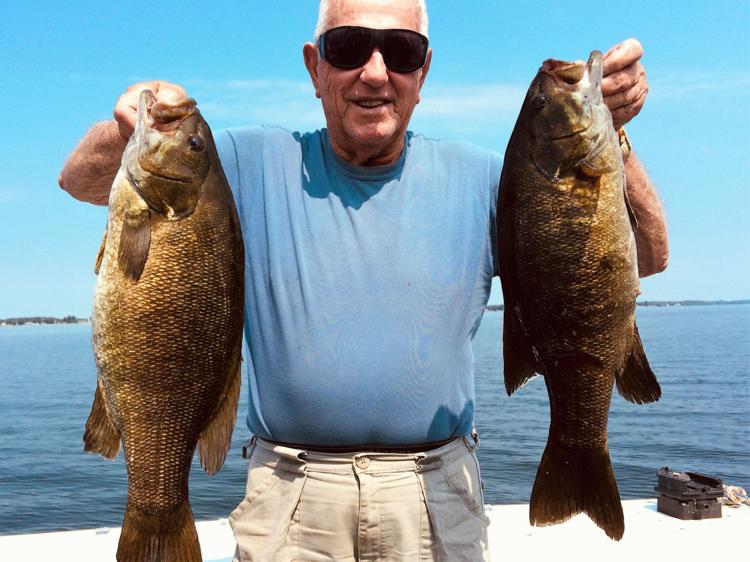 Ron's adventurous spirit has taken him hunting and fishing across the globe, from New Zealand and Australia to Alaska and several U.S. states in between, which he describes in "Hunting, Fishing & Family."
He's had a close call with a moose in Manitoba, learned how to operate a shrimp boat in Homer, Alaska, downed an elk in Colorado and was knocked "half unconscious" by a charging deer on the Robbins Farm in Hounsfield.
"Hunting, Fishing & Family" also documents some unscheduled swims. In the late fall of 1963, during a frigid day when the temperatures didn't get above freezing, Ron took a client to Bass Island for duck hunting — "a rough, long ride." When they landed on the island, Ron took some decoys down the shore and told his client to make sure the boat was anchored on the shore. Later, they saw a boat about 20 feet offshore and realized it was their boat. Ron started to run toward the boat, peeling off his waders and clothes as he went. The boat was 50 feet off shore when he dove into the water. He wrote that it felt like someone had stabbed him with an ice pick and knew he had made a "stupid mistake."
"But I began to swim for the boat which was now drifting faster and the further it got from the shore, the harder the wind blew and the faster it went," Ron wrote in his book. "I realized there was no choice other than to make it to the boat. Returning to the shore against the waves would be impossible."
Exhausted and nearly unconscious, he was able to reach the boat and climbed into it at its transom and started the boat's 15 horsepower engine. He gunned it back to shore.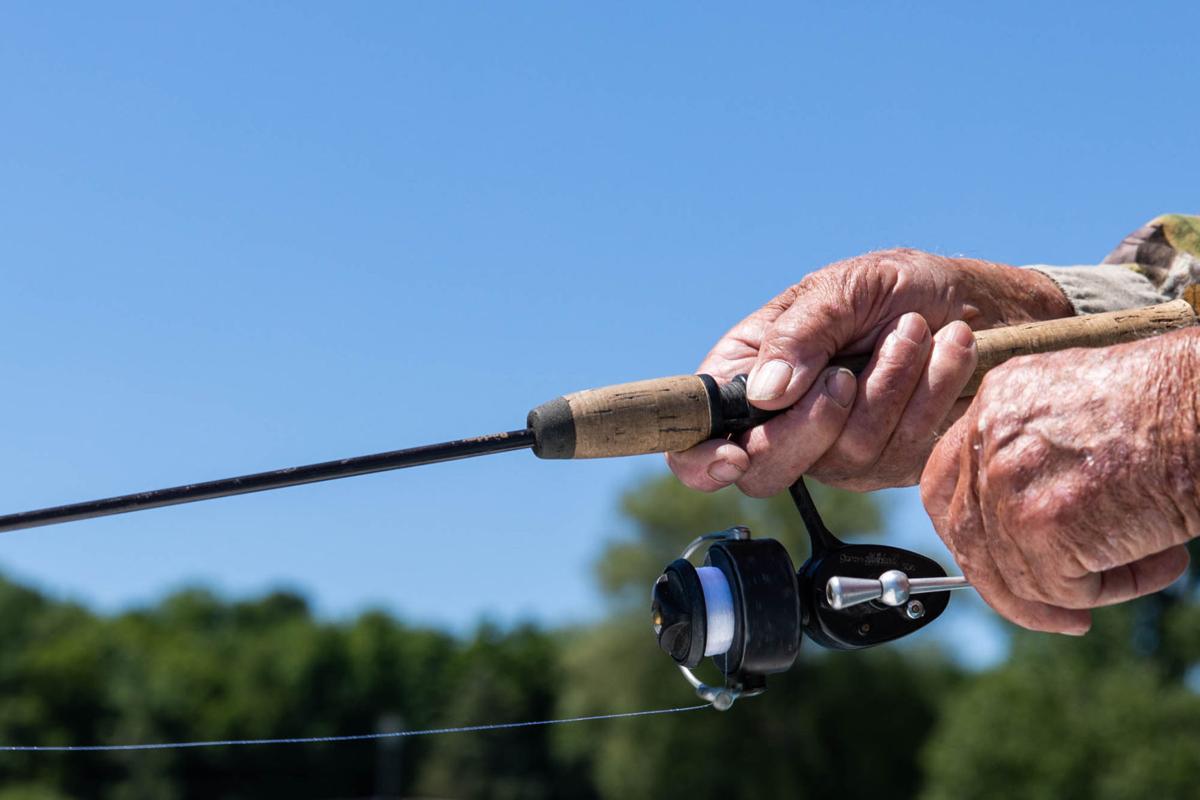 "When I tried to get out, I found I was partially frozen to the metal seat," Ron wrote. After a "painful extraction" his client helped him with his clothes he had tossed off. Ron "chewed out" his client for not anchoring the boat before continuing their hunt.
Asked about that passage, Ron said, "At that stage in life, you do some things and you'd think you are Super Man. You kind of forget the fact that you're still human. But anyway, I survived it, so I guess that's all that matters."
The most infamous adventure Ron took part in involved double-crested cormorants. The populations of the seabird in New York have exploded over the past four decades. They are divers and have decimated fish populations in the Lake Ontario and St. Lawrence River areas. New York State now is one of a handful of states that manage double-crested populations by using hazing, oiling of eggs, and even killing birds, according to the state Department of Environmental Conservation.
But before all that, in 1998, Ron and nine other frustrated anglers killed nearly 2,000 of the federally protected voracious birds on Galloo Island.
Ron and the others were sentenced in 1999 to six months' home detention and up to two years' probation. They were also ordered to pay a $2,500 fine and $5,000 in restitution.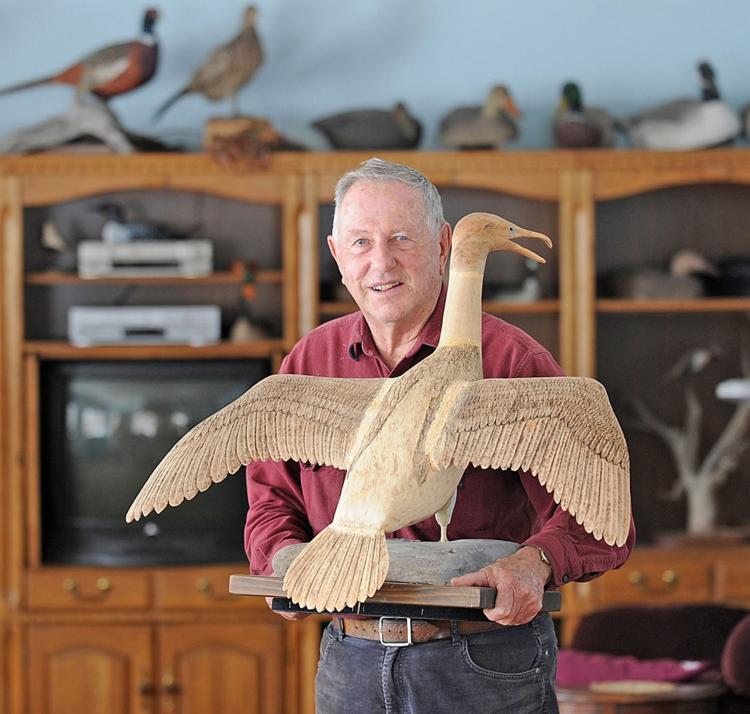 In his book, Ron explains how his crime was discovered and his initial denials. "I'm sure in my mind that had we not taken the action that we did, nothing would have been done to address our local problem," he wrote.
Ron is also an expert decoy carver, and in 2010, he carved a life-size out of basswood, its mouth agape, as if surprised at being created by such a dedicated angler.
"I don't know why I did it," Ron told the Times shortly after he finished it. "I expect I'll put it on the internet and see if somebody would like to own it."
The bird now makes its nest at the Henderson Historical Society Museum.
Ron has seen how the stocking of salmon and trout into Lake Ontario beginning in 1968 has revolutionized the fishing industry in the lake. This year, the DEC plans to stock more than 3.6 million salmon and trout in Lake Ontario.
"I actually dumped the very first pail of salmon that were stocked into the Redfield Reservoir," Ron said. "The father of the Great Lakes, Bill Perace, was the fisheries manager back at the time for our region."
Mr. Pearce, DEC fisheries biologist, died in 1979 at the age of 75.
"He was pretty much in charge of the whole stocking program for Lake Ontario. He got to be a pretty good friend of mine because we did a lot of research together," Ron said. "He asked me, 'How would you like to dump the first pail into the reservoir?' That's actually what started the fisheries as far as salmon, lake trout, brown trout and that sort of thing."
As the introduced fish attracted more anglers, Ron thought it was "wonderful." But the situation eventually lost its luster for him.
"It got to a point where there were so many people involved, so many people in a confined area where these fish were spooling, that people would troll over your lines and cut your lines," Ron said. "Somebody was always upset about the fact that somebody else did something that they considered wrong. It got old after several years, to where I didn't care to do that kind of fishing anymore."
He prefers to stick with the pursuit of fish like bass, Northern Pike and walleye.
"It's a whole different type of fishing, what I call hands-on fishing, where you've actually got the rod in your hand, you feel a strike and you set the hook," Ron said. "You get to play the fish or fight the fish until it's time to net it. When trolling for salmon or trout, you set your lines to a downrigger and the fish hit the lure and whoever is up at that time to catch the fish grabs the rod.
"In order to keep control of the boat and the rest of the rods that are in the water, you have to keep the boat moving. So actually, the boat is fighting the fish. Yes, it could be a 10-to-30-pound fish, and they're a good fish to take home and show off, but as far as I'm concerned, I'll stick with my bass.''
In the "family" part of his book, Ron explains how he met his wife, Ora Ross, in ninth grade as he was going up and down the stairs at Henderson Central School.
Asked what she thought of Ron at first glance, Ora said she thought, "'That's one for me.'" But she added, tongue in cheek: "There wasn't a whole lot of choices back at that time."
"I think there was nine in our (1954) graduating class," Ron said. "That's how I can tell everyone that I graduated in the top 10."
They have four sons, Andrew, David, Thomas and Mark, with all but Mark also charter guides. They also have seven grandchildren and two great-grandchildren.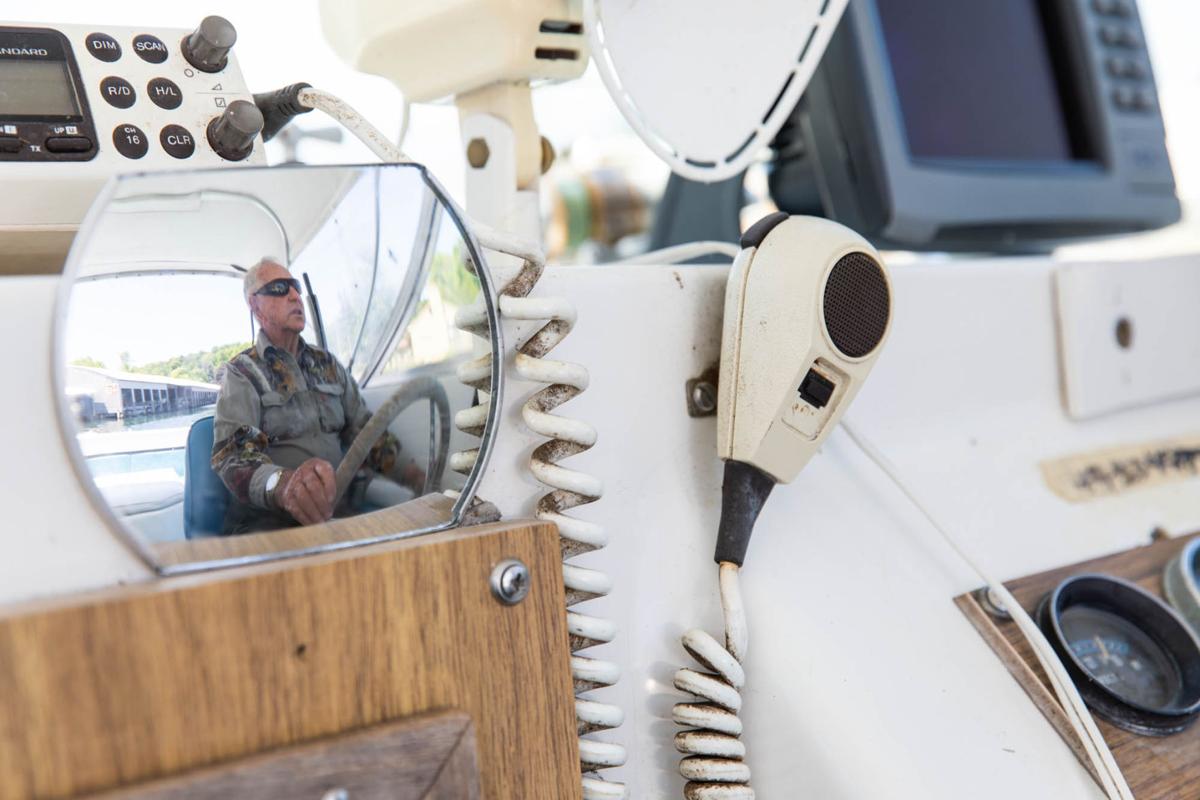 Longtime friends Don and Sharon Peters who live in North Carolina and have a summer home near Ron Ditch & Sons, helped Ron with his book. Ron is also a licensed captain and said he's been helping out his friend on charters for about seven years. He first began when Ron was recovering from an operation, he said.
"I rode with him as he recovered from that and just kept on doing it," Don said. "Ron is the most experienced small mouth bass guide in this region of the country, I think. I learn something new every time we go out."
Don said he encouraged Ron to write his book.
"I spend a lot of time with him and he kept telling stories as someone as gregarious as he often does," Don said. "I finally started to encourage him to write some of it down. I kept at him for a couple of years and finally, one cold, winter day, he decided he'd try and start. It must be five years we've been working on this."
Ron would write out his pages in longhand, in pencil, and send them to Don and Sharon for proof-reading and word processing.
"He kept on going and it got more and more interesting as we put it together," Don said. "We figured we might as well do something with it."
The book was self-published by Amazon Services LLC.
Ron's grandchildren also helped to inspire "Hunting, Fishing & Family."
"I want them to remember, 'Gramp did this. Gramp did that,'" he said.
The veteran guide was asked about his legacy. Appropriately, the answer came with a catch.
"I don't know about a legacy," he said. "Once you meet your maker, nobody wants to be completely forgotten. But of course, they eventually are — but regardless."
Indeed, regardless, his "favorite place on Earth" and the other places he's rambled will remain — for all, and hopefully, for the ages.
"Sunday Portrait" is an occasional column featured in the Watertown Daily Times' Sunday edition. Write to Chris Brock at cbrock@wdt.net or at the Watertown Daily Times, 260 Washington St., Watertown, NY, 13601.