WATERTOWN — If his visits to the offices of the Watertown Daily Times is any indication, James C. Harberson III appears to be a mild-mannered, soft-spoken gentleman.
But horrors! Flip through the pages of the violent graphic novel "Stay Alive" which he scripted, it would be no small task to link the man to the story for "mature readers" of how a Hollywood starlet revives her fading career by provoking a group of serial killers, and then starring in "Stay Alive," a reality TV show about surviving the killers' attempts to murder her.
In it, people face their demise by falling under the ax, into a wood chipper and are literally hammered — among other means.
It turns out that Mr. Harberson, a former lawyer who gave up those duties in 2012 and now writes to keep busy, is quite philosophical about horror and what scares us.
"'Stay Alive' is obviously not for everybody," Mr. Harberson said. "It's designed to be a fun story with some opportunities to think about our present time if you want to. I wanted to have some fun with it and also that we live in this crazy time where the internet allows people to behave badly in ways that generally, they wouldn't have done otherwise."
Mr. Harberson's co-writer for "Stay Alive" is impressed with Mr. Harberson's creativity when it comes to the horror genre. The co-writer, from New York City and who uses the pen name Mackie Wildwood, declined to give his actual name for this story due to his profession in "corporate America." But he said that Mr. Harberson's "unique experience in law, religion and philosophy" resulted in a "quick process to get a lot of deep and meaningful themes to the surface."
When talking about "Stay Alive" and its theme, plot and violence, Mr. Harberson referred to a wide range of books and programs that have influenced or left a mark on him over the years, ranging from the late political historian Daniel J. Boorstin and his 1962 book "The Image: A Guide to Pseudo-Events in America," James A. Monroe's "Hellfire Nation: The Politics of Sin in American History" to pulp comics and modern animated cartoons.
The writer received a juris doctor degree from the University of Pennsylvania law school in 2000; a master of arts degree from Yale University's divinity school in 1997 and a bachelor's degree, cum laude, in 1995 from Cornell University, Ithaca.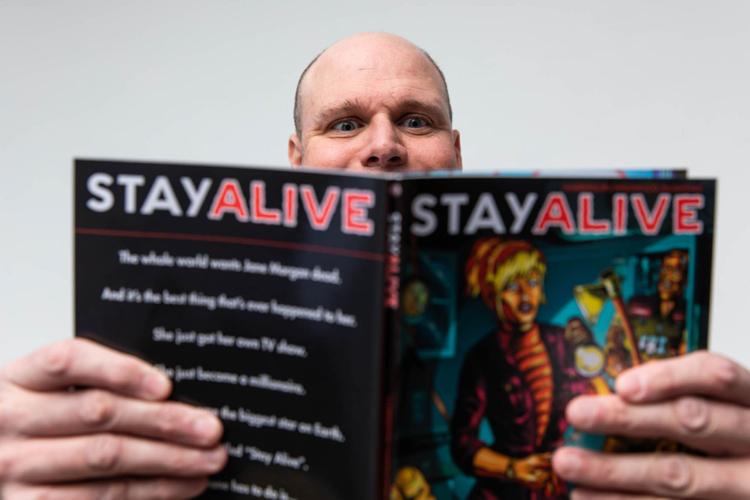 'Comically violent'
The 106-page "Stay Alive" was released on Jan. 20 by London-based Markosia, one of the United Kingdom's leading publishers of graphic novels. It was illustrated by Stephen Baskerville, who has worked for Marvel, DC Comics and several video game makers.
"It was reading the script that convinced me to how much I wanted to work on this with them," Mr. Baskerville said in an email. "It was very polished and detailed and rattled along from one tense scene to the next. I could see the whole thing in my mind's eye, while simultaneously being daunted at the prospect of illustrating something so cinematic."
The publisher calls "Stay Alive" a horror/comedy tale.
Mr. Harberson compared the violence in "Stay Alive" to the animated science fiction sitcom "Rick and Morty" and to a segment from an "Itchy and Scratchy" short seen in "The Simpsons."
"It's violent, but comically violent," Mr. Harberson said. "It doesn't dwell on the violence as a means for people to enjoy the violence, per se. It adds to the absurd nature of the enterprise."
Reviewer Kyle Holl on the website HorrorBuzz.com, gave "Stay Alive" nine out of 10 "Plague Doctor Masks."
"'Stay Alive' starts a bit rough, honestly," Mr. Holl wrote. "The first 20 or so pages not only feel substantially slower-paced than the rest of the book, they feature a nearly gratuitous amount of general sleaziness."
But he added, "To be fair, this early section also has to do a lot of heavy lifting with regards to the book's concept — if the synopsis sounded far fetched that's only because a lot of expositional dialogue is required to set up this premise, after which point the story can really take off. And take off it does, as from around page 20 onwards 'Stay Alive' is equal parts hysterical and horrific. Once it gets going, the book moves at the pace of a bullet train and is packed with sardonic black humor perfect for fans of films like 'Tucker' and 'Dale vs. Evil.'"
"I'm delighted with that review," Mr. Harberson said. "I've been working on this in one way or another, steadily but not constantly, since 2014 with a hiatus here and there."
A 'cat' out of the blue
Mr. Harberson met his "Stay Alive" co-writer at Deerfield Academy, a highly selective boarding school in Deerfield, Mass. Mr. Harberson graduated from the school in 1991. Mr. Harberson and his co-writer have kept in touch over the years. Their first graphic novel collaboration was "Death Cat," published on a website, now defunct, in 2015. It was also illustrated by Mr. Baskerville.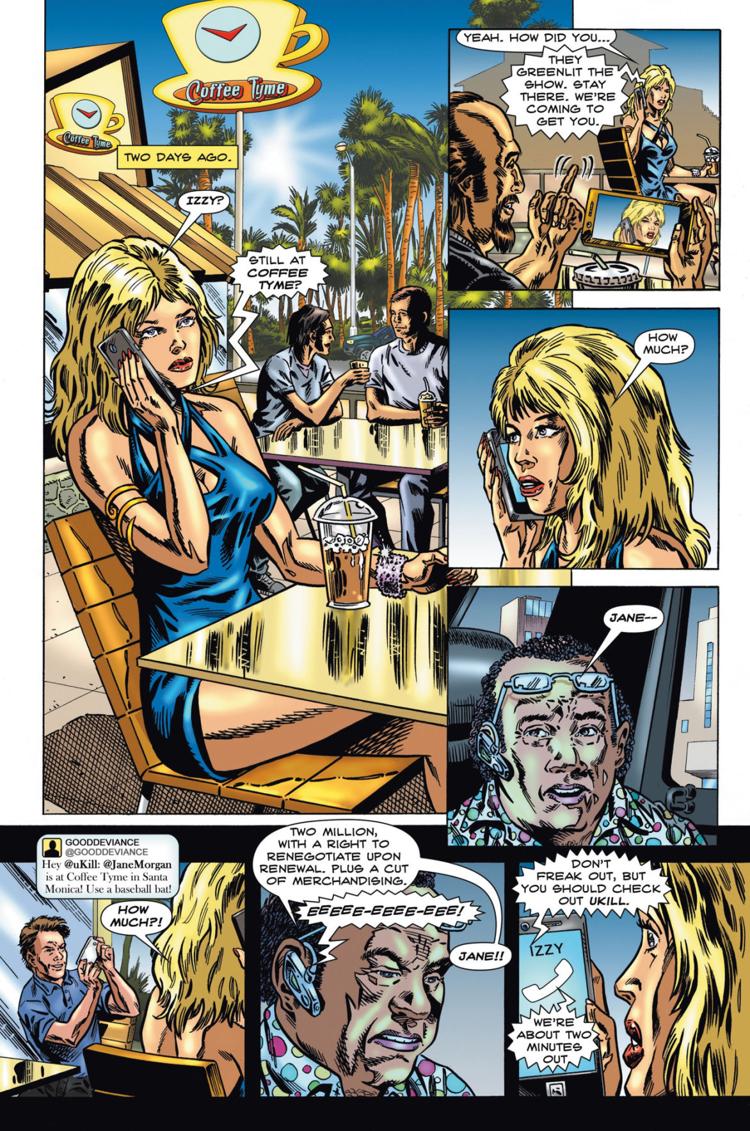 "'Death Cat' came out of the blue, when the guys approached my agent," Mr. Baskerville said.
The story, he said, showcased his first attempt at a "more realistic, mature style." That style, he said, pretty much became the template for "Stay Alive."
"Death Cat" was based on 2010 news reports about a cat in a Rhode Island nursing home that regularly predicted patients' deaths.
The collaboration by the three has been a smooth process, Mr. Harberson said. For "Stay Alive," Mr. Harberson wrote most of the script, but he and his co-writer put the story together.
"I did the heavy lifting with the writing," he said.
They took that story to Mr. Baskerville, whom they hired before shopping the project around to publishers.
"He knew how to help us manage the storytelling from page to page and how much data could fit on the page," Mr. Harberson said. "It's an interesting challenge to present a lot of visual data in an effective way on one page."
Mr. Baskerville said that working on "Stay Alive" as a solo artist was pretty exhausting for him. Now, he's "relaxing a little" on art for some video game projects like the "Judge Dredd: Crime Files" mobile game.
"But if the guys come calling with something new, I suspect I'll find it hard to resist," he said.
'A rumination'
Mr. Harberson said he's always been a fan of horror films and stories. He treasured comic books from the 1950s published by EC Comics, such as "Tales From the Crypt" and "Weird Science."
The violent plot line of "Stay Alive" mixes celebrity culture, the power of the internet and mob justice.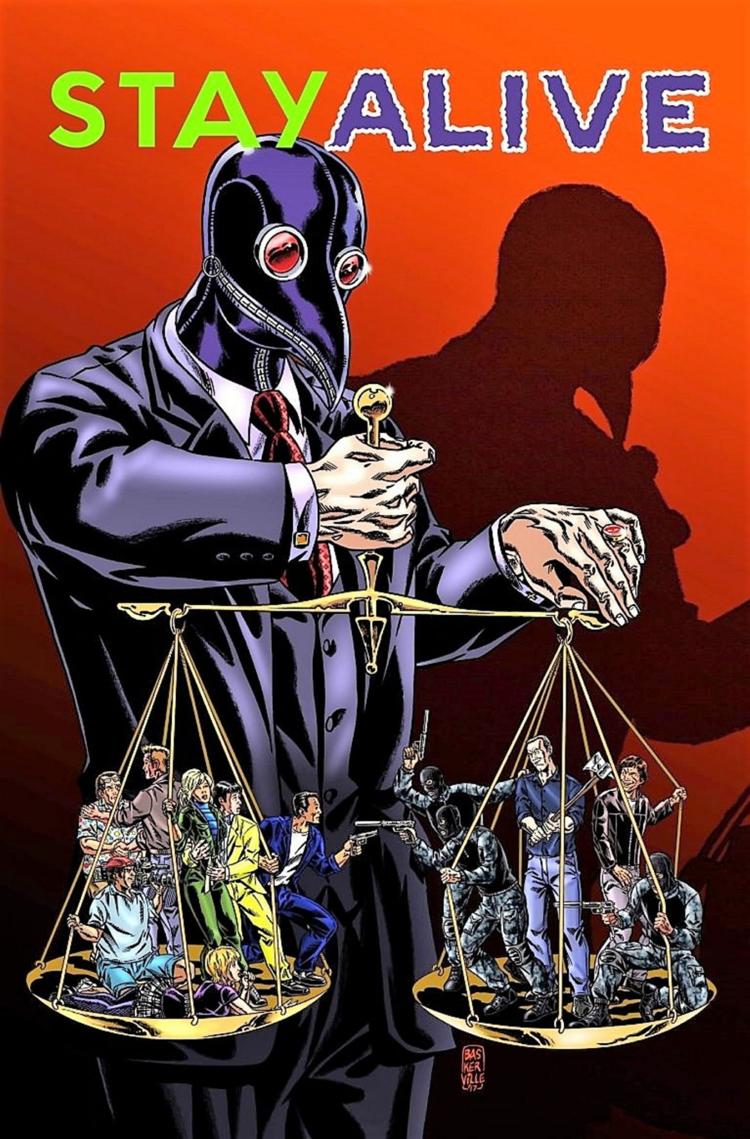 "It's a rumination on how bad things can get if people don't check their moral outrage," Mr. Harberson said.
The world, he said, "is pretty horrifying as it is" and that "Stay Alive" is satire of the situation.
"We live in a very tumultuous time in which people feel entitled to hate other people," Mr. Harberson said. "It's really scary — peoples' willingness to sort of run with the meanness. They'll hear something reported that's not true and sometimes commit acts of violence on the base of that. The whole thing is often based on hearsay or misconception and peoples' unwillingness or inability to dig in and to see what actually happened."