One of the many pleasures of my first trip to Flashback Brewing Co., 1309 State St., Watertown, a few weeks back is a 10-minute conversation about the merits (there are so many) of a runny egg.
I'm drinking Flashback Toasted Marshmallow Milk Stout (6 percent ABV), which is a great blend of toasty, malty, fight back against winter goodness with a sweet, indeed marshmallowy finish.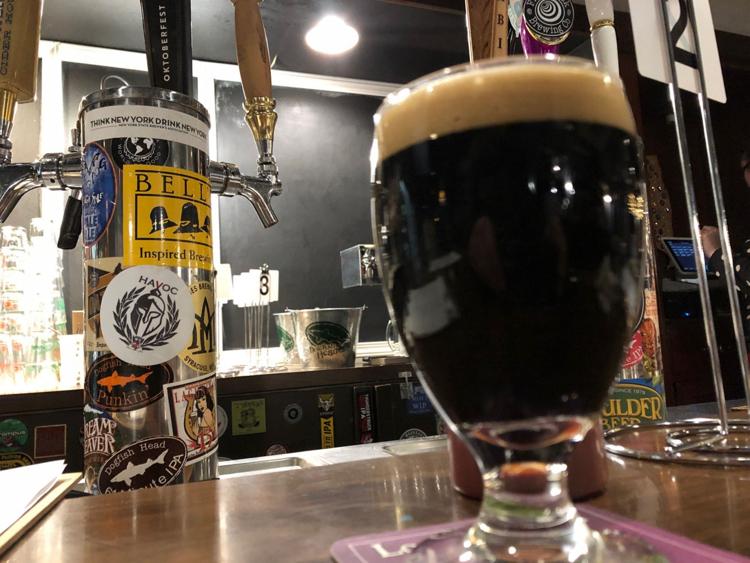 It's a lovely beer, and I'm just pondering my second pint while ordering food. And when I tell Krystin LaBarge, who owns the joint with her husband and head brewer Mitch, I want the Brunch Burger — pretty much what it sounds like, a burger with plenty of breakfast on top, including a fried egg — she asks how I want the egg. She regards me with some suspicion until I tell her I want it over easy. She seems, now, to be relieved.
"Good choice," she says. "Too many people want their eggs overcooked."
I went to Flashback on this Saturday evening with Christina and the boys, towing along my brother, Mike, and his wife, Carmella. Mike and Carmella were visiting from Grand Rapids, Mich., and I thought it'd be fun to finally check out the new brewery that had opened just down the street from our home.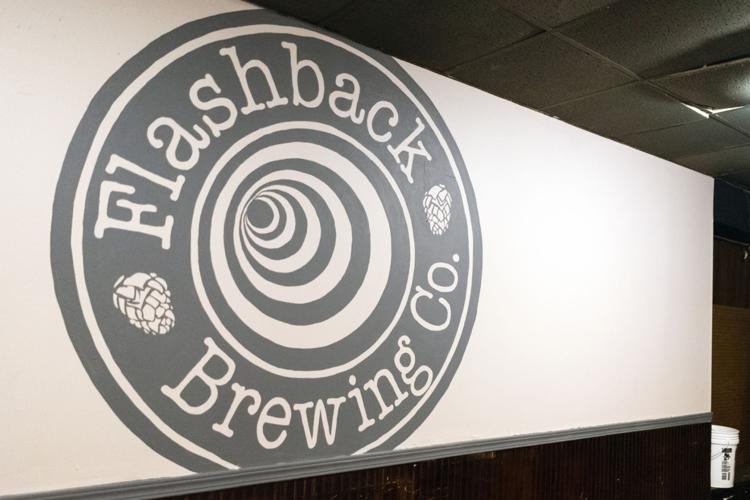 The plan was to check in for a beer or two and then take the kids bowling. Our 5-year-old, John, had become obsessed with the bowling game on Wii Sports Resort and may be convinced that he is Earl Anthony (OK, fine, I had to look up who the best bowler of all time was). So after beating me, which absolutely happened, and his not-quite-3-year-old brother Ben in a game of 100-pin bowling, the boy decided it was time to take it to another level.
"I want to go bowling for real, Mom."
Between the four adults in the room, nobody would be mistaken for even a slightly competent bowler, but I've always been better at games of skill when I have a beer or two in me. So we decided to pregame at Flashback, which is just down the street from home.
The north country offers plenty of local beer options, but most involve packing the kids in the car and braving the winter elements on the way to Sackets or Tupper Lake or Clayton ... or the terrible intersection at Arsenal and Massey streets.
So, on this particular Saturday, we make sure to give ourselves an excuse to drop by the Flashback, stopping first at Infinite Lives, the video game store next door to sell a few old Wii games, as we did not need two copies of Wii Fit or five different Just Dance games (the boys disagree on this point). With a cool $14 in store credit that will in no way contribute to my bar tab, we opened the bumper sticker-festooned doorway and stuck our heads inside a few minutes before the place was set to open at 4 p.m., hoping we could cheat the time a little and go inside.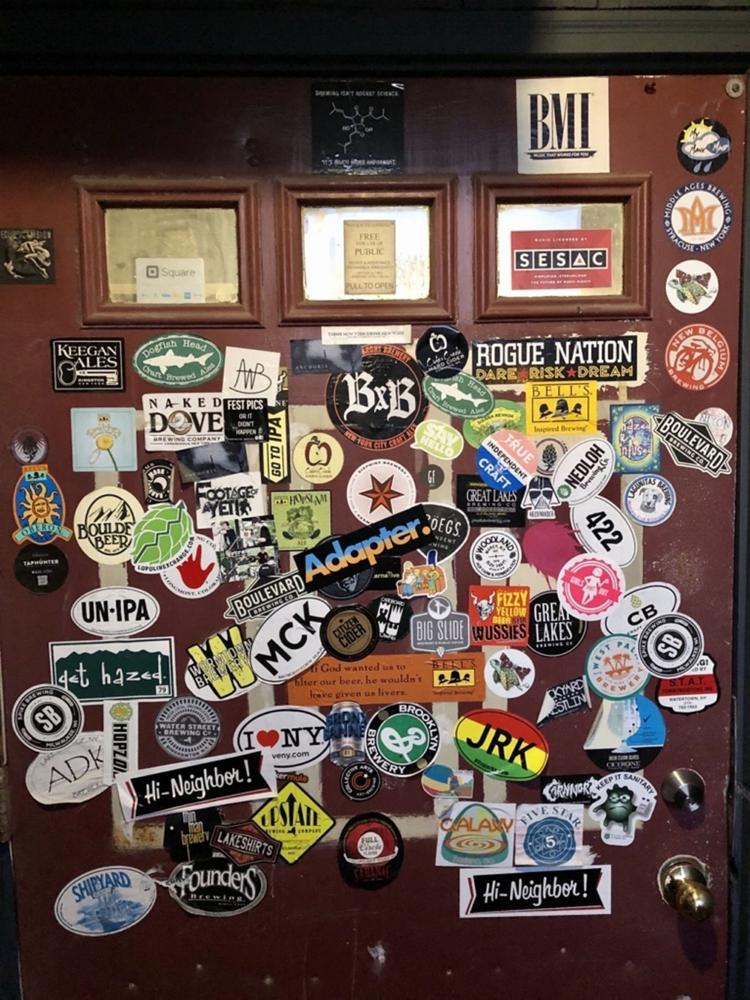 Christina and I enter, pensively, and are greeted by Krystin, whom Christina immediately engages in a conversation about her recent interview with a Times reporter (we recently ran a feature about the brew pub's opening) and about what kind of beer my sister-in-law might like, as she's not much of a beer drinker.
The kids run off to play. The place is bigger than I'd expected it to be. I'd never been to the previous incarnation, the Flashback Lounge. I had pictured a kind of gloomy bar room with maybe a pool table, a little too much country music on a pocket change juke box and a dusty bar with PBR on tap … basically half the bars I skulked around in during and after college.
But this place is pretty big. Beyond the bar area, there is an expanse of booths and tables in the back, huddled around a big, roaring fire place. There is even a foosball table, which the kids immediately flock too, conning their uncle and aunt out of quarters and playing with Krystin and Mitch's 7-year-old son.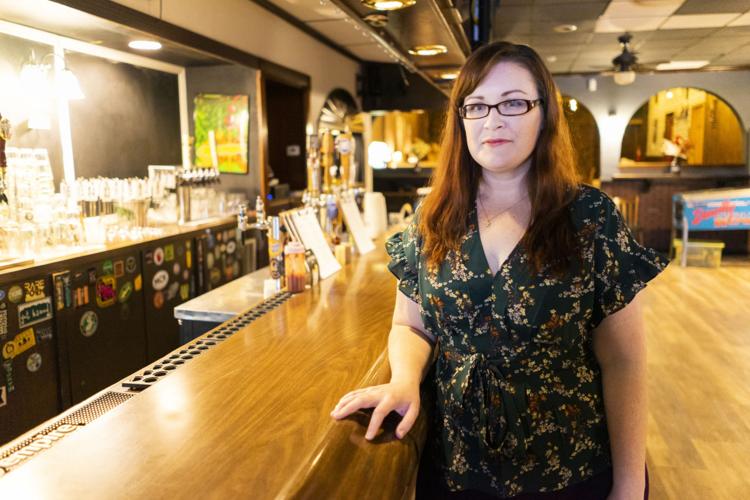 Christina, who co-hosts Second Look, the Times' podcast on local history, dives into asking questions about the building and the business.
"How long have you guys run the place?"
"Oh, you own Infinite Lives, too? That's neat."
"What do you get for that $100 for your mug club?" (OK, I might have asked that one)
Meanwhile, Mike and Carmella are standing around wondering what to do next. Where are we sitting? Are we ordering food? Normal people concerns.
I'm sitting at the bar, focusing on the business of the day, what's on tap.
Flashback has a pretty good draft list, focused on New York and regional brews, with entries by Middle Ages in Syracuse, Southern Tier in Lakewood and Troegs in Hershey, Pa. But at any brew pub, I want a taste of the local.
So I go straight for the Milk Stout, which I really enjoy, and follow that with the other local of the day, the Flashback Pale Ale. The Pale (about 5 percent ABV) has a nice, light body and crisp finish. It goes pretty well with the burger and is just a pretty refreshing beer. Christina orders one as well, and likes it a lot. Carmella, who says she doesn't like beer but orders one anyway, seems to enjoy it too.
And while the kids pick at chicken fingers and french fries and spill glasses of water and run around with their new friend, we slowly make our way through the draft list.
Seeking a level of buzz that will help me channel my inner Jeff Lebowski, I reach straight for Seeing in Triple Vision (11 percent ABV), a heavy-hitter from Thin Man Brewery in Buffalo. It's a big, hoppy smack in the mouth that nearly makes Christina fall out of her chair as she recoils.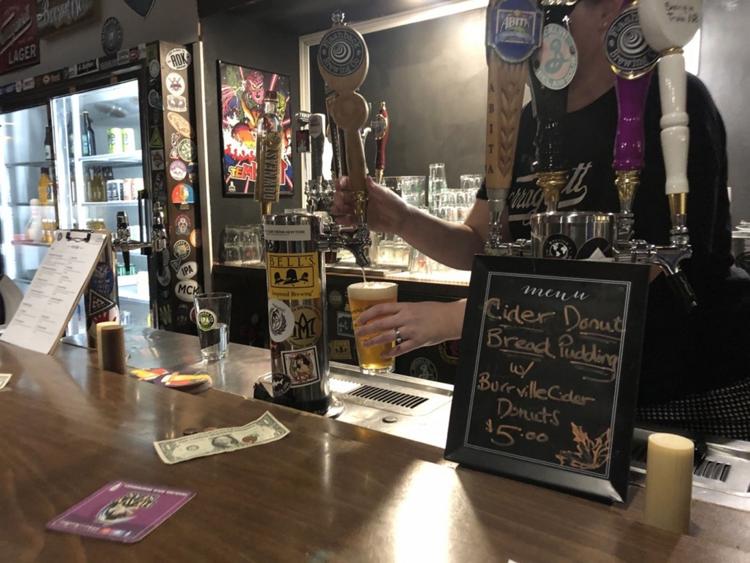 Looking to cleanse her palate with something more her speed, she opts for the Rosalie (5 percent ABV, 10 IBU) from Firestone Walker in Paso Robles, Calif., a rare west coaster in the joint. It is also a lovely, light beer rosé that serves as a nice counterbalance to some of the heavier stuff on tap. Mike tries it and reacts with some indifference, while Carmella immediately orders one for herself after a taste.
I go big again with a 10 oz. goblet of Middle Ages' Bourgon Barrell Aged Dragonslayer 2018, a burly Imperial Stout that clocks in at nearly 12 percent alcohol, with notes of roasted barley and chocolate. Mike, meanwhile, who is always kind of picky and had just moments before sent a burger back to the kitchen because he didn't want the chipotle mayo, surprises me by ordering consecutive pints of Brooklyn's Bel Air Sour.
Like I said, they have a really good draft list.
If it's not clear, I really liked the place. The fireplace keeps the back room warm and toasty, and there's a kind of literal family business atmosphere with Krystin pitching and pouring drinks while Mitch lugs out fresh kegs and talks shop with nosey customers. And there's something kind of fun about how their in-house beer menu works.
Before long Mitch cacomesme out to replace the now-killed Milk Stout keg with a half keg of their West Coast IPA, which was not even on the menu.
Flashback, Mitch tells me, is pretty much as micro as a micro brewing gets, making such small batches that there's a kind of "whatever we've got" vibe to the local menu. Mitch taps the West Coast, and I immediately order one.
The IPA (7 percent) has a nice balance to it, Mitch tells me, because it's hoppy like an IPA should be, but it's not trying to do too much. There's this bold, malty body to it that mellows out the hops.
Mitch and I actually talk for quite a while, and you can tell that he really has a passion for beer. I bug him for maybe 15-20 minutes just asking about each beer and what's worked and what hasn't, and he doesn't tell me to bug off once.
He says he got into brewing kind of reluctantly. That he was pretty content with the two of them running a bar and pouring cool beers without all the struggle and hassle of making their own. But after brewing a Peanutbutter Porter with a friend who'd gone off to study brewing, people wanted more. So he brewed more. And more. And then eventually moved on to other styles and other ideas.
Mitch says likes the Pale because it's not trying, as a lot of Pales do these days, to be an IPA. It's smooth and drinkable, and that's it's job. He brews the Milk Stout with real marshmallows, which can be a bit of a pain since some of the stuff doesn't exactly dissolve. So each batch, that flavor can kind of vary. Which, I tell him, is kind of great.
I love the idea of looking at a draft list, putting it down and asking what surprises they have today.
Mitch says he also makes a Barleywine which is not available this day, evidently sensing that a rotating tease of an in-house menu is exactly the way to separate me fro mthe contents of my wallet on a regular basis.
After several hours, with our bellies full of burgers and beer and the kids' hands likely sticky from ketchup and sore from too much foosball, we head up the street (with Christina driving, after my dalliances with tall, burly pints) to Pla-More Lanes, where I prepared to lose to my children, to my wife ... to all of them, really.
That's OK, though. If it means getting more of that West Coast and tracking down that Barleywine, I'll trade losing for making Flashback a weekly ritual.