Last Sunday afternoon, Valentine's Day, in a photo studio upstairs at Watertown's Paddock Arcade, Kristie Stumpf Rork gathered some friends to say bye-bye to her boobs.
Her "Farewell To My Boobs" photo shoot was at a studio owned by one of her good friends. But Kristie's farewell would actually happen a day later when the 50-year-old "curve model" would have a double mastectomy at a Syracuse hospital.
Since being diagnosed with breast cancer in November, Kristie, a Cape Vincent resident, has been public with her battle, calling it "Cancer During COVID: A Curve Model's Battle with Breast Cancer."
But her campaign wasn't created to put the spotlight on her. In this time of COVID-19 and related pandemic, cancer patients, she said, are facing isolation at a time when the human-to-human bond is sorely needed.
"I'm trying to make a bad situation better by at least, sharing my voice and letting people know that cancer patients need to be heard," Kristie said three days before her surgery. "This pandemic has been truly awful for cancer patients because it's created this isolation for them. If I can make my voice loud enough to draw attention, it's making a bad situation better."
She has been assisted by a local breast cancer support group. But as with many things during the pandemic, conversing via screens and cameras is void of a personal touch.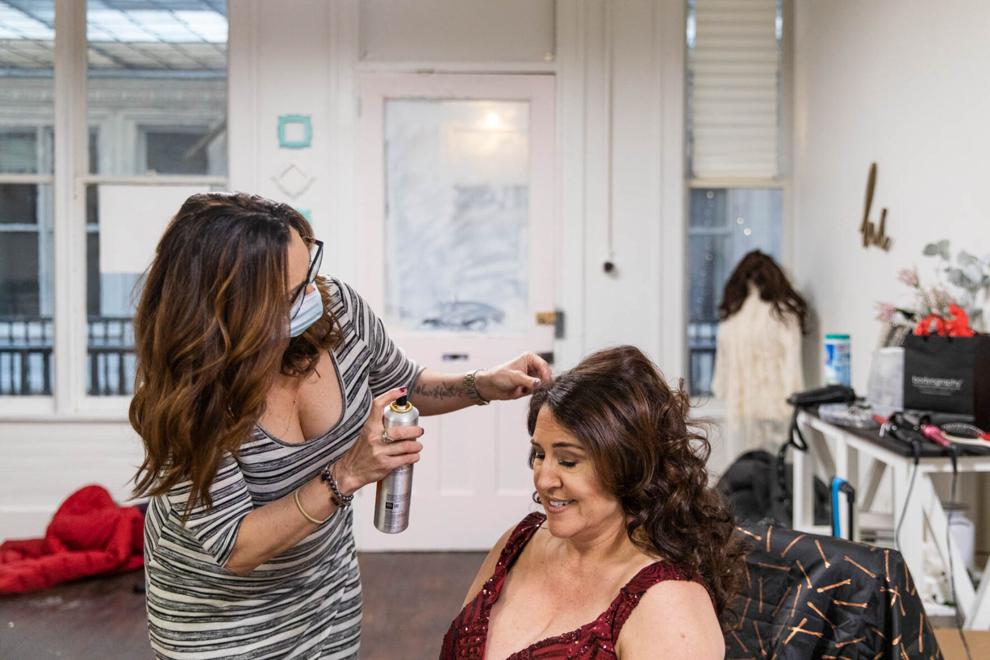 "You're missing out on that camaraderie," Kristie said. "I guess it's the feeling. You're not getting the tap on the hand or the arm across the shoulder, the direct look in the eye with, 'Everything is going to be OK.'"
Kristie's trip on the 'Everything is going to be OK" road began on Nov. 18 with her diagnosis. Like other patients in doctors' offices for various ailments across the land during the pandemic, she had to sit solo in the exam room for her appointment.
"I sat in that exam room by myself and the doctor came in and I knew at that moment it was either yes or no that I had cancer," Kristie said. "And when the doctor told me I had cancer, I had no one there to hold my hand while she explained to me what type of cancer I had. I had no one to hold, no one to comfort me. It was sterile, cold — no emotional comforting."
She realized she wasn't the only one whom the pandemic has touched in that way.
"There are so many other patients out there right now who have had the same exact experience as I had," Kristie said. "Think about that. Think about how that affects them emotionally. From the very moment you learned that you had cancer, you are already losing because you haven't had that person there to comfort you while you learned you had cancer."
The cold, clinical approach to her case was brought home again for Kristie when she received her pre-screening call before her mastectomy, reminding her of instructions before surgery. She was reminded that no one was allowed in the hospital with her, such as her husband, John. Her driver should drop her off, she was told and she should enter the door with the sign stating "Patient Admission."
"And I'm like, 'How cold is that?'" Kristie said. "It breaks my heart, and I'm not the only one. All cancer patients are going through this because of the pandemic. And I don't think the public really understands how sad this is — that people are going through this."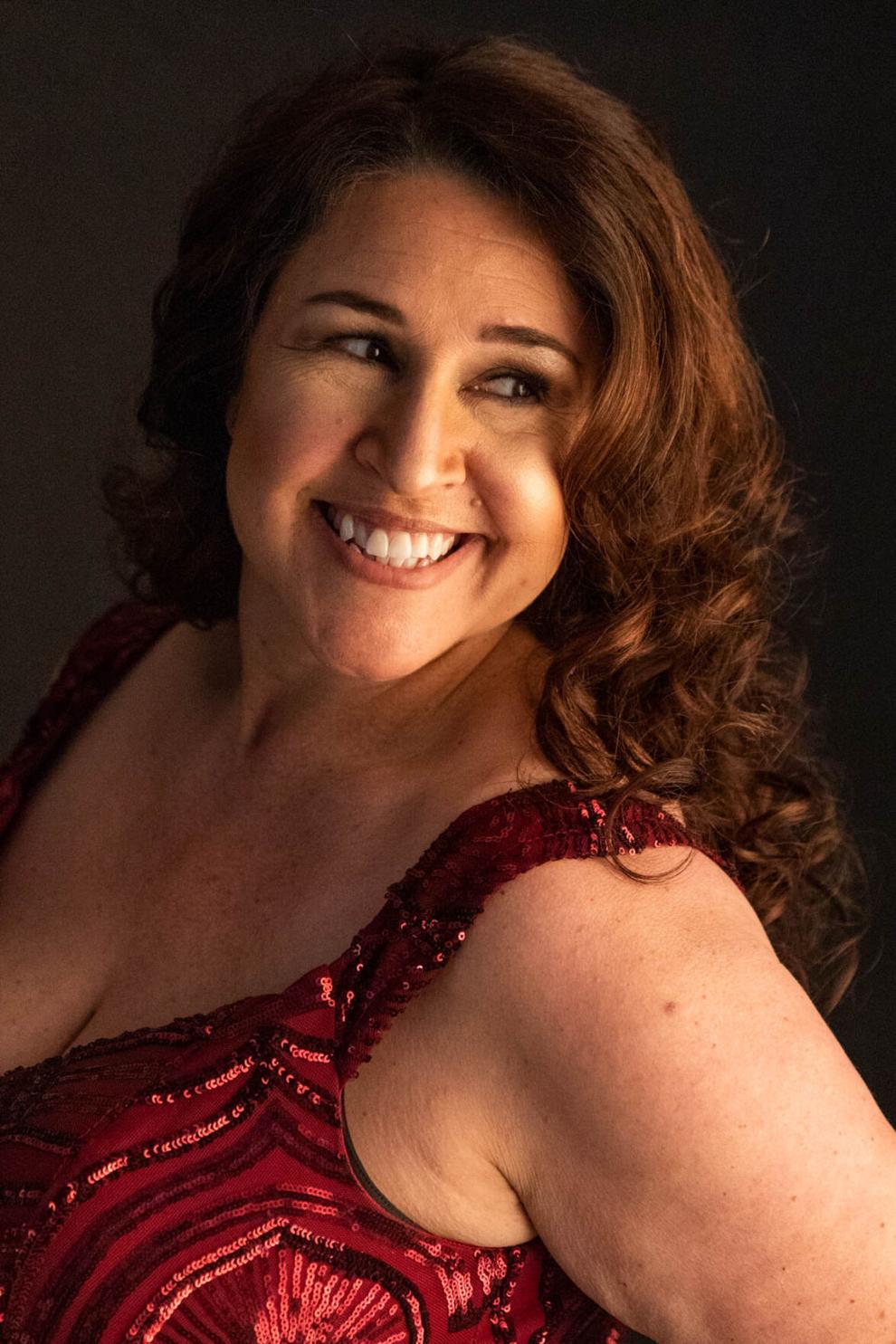 The public is likely more familiar with similar situations involving isolated COVID patients, nursing home visits, or for women in labor, when spouses of the new mom are only allowed, Kristie said.
"That's in the public view and discussed. But no one is talking about what people with cancer are going through."
So on Feb. 14, through an assortment of gowns, hair styles and smiles, Kristie gathered some close friends at the Paddock Arcade for a photo shoot and one last hurrah for a body that she knew would change but for a personality she knew would not. It was all part of her fight, giving her strength in her comfort zone, a bond in her current struggle lacking elsewhere.
"I keep playing Rachel Platten's 'Fight Song,'" Kristie said.
Among the lyrics:
"This time this is my fight song
Take back my life song
Prove I'm all right song ..."
"Even when I'm in the shower, I tell Alexa to play 'Fight Song' and I sing it at the top of my lungs. It's my fight song, and I think about what I need to do to get people to hear my story."
'Fighter for everyone'
Kristen Smith, owner of Kristen Charles Photography, has known Kristie for about two years. Their children are schoolmates in the Cape Vincent area. Kristen wasn't surprised when Kristie asked her to host last Sunday's photo shoot.
"I know she loves her photo shoots and that she's very sentimental," said Kristen, who volunteered her services. "I was kind of expecting it and was really, really excited when she asked me to do it."
Other volunteers at the photo shoot were close friends Kassi Seymour, responsible for makeup and hair stylist Tracy McKain, owner of Creative Edge Salon, Clayton. Also attending was Alex Davis, a senior at Thousand Islands Central, an amateur photographer who is learning photo tips from Kristen. Kathy Lettiere, owner of A Touch of Grace on Coffeen Street, didn't attend but supplied an assortment of gowns for Kristie to model.
"She's a big fighter for everyone," Kristen said. "Before she was diagnosed with cancer, she was a big supporter for everyone. If there was an issue, she was right on top of it, in the front line, ready to fight for them and support them. I'm really, really proud of her for being the same way for herself. A lot of people kind of put themselves on the back burner and only fight for others."
Kristen said her friend's "Farewell to Boobs" shoot was one last hurrah for an original body. "I believe photo shoots help with healing and grieving, especially with this circumstance," she said.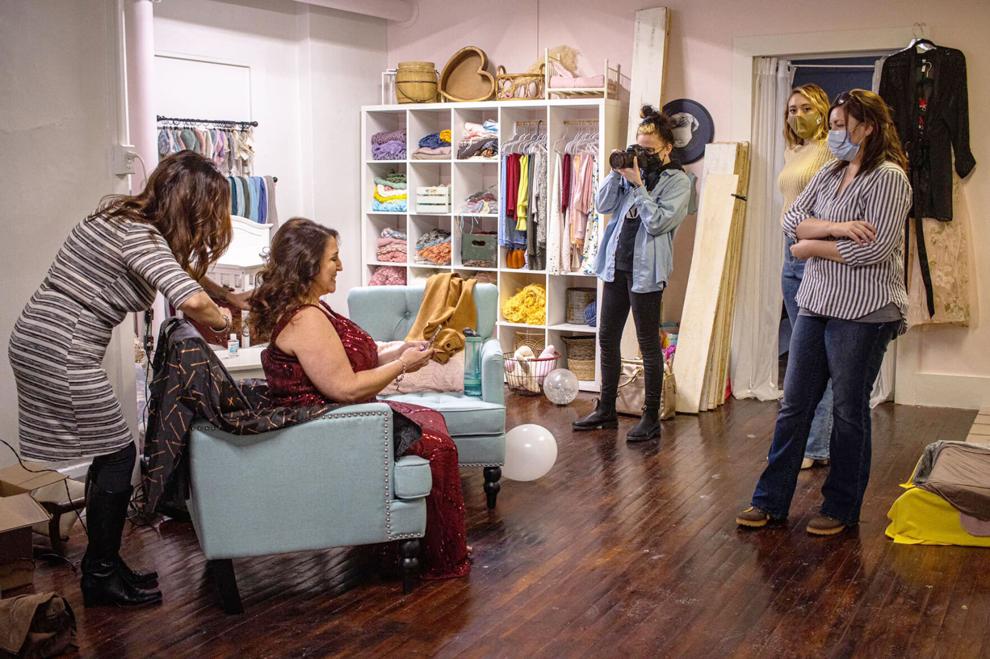 Moving and modeling
Kristie is a 1988 graduate of the Thousand Islands Central School District. After graduating from SUNY Oswego, she stayed in that city for a while until 1998 when she met her husband, John, a native of Marcy, N.Y.
"He was a chef on yachts in the Florida area," Kristie said.
She moved to Florida to be with him and they married in 2004.
"After moving all over the world for a while, we ended up in Central New York, where I worked in the corporate world at Bank of America for 10 years," Kristie said.
She then had a couple of "fertility kids" through the Central New York Fertility. Maggie is now 13 and sister Mollie is 9.
When Kristie was pregnant with her youngest, her husband got a job in the Boston area. Eventually, Kristie decided to pursue what she loved to do: model, act and write.
"The Boston area is really loving and supportive," she said. "If you want to get into modeling, wiring and acting, it's the best place to start. I'm still friends with directors, actors and writers and such from the Boston area."
Kristie graduated from New England Modeling School in Worcester, Mass., in 2017.
She is represented by Bold Brand Management and models for Bold Magazine, one of the top three magazines in the country for the plus-size community.
"It focuses on real women, and men," Kristie said of the magazine. "We're all-inclusive and don't believe people are a certain shape, size or color. We believe in being yourself, try to showcase positive role models and we promote confidence and strength and try to break down stereotypes."
Kristie has also been writing for nearly a decade. Some of her articles have been published in Huffington Post, including, in 2016, "10 Reasons to be Thankful for Little Boobs."
She also writes for the Cape Vincent Chamber of Commerce, of which her articles have been reprinted in the Thousand Islands Sun.
Kristie was undecided as to whether she would continue her modeling career.
"I have my fingers crossed that I can continue after I recover," she said. "I haven't given up completely, but there's no guarantee."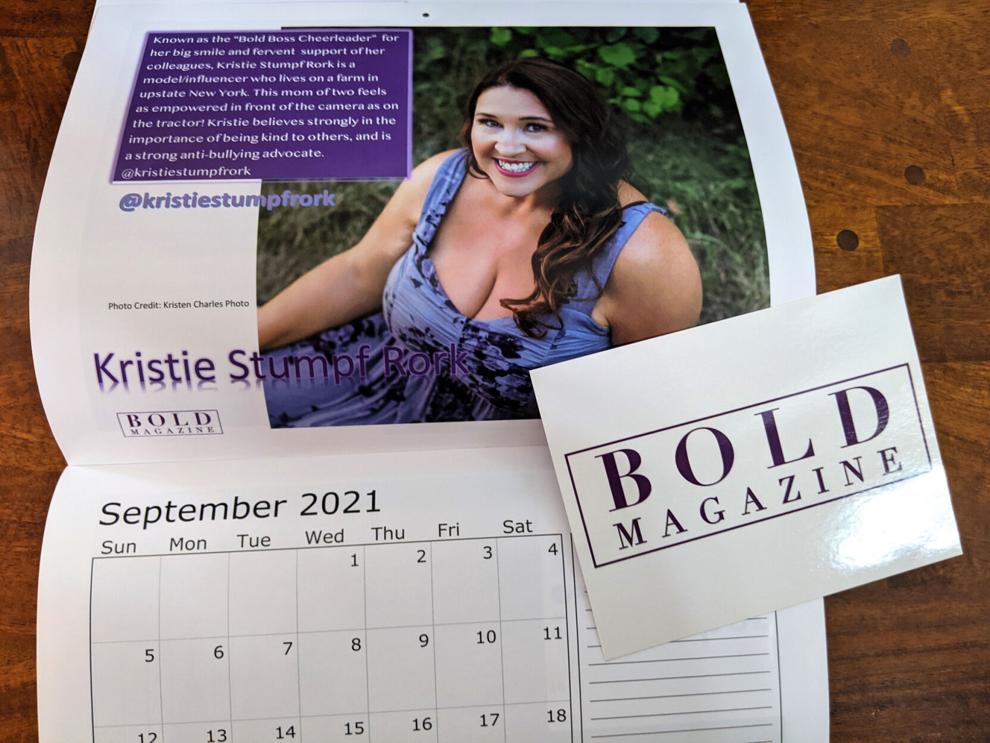 'I'm lucky'
Kristie said there's a history of cancer in her family. Her grandmother on her father's side died relatively young of breast cancer. Because of that history, she began yearly mammograms at the age of 40. Last summer, it was discovered one of her breasts had "calcifications."
According to the Mayo Clinic, breast cancer calcifications are usually noncancerous. But certain patterns of calcifications may indicate cancer or precancerous changes to breast tissue.
"I'm lucky. I've stage 1, noninvasive cancer," Kristie said. "But there's such a large amount of women in this country that are dealing with breast cancer right now."
The American Cancer Society says that approximately 1 in 8 women (13%) will be diagnosed with invasive breast cancer in their lifetime in the U.S. and 1 in 39 women (3%) will die from breast cancer.
In noninvasive cases, breast cancer cells remain in a particular location of the breast, not spreading to surrounding tissue, lobules or ducts.
Because of the pandemic, Kristie's surgery was delayed a couple of times. Nurses and doctors were needed elsewhere.
"Because of this afforded time, my cancer team said, 'You know what? There were some other suspicious things on your mammogram. Let's do another biopsy.' In that time, they discovered that I actually have calcifications throughout the entire right breast. There was no doubt the entire right breast had to go."
Her surgery, along with breast reconstruction, was on Monday at Upstate Community Hospital, Syracuse. She was originally expected to be released on the same day after a morning surgery of at least three hours. But her surgery was pushed to Monday afternoon so she spent the night in the hospital. Full recovery is expected in four to six weeks.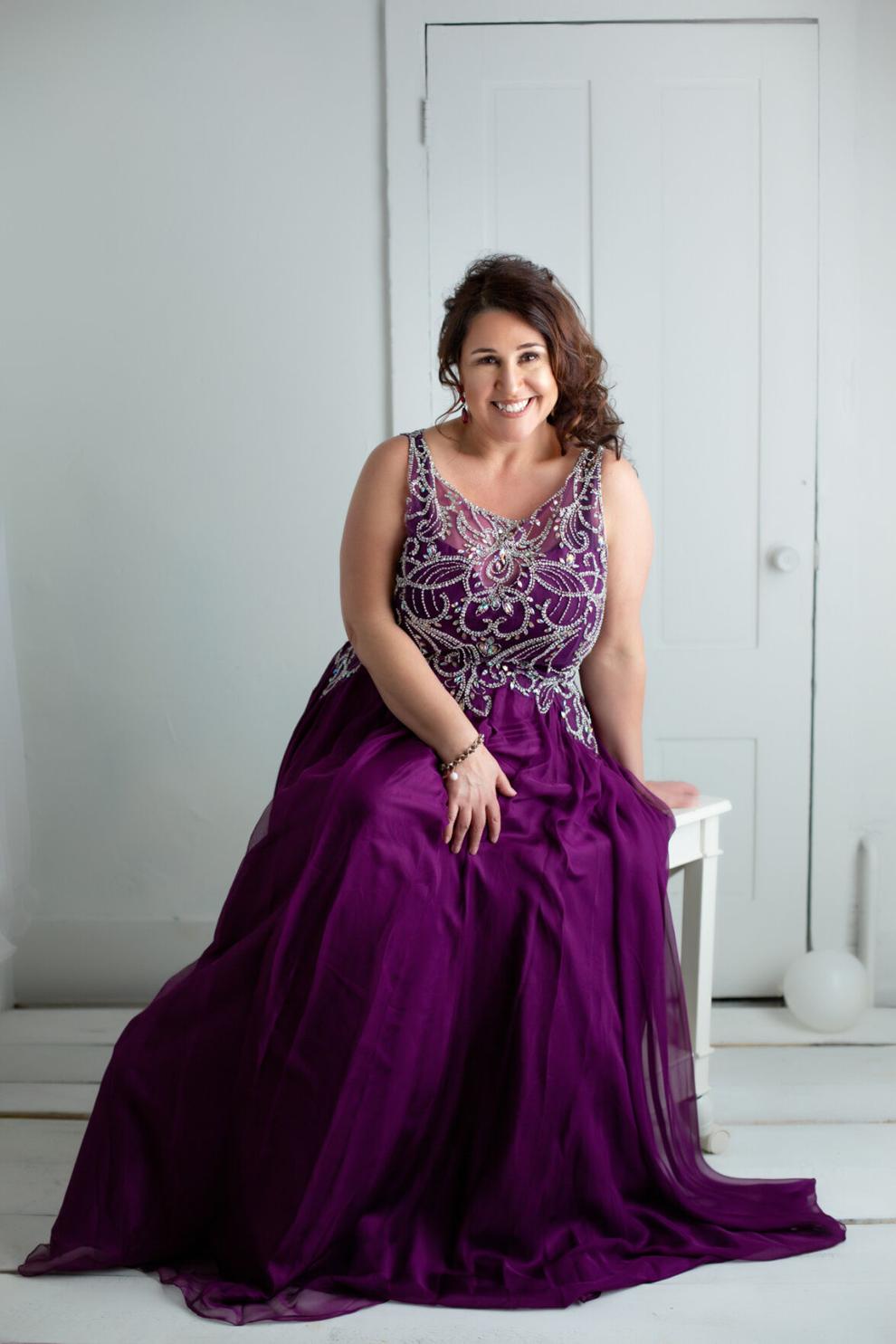 "I just sent a message to my surgeon and said, 'Is there going to be anybody that will hold my hand?'" Kristie said three days before the procedure. 'She said, 'The nurses are really good.'"
Although appreciated, that wasn't enough comfort for Kristie and, she said, for others in similar situations.
"That's so sad and I really want people to know what cancer patients are going through right now," she said. "If I can get people to understand that from this, it will help other people for their emotional support that's needed."
But how about herself? Kristie was asked if what she has done so publicly has aided her own struggle.
"Yes, I think everything I've done so far has definitely helped me and helped power me and uplift me," she said, holding back tears. "But my life is so important right now. I really want people to know that there needs to be more support for cancer patients."
On Wednesday, I texted Kristie to see how she was doing. It was a lonely overnight stay in the hospital, she wrote, but the surgery went well and she is doing OK.
And she's still playing "Fight Song."
"Sunday Portrait" is an occasional column in the Watertown Daily Times' Sunday edition. Contact Chris Brock at cbrock@wdt.net.