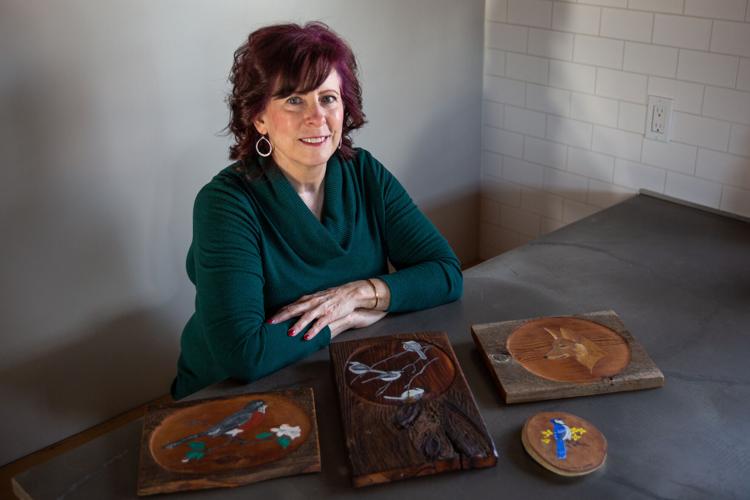 On the walls of her Sackets Harbor home, Caroline M. Baker has mementos of her dad Harold Stott, a longtime automotive mechanic in Harrisville.
"There was a Ford garage owned by Pearl and Ralph Hirschey in Harrisville," Caroline said. "He was their mechanic for 31 years."
After that garage closed, Harold was still a year or two away from retirement so he then worked at a Ford garage in Gouverneur.
But the images on her walls from her dad aren't mechanical. They are scenes of nature: three birds and a fox, painted by the versatile hands of an expert car mechanic.
They are some of the few connections that Caroline has with her dad, whom she misses immensely. Harold, a 1944 graduate of Saranac Lake High School, died in 1988 at the age of 61.
"He was waiting for his first retirement check when he passed away," Caroline said. "That was sad. He worked hard all his life and never got to enjoy retirement."
Caroline said she was much closer to her dad than her mom. Harold Stott married Kay A. Bylow. That marriage ended in divorce in 1972.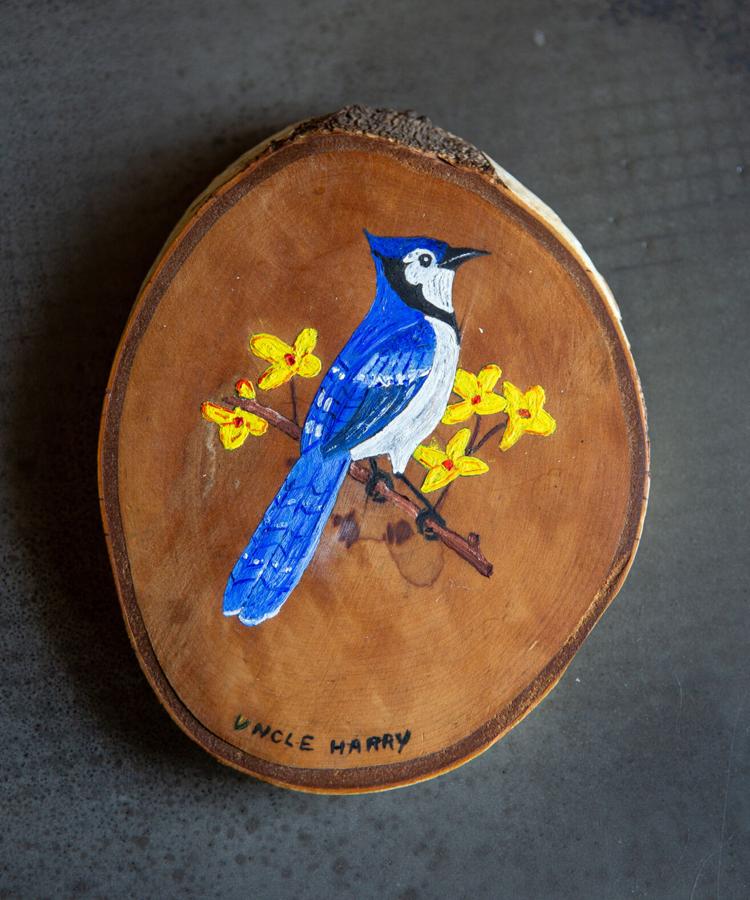 "I remember when I was sick as a child," Caroline said. "I used to get tonsillitis a lot. It was always my dad taking care of me. We lived about two houses away from where he worked, so he would walk home at lunch time, and would also always write me love notes. They might say, 'I love you honey,' or 'Have a good day.'"
She said her dad began painting after his divorce.
"However, he was always very creative," Caroline said. "In the home I grew up in, he did all the remodeling and was fond of using cedar wood to line cupboards and closets — the kind of wood that smells so good. I have a wooden, cedar-lined jewelry box that he made for my birthday and gave to me just a few days before he passed."
This past summer, Caroline packed up and moved to Sackets Harbor, which caused her to reflect on the places she's been, how she got there, and the influence her father had on her. She wanted some things more tangible to spark those memories.
"I had been thinking of placing this ad on Craigslist for a long time," she said. "I just bought a house in Sackets in June so I've been busy. It struck me the other night. I said, 'OK, let's do this to see what we can find.'"
Her Craigslist ad:
"My Dad lived in Harrisville, NY, and used to paint birds on barn board in the 1970s-1980s. He probably painted and gave away 100 or more. Some were signed H. Stott, some were signed Uncle Harry. He passed away in 1988 and I only have four of his paintings. I am looking for anyone willing to give or sell me his paintings if you were lucky enough to receive one!"
"He gave away lots of them, some to my classmates," Caroline said. "There used to be a grocery store in Harrisville that was owned by the Buckinghams. There was one that hung over the cooler in the back of the store. That store has been long closed. They're probably all over the place."
Caroline wouldn't be surprised if there were up to 100 paintings created by her dad, most of them distinctively painted on barn board.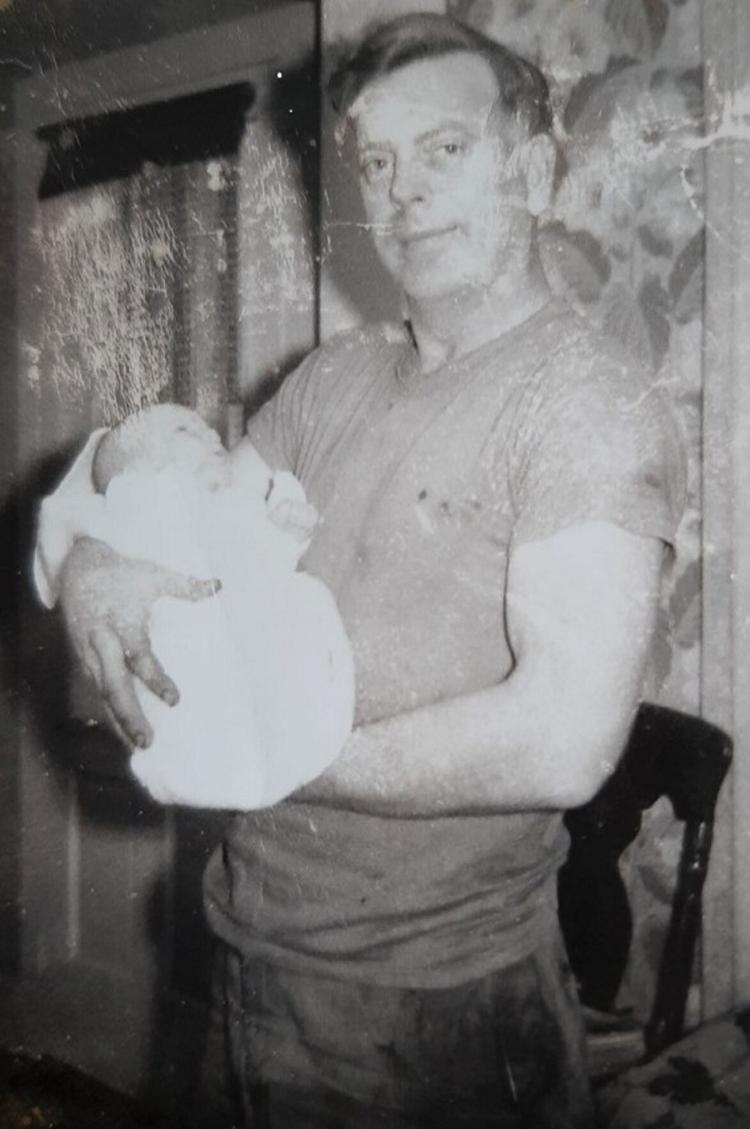 "After he and my mom separated, his brother, Loyd, had a camp out by the rod and gun club in Harrisville," Caroline said. "We used to call it Little Rochester. There were a bunch of people from Rochester who had camps out there. So when mom and dad separated, he moved out to his other camp, and that's where he lived until he died. On the weekends, he liked to drink Genny Cream Ale and paint."
Harold's barn board technique was something he may have stumbled across.
"There were a lot of barns in that Little Rochester area," Caroline said. "He must have struck up a friendship with someone and they let him tear down portions of a barn for barn board and he had the tools, where he would router out with a smooth spot in the middle."
Based on her paintings, Caroline thinks her dad's creations of birds on barn board were about 10-inches-by-8-inches.
"I think the fox is the only other animal he used to paint," Caroline said. "The paintings are pretty detailed. I don't know if that's a natural ability that he had, or if he saw a picture and he just kind of copied it from the site. But they're very beautiful."
She assumes her dad used some sort of acrylic paint. Whatever he used, it matched his colorful personality.
"He was such a character," Caroline said. "He was so funny. People loved him. He always made people laugh. He was a jokester and a prankster, and I am as well."
Caroline works as a practice administrator at the office of Dr. Leslie D. Woodcock, Jr., Liverpool. He's an ophthalmologist specializing in cataract and LASIK surgery. Caroline is also studying for a master's degree in health care administration at Utica College.
"I think my dad would be very proud of me," she said. "He was only 61 when he died and I was just 27. I know he was very proud of the home that I had with my husband, and my kids."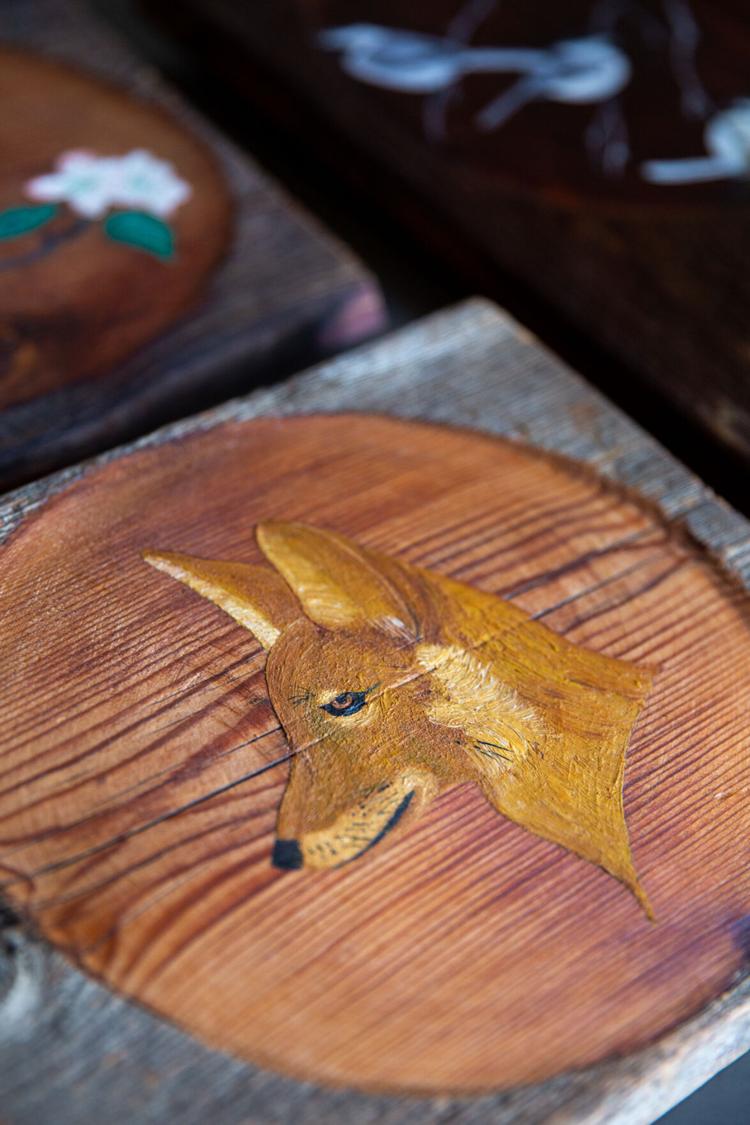 She believes he would also be proud of her efforts in regards to her current search.
"He'd be proud that I'm making an effort to find his paintings and to honor where my roots come from," Caroline said.
Recently, as she has settled into her Sackets Harbor home, the creative spark hit Caroline. She embarked on two outlets: painting by numbers and the creation of wooden Christmas tree ornaments in the shape of birds.
"I'm feeling very close to my dad right now, between working on these Christmas tree ornaments, in my own home again," she said. "My dad has been on my mind a lot."
One of those ornaments is a cardinal, her favorite bird.
"I don't think my dad painted any cardinals," Caroline said.
But maybe he did. If you know of any paintings created by Harold Stott, contact Caroline Baker by writing to her at carolineb727@yahoo.com or by calling or texting her at 315-408-6772.
"Sunday Portrait" is an occasional column featured in the Watertown Daily Times' Sunday edition. Contact Chris Brock at cbrock@wdt.net.