RODMAN — For years, David S. Larrabee has lived with a mystery tucked away in a dark closet at his home. But a few weeks ago, he finally decided to see if he could shed any light on that mystery.
"I've looked at them a few times before, but this time, I put my foot down, and said, 'I've got to do something about it,'" he said. "Otherwise, I'll be gone and nobody will know the better of it."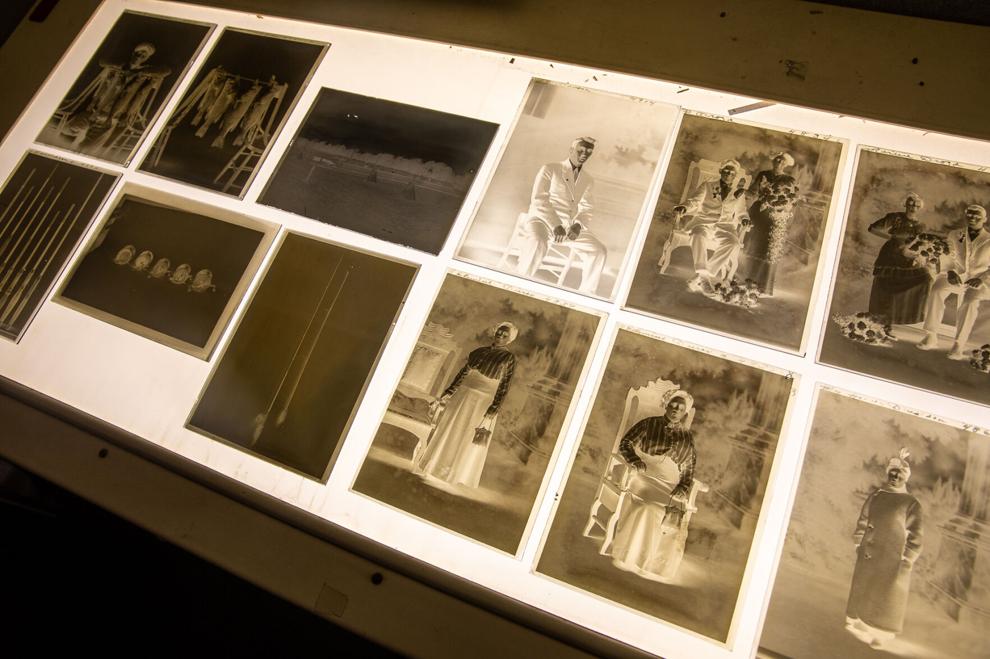 The mystery at hand for Mr. Larrabee, 84, a retired New York State forest ranger, is a collection of about 20 glass plate negatives, once owned by his grandfather, George W. Gray of Syracuse.
Mr. Larrabee knows little about Mr. Gray, his maternal grandfather, only that he taught law at Syracuse University, and apparently was an amateur photographer.
Mr. Larrabee had tried to view the glass plate negatives to ascertain any ties to his grandfather and family by holding them up to a light at his Rodman home, but viewing the images that way was difficult. He called a Watertown Daily Times reporter and told him about the glass plates. Mr. Larrabee was invited to bring them to the Times offices, where, he was told, they could be viewed on a light table. Mr. Larrabee was joined by his wife, Urlike.
The dry plate was introduced in 1871 by English photographer and physician Richard L. Maddox. It was an improvement over the "wet collodion" photograph process, in which the plate had to be prepared just before exposure and developed immediately after. They are now treasured historical artifacts. For example, the Jefferson County Historical Society has a glass plate collection from the Oren Johnston Studio in Clayton, showing images from the village and surrounding area from 1864 and 1871. They were donated by Julia E. Gosier, Three Mile Bay.
Also at the JCHS, there's a collection of work by Herbert Huested, a prolific photographer during the early 20th century, documenting people, buildings and life in Jefferson County. The Huested Collection contains over 15,000 glass plate negatives from his studio, fully indexed.
For an example in St. Lawrence County, the St. Lawrence University Library in Canton maintains the A.L. Jameson Glass Plate Negatives Collection. It's 136 images taken between 1895-1910 by Mr. Jameson of Ogdensburg. The scenes depict families and scenes in the Ogdensburg-Black Lake area.
The archive at the Watertown Daily Times has a collection of about 100 glass plates negatives in eight boxes. Five boxes are labeled with the scene, date and photographer, but nothing to indicate where they came from or how the publication happened upon them.
Mr. Larrabee's collection is small, but the mystery was huge for him.
"I've had them for years, and I just never have done anything with them," he said. "I couldn't find people who are into this kind of work."
At the Times, the Larrabees were greeted by staff photographer Kara Dry, who carefully placed their glass plates on the light table.
Ms. Dry is fascinated by glass plate negatives.
"Holding a glass plate and seeing the image come through in negative color on a light table is fascinating itself, but the whole time you're just trying to decipher what the true colors and tones are," she said.
"When you invert that image in Photoshop, it's like turning a black and white photograph into color, or adding sound to a silent movie. Like flipping a light switch."
After decades of being literally in the dark, Mr. Larrabee's images came to life on the WDT light table. Two images showed a person with a catch of large bass. Another scene showed a collection of fishing rods, while another showed a collection of fishing rod reels. Other shots, completely different, appeared to be wedding photos of sharply-dressed couples at a studio. There were also images of solo individuals — the situations, occasions and names lost to history.
"They look professional," Mrs. Larrabee said.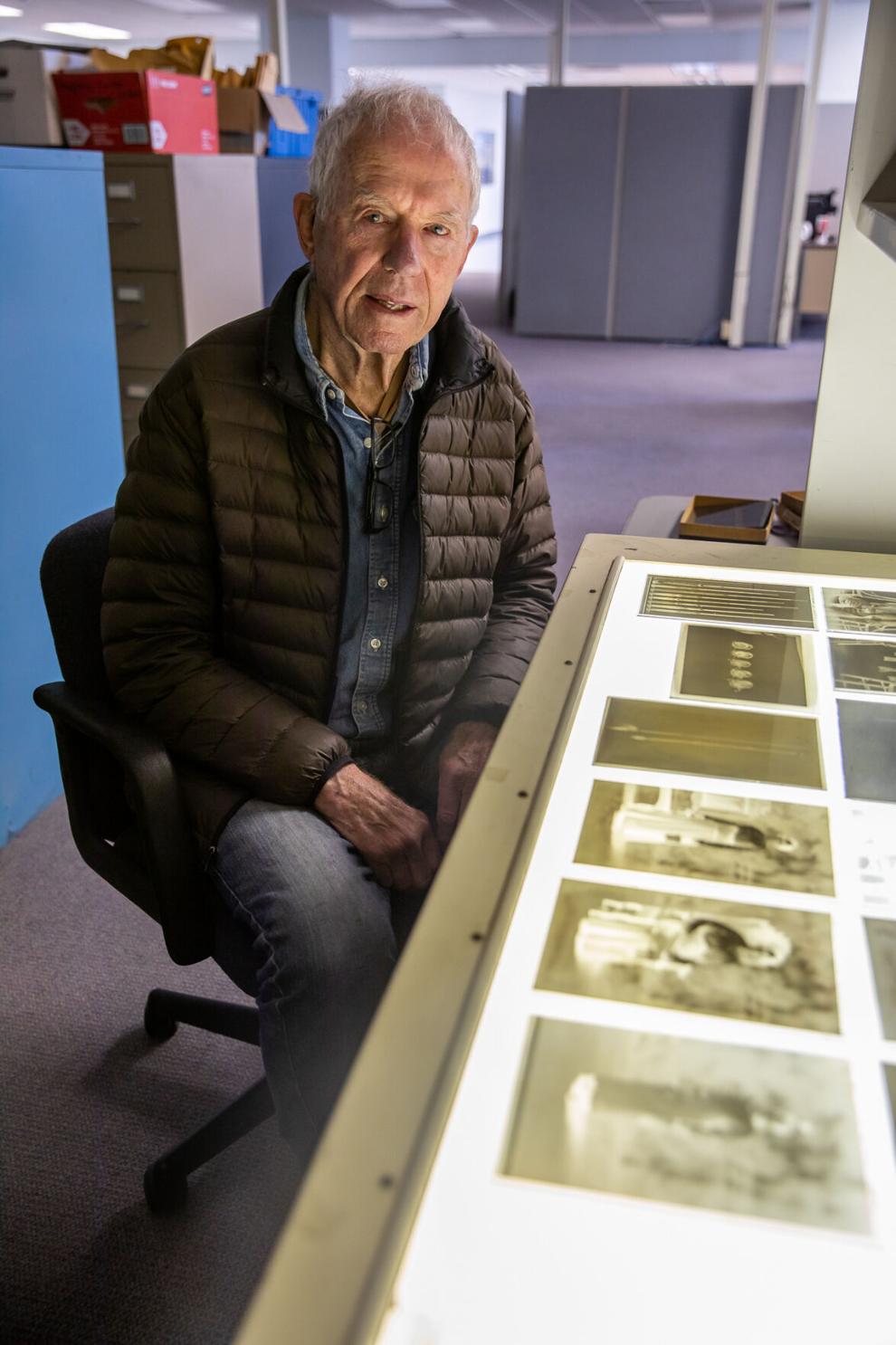 Mr. Larrabee, who in 2012 retired as a volunteer member of the Dry Hill Ski Patrol after 53 years, speculated about the outside shots, thinking they were likely taken in the Adirondacks.
"A great aunt of ours had a cottage there at Seventh Lake," he said.
Seventh Lake, near Inlet, is part of the Fulton Chain Lakes.
For three years as a forest ranger Mr. Larrabee was stationed in Wells, Hamilton County, before moving to Watertown, serving Jefferson, Lewis and Oswego counties.
He had no clue about the studio shots and wondered if his grandfather owned the photography studio.
There was one image apparently of Fort Stanwix, near Rome, featuring Native American teepees in the foreground.
There are no dates on the glass plates, but there are names, which weren't familiar to the Larrabees.
Mr. Larrabee believes he'd know more about the negatives if he knew more about his grandfather, Mr. Gray. He said he had no records of him.
The Times contacted Vanessa Marquette, media relations specialist at Syracuse University, who checked with her colleagues at the university's College of Law to see if there were any records of Mr. Gray as a professor. They found several, including a story on the death of George William Gray, published in the SU College of Law publication, Syndicus, in July of 1960.
Mr. Gray died at the age of 83. He was a native of Lisle, Broome County, and received his SU law degree in 1901. After being admitted to the New York State Bar, he maintained his own law practice in Syracuse until 1907, when he joined the SU Law College faculty, where he remained for 41 years, returning to private practice in 1948.
In 1957, the Law College Association awarded Mr. Gray the distinguished service award for outstanding work as an advocate, professor, leader and patron of youth.
In a sidebar editorial to Mr. Gray's obituary, the college of law faculty noted, "Always, giving of himself without stint, he was ever ready and willing to assist any worthy cause."
As a law professor, the editorial noted, "His fairness of mind, his impartiality of viewpoint and his devotion to his students set him apart as a respected, admired and beloved professor."
The March, 1899 Annual Bulletin of the College of Law, which mentioned Mr. Gray as a first-year student for the class of 1901, listed his address as 147 W. Kennedy St., Syracuse.
According to findagrave.com, Mr. Gray body is buried at Oakwood Cemetery in Syracuse, section B, lot 84. An accompanying biography on the website post notes he was the son of Frederick Bethel and Ida Salena Gage Gray, and moved to Syracuse when he was 12. In 1904, he married Leora E. Sherwood and they had two daughters, Louise Florence and Ruth Leora. Wife Leora died in 1944. In 1948, he married Beatrice M. Brenner. The listing says Mr. Gray owned a cottage on Grenell Island on the St. Lawrence River and led the effort to install electricity on the island.
In both documents, along with an obituary of Mr. Gray archived in the Times library, there is no word of any hobbies of Mr. Gray — photography or otherwise. But Mr. Larrabee is certain that photography was his grandfather's hobby and has faint memories of visits he made to his Syracuse home at 109 Wilson Place as a toddler. "He had a darkroom, and a pretty good sized one," he said.
He assumes his grandfather shot the images on the glass plates himself rather than collecting them from another source.
"He had a Leica camera," Mr. Larrabee said. "I remember my mother saying it was quite an expensive camera and he took good care of it."
As he packed up his glass plates at the Times, and reflecting anew on his collection, Mr. Larrabee said he'd be open to donating them to a historical organization.
"I'm trying to find somebody because I think the fishing ones, and the ones with outside stuff, would be good for somebody. But I don't know," he said.
Mr. Larrabee can be reached at 315-232-2111.