CANTON — Calling for change, calling for protection, calling for safety, north country residents continue to rally for Treyanna Summerville.
Redefining the Child Protective Services acronym with chants of "change, protection and safety," demonstrators Wednesday expressed sorrow over Ms. Summerville's death, reported June 22, and discontent over personal experiences with St. Lawrence County CPS and the Department of Social Services.
"My stomach is turning, I'm so frustrated right now," Potsdam organizer Jennifer Baxtron said during Wednesday's rally in Canton. "I know this isn't a lot, but this is a start."
Organized by local foster parents and the Black Lives Matter North Country Organizing Collective, the DSS rally began around 11:30 a.m. and lasted nearly two hours.
With masks on and signs in hand, demonstrators directed concerns toward the long-windowed building, where DSS and CPS employees worked.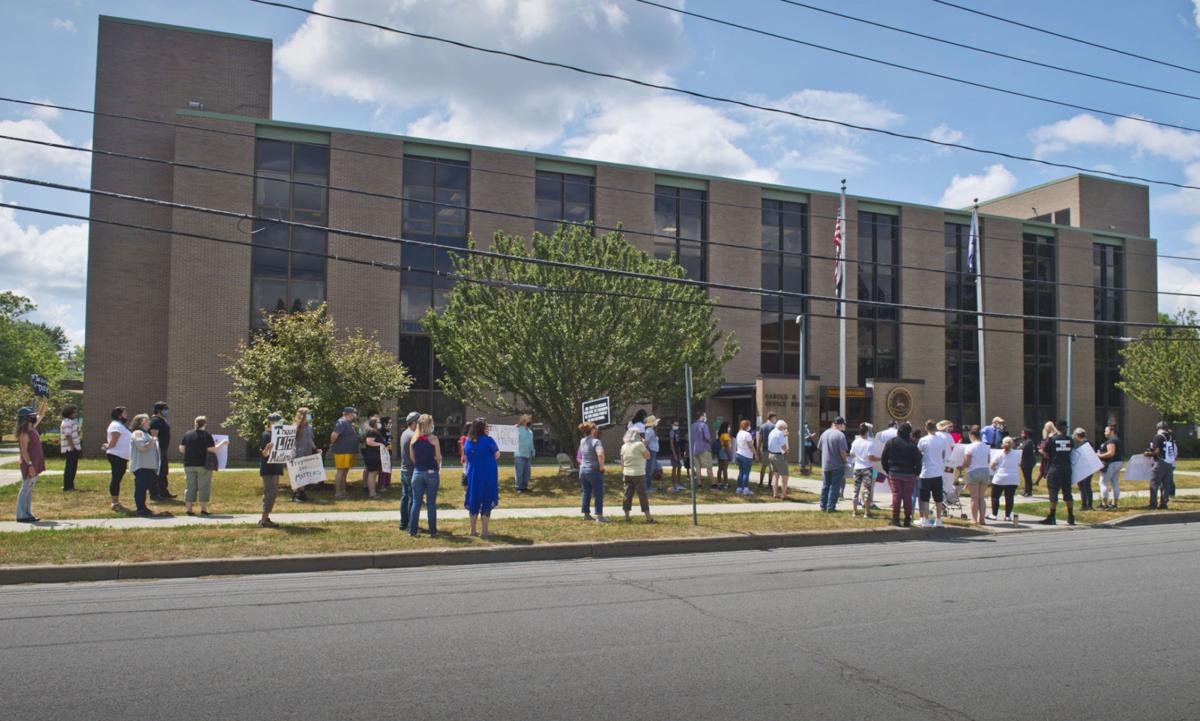 A survivor of child abuse herself, and no stranger to county CPS and social services systems in other states, Ms. Baxtron said she believes Ms. Summerville's case was not handled correctly — and that hers is not the only one.
"They pick and choose who they care about, and that's something that has to change," she said.
Community members from Potsdam, Canton, Gouverneur and neighboring villages passed around a megaphone, several sharing personal stories and voicing concerns about DSS and CPS.
"It is foundational to the future of any society that we take care of our children," Canton's Teresa Veramendi said as she stood among about 50 people on the lawn of the DSS building. "Child abuse doesn't stop in childhood. The repercussions go on for the rest of their lives. We cannot have an equitable society with children being abused in their homes."
Ms. Veramendi then led the group in a chant, crying "Protect the children" a half dozen times.
"At all costs," she added.
The mid-week demonstration followed Saturday's silent march and rally in Gouverneur, where demonstrators paused at the Gouverneur Police Department on Clinton Street. Last week, the Gouverneur community began mourning Ms. Summerville, returning daily to the vigil site set up the day she was reported dead. Ms. Summerville's stepbrother, Isiah Samuels, and father, Cedric Summerville, have made it to the north country, each traveling from out of state to be with the community that has memorialized the 18-year-old.
The St. Lawrence County District Attorney's Office last week confirmed Ms. Summerville's death is being investigated as a homicide. One suspect is currently in custody, according to county District Attorney Gary M. Pasqua and state police records, which list the arrested party as a 13-year-old girl, who Mr. Samuels identified as his half sister living with Ms. Summerville and the girls' mother, Lashanna Charlton, at 135 Rowley St.
The 13-year-old was arrested on the afternoon of June 22 at the state police station on Route 11 in Gouverneur and arraigned on a second-degree murder charge in the youth part of St. Lawrence County Family Court.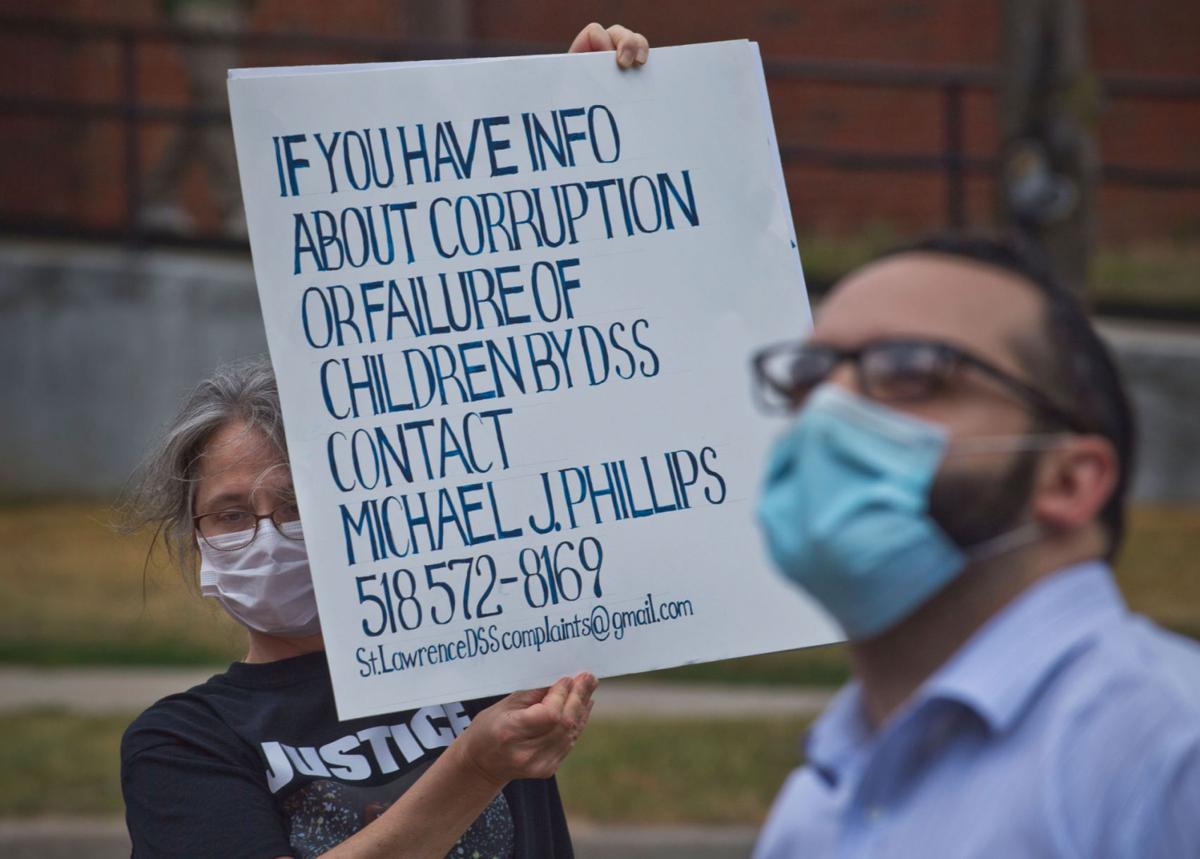 Ms. Summerville, a Black Gouverneur High School senior studying criminal justice through the St. Lawrence-Lewis BOCES program, was honored at the GHS drive-in graduation ceremony Friday. Her friends and classmates have begun the process of establishing a school scholarship fund in her name.
BLM North Country Organizing Collective member John Youngblood told Wednesday's demonstrators that the systems designed to protect all children, including Black children and Ms. Summerville, have failed.
"Of course all lives matter, and should matter," said Mr. Youngblood, a SUNY Potsdam associate professor. "But when we look at the numbers and we look at the statistics, where do we find Black families falling? That's what the Black Lives Matter movement is all about, looking at the ways systemic and institutional racism affect our daily lives, our daily lived experiences."
In a November 2016 issue brief, the U.S. Children's Bureau, under the Department of Health and Human Services, reported "a significant amount of research has documented the overrepresentation of certain racial and ethnic populations — including African-Americans and Native Americans — in the child welfare system when compared with their representation in the general population." The brief lists 56 research citations backing up the information contained in the 22-page document.
"In this case, when it comes to Treyanna, we feel that the system failed her miserably, as it's failing other families, white, Black, Latina, Latinx, Asian, whatever you look at, you'll see a failure...that's why Black Lives Matter is a part of this movement, and that's why we stand with you."
A member of Canton's Unitarian Universalist Church and its social justice programs, Pat Alden said issues with county CPS run deeper than any one person.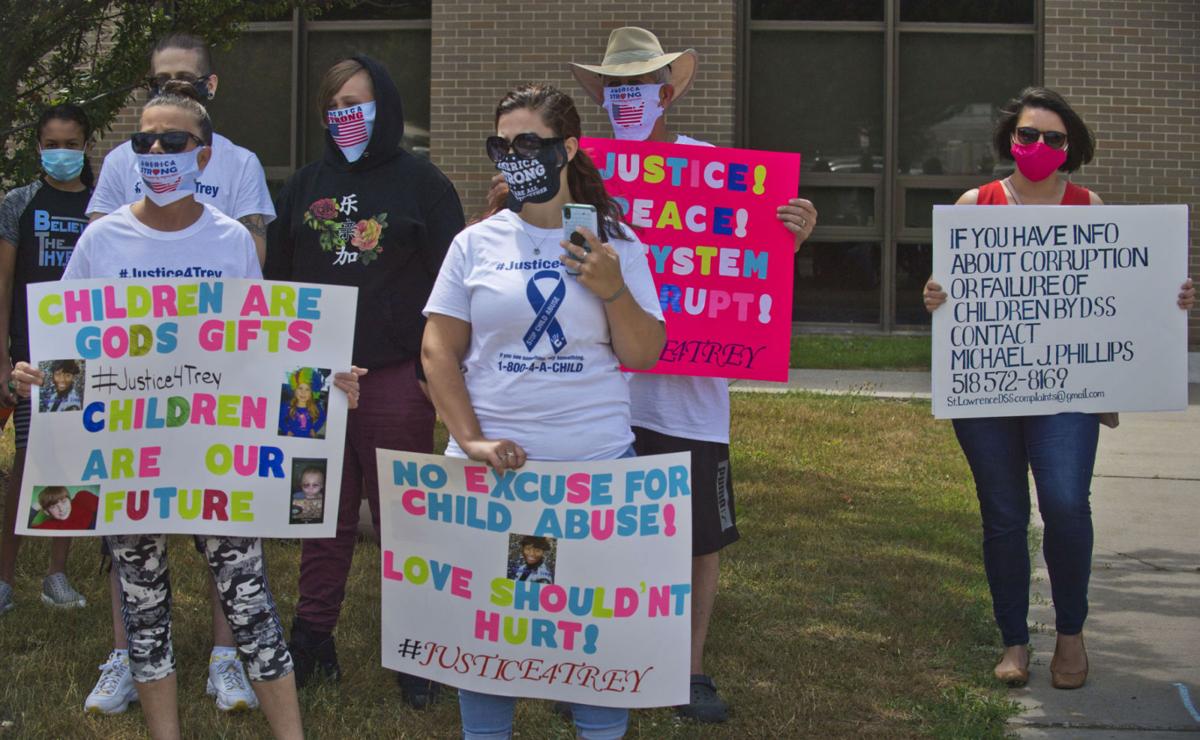 "An incident like this cannot go unprotested and unnoticed," Ms. Alden said of Ms. Summerville's death and the alleged child abuse and neglect she endured in her home. "It makes you cry just to think about child abuse, and that's why people go into Child Protective Services, to protect children. So if there's a failure, I wonder if the failure isn't beyond the level of those individuals, that they aren't constrained."
The CPS webpage on the county's website describes the department as a unit that "investigates all reports of child abuse and neglect and makes appropriate assessments of needs to alleviate the situation."
In January, county CPS was at the center of a lengthy discussion during a county Board of Legislators Finance Committee meeting after DSS heads requested lawmakers fill a position for a senior caseworker.
At the time, Heather L. Wenzel, now interim commissioner of DSS, said CPS was supervising about 171 cases with six to eight caseworkers. Preventative supervisors, Ms. Wenzel said, were handling 70 cases with six to eight caseworkers, creating a "burdensome" caseload.
In 2019, the average number of St. Lawrence County youth in foster care over the course of the year was 272, a steady increase over five years from an average of 154 in 2014.
A phone call Wednesday afternoon to the office of David A. Haggard, to which all requests for comment about DSS were directed, was not returned at the time of this report. Mr. Haggard, a former county legislator who represented Potsdam, took the position as general legal counsel to county DSS in April.
New York State Office of Children and Family Services data for the most recent quarter, January through March 31, 2020, lists 305 total children in care across several public and private agencies in St. Lawrence County. Of those 305 children, 141 are listed as being in St. Lawrence County DSS care.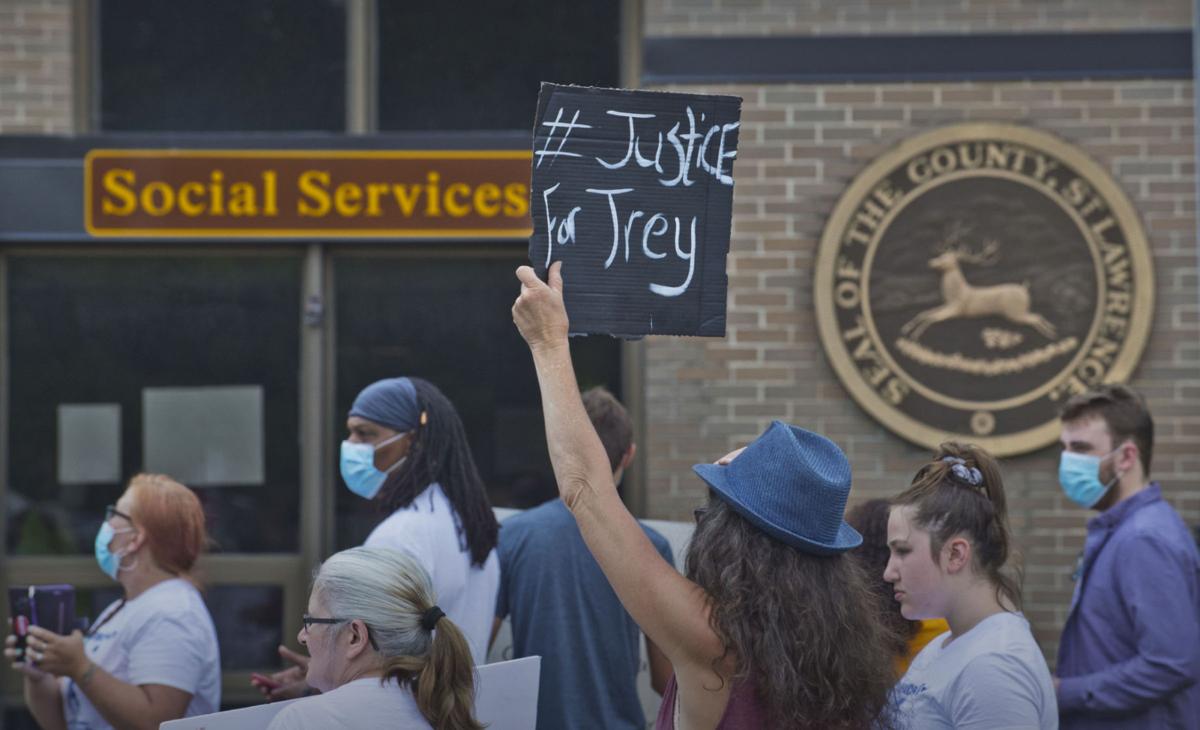 According to the National Children's Alliance, nearly 700,000 children are abused in the United States each year. In 2018 alone, an estimated 678,000 children, all stemming from unique incidents, were victims of abuse and neglect. Also in 2018, child welfare agencies nationwide conducted investigations or responded in some way to cases involving a total of more than 3.5 million children.
Based on annual national data, the U.S. Administration for Children and Families estimated 1,770 children died from abuse and neglect in the United States in 2018, the most recent year for which full data exists.
A Gouverneur-area resident, Tonya Carter attended Wednesday's rally with her children. Ms. Carter said county CPS and DSS have demonstrated repeated failures, and that Ms. Summerville's death has launched much broader community conversations.
"It's a small community, and I'd say it's stuck in the '80s," Ms. Carter said of the town of Gouverneur, population 7,000. "The whole system needs to be completely ripped apart, and put back together again."