Mae in Portuguese, maman in French, ma in Afrikaans, umma in Korean, the word is a name and a cry, life giving and life sustaining: mom.
Mother's Day in the United States is marked by brunches and tulip bouquets, but the annual holiday emblems are a pittance for motherhood.
The American day emerged from a Civil War observance of mothering and peace across Union and Confederate lines, with the first Mother's Friendship Day in 1868 leading to state Mother's Day traditions in the following century.
President Woodrow Wilson in 1914 officially declared the second Sunday in May to be Mother's Day nationwide, "as a public expression of love and reverence for the mothers of our country."
In honor of moms in a pandemic year like no other, the Times presents three stories of north country motherhood.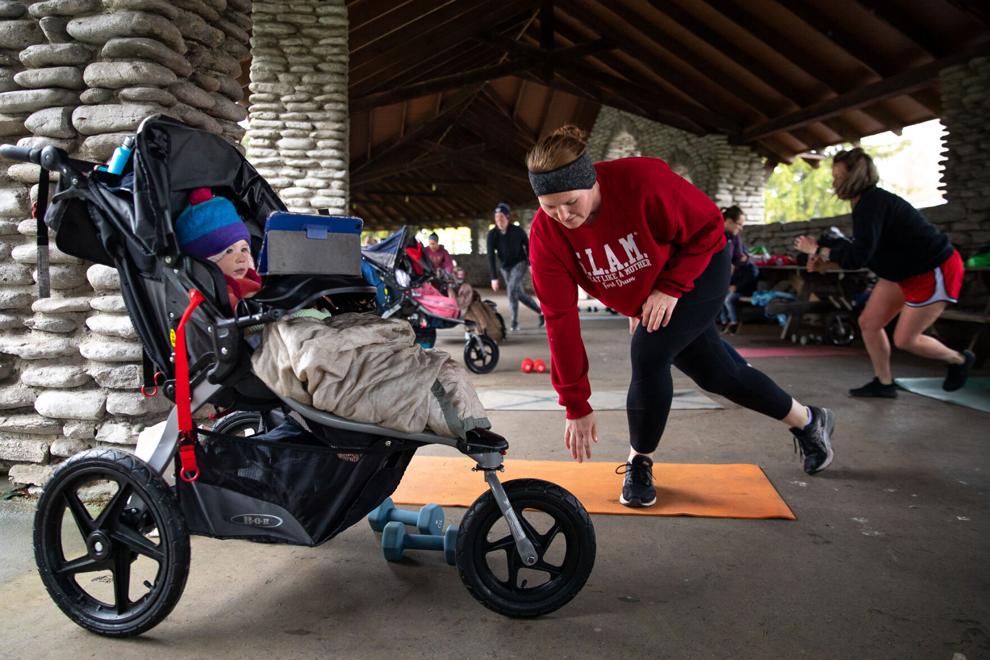 With carriers buckled and babies strapped in, moms of young kids gather in Watertown's Thompson Park to sweat.
"You might come for the workout, but you stay for the community," Laura A. Sasala said.
Mrs. Sasala leads a local chapter of the international Sweat Like a Mother organization — SLAM for short — with about 40 moms regularly convening for fitness, support and play. Her husband is stationed at Fort Drum, as are most of the group members' spouses. The SLAM Drum chapter is open to anyone, though military families have generally comprised the group since Mrs. Sasala founded the chapter in March 2019.
Five members, including Mrs. Sasala, are certified instructors and each leads a fitness class once a week. Their instruction styles vary, and the cardio and strength combination sessions can be modified for every mother. Kids activities are typically hosted after class, and a moms' night out is planned monthly.
Mrs. Sasala moved to the north country from Monterey, Calif., where her husband was previously stationed and where she first discovered SLAM. At the time, she was six weeks post-partum with her now 4½-year-old son, Jerry.
"I was new to the military, new to mom life, and when I found SLAM, I was hooked after my first class," she said.
The group continued to be "critical to her mental health" as Jerry grew, and by the time the Sasalas were transferred to New York, Mrs. Sasala was pregnant with her second son, Matthew, now 2½. She gave birth to Noah in January.
SLAM Drum was preparing to celebrate its first anniversary last spring when the COVID-19 pandemic shut down the country.
"We skipped a beat, only for a moment," Mrs. Sasala said. "And then we figured out Zoom."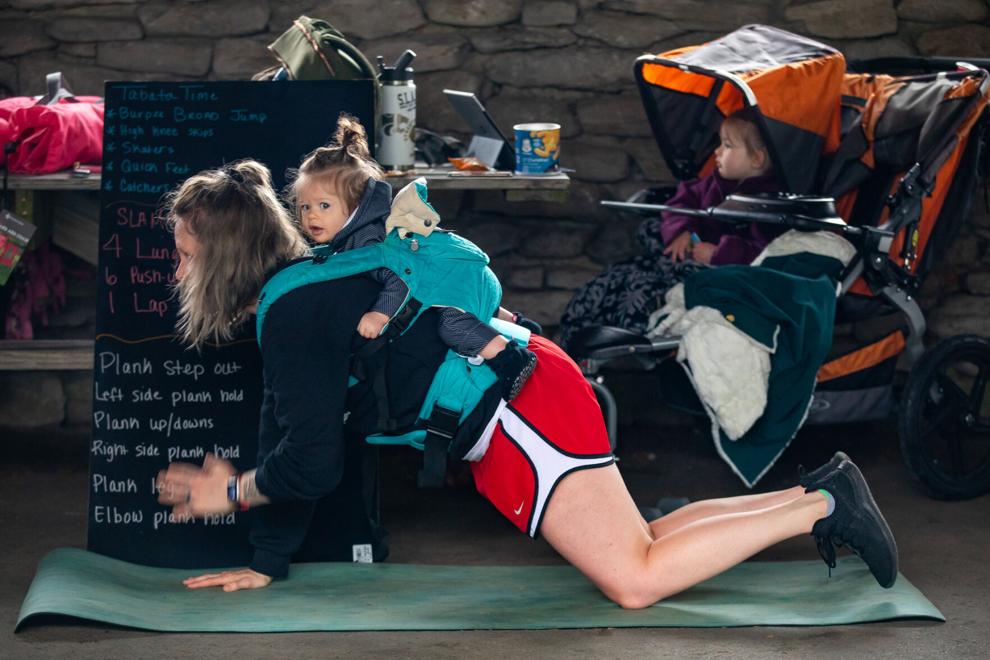 The moms watched for updated public health announcements and continued to meet virtually. At the same time, deployments were announced.
At one point last year, Mrs. Sasala said, 11 SLAM Drum members had deployed spouses. Jeremiah M. Sasala was away for six months, and amid the severe first wave of the global health crisis, family couldn't travel to help in his absence.
"That was when I leaned on SLAM a lot," Mrs. Sasala said. "I think we all realized we needed each other more than ever."
Once COVID-19 vaccine distribution began in December, she said, the group's collective comfort level increased. SLAM Drum has resumed in-person classes outside, with Glen Park Fire Hall as the weather contingency location.
Mrs. Sasala was an elementary school teacher and high school cross country coach before becoming a full-time stay-at-home-mom. In some ways, she said, stay-at-home moms "have been preparing for a pandemic for years."
"But so much was still scary," she said.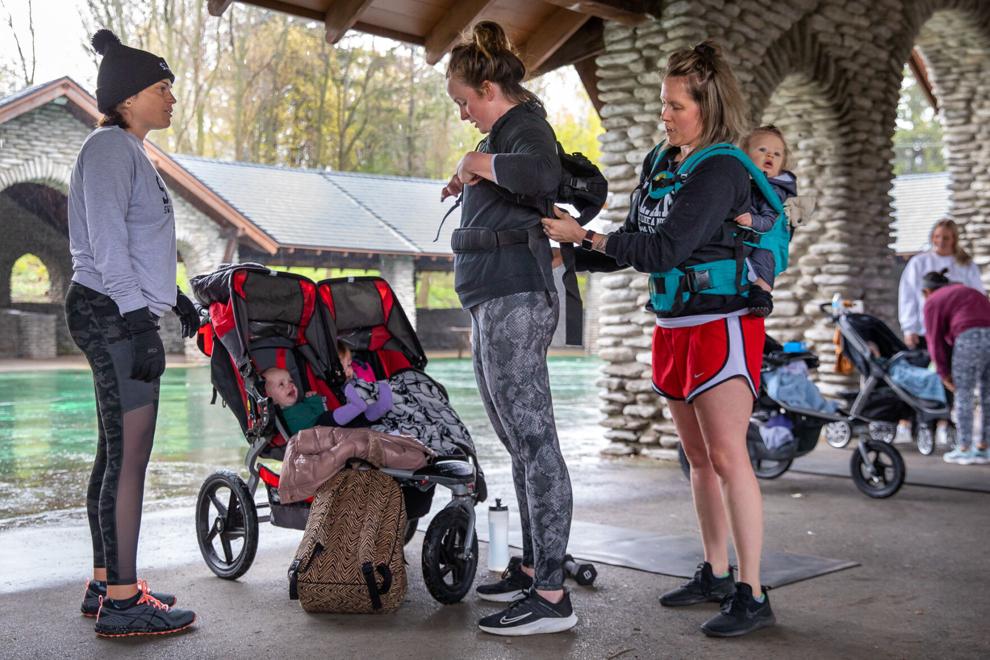 "Help your child" stay active, stay socially connected, cope with stress, the recommendations read. Easier said than done.
Mrs. Sasala's son Jerry started preschool in what she described as "a strange first preschool year."
She thought: "Here I am, sending a preschooler on a bus, wearing a mask, to a place I'd never been, and to a lady I'd never met."
"It was unnerving, but I think he needed it," she said.
And she's certainly not alone in wondering how to respond to and navigate a crisis that has upended life and livelihoods.
Researchers have only begun to analyze how the pandemic has impacted parents. What the deadly coronavirus leaves behind may never be fully understood.
The U.S. Census Bureau launched a series of online surveys in April 2020 to assess trends in child care, education, employment, food security, housing and consumer spending from stimulus payments. Called the Household Pulse Survey, the program's third phase concluded in March.
Similar Census Bureau and Federal Reserve research has so far tracked with Household Pulse Survey results: Moms with school-age children quantitatively "bear the brunt" of COVID-related child-care impacts.
Compared to no increase among men, the survey's mom respondents between the ages of 25 and 44 not working because of child-care issues grew by 4.8% over 12 weeks last spring and summer.
In that same time period, households that did not experience a loss of income still reported having low confidence in being able to pay the next month's mortgage or rent. Among moms of those households, 22.8% said they had low confidence in their ability to provide food for the next four weeks. Women with children also reported being anxious and worried at a greater rate than men.
Malone resident Nettie Seymour, a fifth-grade teacher at Chateaugay Central School, took a leave of absence to care for Finn, her almost 3-year-old son. With her husband continuing to work and school and community programs paused, a major challenge was keeping Finn active, she said.
With all the adults in her immediate family now fully vaccinated and programs live again, Mrs. Seymour has ventured from Franklin to St. Lawrence County over the last month, finding a play haven in the North Country Children's Museum in Potsdam. She visited Thursday morning with Finn and her mother-in-law Kathy Seymour.
Finn did some work in the museum's Construction Zone, then went fishing in the Adirondack Water Play exhibit.
"We're getting through," Mrs. Seymour said.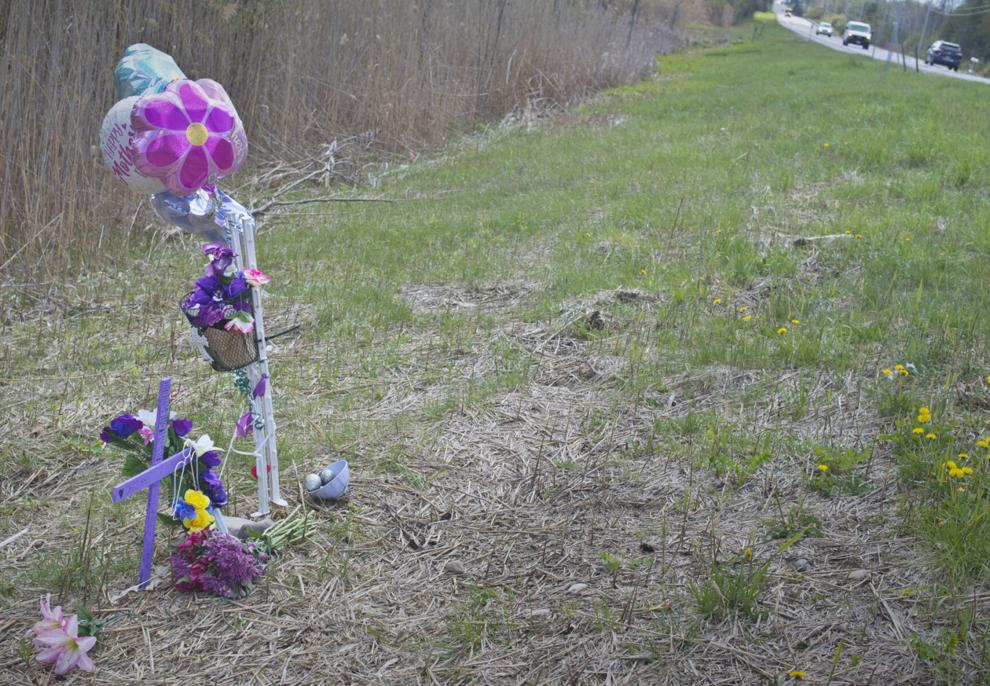 At 18, and the day before her 1984 high school graduation at Norwood-Norfolk Central School, Sharon L. Vari gave birth to her first child.
Though she doesn't remember the movie's title, Mrs. Vari said she took to a character called Miranda, and decided Miranda Jean Vari would be her new joy.
"She was my graduation present," Mrs. Vari said. "Without her right now, we're struggling."
The teacher, coach and mother of three died in a two-car crash in November, a few miles north of the village of Potsdam. She was 36.
A 2002 graduate of Norwood-Norfolk, Miranda was an adult education teacher for St. Lawrence-Lewis BOCES and lived in Brasher Falls. She was "an outstanding student" herself, and loved her three kids with her whole being, Mrs. Vari said.
In the mid-day sun on Nov. 5, Miranda was traveling northeast out of Potsdam toward Stockholm when she struck a stopped car at the intersection of Route 11 and Old Closed Road, a no-outlet residential street.
A Route 11 resident called 911 at 12:32 p.m., and a few neighbors converged to help. State police determined Miranda was driving northeast in her 2003 Chevrolet Trailblazer when she struck the rear of a 2011 Honda CRV, operated by 72-year-old Donna L. Blanchard, of Potsdam.
Ms. Blanchard's vehicle was stopped on Route 11, facing northeast, waiting for oncoming traffic to pass so she could turn left onto Old Close Road. Police established that Miranda's vehicle ran off the road after clipping Ms. Blanchard's vehicle, struck a grassy embankment and rolled over.
Ms. Blanchard was taken to Canton-Potsdam Hospital where she was treated for chest pain and later released, and Miranda died at the scene.
"I was in shock most of the time for a while," Kylee J. Kellison said.
Miss Kellison, 16, is Miranda's oldest. The Norwood-Norfolk junior passed a milestone last week, and is now licensed to drive in New York.
"The moment I found out, I collapsed," she said of the crash. "It was the worst feeling I've ever felt, losing my best friend, my protector, my mom."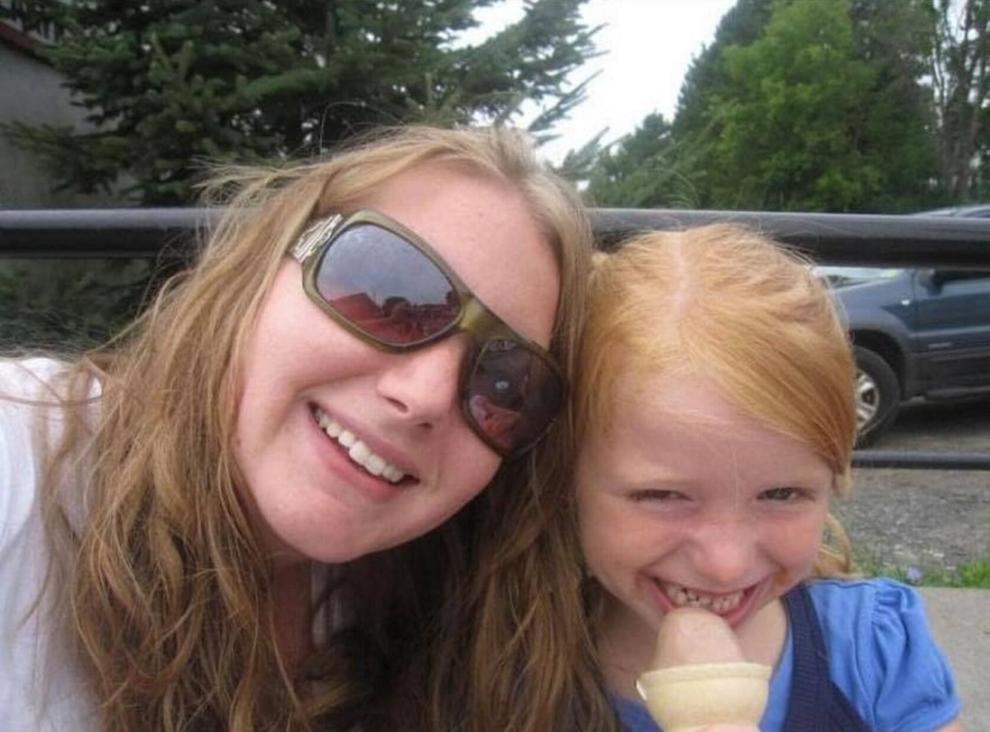 Brothers Kole and Kayde Kellison, 14 and 7, as well as step-sister Emma LaBaff, 15, have held on to their mom's love, and one another, in the six months since she died, Miss Kellison said.
Miranda was an exceptional figure and "one of those women who would drop everything for you," she added.
The Kellison children grew up for a time with their father Curtis A. Kellison, and when the couple separated and Miranda met Kenny J. LaBaff in 2019, Emma gained three siblings. Miranda "treated her like one of her own," Miss Kellison said.
Mrs. Vari said her daughter was wonderfully happy with Mr. LaBaff, who she said has always treated the family "like gold."
"He was for Miranda, what Miranda was for me — a rock," Mrs. Vari said.
Now a new kind of rock in her own right, Mrs. Vari has become a court advocate for the children. As she grieves her child, she sees how harrowing Miranda's death is for her grandkids.
For Mother's Day, Mrs. Vari wrote an open letter to Miranda, thanking her for her 36 years, and telling her what a light she is.
"I ask myself, 'why, why, why?'" Mrs. Vari wrote. "And I cry, cry, cry."
Miranda was a star athlete, especially as a Norwood-Norfolk basketball player. Miss Kellison said they share that favorite sport, and that she requested a new number this season: 34.
"I changed my number so I could keep playing with hers," Miss Kellison said.
A three-sport athlete between basketball, softball and soccer, Miss Kellison said she is hoping to establish a basketball tournament, or perhaps a scholarship, to honor her mom. Miranda coached soccer and modified boys' basketball in recent years.
"She also loved to coach from the sidelines," Miss Kellison said, emphasizing the "love."
For the kind of embarrassment only parents know how to apply, Miranda's particular tactics included public singing and dancing. Miss Kellison said one of her mom's favorite artists was American rapper Jelly Roll, and the entertainment of her singing performances was only rivaled by her dance moves.
"I loved when she would sing," Miss Kellison said. "I would do anything to be embarrassed by her again."
Mrs. Vari laughed when she thought about Miranda's perpetual problem with keeping her car stocked with tissues. During nearly every drop-off at the Vari grandparents' house, Miranda would sneak tissues.
Mrs. Vari said she often joked to her husband when their daughter pulled up: "Miranda's here, hide the tissues."
As the oldest sibling, Miss Kellison said she's discovering her capacity to be a mom to Kole, Kayde and Emma. From her experience, she said, she wouldn't be inclined to say "it gets better" to other kids who have lost a parent.
"It won't fully get better," she said. "It'll just get easier to cope with."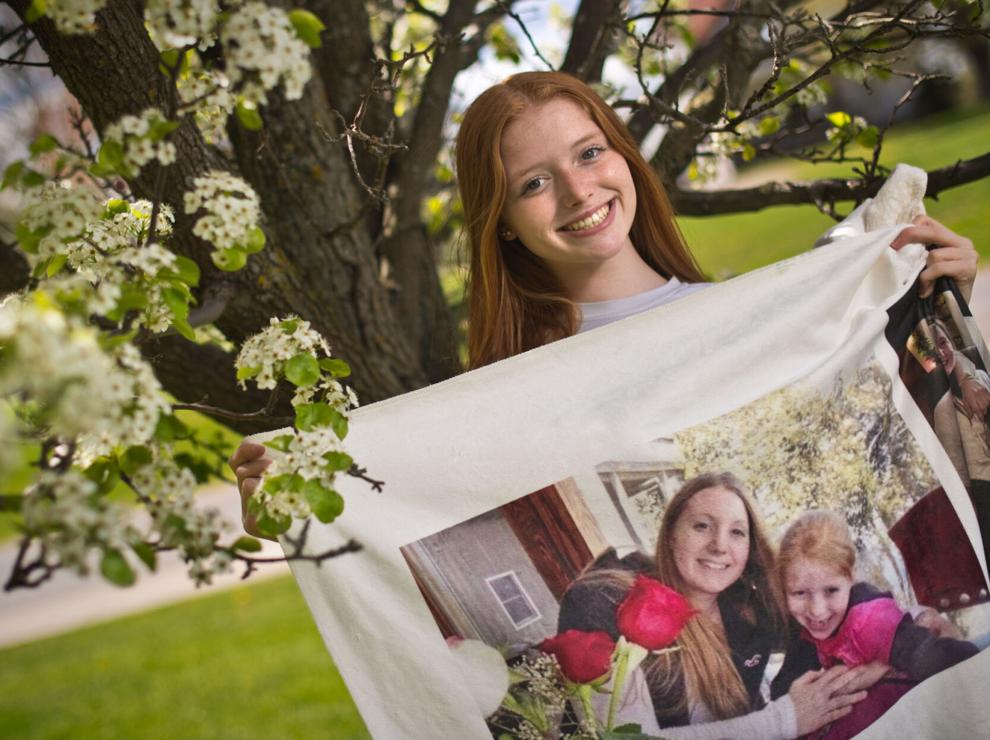 As she looks to her senior year, Miss Kellison said she wants to build from her BOCES criminal justice program and go to college, "hopefully at SUNY Canton." She'd like to be a detective.
"There's definitely going to be accident scenes I'm not going to want to see, but I will," Miss Kellison said. "And my mom would want me to, because it would mean I'm doing what I ultimately love, and doing a job that needs to be done."
"Determined" is the first word to come to mind when Miss Kellison hears "mom."
"And there are so many words — lovable, crazy and loud, definitely loud," she said.
Today Miss Kellison will again visit the crash site to lay flowers with her family. A cross stands as a symbol to Mrs. Vari that Miranda is among angels.
"Sometimes I'll see her in my dreams, and when I daydream, that's when I envision her too," Miss Kellison said. "The dreams are my favorite part now."
To those who have lost a child, to those grieving a mom, to those who haven't seen their adult children through the pandemic, and to all moms — new, step, foster and chosen — Happy Mother's Day.