At 22 weeks, six days, Cian J. DeShane was born Dec. 28, 2019, at the University of Vermont Medical Center's Neonatal Intensive Care Unit. With tubing in, he spanned 11 inches and weighed 1 pound, 0.9 ounces — about the weight of a loaf of bread.
After being fully dilated and having contractions for 5½ days, Cian's umbilical cord cut, Kaylie E. (Mousaw) DeShane gave birth to Cian's identical twin brother Declan B. and their sister Rowan M. on Jan. 2, 2020. Declan weighed 1 pound, 7.6 ounces, and Rowan came in at 1 pound, 1 ounce.
Nearly a year later, the siblings are celebrating their first birthday at home in Norwood.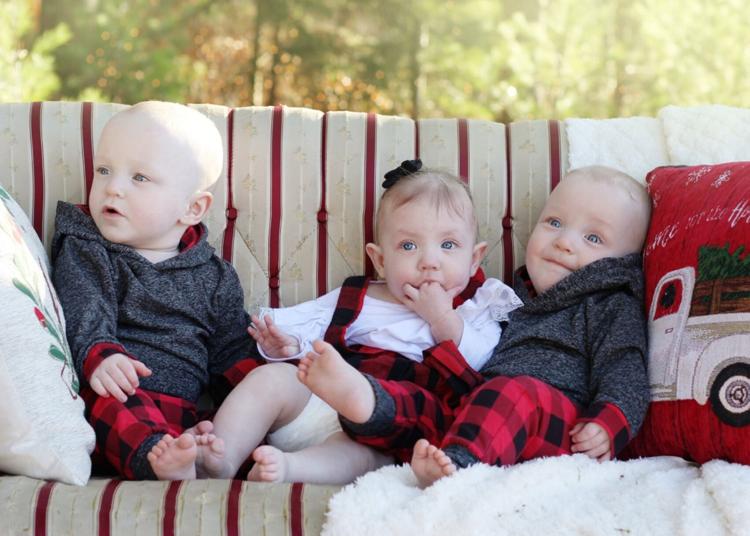 "People assume when you have them that early, that they can't live a life — but they're doing awesome," Kaylie said, adding that Cian, Declan and Rowan are all on the normal growth curve for full-term babies and are hitting their milestones. "It's important people know they can make it."
Kaylie, originally from Potsdam, is a senior chemical dependency counselor for St. Lawrence County. She and Brandon J. DeShane, a Norwood native and current stay-at-home dad, married in 2015. Naveah, 11, is Kaylie's stepdaughter, and the couple officially adopted Holden, now 6, in 2017. When Kaylie and Brandon decided to begin the process of having biological children about four years ago, they worked with Northeastern Reproductive Medicine, a fertility clinic in Colchester, Vt., to address infertility issues and Kaylie's Polycystic Ovary Syndrome, or PCOS.
Through in vitro fertilization — the manual combination of an extracted egg and a sperm sample in a laboratory setting — two of Kaylie's fertilized eggs were transferred to her uterus last year. Once implanted in the wall of the uterus, one of Kaylie's embryos split, leading to identical twins Cian and Declan.
Kaylie and Brandon had a scheduled anatomy scan Dec. 27, 2019, at UVMC and were staying at a hotel in Plattsburgh when her water broke the night before.
After ferrying across Lake Champlain to Burlington, Cian was born and intubated, initially receiving oxygen around-the-clock with the ventilator breathing for him. Then at 23 weeks, four days, and in a new year, Kaylie gave birth to Declan and Rowan.
Full-term babies are carried for 39 weeks, and the World Health Organization sets the pre-term threshold at 37 weeks, with those born between 28 and 32 weeks categorized as "very pre-term." Babies born alive after less than 28 weeks are considered "extremely pre-term." The United States, according to the most recent WHO data, ranks sixth among countries with the greatest number of pre-term births each year, 517,400 in 2017.
During a November appointment, Kaylie said, Declan weighed about 21 pounds, Cian weighed 20 pounds and Rowan weighed 16½.
Cian had his first surgery to remove a hernia back at UVMC Sept. 25; he's scheduled for a second hernia surgery next week.
"As far as we know, nobody is going to need any other surgeries," Kaylie said.
Rowan is seeing a speech therapist in Potsdam for having issues "keeping her tongue out of her own way when she's eating," and the family is supposed to be receiving in-home early intervention services, Kaylie said, but the ongoing COVID-19 pandemic seems to have stalled that process.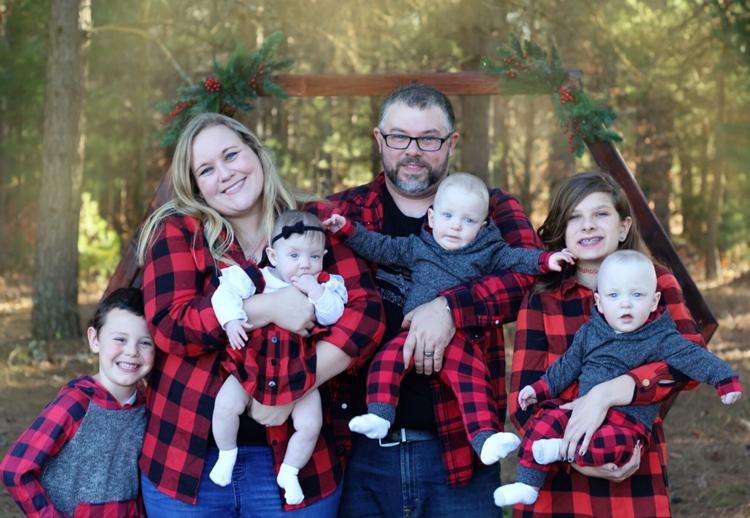 A new, relative stability sharply contrasts the uncertainty of the trio's first four months.
At 15 days old, Rowan's entire hand was the size of her dad's index fingernail. Cian and Rowan developed an intestinal disease; Cian fought pneumonia; and all three struggled with respiratory issues, particularly in their first days and weeks of life.
The theory of their persistence, Kaylie said, became centered on the bumblebee.
In the 1930s, French entomologist and engineer Antoine Magnan famously compared bumblebee flight to the aeronautics of powered flight — to doing the unthinkable.
Bumblebee emblems decorated the NICU and bees were pinned to nurses' badges as teams diligently and quietly cared for the triplets.
The DeShanes have a small family celebration planned for the Dec. 28 and Jan. 2 birthdays: "It's One-derful to Bee One."
"Rowan is very busy now," Kaylie said. "She's more like Sonic the Hedgehog these days."
Declan, she said, is still a troublemaker and is always laughing; Cian is a cuddler and a more serious baby.
Calling Christmas week from home with babies actively chattering in the background, Kaylie said she and Brandon are "constantly adapting" to the growing siblings and their wide-eyed discoveries. Raising five children on one income, working on house projects and following up with services for the triplets is an exhausting reality, Kaylie said.
"But they're happy and healthy," she said. "So we're doing really well."