WATERTOWN — One of the few differences between now and when he started visiting his wife through the glass at the nursing home is that they both have tested positive for COVID-19 over the last year, and they're both still alive talking over the phone and looking at each other.
Thomas M. Flavin inadvertently started a trend nearly a year ago when staff and residents at the Samaritan Keep Home took notice of how he visited his wife who lives there. He had visited her nearly every day for two years, but then it all ended in March 2020 due to COVID-19.
"I love my wife," Mr. Flavin said last year. "I can't put a measure on it. It's just something that's there."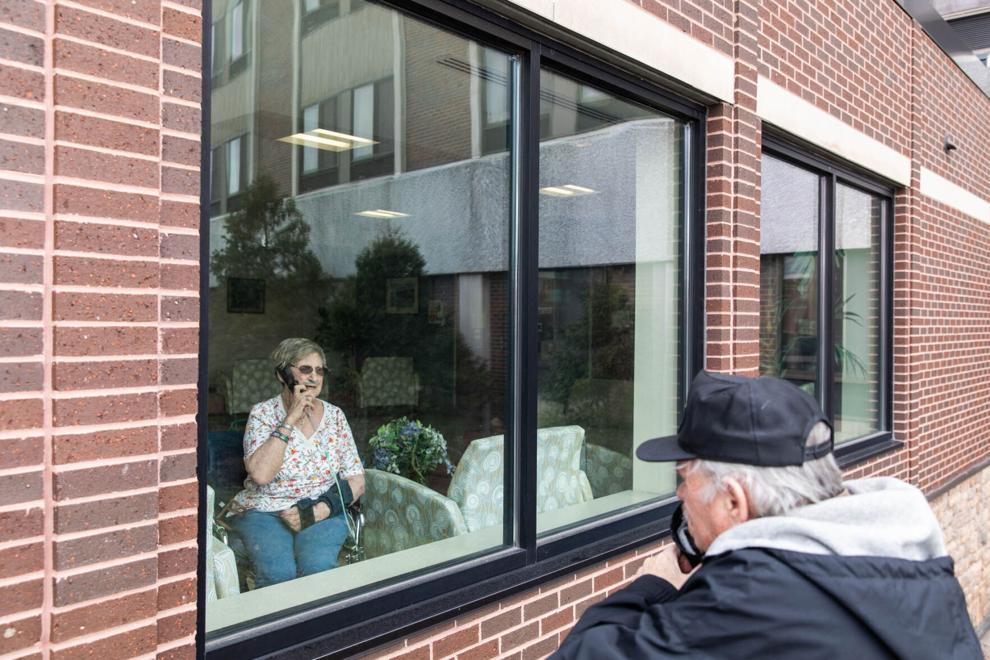 The nursing home had to schedule times for families to meet their loved ones through the glass after Mr. Flavin set the tone. It was a decades-long love story they continued, not without the last year seeming like a series of downfalls for the innocent.
It's been nearly a year since Mr. Flavin started seeing her through the glass and not much has changed, aside from his wife testing positive and being in the hospital for a week. Mr. Flavin also tested positive for COVID-19, and not to mention he was the victim of a scamming effort that stole thousands of dollars from him.
"I've been pretty busy," he said recently.
How Mr. Flavin arrived at visiting his wife through a window began in February 2019, when his wife was hospitalized after suffering an aneurysm. She had surgery at St. Joseph's Hospital Health Center in Syracuse and then transferred to Upstate Medical University, also in Syracuse, for rehab before going to Watertown for more rehab.
The rehab would end, but she would become a full-time resident at Samaritan Keep Home. That's when Mr. Flavin began visiting her every day. His routine was to go there at about 1:30 p.m. to see her on the seventh floor. She has a bed and he sits next to her in a chair. He brings her pretzels and ginger ale. They talk or they watch TV, or she sleeps and he just keeps her company until dinner. They'd eat together, then he'd tuck her into bed and go home.
But in mid-March of last year, Mr. Flavin had to come up with a new plan. The outbreak of COVID-19 was ramping up, which resulted in Samaritan Keep Home having to close to all visitors.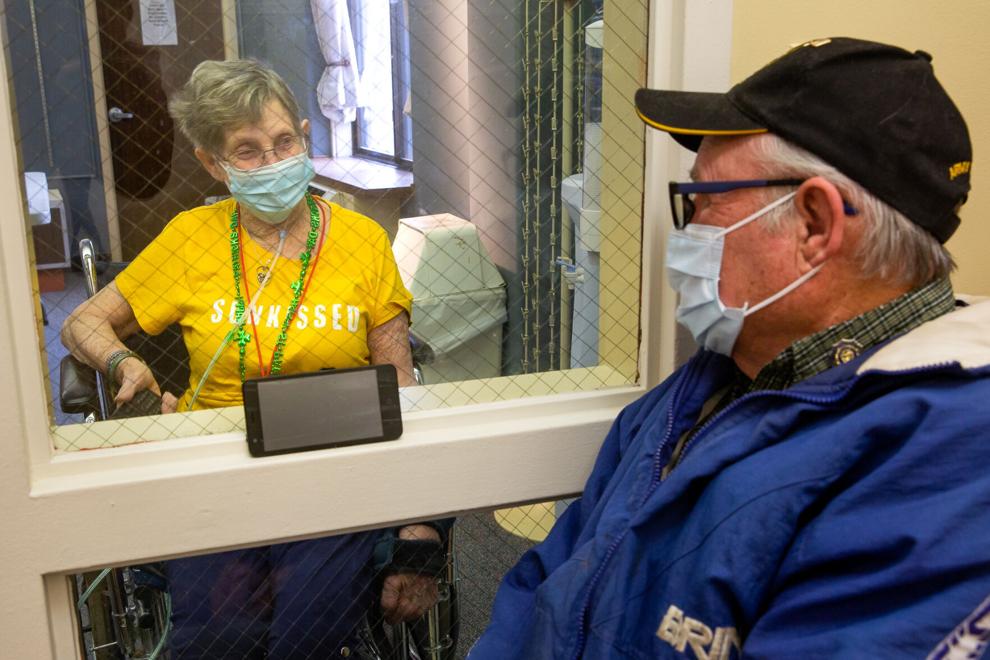 Restrictions for visitation at the nursing home, which simply follows state guidelines, were relaxed in September 2020, allowing in-person meetings without touching. Mr. Flavin took advantage of that, but it never really was a visit to him since he couldn't hold her hand, take her for a walk or share a kiss.
In-person visits never really picked up steam either as restrictions would often tighten shortly after they were loosened — when residents or staffers in the nursing home tested positive for COVID-19. It would continue to be reduced to Mr. Flavin's method of meeting through the glass.
This weekend wasn't an exception. A staffer at the nursing home recently tested positive, resulting in visitations being limited to through the glass. Now the Samaritan nursing home has created somewhat of an isolated booth just inside the facility, which allows family members to visit residents inside through the glass but outside of the cold. The keep home was praised for almost literally tapping off a small room on the other side of the glass door, where visitors come to speak with residents.
"I had to buy another coat it was getting so cold in December," he said. "People don't have to stand outside in the cold anymore."
Mr. Flavin has been able to touch his wife once in the last year. It was when he and his family just wanted a normal holiday, so they signed Mrs. Flavin out for a home visit on Thanksgiving.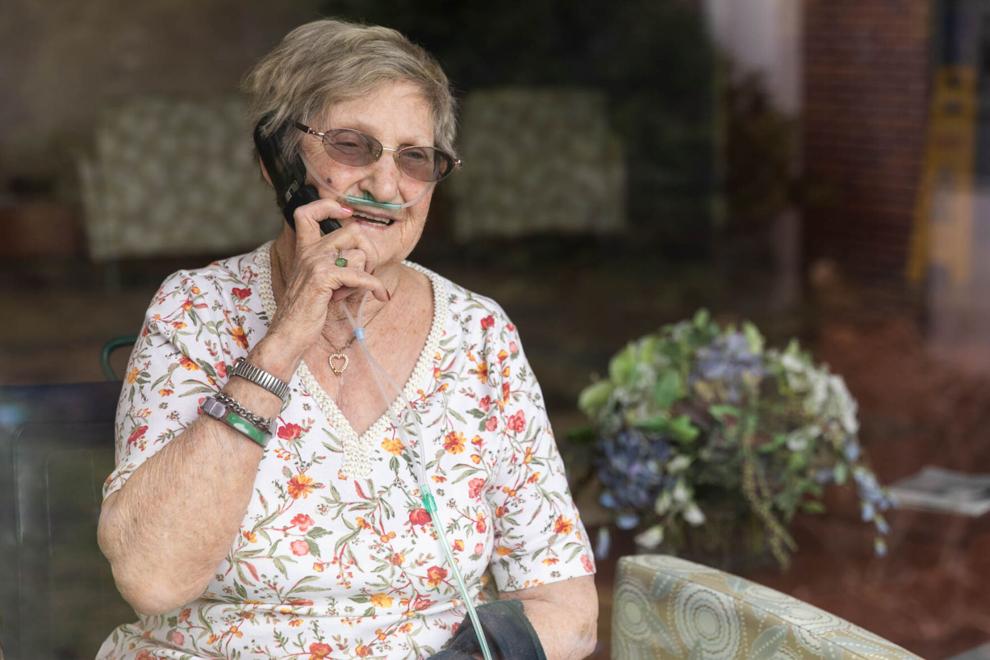 Samaritan Medical Center had issued sign-out forms ahead of the holidays, notifying residents and their families of COVID-19 safety requirements while they are home. The state encouraged residents to limit contact, wear masks and prepare to quarantine when they returned to the nursing home.
Mr. Flavin, his wife and five of their closest family members spent the holiday together. He sat next to his wife at the dinner table, cut her food, helped her to the bathroom and hugged her. He said he was the only one to come in contact with her, and they both tested positive for COVID-19 days after the at-home visit.
The general sense is that they just wanted some sort of time together without a sheet of glass separating them, but the virus struck them both. It's still unclear who passed the virus, but at this point it doesn't matter much.
"She's alive," he said. "That's what matters."
Mrs. Flavin got back to the nursing home after Thanksgiving and had difficulty breathing from complications of COVID-19, her husband said. She would end up being transferred to Samaritan Medical Center, where she spent a week in the hospital before returning to Samaritan Keep Home and isolation for weeks more. She would end up getting vaccinated for the novel coronavirus, during which she experienced convulsions from the second shot, her husband said.
Mr. Flavin, meanwhile, tested positive and had minor symptoms like a cold.
But they are still at the window almost every day.
Mr. Flavin doesn't consider himself special. He said most husbands would do it if they were placed in his position.
"I'm an average husband," he said. "The thing of it is, maybe I'm a creature of habit, too. I just think the biggest thing is when you have a wife on death's door, it makes an impression on you."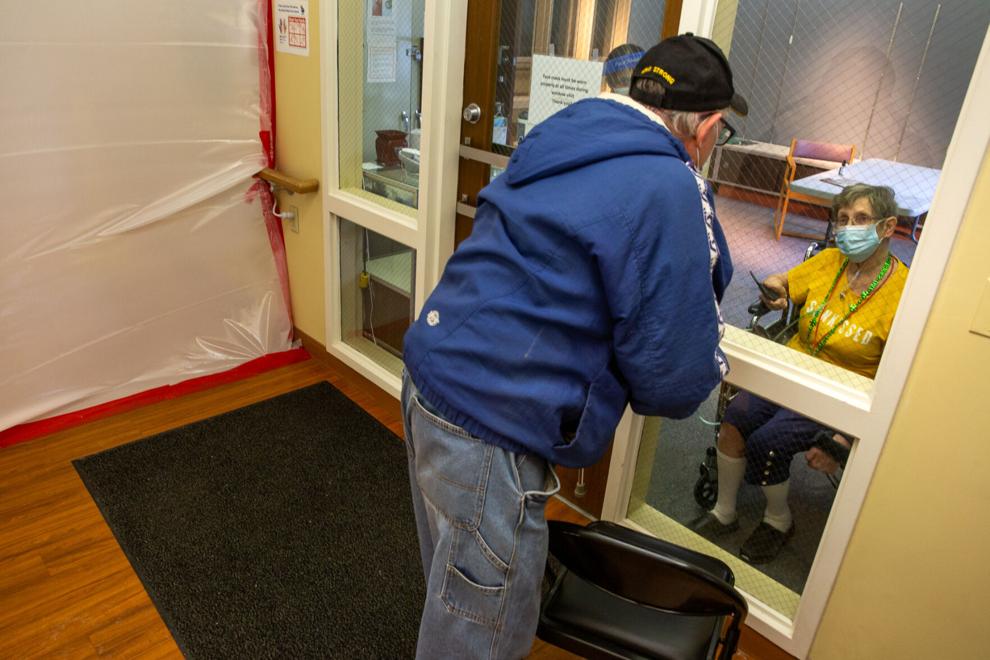 So, sitting between glass to see his wife and talk to her while he stood in the heat or cold — or now the isolated booth — is a walk in the park. He, of course, wishes he could hold her hand, take her on a walk or share a kiss, but to him this is the hand they were dealt and it's better than never seeing each other.
"Half of it is what it does for her to have me around. She's married to me as much as I'm married to her and to have her husband around, or one home visit, it's a big thing," he said. "I'm happy to be with my wife, and even though we can't sit next to each other, we're together.
"That's the main thing and the only thing you can do and that's part of the obligation of being married," he added. "I'm just lucky I've got a couple of cats."