WATERTOWN — Breweries around the north country are helping each other stay open after COVID-19 left them worried about what to do with all their beer, highlighting an industry that has thrived on coordination long before this pandemic.
When Gov. Andrew M. Cuomo put New York on pause March 22, closing 100 percent of nonessential businesses statewide, Dan Daugherty and his team at Boots Brewing Company were sitting on the most beer they had ever produced in the brewery's history.
"At first it was, 'How are we going to sell all of this beer?'" Mr. Daugherty said. "We did a lot of brewing from December straight through February. We were almost completely maxed-out on capacity when this all hit."
Fortunately, restaurants and breweries were on the list of essential businesses, and demand for beer was rivaling toilet paper and milk. "We did pretty good business the first two weeks," he said. "People were in that stockpiling mode."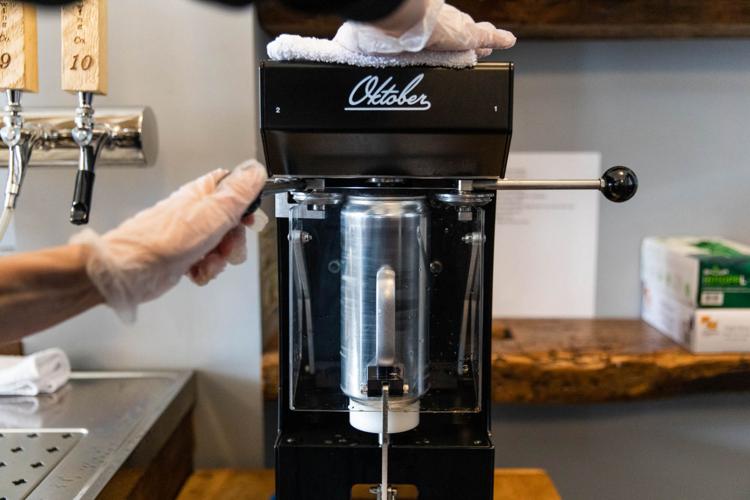 After those few weeks, like many industries, the brewing players continued to adapt. Supplies began running low. Guidelines were and are changing almost daily. They weren't brewing as often and their business models were changing entirely. The state liquor authority allowing breweries to sell for off-premise consumption is keeping Boots Brewing Company open. They offer beer takeout exclusively.
"It's just like calling for pizza," he said. "You can call, place an order for beer and come pick it up."
Boots is running on limited hours, Wednesday through Saturday from 4 p.m. through 6 p.m., mainly because a large portion of its beer orders are made before they even open.
"For a lot of people, they'll place a large order and we'll see them two weeks later and then they'll place another large order, trying to limit the amount of times they have to go out," he said. "I think everybody is learning right now."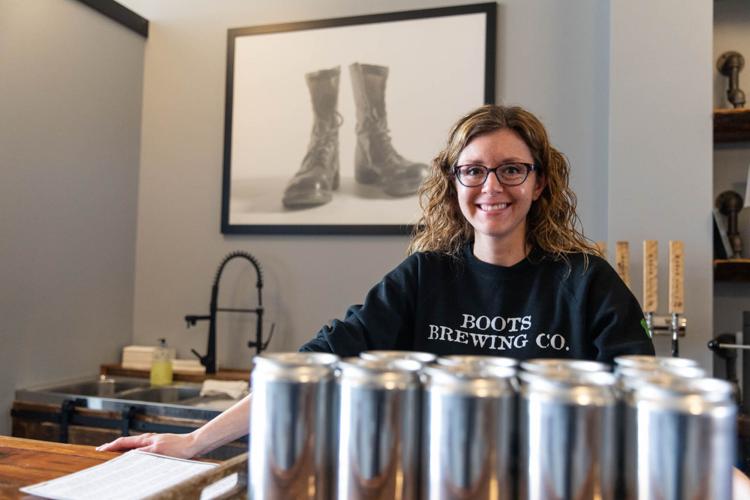 Kelly Daugherty, co-owner of Boots and Mr. Daugherty's wife, said customers are a mix of those who have been to the brewery before and those who had not.
"We've had some people that have come in and said they didn't know we existed before this," Ms. Daugherty said. "We've had some people who are just inclined to come check it out, and those customers actually have been coming back since then, so it's kind of unexpected that we're getting new traffic that way."
Shortly after the PAUSE Executive Order went into effect, Flashback Brewing Company reached out to Boots. Flashback wanted to can its own beer as refilling growlers wasn't optimal. Since the smaller brewery just opened in December 2019, it hadn't even considered canning its own beer. And that's mainly what Boots is doing, canning on-demand as orders are made.
Boots has a portable canner it bought just last year — the owners consider themselves lucky for that purchase — so the Daugherty family allowed Flashback to borrow it at no charge.
"We're always willing to help somebody out when they need it," Mr. Daugherty said. "The only thing we couldn't help them with is cans because we were running low on them ourselves."
Indeed, the order of cans Mr. Daugherty placed back in late March with the Boots label on it has yet to be delivered. So Boots reached out to another brewery down the road, Garland City Beer Works, asking to buy blank cans from it.
"And they didn't hesitate to ask how many we needed," he said. "It's literally we need to just bridge the gap between when we ran out and when our next shipment is due to arrive."
The blank cans from Garland kept Boots open, he said. All that was left to do was to dump beer into them and write all the necessary information on the can with a sharpie.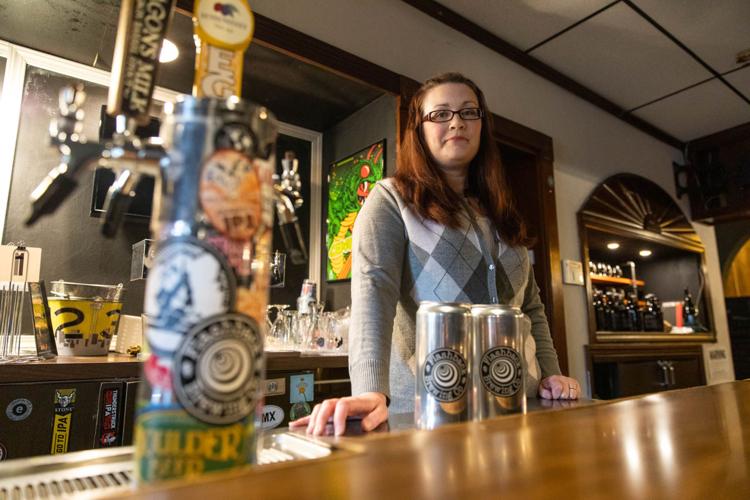 Which is not unlike the situation Krystin LaBarge finds herself in. She owns Flashback Brewery and laughs at the question of her current label. When she started canning her beer, it was less about presenting the can with fashion and more about moving 20 kegs of draft she had on hand when the PAUSE order went into effect.
"I took a picture of the Flashback beer, and I used that same picture for all of the beer," Ms. LaBarge said. "I slapped a sticker on these cans, and I marked the pertinent information in marker."
Ms. LaBarge's brewing system at Flashback is designed for customers to consume beer in-house. It's not much bigger than a good-sized home-brewing system. So, while dairy farmers across the country are having to dump millions of pounds milk every day, her situation is the opposite. She might run out.
Breweries being deemed essential was good news; however, Flashback had to scramble to redesign its business completely. Thankfully, a couple factors were in Ms. Labarge's corner. Her operation is rather small compared to giants like Budweiser, so her production can be rather controlled, and she had counterparts there to help. The driving force of her sales is food. She can offer take-out or delivery — even shipping — except now the state is allowing her to do the same with beer.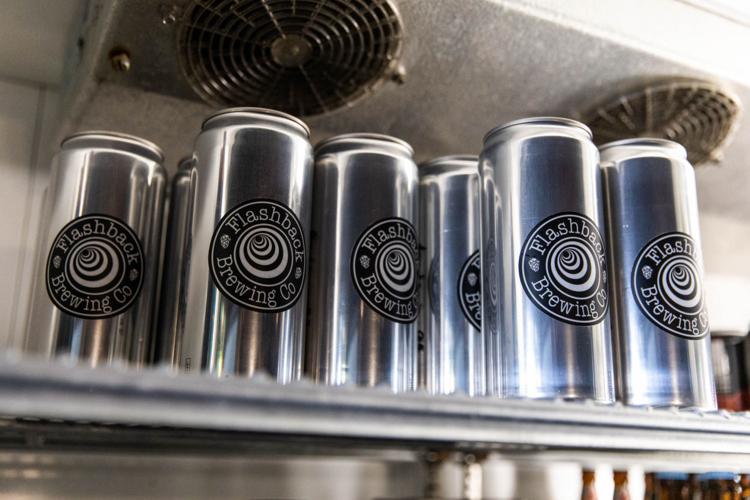 Her first thought was to move the draft beer by selling 64-ounce jugs called growlers. She reached out to Bear World, a convenience store and beverage center in Watertown, which she said offered her an "extremely reasonable" deal for empty growlers.
That wasn't going to cut it, though. So, not only did Boots provide the canning machine, but two Syracuse-based breweries — Willow Rock Brewing Company and Middle Ages Brewing Company — provided her with the necessary supplies, including cans, to package her beer.
"That is one of the things that a lot of the public doesn't always get to see," she said. "Within the industry, there are a lot of really helpful business owners that are willing to share information. They're willing to help you get through an application or share their experiences, and we had a pretty good incline in mind that these businesses would be more than willing to help, and I think they went above and beyond our expectations."
Her hours are, too, limited from 2 p.m. through 7 p.m. Thursday through Saturday.
Sharing materials is not a new revelation in the world of brewing beer. Business owners in the industry have been known for sharing with other brew masters. Even ingredients — brewers often share hops, yeast, grain and now cans.
"We're all so small in the scheme of things," Ms. LaBarge said. "We're all in this together. We all need the farmers to keep growing their ingredients, and we all need CO2 production, which that looks like it's going to falter. We all need these things together."