MANNSVILLE — The namesake of Staplin Lilac Memorial Park in this village, formerly "one of the loveliest spots in the north country," will soon have his legacy set in stone.
"We just got a big stone we have now in the park that we're going to have engraved with his name and the date he founded it," said Cheryl E. Miller, secretary and treasurer of the Historical Society of Mannsville/Town of Ellisburg.
Mrs. Miller said that the society wanted some sort of a sign put up in the park honoring the legacy of its founder, George Staplin Jr., who died in December of 1951 at the age of 89. He created a collection of lilacs at the park that became renowned. In 1948, the Watertown Daily Times called the collection of lilacs — about 120 varieties — "the largest privately-owned one in the country." They ranged in color "from white through cream, buff, pink, orchid and crimson to almost blue-black and their soft fragrance fills the air in a wide area throughout the blooming season."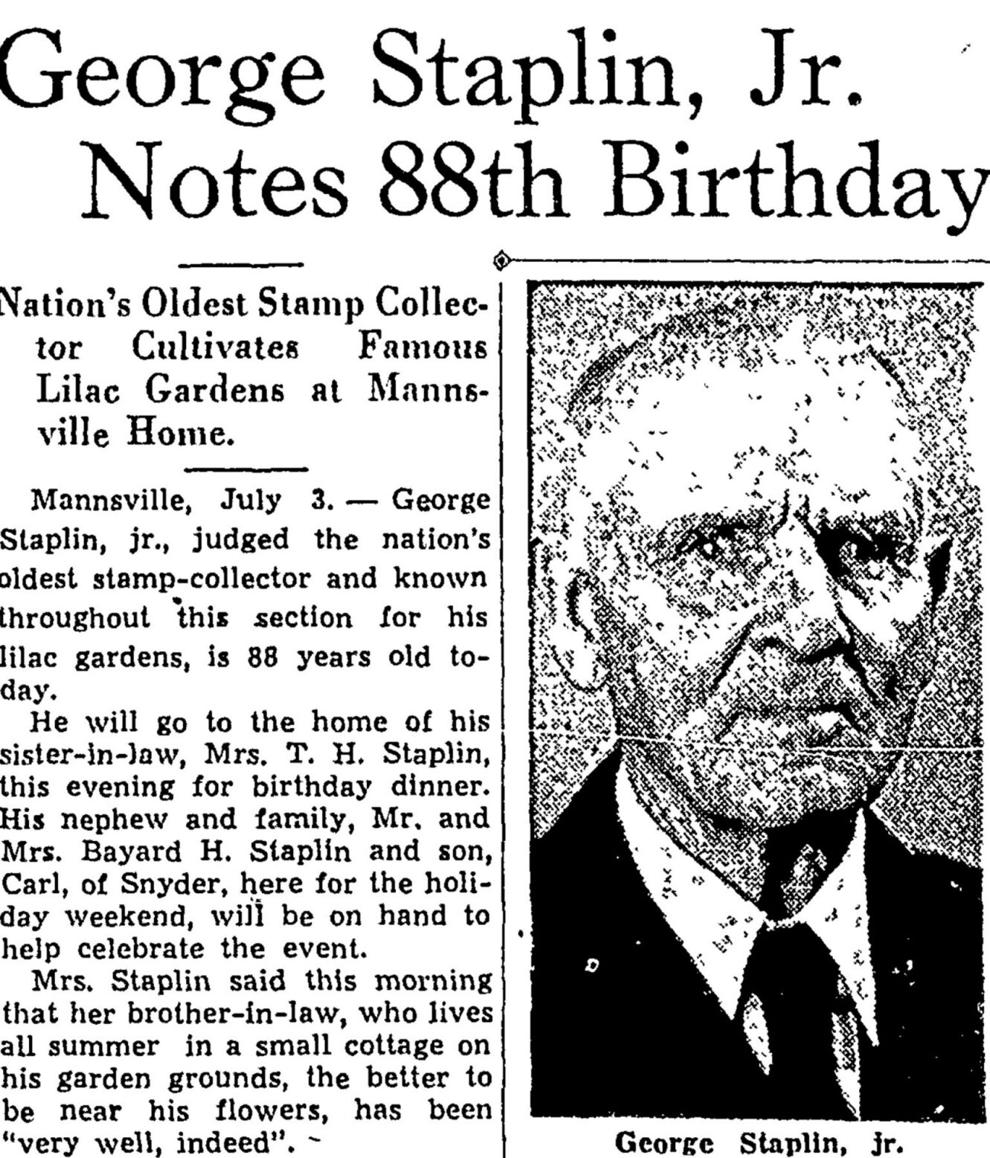 Through the years, the lilac bushes have decreased in numbers. Mrs. Miller estimated there's about 60 bushes now at the park.
The stone honoring Mr. Staplin, Mrs. Miller said, is scheduled to be engraved by A. Cozzi Monuments, Watertown, with: "Lilac Park. Founded by George Staplin in 1918." The stone is about 3 feet wide and approximately 2 feet high.
"He just liked lilacs," Mrs. Miller said. "He lived down what is now Lilac Park Drive, just down past the post office."
With lilacs now in late stages of bloom throughout the north country, the Times thought it worthy to sniff out more details on the life of Mr. Staplin.
Mrs. Miller said that Mr. Staplin purchased the property which the park now stands. It's at the intersection of Railroad Street and State Route 11. "There were several buildings there before," she said.
In 1948, Mr. Staplin wrote to the Times with a time frame of that year's blooms: "My display of lilacs will be very good by Sunday, May 23, and later in June," he noted.
He never kept a regular register of park visitors, but he once said that one year he maintained a guest book that recorded 3,000 persons coming to his private park, now owned by the village.
On July 3, 1950, the Times published a story about Mr. Staplin celebrating his 88th birthday. The story reflected a diverse life. Some highlights:
■ He was a native of the hamlet of Zoar in the town of Rodman and began his working career as a farmer. He was the son of George and Susan Butterfield Staplin.
■ In 1915, Mr. Staplin was appointed postmaster of Mannsville.
■ "It was while Mr. Staplin was postmaster that he bought the lot and began, always doing the work himself, to fill and level off the ground. The land was next to the post office, making it easier for him to put his spare time to good use."
■ In 1918, he "set out" his first lilac bushes. The park would grow to more than 100 varieties of lilacs.
■ Mr. Staplin got his park idea around 1915 when he visited Highland park in Rochester.
■ He also collected bird eggs. In 1950, he had 140 varieties of them.
■ Mr. Staplin was also a renowned stamp collector. "He gave his first public exhibition of stamps in May, 1943 in Watertown," the Times reported on a May, 1950 report. "Since that time, residents of many states have come to view his collection." His collection at the time was reported to be worth $4,000, nearly $52,000 in today's dollars.