RUSSELL — Lucas J. Manning owned just a hammer and an iPad when he and his wife Sarah B. Manning decided to renovate an old stone house and document it on YouTube. Now, after nearly four years of working on weekends, the house is starting to take shape, and the YouTube channel is starting to take off.
The house was built in 1806 by Alvin White, who was an early surveyor and assessor in the Canton and Russell areas, Mr. Manning said.
The Mannings bought the house because they saw it as an ideal location to raise their growing family of three children, Jace A. Manning, 6, Liliana B. Manning, 8, and Elspeth A. Manning, 2.
Both the house renovation and the YouTube channel have been a learning experience for the couple.
"I think YouTube is more difficult," Mr. Manning said. "You have to have content."
The channel, 1806StoneHouse, which has close to 200 videos, has almost 25,000 subscribers and is growing rather quickly recently. Mr. Manning attributes the growth to a couple of shoutouts from more established YouTubers, Life Alore and Homemade Home, and to a recent video that, for one reason or another, went a viral with more than 70,000 views in just a few weeks. By contrast, Mr. Manning's first video, posted in February 2010, has slowly grown to 88,414 views.
Mr. Manning can't explain the popularity of his recent video. It was about pouring a concrete floor in the basement.
The early videos have a much more home video feel to them. The pictures are often vertical, the lighting is poor and the composition is lacking. By purchasing a new camera, some lights and studying the techniques of other producers, Mr. Manning's videos have become much more sophisticated and geared toward YouTube's algorithm. For one thing, the videos are much longer.
"My last video is 35 minutes long," Mr. Manning said. His earliest videos are six or seven minutes long. This helps because YouTube likes longer videos, Mr. Manning said.
While accumulating YouTube skills, Mr. Manning has also gotten better at his house renovations.
"The very first window I did was the bathroom upstairs, and I totally made some huge mistakes on that thinking I could probably fix that with wood fill — with no experience with wood fill. So you learn that you can't," Mr. Manning said. "The next window I did still is not perfect, but it's better."
Mr. Manning posts one video per week. The slow nature of home renovation, done only on the weekend, he said, can get frustrating.
"Our subscribers are into it," Mrs. Manning said of the slow pace.
Currently, Mr. Manning has been working on flooring he created from old bleachers purchased from Saranac Lake Central School.
The comments on the videos are filled with tips, suggestions and some nastiness. Sometimes the tips are good, but many times they're not, Mr. Manning said. He makes a point of not engaging with the less civil comments.
Asking questions of viewers and suggesting people subscribe or comment are key to growing a YouTube channel, Mrs. Manning said. So is being careful that his content isn't misunderstood, Mr. Manning said.
"I think a lot about every sentence that comes out of my mouth," he added.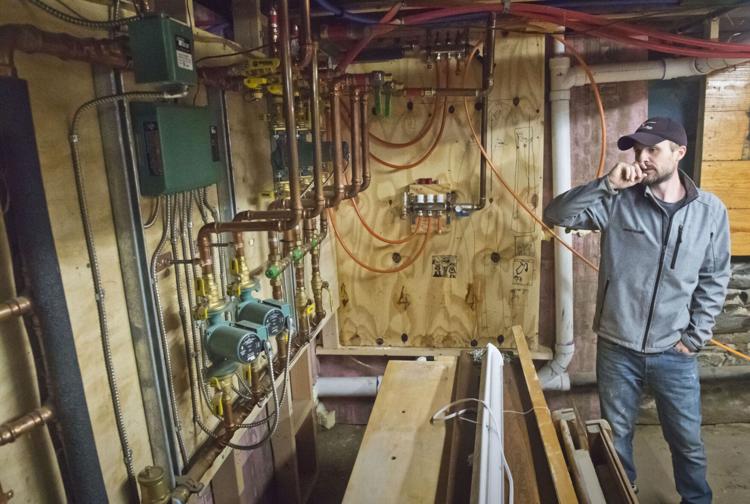 While he does make money on the channel, that isn't the most important aspect, he said. It's about sharing and growing a community. The money doesn't equal the amount of work that goes into producing a video.
"This is my hobby now," Mr. Manning said. "I work, I work on the house and I do YouTube."
The Mannings think they have about another year of work before they can move into the house, then they'll begin working on a wooden addition they're now renting as an apartment. Then it'll be the home where their kids grow up.
"This is our forever home," Mr. Manning said.