WATERTOWN — Earlier this fall, 6-year-old Noah Fiorentino fed the animals at Old McDonald's Farm without any difficulty. That may seem like a minium achievement for a child, but Noah's parents look upon it as a milestone.
Noah, the son of Robert Fiorentino and Joy Lee, Dexter, has high functioning autism with sensory processing disorder, attention deficit hyperactivity disorder, extreme anxiety and a history of epilepsy. His body is in constant motion and his mind never lets him rest as he continuously asks questions.
"He also loved the pony rides and had no fear getting up on them, wanting to ride more than once," Ms. Lee said of their visit to the family friendly ag tourism facility near Sackets Harbor. "In the past, he would struggle with his desire to ride and his inability to do so."
Noah's parents credit the nonprofit Faith Riding Center, Reed Road, Pamelia, with helping Noah to slightly break out of his shell. This past summer, he began lessons at the center, where its owner, Jessica L. Sheldon, combines her love of horses and occupational therapy.
"What Jessica and her horses have provided for Noah is a sense of peace in his mind and body, if only for a few hours," Ms. Lee said.
More importantly, Ms. Lee said the Faith Riding Center sessions have given Noah "the confidence and courage to actively combat his fears" and a way to "challenge his senses."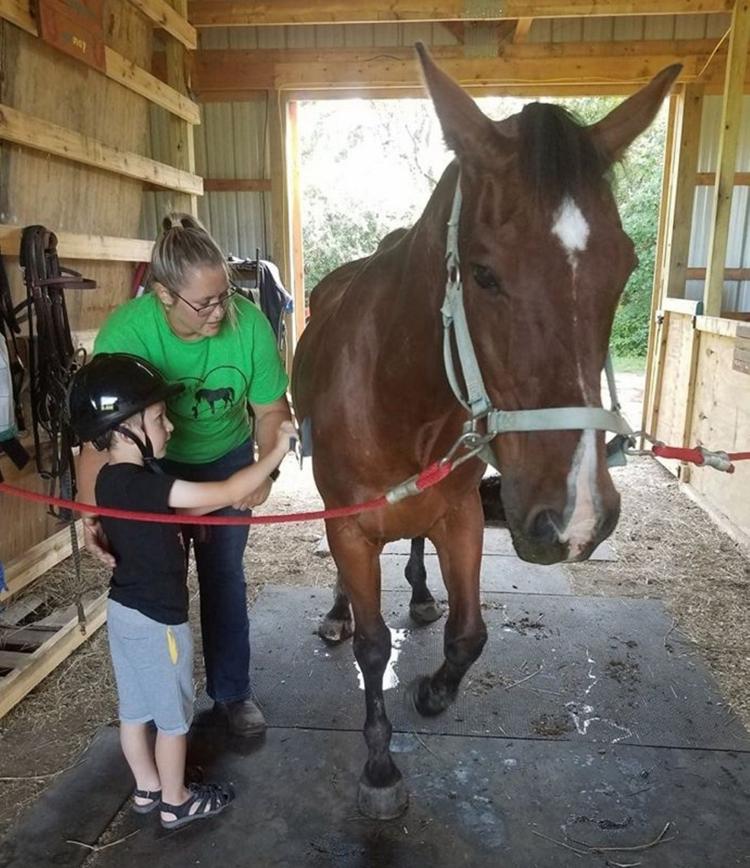 Hippotherapy is the use of horseback riding as a therapeutic or rehabilitative treatment, especially as a means of improving coordination, balance and strength. Its name comes from the prefix of the Greek word for horse.
"From a physical standpoint, the gait pattern of a horse is a triangular gait pattern, which mimics the way our hips and pelvis move when we walk," Mrs. Sheldon said. "When the rider is on a horse, its hips are moving like they are walking. It can help kind of refire those nerves that they may not be able to make work on their own, but it can help stimulate everything to help them."
Mrs. Sheldon founded Faith Riding Center in the summer of 2018. She describes it as a horseback riding facility where individuals of all abilities can come learn to ride and learn about all aspects of horsemanship. But she has given particular attention to people with special needs. She doesn't "technically" call herself a therapeutic riding instructor.
"It's just riding lessons for people with special needs," Mrs. Sheldon said. "I don't want to claim something that I'm not until I get that further certification."
Mrs. Sheldon has a master's degree in occupational therapy from Utica College. She runs her riding center as a part-time job as she works as an occupational therapist for Building Blocks and Samaritan Medical Center. She's cared for horses since she was a child, growing up in the town of Clayton, and later was a champion barrel racer. She was also inspired to pursue occupational therapy.
"That way, I'd have a little bit more of a background and I could do something more than just your basic riding classes," Mrs. Sheldon said. "There are plenty of places around here that do those. The closest place that does any sort of riding lessons for people who are differently abled is in Syracuse."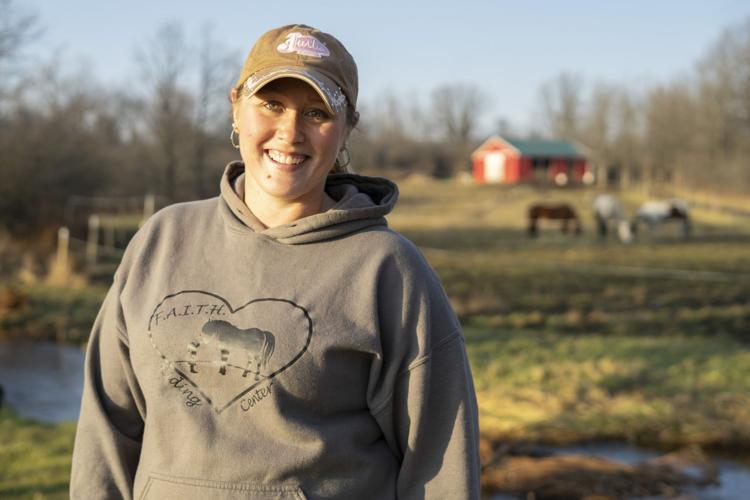 INSPIRED BY GRANDFATHER
Mrs. Sheldon pursued occupational therapy because of a bond with her grandfather, Robert E. Black, LaFargeville, who died at the age of 75 in 2013.
"My whole reason for going to college for OT was my grandfather," Mrs. Sheldon said. "He taught me sports, he was always there for my horse shows, supporting me any way he could. When he had a stroke, he lost all of his independence."
She was amazed at what the occupational therapists accomplished with her grandfather.
"He was always a man out puttering in the shop and building things with his hands," Mrs. Sheldon said. "Yes, he needed to be able to walk again, but for him, walking wasn't enough. He wanted to be able to be independent again and do things for himself."
The occupational therapists, she said, helped her grandfather accomplish that goal.
"He was able to do everything. He gained back all of his independence," Mrs. Sheldon said. "I knew I wanted to be that kind of driving force — to help people become who they want to be again."
Helping her with that mission at Faith Riding Center are three horses: TJ, 28, her retired barrel racing quarter horse who loves peppermints and Cheese-Its. Thor is a huge Percheron, approximate age 6, who loves apples and chin rubs and who was rescued from a kill pen in Oklahoma. Cherokee, 19, is a splashy "paint" horse with a coat of white and dark colors.
Riding a horse, Mrs. Sheldon said, is a multi-sensory experience that can be especially effective for children with autism, sensory processing disorders, social anxiety disorders and other issues.
"You get the sounds, the smells the feels," Mrs. Sheldon said. "The horses that I have are really compassionate and understand. I have kids who get up there and scream and make noises who can't talk, but my horses understand that and don't freak out. Horses are very accepting of whatever type of person comes their way. It's kind of a more judgment-free zone. The kid or adult can be themselves and they know the horses is going to be consistent. It's a sense of fun, but also a sense of challenge."
Noah is one of her clients that has come to appreciate those challenges.
"Often, he will talk throughout the entire session," Ms. Lee said. "But on the way home, he is quiet and relaxed. He must feel so much relief during those moments after riding."
Noah's benefits, his mom said, also continue in other areas.
"For instance, before riding (lessons), Noah would not easily feed another animal with his hand," Ms. Lee said. "He would pull away, whether it be out of fear or sensory avoidance."
If Noah doesn't go to Faith Riding Center in a while, he asks his parents, Mrs. Lee and dad Robert Fiorentino, when they are going again.
"We are so grateful for this experience," Mrs. Lee said. "When passion and career combine, you know you are living your best life. I believe that's why Faith Riding Center is superior."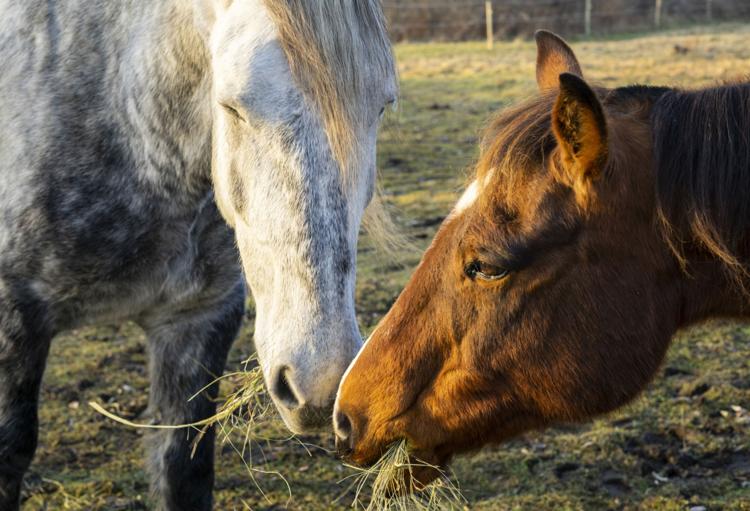 A CORE ISSUE
Vivian Andrews, who turned 2 in September, is the daughter of Jade and Jennifer Andrews, Clayton. Vivian suffers from the rare genetic disorder Prader-Willi syndrome.
"One of the hallmarks of that disorder is low muscle tone," Mr. Andrews said. "Her core muscles, when she first started out, were very weak."
Vivian's parents have seen an improvement since her Faith Riding Center sessions.
"Since she's been going to Jess's, her core strength has greatly improved and she doesn't want the help," Mr. Andrews said. "Jess is trying to help, and she's pushing her hands away and telling her, 'No!'"
Mr. Andrews said they try to bring Vivian to a session once a week. She's been going for about a year and usually rides TJ.
"The first time was a little nerve-wracking just because you're putting your 1-year-old baby up on this big animal," Mr. Andrews said. "But Jess was really calm with the horse and worked really well with Vivian as well. She got comfortable pretty quick."
Vivian, who has a sister, age 4, and a brother, 6, has taken her love of horses home, where the siblings enjoy playing on stick horses.
"They ride around on their little horse and have a good time," Mr. Andrews said.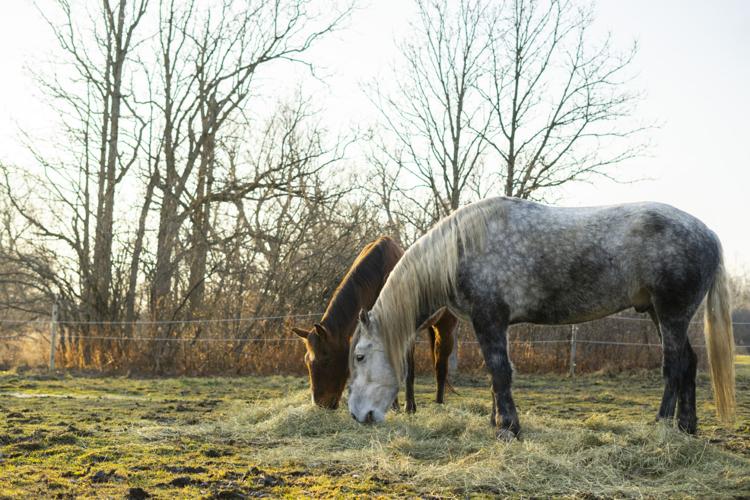 BACK IN THE SADDLE AGAIN
Timothy Taylor, 24, Glen Park, has a rare chromosome 6 depletion. He used to go to a horse-rising program about 15 years ago that was hosted by the Disabled Persons Action Organization, Timothy's mom, Tammy J. Taylor said.
"Unfortunately, he wasn't able to continue with the program," Ms. Taylor said. "Vocally, he was too loud for the program."
Timothy has been attending Faith Riding Center since it opened in the summer of 2018.
"Besides swimming in warm weather, horseback riding is one thing that Timothy really enjoys," Ms. Taylor said. "He usually hardly ever has outbursts when he's on a horse. He just seems to really enjoy it."
Ms. Taylor said she isn't sure what it is about horses that make Timothy calm.
"It's something about it, once he gets on a horse, he feels happy and calm," she said. "The only thing he doesn't like is the helmet. He's not a hat kid."
Ms. Taylor said that Mrs. Sheldon helps Timothy maintain his calmness.
"She doesn't rush him and is so calm," she said. "She just does it to do it. She really wants to work with kids and the horses. Timothy just loves her and enjoys it completely."
Timothy attends lessons once a week, even in these colder months. Mrs. Sheldon tries to continue operations in winter if the snow isn't too deep and a riding area can be plowed.
"Our plan is to do it year-round, as long as it's not bitter cold," she said.
"It'd be great if she had an indoor one (arena) so we could go all winter long," Mrs. Taylor said.
A sheltered, indoor facility is a goal for Mrs. Sheldon.
"The only thing stopping me from doing it full time is not having an indoor arena," she said.
Mrs. Sheldon's current barn, built with the assistance of family and friends, has three stalls.
"It's exactly what I envisioned when we bought this property because there was nothing, just open field," she said.
Reed Road is a dead-end drive and the barn is about 1,200 feet from the road.
"It's quiet back there," she said.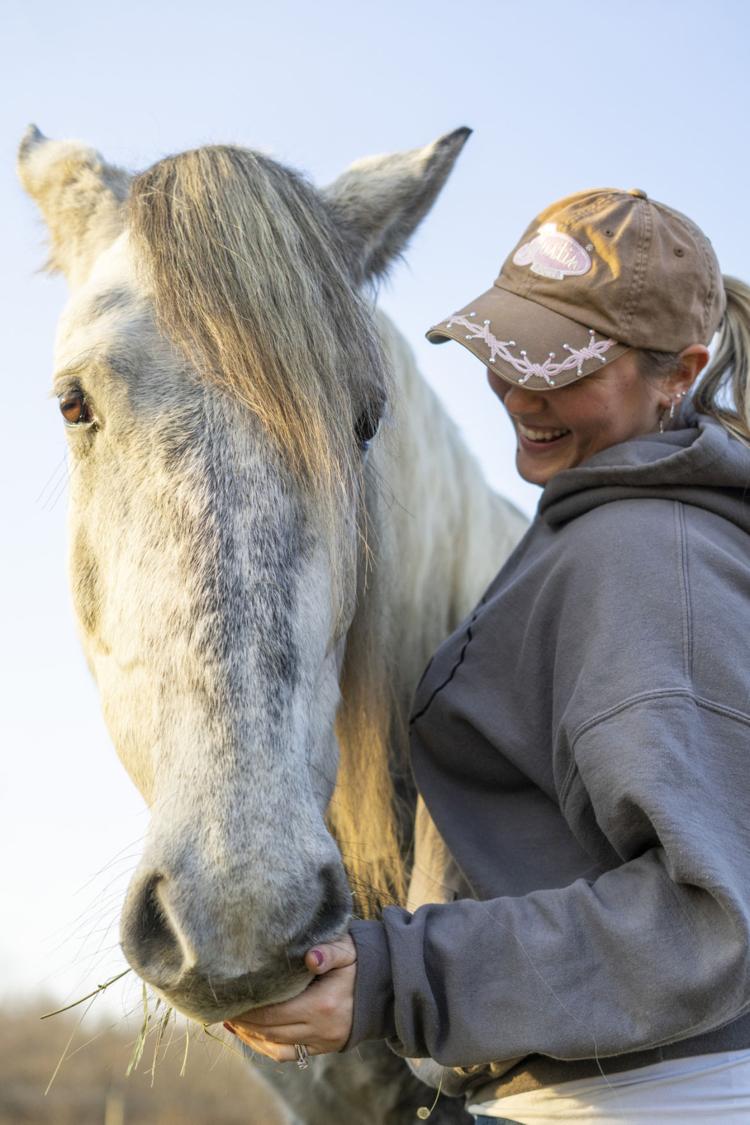 Mrs. Sheldon, daughter of Jeff and Christine Cupernall, is married to Copenhagen native Taylor Sheldon. They are expecting their first child in late spring and Mrs. Sheldon hopes to do some grant writing to help make an indoor facility an eventual reality.
"My biggest challenge, beside the weather, is finding volunteers to help because every lesson I do, I have to have myself and at least one other person, if not two, for safety reasons," Mrs. Sheldon said. "I just feel more comfortable there's going to be someone to lead the horse and someone to walk beside the rider and help them stay up on the horse. It's hard to find volunteers with schedules that align."