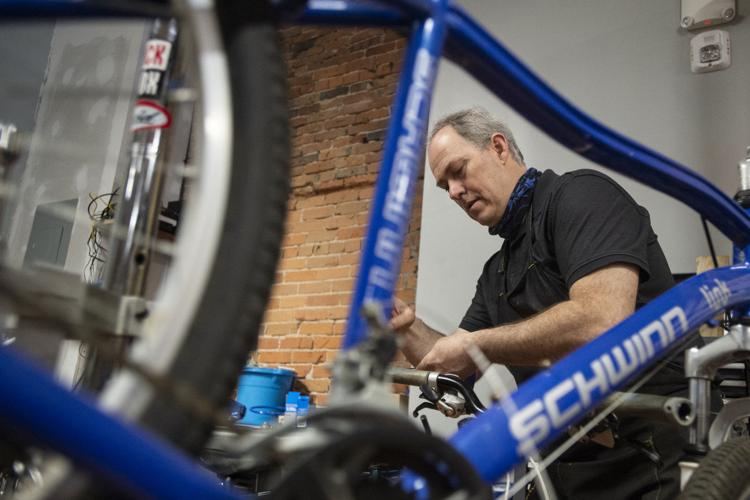 Jennifer Austin, co-owner of ReCre's Bike Studio has heard a familiar refrain the past several weeks from quarantine-weary customers seeking a temporary escape.
"Probably everybody who comes in, you hear the same basic story: 'There's nothing else we can do,'" said Mrs. Austin, who owns the shop at 138 Court St., Watertown, with her husband, Aaron. "They want to do something that is active. They're tired of sitting around, and obviously they want the kids to be outside."
The American market research company NPD Group recently reported that the bicycling market increased its sales by 31 percent to $1.3 billion in the first quarter of the year as people turned to bicycles for exercise, alternative transportation or just to get away from home for a while. Nationwide, bicycle shops have reported shortages of the vehicles.
"Even yesterday, we had a gentleman in here who said he hasn't ridden a bike in 20 years." Mrs. Austin said. "He said, 'You know what? This is something I can do. I can social distance and I can enjoy the neighborhood.' So he bought a bike. But that's the kind of story you hear over and over again. We had an older woman in here who hadn't ridden since she was a teenager, and she's probably in her mid-60s. You get people of all ages that are getting back on the bike or trying it for the first time."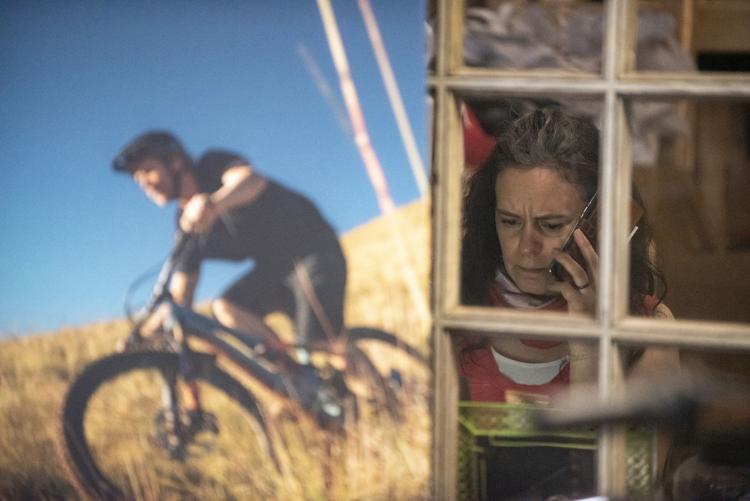 But local bike shop owners, like ones across the nation, are turning customers away because of a shortage of bicycles as more people rediscover, or discover, the form of exercise that doesn't require a team, just a desire to get out and go.
Todd Phelps, owner of Black River Adventurers' Shop, 129 Mill St., Watertown, said the demand is mainly for entry-level bikes.
"People are stuck not working and wanting to ride a bike," he said. "So demand has spiked and availability is non-existent now for almost everything. If you want to buy a $2,000 or more bike, we can still generally get those. So there is some nice carbon (frame) stuff out there."
On May 20, ReCre's Bike Studio received a shipment of 11 bikes.
"But that's not a lot in comparison to what we should have," Mrs. Austin said. "We scour, every day. Aaron is up late at night looking, trying to see if anything has popped up. And if anything does, he goes right on and tries to order it right away. Everybody is doing the same thing. We just got a shipment in, but literally our supplier, Specialized, they're out. Almost everything, when you go on their website, it says out of stock."
More often than not, bike shops can't match the right size and style of a bike for customers.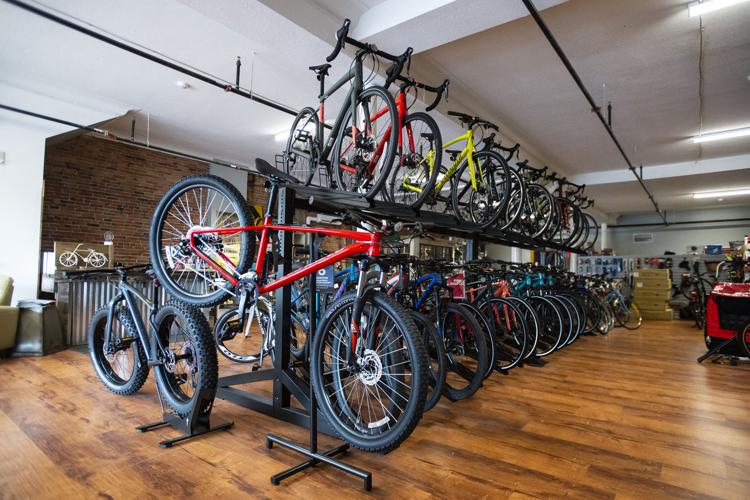 "It's basically when you come in, if we don't have your size in the price range you want, we're having to turn customers away because we're looking at July, August to get that particular type, color or size," Mrs. Austin said. "They're having to take whatever we have in shop, if they're willing to do that."
Jean-Pierre Lavigne, owner of Cycles Endurance & Sports at 25 Market St., Potsdam, believes the shortage was compounded when U.S. suppliers opened new accounts in hopes of generating new business.
"But this is not going to generate new business long-term," he said. "It's going to be short term, because once we get through this, everybody will be stocked up again and everybody will go back to their main lines. If the suppliers wouldn't have opened up new accounts, I think we'd be in a better situation to get bikes."
Mr. Lavigne, who has traveled across Europe by bike, competing as a triathlon and World Cup cyclist, and then working as a trainer, used to work for Giant Bicycles in the Canadian and U.S. markets. He said he still has contacts in the industry, which could enable him to take advantage of an uncommon resupply method for his shop. He said he was looking to purchase a shipping container of bikes from China. That country and Taiwan produce the majority of the world's bicycles.
"It's 165 bicycles in a 20-foot container," he said.
The 2021 models will start coming in around the end of July, early August, Mr. Lavigne said. But Mr. Phelps said that may not alleviate the shortage situation, as suppliers had to guess what models would be needed.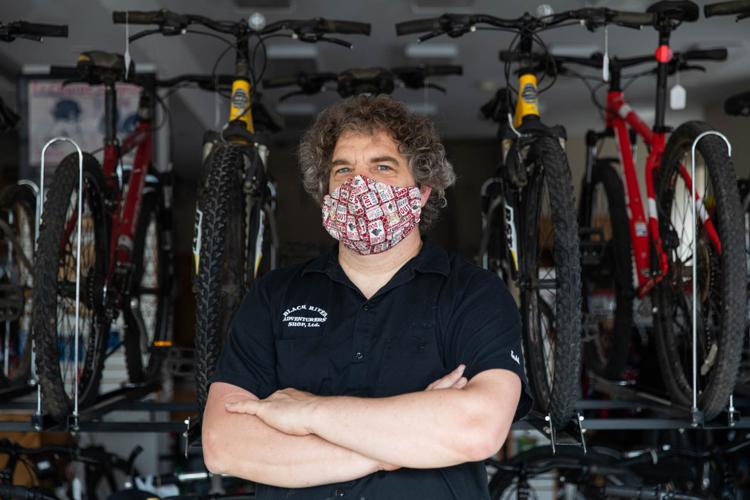 "A lot of companies will pick the best-selling stuff, or even move stuff around based on what they still have in stock," Mr. Phelps said."But at this point, nothing is in stock, so I'm sure they're all yelling at China to pick up production and to get them product before everybody else. It just turned into a major inconvenience for everybody."
Many retailers, Mr. Phelps said, began to see less stock beginning last fall when additional American tariffs were imposed on Chinese bicycles. Those additional tariffs have since been lessened.
"All of the companies ran really low inventories because they couldn't afford to pay 25 percent more than their competition," Mr. Phelps said. "Through most of the fall, they didn't order any new bikes from China. Around the new year, for whatever reason, Trump decided to get rid of the 25 percent tariffs on bikes. At that point, it was too late. The coronavirus had started hitting in China and shut down all the factories, all the shipping and pretty much everything."
"Right now, the turnaround time, if you order between 100 and 165 bikes, it's basically a 30-day turnaround," Mr. Lavigne said. "We'll be lucky getting the bikes by July. Whether the craze will be over or not, it's going to be one of those things.''
His biggest issue in bike supply, Mr. Lavinge said, is mountain bikes. About 10 days ago, he said he had two left in stock.
"And they're $650 an up," he said. "Anything that's below $600 retail is very hard to get our hands on."
The profit margin on selling a bike, Mr. Lavigne said, ranges between 15% and 28% "if you're lucky."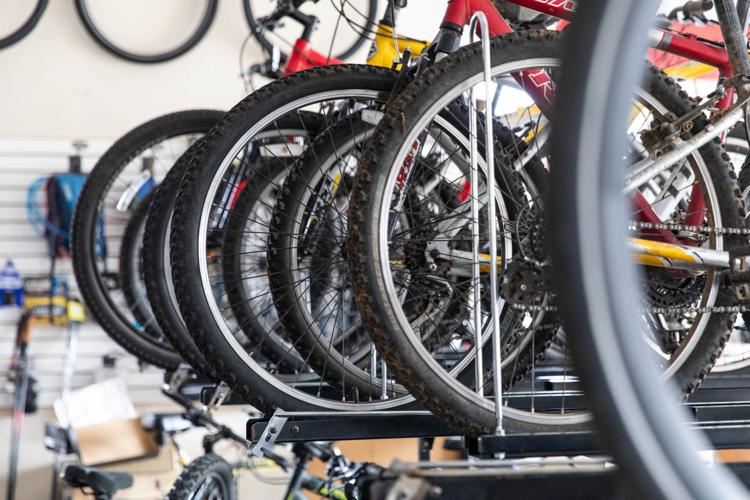 The coronavirus crisis is bringing customers into bike shops for the first time, and there's an advantage to that approach, according to the National Bicycle Dealers Association, such as finding the right fit, safety and post-sale service and adjustments as compared to when purchasing a bike at a mass merchant department store.
Mrs. Austin said that with people socially distancing, many customers are first making contact with queries sent over the Messenger app on the shop's Facebook page.
"We've gotten a lot of people who have been asking things like, 'I'm a beginner. What do you recommend?' I kind of field them, and Aaron takes over if it gets a little bit more technical. He's the tech guy."
New bike customers are asked what type of riding they had in mind, Mrs. Austin said. For example: on the road, community trails or off the beaten paths?
"Even though they might say a road bike, they don't understand that there's a couple different types of road bikes — more upright, cruiser style or full-out racing style," Mrs. Austin said. "So to really narrow it down before they come in, we discuss what type. Is it going to be a dirt path? A little bit of a dirt road? We go through those questions before they come in so that when they do come in, we've already suggested a couple models that they might be interested in and that we can show them."
A bike shop, Mrs. Austin said, can correctly measure a rider to match the needed bicycle size.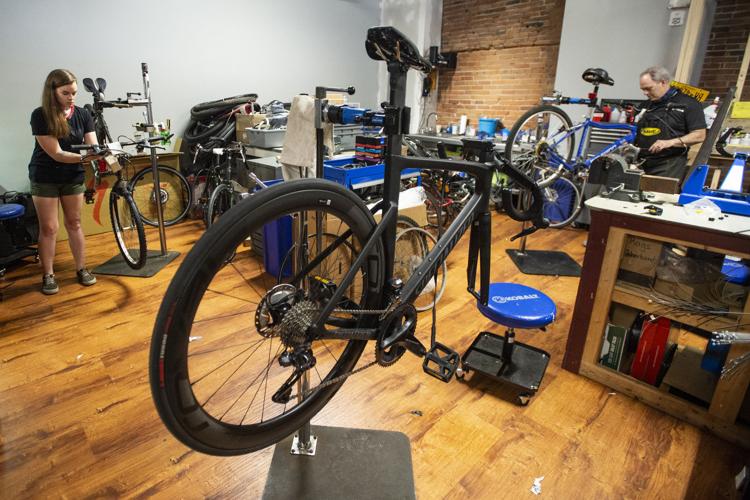 "If it's too small, your knees are in your face, your reach is too short and you're not comfortable, which means that you can easily get in trouble wrecking or what have you because you don't have the control that you should on a bicycle," Mrs. Austin said.
People may be surprised at the price of a quality bicycle, Mrs. Austin said, and to help prevent such a surprise, customers are asked about their bike budgets.
"If they don't realize it initially, we want to make sure we can offer them a bike that's within their budget if we have it," she said.
If ReCre's doesn't have a model in stock sought by a customer, the Austins may give a call to a bike shop in Oswego, Murdock's Bicycles & Sports, a Trek dealer, to see if it could help. "He does vice versa for us," Mrs. Austin said.
Mr. Lavigne, a KHS dealer, said that many of his customers are turning to bikes to help maintain fitness levels.
"The bike sales we are seeing are to people who like go to the gym on a regular basis and now they can't," he said. "The avid cyclists is the avid cyclist and they're never going to stop."
With people rediscovering bicycling, local shops are seeing more and more bikes in need of repair enter their shops.
"I'm seeing a lot of bikes from the '90s that have probably been in the garage for a long time," Mr. Lavigne said. "People are dusting them off so they can get something going."
The bike shop owners said the main issues of the bikes coming in for repair involve needing fresh tires and tubes, adjusting brakes and gears and oiling the chains and gear cassettes.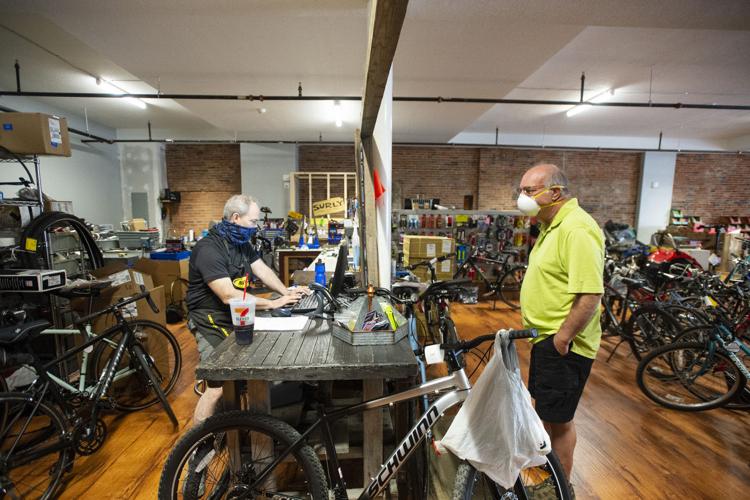 "The first thing that goes bad with an old bike is the tires and tubes because they're rubber and prone to degradation, just sitting around," Mr. Phelps said. "Almost nothing else on the bike goes bad because of age."
Whether old or new, Mrs. Austin said that she and her husband don't like to "discriminate" against bikes.
"We want people to ride a bike," she said. "If all they can do is go to a department store and pick up a bike, and if they were to bring it in here, we might be able to make sure that it's been assembled properly, make sure it's safe. We've seen the forks on backwards, brakes not properly put on."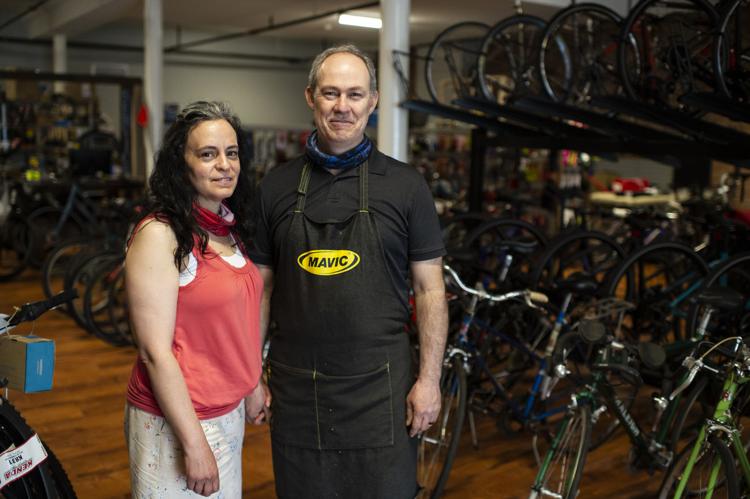 A rewarding part of their jobs for the Austins is greeting customers when they return from a test ride.
"When they come back, the biggest thing we see is the smile on their face," Mrs. Austin said. "The ability to feel the wind in your hair, the acceleration you feel, there's nothing like some of the other sports you can do. When someone's on a bike, you have that inner joy. You see it on a kid's face when a kid gets on a bike for the first time when they're able to ride by themselves without having mommy or daddy holding their seats. It makes you feel that way again."
Mr. Lavigne hopes that newfound sense of discovery found on bicycles continues for people after the coronavirus crisis.
"Is this going to be short-lived or long term?" he wonders. "In the industry, nobody will know. Right now, it's just because we're an option based on the gyms are closed and everything else. Whether this is going to propel us for the next two to five years as an option for activity? Let's hope so like it did in the early '90s when mountain biking became really popular."