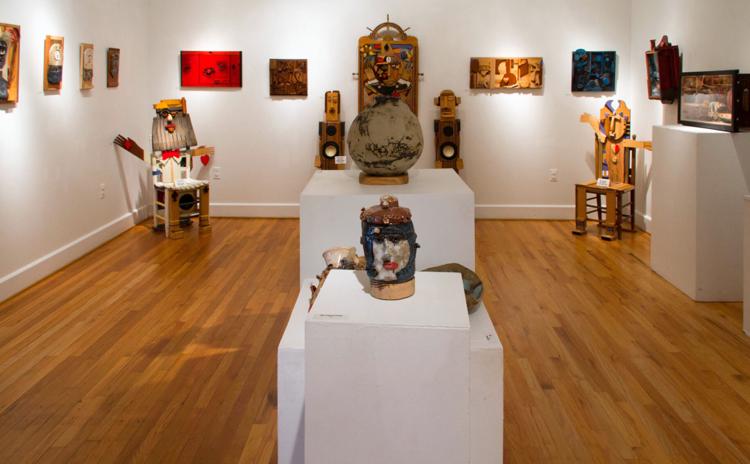 When I called Fred Feldman the other day at his home in the Blue Ridge Mountains, he was attending to an obsession.
"It's a beautiful day and I'm sitting at the kitchen table reading the latest equipment reports in Absolute Sound (magazine) on pre-amplifiers and stuff like that," he said from Asheville, N.C. "It's an addiction."
For years, his classrooms at Watertown junior and high schools were known as the hip places where the long-haired art teacher played the cool music, lent an artistic ear to students and shared his love of mixed media art pieces.
Now, that sense of "Feldmania" has spread to The Black Mountain Center for the Arts in Black Mountain, about 20 miles from Asheville.
His exhibit has a whimsical nature, from Fred's pottery, wall hangings, pen and ink and "speaker creatures."
"It's the first time I've ever seen like 25 of my pieces in a gallery setting all together with studio lighting and nice white walls," Fred said. "It's very impressive to me."
The exhibit "Feldmania: A Retrospective of 60 years of Productivity by Local Artist Fred Feldman" opened on July 10 at the center and concludes on Saturday.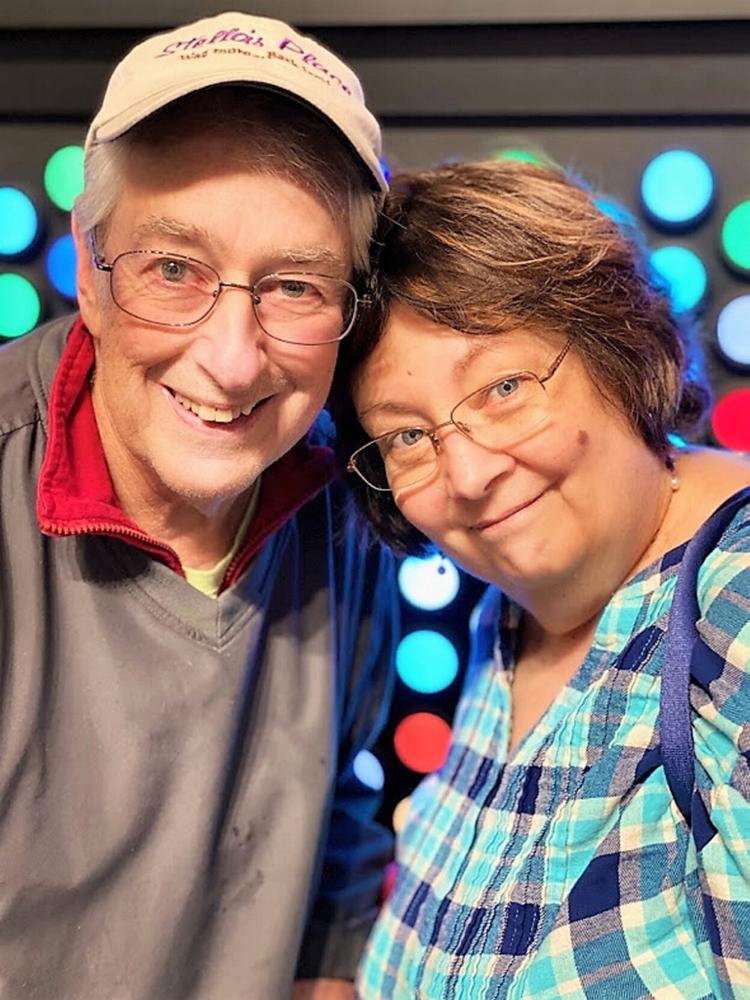 The arts center closed down in the spring due to the pandemic and reopened in mid-June, with restrictions. Its gallery usually features out-of-state artists, but not during pandemic-related travel restrictions. Gallery officials didn't have to look far to create an exhibit with a local connection. Fred's work has been featured at various exhibits at the center.
"They asked, 'Would you fill in?" And I said, 'Sure!'" Fred said.
If he has a knack for being in the right place at the right time, it's what helped him to land a teaching job in Watertown beginning with the 1964-65 school year when the New Jersey native was fresh out of Rutgers University.
"I was about to get drafted and I just had a bachelor of fine arts," Fred said. "Watertown got in touch with me, saying 'If you want to come up here, we'll give you an art teaching job, a draft deferment and we'll give you a track coaching job.'"
For Fred, 79, a runner since high school, it was an offer worth checking out.
"I borrowed my father's car, took a ride up to Watertown and the people were so nice to me," Fred said. "And they said they had no male teachers in the junior high school and that they'd like to institute the beginning of that and asked if I would be the one."
It all sounded good to Fred.
"So that's the sordid story. If you're an ex-military man, you might hate me for that, but that's how I got there."
But there was a minor stumbling block.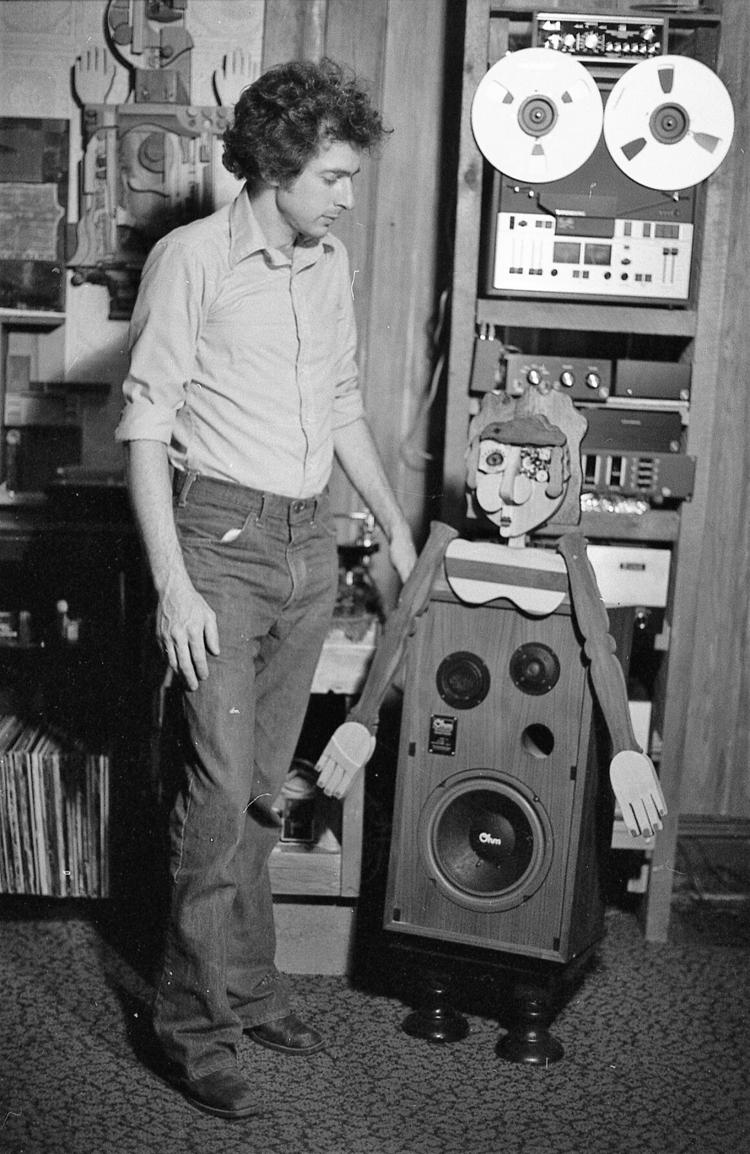 "They said, 'Well, you're not certified in education, but we'll waive that while you get your certificate while you're teaching.' And they said, "Since you're going to get paid $500 less than certified teachers, we'll give you $500 to be assistant track coach."
Yes, it was the free-wheeling '60s.
"It was a great time," Fred said. "I had no art education background. So I was kind of watering down my college art courses and introducing them into junior high. And I was playing a lot of music in the classroom. People wanted to be there. I enjoyed it thoroughly."
Even his track team did well.
"Whatever loop we were in in the state, we actually won the state championships," Fred recalled. "I was in charge of the runners and some of the more brawny guys — the weight lifters, javelin throwers, stuff like that. And I still get letters, emails, from some of the kids that I coached. It's all part of the good side of teaching, when you hear from old students."
"Fast Tony" is one of those "old students."
"He always got me motivated to run," said Tony Bova, who was on the 1965 WHS track team that won that year's sectionals. "He was very influential. I loved the guy. He always called me 'Fast Tony.''
Mr. Bova's specialty was the quarter mile — one lap around the track, which later became the 400 meters. His best time was a blazing 49.9 seconds.
"You get out there and run like hell, or, as Fred used to say, 'Run like the wind!'" he said.
Mr. Bova, who played for the Watertown Red & Black football team for five years beginning in 1969, said he and Fred are close age-wise, which helped to influence their friendship. Mr. Bova turns 73 in October and still calls Fred, "Coach."
"We ended up being friends after high school because of our association with the track team," Mr. Bova said.
In his art classes, Fred was well-known for his mixed media instruction and creations.
"It started as they cut the budget continually," he said. "I would go down to the wood shop, grab scraps and use them for my classes. And I'd go around to the carpet stores and get their cut-off pieces. I was always scrounging for stuff."
That spirit, making "stuff" into art, is on display his "Feldmania: A Retrospective" exhibit.
"One thing that struck me immediately was a real commitment to his style and his ability to maintain that line through all the different medias that he utilizes and is interested in — clay, wood, stereo equipment," said Charles Freeland, clay studio manager at the Black Mountain Center for the Arts. "It was very easy for me to have a retrospective show of his work because I could put a whole wall of one thing and at the end of that wall, it'd tie into the next wall."
"Feldmania" is setting records at the Black Mountain Center for the Arts. At a normal exhibit, the center would sell items from the exhibit at the center. The pandemic has prevented that.
"But we put all of Fred's work from the show online," Mr. Freeland said. "We've been able to sell some of his work that way. In fact, to date, in terms of the shows we've had since the beginning of the center, (in 2001) Fred has sold more work than any other artist in our history."
Fred said proceeds from what he sells go back to the center.
"I like to joke with Fred that everything he does is a self-portrait, because even if it doesn't have a face, which is very rarely, the shapes and the lines still lend themselves to saying something about him," Mr. Freeland said.
The retrospective has put a small dent in Fred's art collection at his home.
"He has a real inventory at his house," Mr. Freeland said. "There's no wall space that's empty anywhere. From bathroom to laundry room, there's something on the wall. We vacated quite a bit of that to do the show, but with every good artist, there's a garage full of things too."
Mr. Freeland, who has been working at the center for 10 years, has become good friends with Fred, who was the best man at his wedding two years ago. They enjoy activities ranging from attending ball games to "dumpster diving" for old wood pieces to turn into art.
Fred, a life-long audiophile, opened Happy Ear Stereo in Watertown in 1979 and managed it for 25 years before it closed. He also builds speakers, mixing that craft with art.
"I've got these old chairs that I've collected and built speaker systems into the chairs," Fred said. "Some are on display at the show."
Fred used his "scrounging" skills in 2005 when Meadowlark Audio, a maker of high-end residential speakers, shut down its Watertown operations.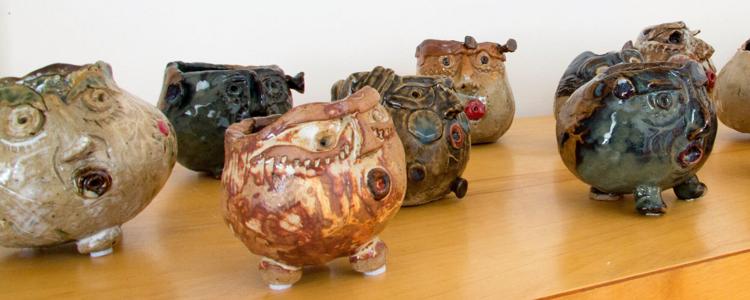 "The bank called me and said they had all this wood and tweeters and woofers and pieces of electronics and didn't know what to do with it. They said, 'How about making us an offer to take if off our hands?' So I did."
Also left behind were the schematics for a top of the line speaker. They were to retail for $17,000 a pair, Fred said. He built the speakers with the help of his son, Jacob, now a lawyer in California.
"We've got them as our main speakers here," said Fred, who also has a daughter, Jesse, a writer in Brooklyn.
Overall, Fred has about a dozen pairs of speakers dotted throughout his home.
"I still have stuff left in my garage to build another 20 pair if I had to."
"Feldmania" spans decades of his work, going back to when he was a college student. A Rutgers professor gave him a kind-hearted nudge to pursue art.
"I was doodling in chemistry class when the professor came up and said, 'Have you ever been over to the art department?' That's when I left the pre-pharmacy program and went to join the arts program at Rutgers and never looked back."
One of the pieces at his retrospective dates back to those college years.
"I was assigned to take a piece of cherry wood about 12-by-12 and cut a page from 'The Canterbury Tales' with a drawing on it and in Middle English," Fred said. "Everybody in the class had a different page to do. In the end, we were going to print these blocks and make a book out of it."
Fred retired as a school district teacher in 1987 but continued his part-time instructor position at Jefferson Community College, which he had been doing for years. He waited for his wife, Lynda, to retire as an instructor at JCC before looking for a community to retire to 13 years ago.
"We said, 'We're not going to shovel snow anymore' so we went looking for places and Asheville came up on the list of good places to retire to," Fred said. "It's a quiet little artsy-fartsy town."
The couple sold most of the things in their north country home, except for their music collection.
"We moved about 2,000 vinyl records, which I play mostly," Fred said. "We haven't really embraced digital yet, but we play music constantly."
Fred keeps in touch with some of his Watertown buddies through annual golf outings. His friends head south for the links and laughs.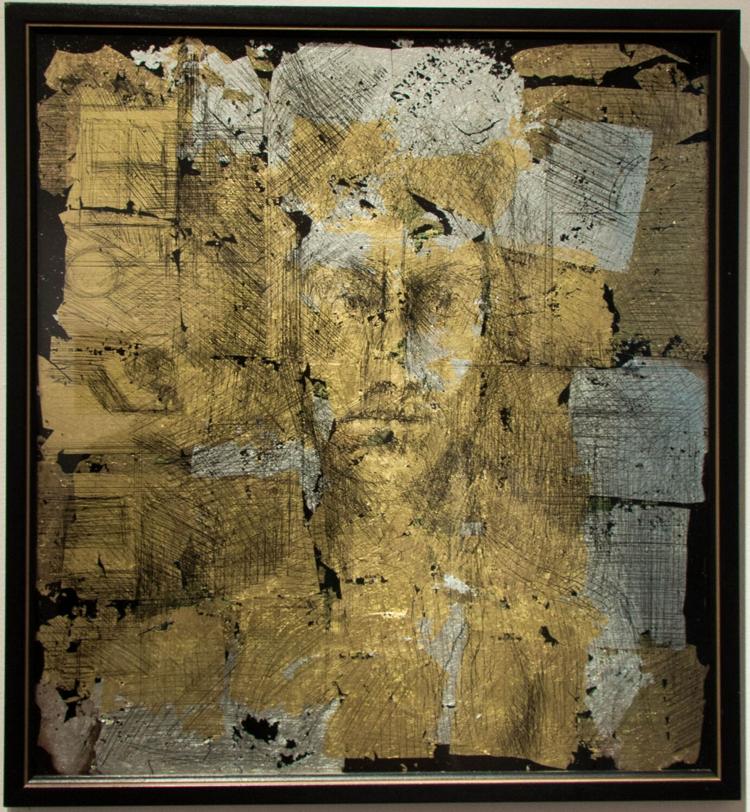 Asked about the overall quality of life in Asheville, Fred said, "Oh, gosh. It's good. It's really good."
He noted that he doesn't own a snow shovel. But if he found such an implement of torture in a dumpster or along the side of a road, he'd know what to do with it.
"Fred is really good at picking up stuff along the side of the road and turning it into a masterpiece," Mr. Freeland said.
"Sunday Portrait" is an occasional column featured in the Watertown Daily Times' Sunday edition. Write to Chris Brock at cbrock@wdt.net or at the Watertown Daily Times, 260 Washington St., Watertown, N.Y., 13601.