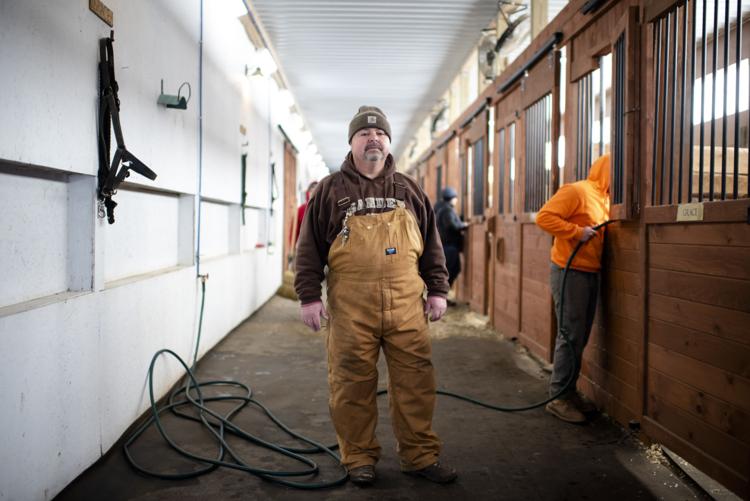 When Leon L. France Jr. became the first child in his family to leave home, it wasn't for college, the military or for a far-away job.
It was a journey to put him on the right path; to escape a life of law-breaking, intoxication and a general path of destruction.
He found that salvation at a pastoral expanse in the town of Pamelia, where friends and family recently gathered to help Leon celebrate.
In December, an anniversary celebration was held for him at The Farm, a residential rehabilitation facility for youth on County Route 16, town of Pamelia, operated by Credo Community Center. The Watertown-based agency provides integrated treatment that addresses both substance use and mental health needs of clients.
"His story is pretty amazing, and he has impacted many lives," said James P. Scordo, retired executive director of Watertown-based Credo.
Leon, 57, first arrived at The Farm in 1979 as a dissolute 17-year-old. He's been working at the 115-acre facility for most of his adult life, providing guidance like the kind that put him on the right path decades ago. The December celebration was for his 40 years of sobriety; just one of the success stories at Credo, which has a mission of "transforming lives through quality treatment."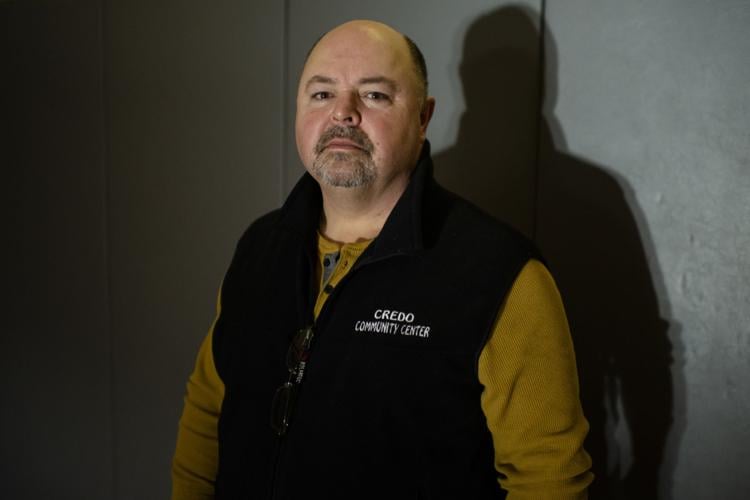 "I haven't drank, smoke or done any drugs in 40 years," Leon said at the end of one his work days earlier this month. "Most people don't believe it. It's like, 'How does that happen?'"
It happens, he said, "from the people in front of you."
"The good thing about Credo is that people never leave, really," Leon said. "I have friends here I've had for over 40 years. That's hard for people to say. They're in recovery and I met them here. They work with me and I work with them."
Many of those friends, some from out of state and as far away as Kansas, returned to the Credo Farm last month for Leon's celebration. It was a world away from the mood Leon experienced when he first came to Credo.
Leon remembers the exact day: Dec. 10, 1979. It was also the beginning of five years' probation. His father, mother along with his two brothers and two sisters, all born about a year apart, made the trip to from their home in Fulton to drop him off at The Farm.
"It was shell shock, awful," Leon recalled of his first day at The Farm. "It was like landing on Mars. I was the first child to leave home and it was traumatic for all of us. I cried a lot on the way up here. It was like, 'Where does my life lead me? To This?' I think we're an emotional family anyway. We had suffered a lot, so the tears came pretty easily for us."
Leon began making bad decisions before he was a teenager, he said — smoking cigarettes and "being unruly" around the age of 12. He also began smoking marijuana.
"By the time I reached my freshman year, I was smoking pot every day, drinking as much and going to a lot of parties," he said.
His four siblings didn't follow his path. He said they were all good students and tried to talk sense into him.
"But they become the enemy," he said. "Anybody who tries to stop an alcoholic is an enemy. It's the same with a drug addict, even if it's your mother or father. They become enemies. You stop communicating and start isolating yourself more from them."
At age 17, he was arrested.
"I was drinking at a bar one night and all of my friends left," Leon said. "I would always be the first one there and the last one to leave."
He left the Fulton bar after it closed in the early morning hours.
"I walked down the street and there was another bar closed, and I just broke into it," he said.
He stole as much liquor as he could carry.
"I was walking down the main street of Fulton with two cases of liquor, at 17," Leon said.
The situation escaped the notice of police, but he was arrested for the crime two weeks later.
"I had so much alcohol," he said. "Everybody on my block was drinking it. Kids were getting sick."
He was released on his own recognizance and Farnham Family Services, an Oswego-based addiction treatment center, did an assessment to determine "his issues," Leon said. A young woman was assigned to his case.
"I think she was doing her internship or something," Leon said. "She'd pick me up and take me to Burger King, and we'd just talk. It got me away from everything. I don't even remember talking very much. But it left a huge impact on me. She didn't pressure me. It was just being able to connect. After I got here, you look back and ask: 'Who are the people that were important in my life?' She was one of them."
Around 1994, Leon said, while he was working at Credo, he attended a training session in Syracuse, where all attendees wore name tags. The woman from Farnham who took his case as a teenager noticed his tag and re-introduced herself.
"That was moving," he said. "I had always thought about her and wondered, 'What is she doing today?'
"God, I wish I could remember her name," he said.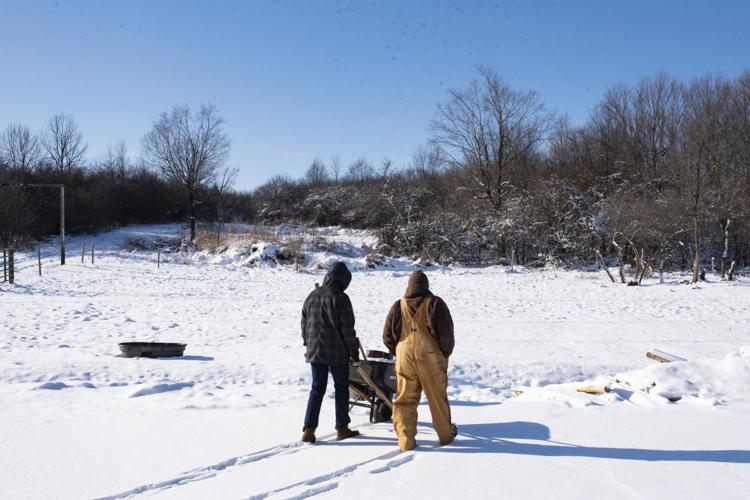 Leon graduated from the program at The Farm in December of 1980. The typical length of a stay at The Farm varies by individual, but generally lasts 6 to 12 months.
The Farm has been operating since 1973 and has helped transform the loves of hundreds of young men age 16 to 20. Participants examine the impact of addiction on their lives and to confront non-productive patterns that have led to drugs and alcohol.
The "farm" treatment/rehab took Leon by surprise.
"I thought treatment would be there would be white coats taking notes and you're going to give them a bunch of BS and you'll get out in a year and go back to whatever you want to do. But it wasn't like that at all. This was a different animal all together."
Routines and responsibilities kept him occupied. There was gardening, tending to animals and other chores. He and other clients played sports and laughed with one another.
"When I look back and analyze my stay, I can say I had an opportunity to recapture some of my childhood — some of my innocence by being here," Leon said. "Because when you're 17, you think you have to grow up fast, become a man and do man things."
He learned to appreciate the hard work at The Farm.
"It was good for your spirit, good for your soul and body. We ate good and slept good at night. There was no medications. There was no aspirin in the house that I remember. If you had a headache, drink some water and talk about it."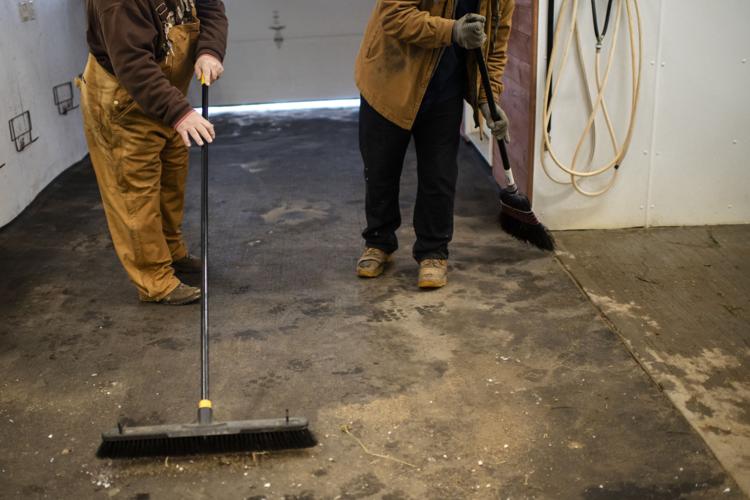 Mr. Scordo, who retired as executive director in June but who is now a part-time Credo project manager and consultant, said Credo's approach to rehab has changed over the years. In the 1970s, the approach could be "confrontational," Mr. Scordo said.
"I think today's approach is much different, utilizing motivational interviewing, trying to meet the client and patient where they're at and more focusing on their strengths and a strength-based approach, rather than a deficit approach and what their shortcomings are," he said.
Leon didn't graduate from high school, but he received his GED as a Credo client. He said that when he graduated from The Farm, he made his first "adult decision" and went into Credo's after-care program at its halfway house on Winthrop Street Watertown. He soon got a job at Credo and eventually a position as a counselor. He now mixes that job with duties of his official title, property supervisor.
"But I don't have to sit down in a room and have to do a write up," Leon said. "I go down to the barn and fix a tire and I'd have two kids learning how to fix that tire. We're talking about skills and life: 'What are you doing here?' I love that. And they're not under pressure to give the right answer. It's a different opportunity for them to talk to somebody who has lived here."
"That's kind of been Credo's approach to counseling," Mr. Scordo said. "It doesn't have to happen in an office and four walls. That's the beauty of The Farm program."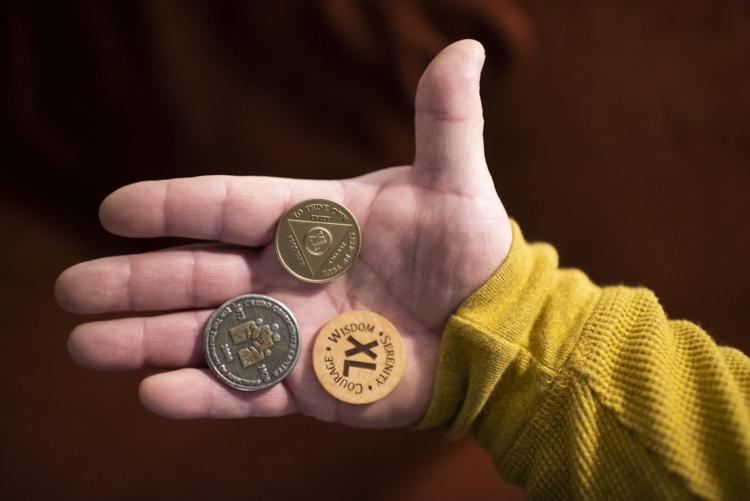 Leon has worked at Credo all his life except from 1985 to 1993 when he took a job at the paper mill in Deferiet, which closed in 2004. While at that job, he was on the board of directors at Credo and remained in contact with officials and former co-workers. While at his paper mill job, Mr. Scordo said he helped to steer a $30,000 donation by his employer to Credo, which enabled the agency to purchase a van, put up a garage and a woodshop.
Eventually, he was asked to come back by Mr. Scordo.
"We were about to expand our adolescent program at The Farm," Mr. Scordo said. "I knew what kind of counselor he was and I wanted to see if he'd be willing to come back."
To help sway Leon's decision, New York state offered an incentive: it gave people with five years' experience in counseling grand-fathered credentials for a Certified Alcohol and Substance Abuse Counselor (CASAC) certification.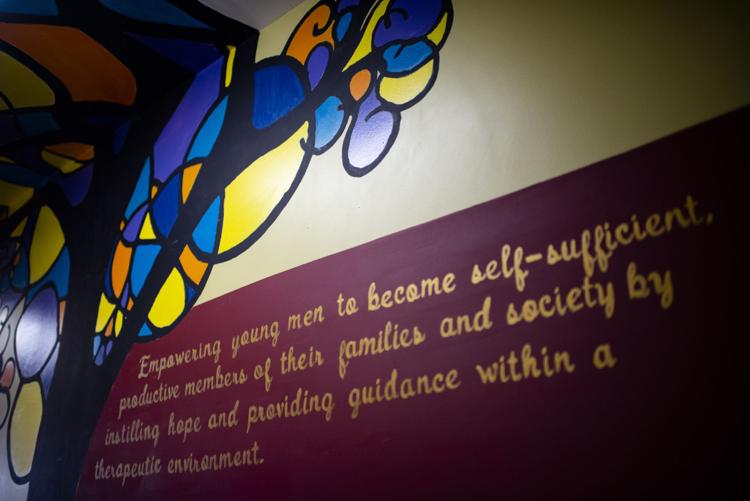 "I have a GED and a CASAC," Leon said. "I have children who are older than some of the staff."
Leon and his wife, Toni, live in Brownville and have two adult children and three grandchildren. Leon is on the planning board in the village of Brownville and is a former volunteer firefighter. He remains close to his siblings in Oswego County.
"He's always been the type of guy who'd help out anybody and he gives up his time," Mr. Scordo said.
Credo, Leon said, has changed everything for him.
"It wasn't supposed to happen — to live this long and have a quality of life that I didn't really expect. I didn't see myself as being successful."
It hasn't all been smooth sailing.
"Life hasn't been perfect," Leon said. "I've made some mistakes as an adult."
But moments of inspiration and "spiritual awakenings" have sustained his fortitude. He thought back to one such spiritual moment shortly after he came to The Farm in the 1970s.
"It rained, we had a sun shower," Leon recalled. "The garden was pretty much in full bloom. I walked out of the house and walked down those rows that we manicured immaculately."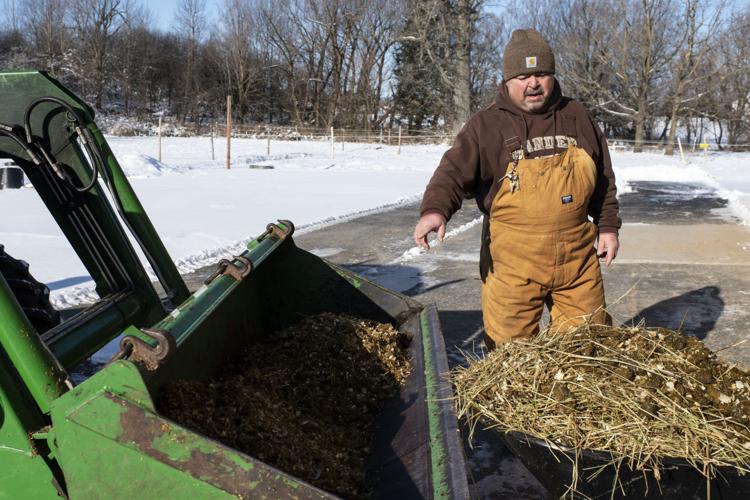 There were no weeds in the freshly-sodden garden. The symbolism wasn't lost on him.
"You learn to pay attention to detail with whatever is happening to your life and you don't make stuff up, lie or manipulate."
Divine guidance, he believes, has helped him succeed.
"God has a plan for us all, and I figured this was his plan for me. There's certainly been a lot of dark days, but I never lost faith that there was something to learn from it."
"He just made some poor choices and when he went to Credo, he learned how to live a different life and how to do that without the use of alcohol and drugs," Mr. Scordo said. "He's just held on to those principles — giving back and helping somebody else out."
"Sunday Portrait" is an occasional column featured in the Watertown Daily Times' Sunday edition. If you have an idea for a column subject, Write to Chris Brock at cbrock@wdt.net or at the Watertown Daily Times, 260 Washington St., Watertown, NY, 13601.