"Speaking of Americana and the hardest working generation of all time," a reader suggested, I should pay a visit to Anthony J. ("Frecks") Marra.
Tony is 86. I caught up with him during one of his days off last week at his home on Watertown's East Avenue.
"I was going to quit when I was 80," he said in the back room that overlooks his home's back yard. "And then I said, 'What am I going to do?' So I keep going."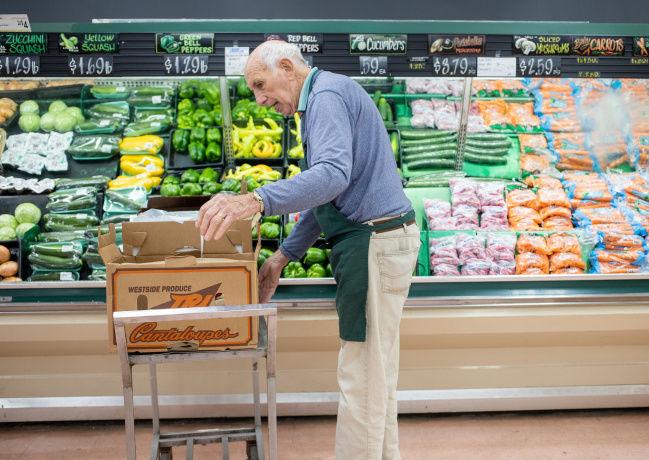 Tony can be found coming and going three days a week at the Great American supermarket on State Street. He's been with the store and its previous configurations for 68 years.
He works 7 a.m. to 11 a.m. on Sundays and Wednesdays and 9 a.m. to 1 p.m. on Thursdays, and more hours when needed.
"It gives me something to do," Tony said. "I like to work, for one thing. I like being there, meeting people. People stop and talk to me and everything."
Phyllis, his wife, is amazed at his dedication.
Let me tell you something," she said. "He's worked there for 68 years. He never took a sick day."
He did have a couple of operations that required planned time off, but Tony has never gotten up on a work day and decided, nah, he wasn't going in.
"I know one time, he was in the emergency room all night," Phyllis said. "He thought he was having a heart attack. He came out of that hospital at 8 o'clock in the morning and went to work. He's got the best work ethic of anybody I've ever known."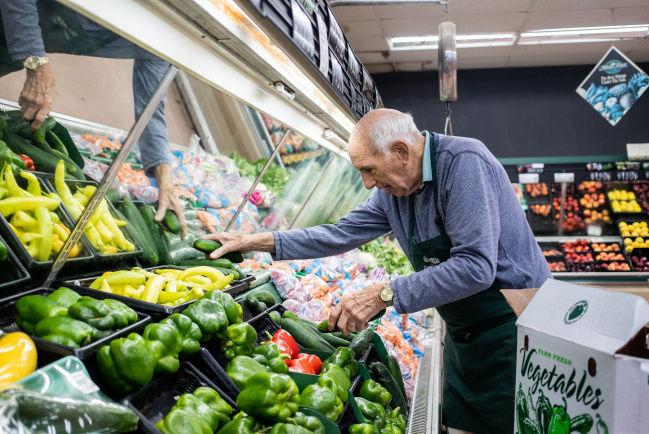 His specialty is the produce department, something he grew into while growing up in "The Sand Flats" area, north of Arsenal Street on the city's west side. A large population of Italian immigrants settled the area. Tony was one of eight children of Philip and Elizabeth (Messina) Marra. Philip was born in Italy in 1895, came to the U.S. in 1912 and married Elizabeth in 1920. They lived most of their lives on Palmer Street, where Tony was born.
"My father had a truck garden down there that he sold vegetables out of," Tony said. "When I was a kid, 12 or 13 years old, he bought me a wagon and I peddled vegetables up and around the south side. There were about four of us kids who did the same thing every day. That's where I got started with vegetables."
"I did very well," Tony said. "My father was working for about 40 dollars a week. I used to bring home 10 to 20 dollars a day."
Tony graduated from Watertown High School in 1950, where he excelled in baseball, which earned him a scholarship to Ithaca College. He attended the school for a year.
"I wasn't a college person," he said.
His baseball skills were honed as a youth in "The Flats."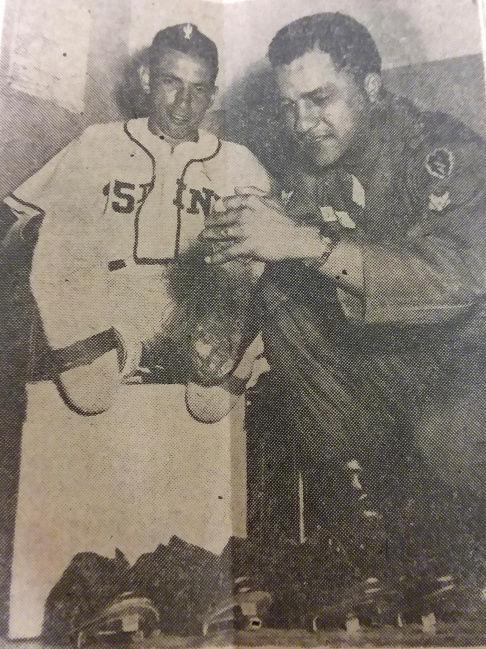 "We had a field down there," Tony said. "We used to go down there just about every day. We never worried about having enough kids to play. We had three houses side-by-side down there, the Derrigos, the Spanos and the Marras, 27 kids."
After his year in college, he worked for one summer at Johnny's Fruit Co. on Court Street. In 1951, he went to work for Loblaw's, at the corner of State and Polk streets, which opened in 1939.
His baseball skills as a pitcher created a brief detour from his supermarket career. In 1953, he was given a tryout with the St. Louis Browns. Tony, a sidearm pitcher, showed his talents with his fast ball and curve for two weeks at the tryout in Georgia.
"I developed a sore arm down there," Tony said. "They offered me a contract with the Georgia-Florida League for $125 a month. I couldn't do that so I came back home."
He returned to his job at Loblaw's, which included four years on the night crew. He was with the store when it moved to State Street, the current location of Great American. Tony recalled when the $500,000 Loblaw's opened in 1955.
"It was a flagship. We were so busy we had to have a cop outside directing traffic. We were the brand new store. We did a great business."
Tony worked as a clerk, punching in prices manually for customers at a cash register.
"That store was so busy, we had a cashier, a person who took the money and two baggers at every (six) register," he said.
In 1956, Tony was drafted into the Army. From 1956 to 1958, he served with the 35th Infantry Regiment of the 25th Infantry Division. He was based at Schofield Barracks in Hawaii.
"It was tough duty," Tony said sarcastically. "I was a radio operator. But I played a lot of basketball. I was lucky over there."
Tony stood at 6-foot-3, and was quickly snatched up for a team when one of his commanders asked if he played hoops. He replied in the affirmative. He also played baseball in the Army.
"The company commanders wanted to win," he said. "I was treated pretty good." He returned to Watertown and married Phyllis, a 1954 graduate of WHS, who retired from the district as a school secretary. He noticed her in 1951 when he attended a school football game.
"She was a twirler with the band. I knew her girlfriend so I asked her, 'Do you think she'll go out with me?'"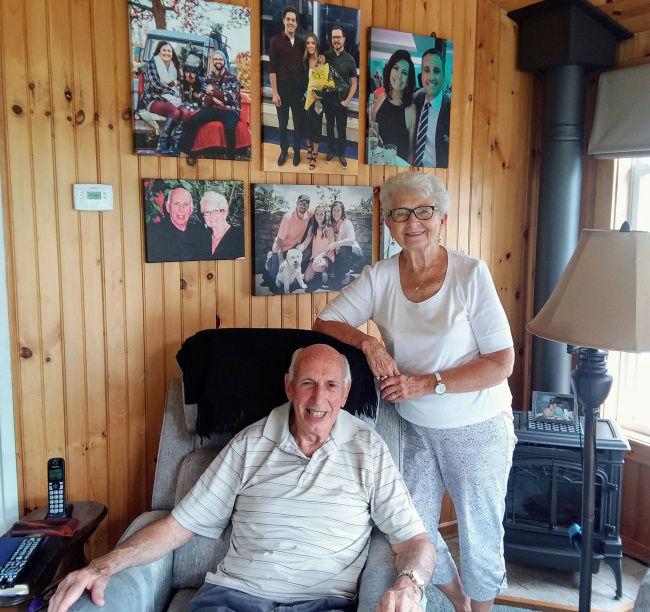 They married in 1958 and bought their East Avenue home for $8,000. Tony was still employed by Loblaw's and was produce manager in 1977 when Loblaw's was bought by Great American. The Great American's State Street store opened during the Blizzard of '77, with company presidents and vice presidents stuck in town and holed up at the Holiday Inn. There was no power at the store when it opened, Tony said.
"They opened the store and I set up the produce department with a flashlight," Tony said. "People came in and we took them around with flashlights to buy their groceries."
Tony decided to "retire" from full-time duties in 1993 at the age of 60, due to a magnanimous gesture on his part.
"One reason I retired is because they were closing the Great American store up in Gouverneur," he said. "They had a good produce manager there and they didn't know what to do with him. So I told the supervisor that if they wanted to bring him down to Watertown, I'd retire. But I said I wanted a part-time job and winters off to go to Florida. He said, 'You got it!'"
Harold W. "Butch" Prashaw is the produce manager who came to Watertown due to Tony's gesture. He now managers the Price Chopper store in Alexandria Bay.
"I knew of him," Harold, 61. "He was like the king of produce back then. I had two babies and a new home."
Harold was with the Watertown Great American for three years and learned a lot working with Tony. "He had a reputation," he said. "He was the go-to person."
Great American stores were eventually sold to independent operators. Since 1996, the Watertown store has been owned by Randall D. "Randy" and Kim Lockwood. The couple also own the Great American store in Star Lake.
"I've been running the store for 23 years now," Randy said. "Tony has seen it all, but in my 23 years, I couldn't have asked for a better person to work under me. He's the eponymy of what you would want from any employee and he goes way above that."
But it's more than Tony's work ethic, Randy said.
"He makes everybody around him better. He'll go out of his way even if he doesn't know the customer or other employee. He'll be the first to give a lending hand."
Such qualities are in short supply, Randy said.
"I know it's tough to convey, especially with a written piece that you're doing on where the work ethic has gone to," he said. "But if you could package that and show and teach people how it's supposed to be done, he's that person."
Tony and Phyllis quit going to Florida in 1991. "We got sick of it," he said.
But they take an occasional cruise and vacation. This past week, the couple hosted Tony's brother, Peter, a retired meat cutter from Yonkers.
Interacting with people keeps Tony's spirits as fresh as the produce he's managed over the years.
"It's not like standing at a machine," he said. "People come along and they talk to you and you can talk to them."
And over the years, he's left some memorable impressions with those interactions. For example, Tony recalled the day he was driving through the village of Glen Park and being stopped by a sheriff's deputy.
"I was driving a little too fast," Tony said. "He said, 'You look familiar.'"
"I said, 'Well, I work at Great American.'"
The deputy, Tony said, replied, "Oh! My mother used to bring me there when I was little!"
And when that deputy, who never got out his ticket book, said, "Go ahead — take it easy," the veteran produce man went on his way, slower, but enjoying just one of the everyday fruits of his labor.
"Sunday Portrait" is an occasional column featured in the Watertown Daily Times' Sunday edition. If you have a suggestion for a "Portrait" subject, write to Chris Brock at cbrock@wdt.net or at the Watertown Daily Times, 260 Washington St., Watertown, NY, 13601.