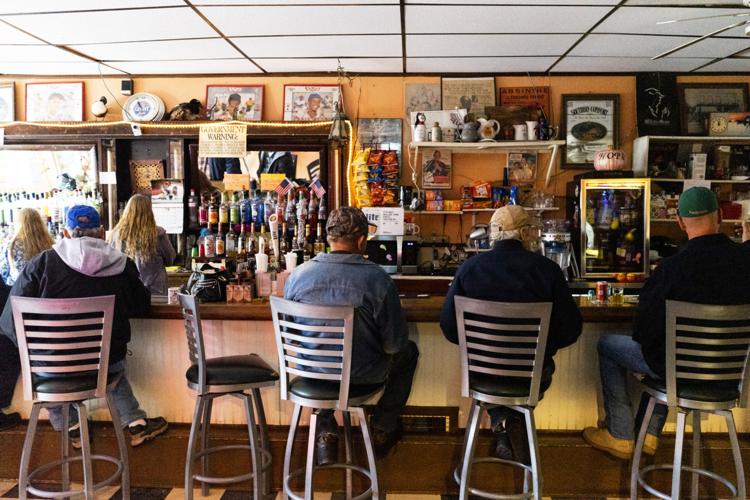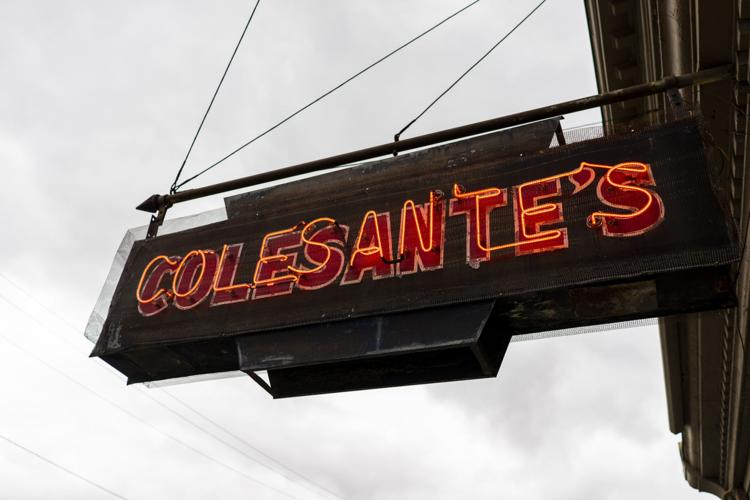 The late-morning topics at Colsesante's Tavern one day last week included the status of a longtime customer who had to undergo emergency surgery due to a blood clot in his foot. The regulars were relieved to know that the foot, thus far, had been saved.
"I got a card to pass around for him," said long-time bartender Sandra ("Sandy") L. Lawton. "He's in the ICU. This is one of the first places his wife came after he was stabilized, to let everybody know what was going on."
At Colesante's Tavern, 480 Factory St., Watertown, the warm wishes like those shared in the card are often mixed into the daily cocktail consisting of bright ideas, chipper chats, bold dreams, pleasant greetings and sad good-byes.
But in recent years, it has been the neighborhood bar bidding adieus of their own.
In 2015, Nielsen Holdings, the American information, data and measurement firm, reported that neighborhood bars were "disappearing at a blinding rate across the U.S." Nielsen said a trend contributing to the decline may be the "insatiable appetite for establishments that also serve food in addition to alcoholic beverages."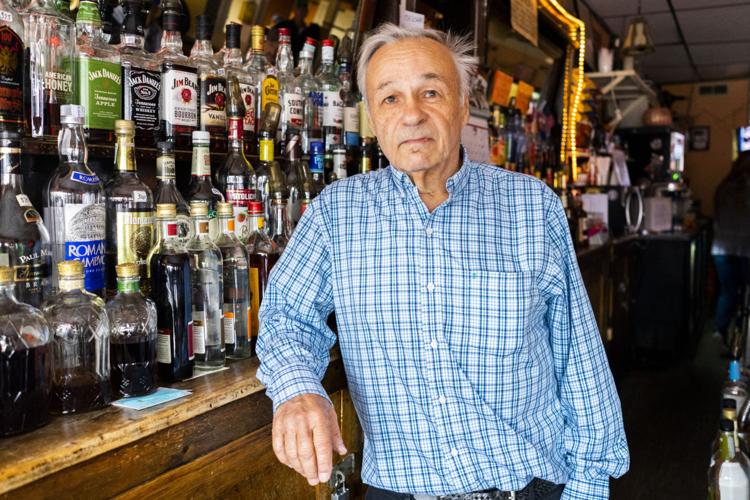 At places like Colesante's, fellowship is favored over food.
"Everybody knows everybody," Sandy said. "It's like 'Cheers.' Everybody knows your name, they know your life story. It's not a bar. It's a community."
The community of Colesante's was founded in 1933, shortly after the ending of Prohibition. It's been in the same Factory Street location ever since, attracting a clientele that, although changed over those 86 years, has consistently put the neighborliness into the "neighborhood bar."
Keeping the tradition alive on Factory Street is second-generation owner George D. Colesante, who turns 75 on Nov. 25.
"Neighborhood bars are extinct," he said at a table in the dimly lit recesses of his establishment, away from the din of the bar, near the pool table. "It's a sad thing because they're all being taken over by bigger places."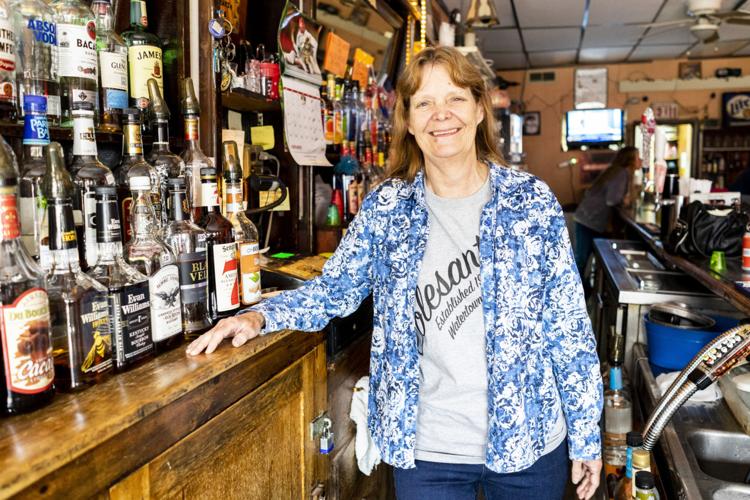 George said there may be "one or two" other neighborhood bars in the city, but none as old as his place. He recalls when there were about 20 in the city.
How would he define a neighborhood bar?
"It doesn't have the flashing lights, the bands playing and stuff like that," he said. "And it's all mostly people you know, on first names. Most of these places around town, when they have their gatherings, they don't know first names. They don't know anything about them. They just ring up their money, let them out and see what happens to them."
When somebody comes through the door at Colesante's, passing under its basic black sign with red neon lettering, it's likely the bartender knows what he or she drinks.
"When I first come on, I used to give them what they wanted by the drink, but I didn't know their names yet," George said. "I set them up by what they drank and then I learned their names."
Ron Pilon, 70, has been a customer since he was 18. He said Sandy is like a barroom psychiatrist.
"You've got your barroom lawyers, your barroom doctors — we've got them all," he said as he sat at the bar with a can of beer.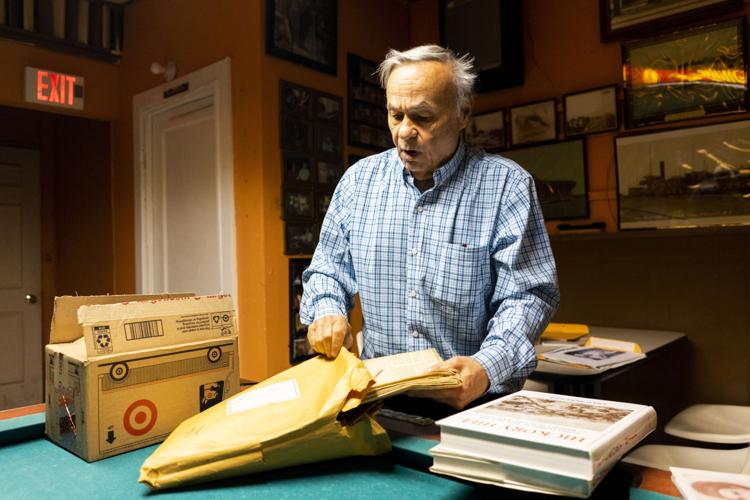 WALLS OF HERITAGE
One of the walls of the bar features a copy of Colesante's original liquor license, framed, issued in 1933. Above it is a photo of seven smiling gentlemen seated at a table at Colesante's. George's dad, George Colesante Sr., is fourth from left. Among others in the group are Russell "Ruck" Garlock, on George's left, a cousin of his who co-founded Colesante's.
George said his dad couldn't put his cousin's name on the license application because he had been caught running bootleg liquor across the St. Lawrence River.
"Dad got the license in his name," George said. "He had no violations."
George's father later bought out the share of Colesante's owned by his cousin. George Colesante Sr. died in November of 1977.
George explained that his father was the son of a lawyer, David Colesante, who came to America from Italy. Due to difficulty with the English language in this country, David Colesante changed his occupation from practicing law to building mandolins. George Colesante Sr. was born in Brooklyn, as was his brother, Richard T.
"Dad's mother and father both died young," George said.
A sister cared for his father and Richard for a while but they eventually were sent to Watertown where relatives knew of people to care for them in the Italian community here. His father, George said, went to live with the Scarpelli family, and Richard went to live with the Cozzis — both families on Mill Street.
George said that his dad, among other things, ran an ice cream truck before founding Colesante's in 1933.
"It was just something he wanted to do when it became legal," George said.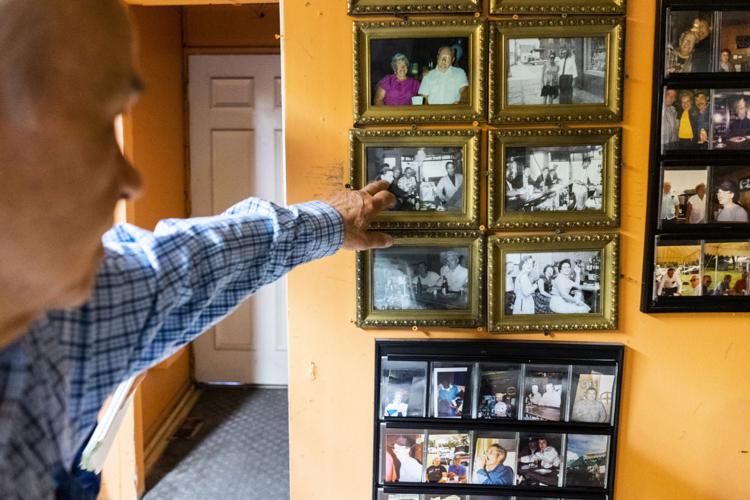 He recalled that his brother, Richard Colesante Jr., and he used to come to the bar with their dad on Sundays to help clean.
"Dad used to throw nickels around here on the floor to see if we could find money," George said. "We used to help him sweep and stuff like that."
George graduated from Watertown High School in 1962 and enlisted in the Navy, serving for three and a half years, mostly aboard the aircraft carrier USS Shangri-La.
He graduated from Watertown School of Commerce and worked at a bank and brake shop before beginning bar duties and taking over the bar business in 1966.
"He wanted me to take it over and run it for him," George said. "He appreciated my help too, and of course I was right there for him when he passed. He was pretty happy that I took hold of things and kept his name going. I've got his picture on the wall. And I got a lot of stories about him. Some customers actually remember him."
George said his dad gave him advice about running the business. "Without it, I would have had a tough time."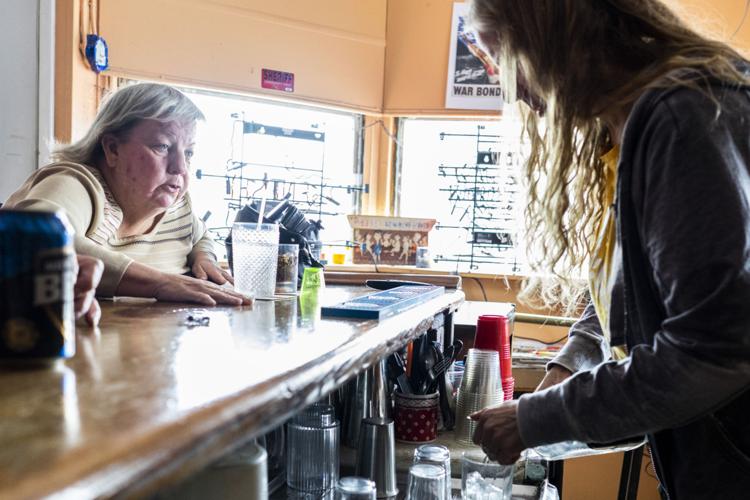 "He told me one time, 'Don't ever start bar tabs.'"
But it was a rough beginning when George took over the establishment.
"When I first came in, business was doing really well," he said. "And then I had a bartender who got mad because I caught her giving away drinks. She quit, went down to (another bar) Franklin Street and took all my customers."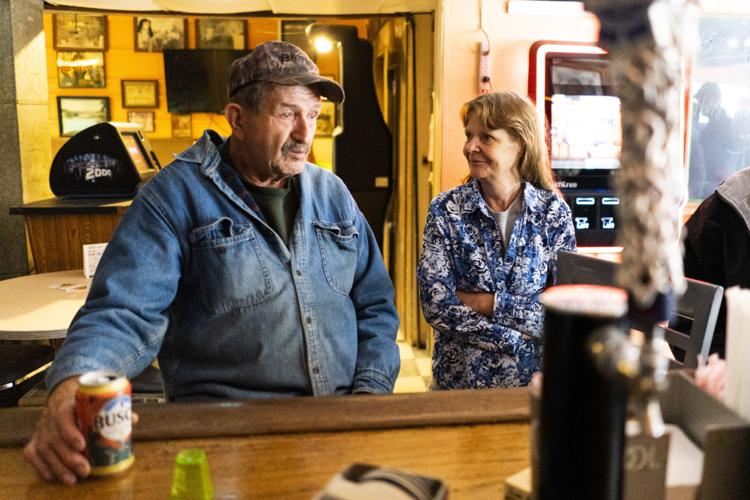 But he rebounded, and it wouldn't be the first time he did so.
There was the time he lost a batch of customers one summer to cancer.
"The railroaders moved away," he said. "I had a ton of railroaders come in. They shifted the home base of them from Watertown to Syracuse. I lost all those guys."
Two years ago, the reconstruction of Factory Street put a damper on business.
"I lost all my morning business," George said. "But after the street opened back up, I built this place back up. I found ways to do it."
He held up a hand and stretched out his fingers.
"Over all these years, I've only been closed five days in 53 years," he said.
Three of those days were when his dad died 42 years ago and the other two were during the 1998 ice storm when he couldn't make it out of his home's driveway on Route 37, Pamelia.
"I've had to replenish with generations," he said. "I get parents, and then their kids come in. People come in to see other people in here. As long as they get treated well, they come back."
"We get generations and generations of families coming in," said Sandy, who has been a Colesante's bartender for 25 years. "I'm now legally serving some of the grandchildren of the people that were here when I first started working here."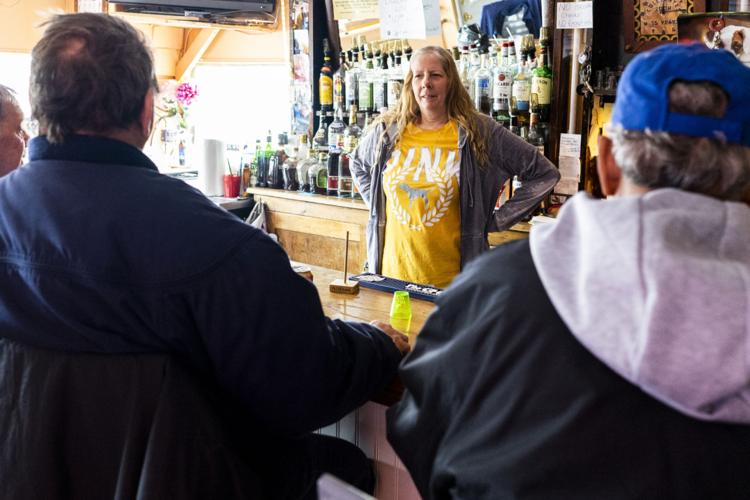 SNAPSHOTS AND STORIES
George has found a way to keep the past generations on the minds of current customers. He walked over to a wall, which he calls "The Dead Wall."
"These are the pictures of the people (patrons) who have died over the years," he said. Quite near that wall is the "live wall" — featuring those patrons still with us.
George said the idea for the "dead wall" came to him one New Year's Eve. He shared the idea with his wife, Virginia, to whom he's been married to for 55 years.
"They always brought up dead people on New Year's Eve," George said of his customers. "One night, I told my wife, 'I'm going to go down there and start snapping pictures. I'll get a thing and flash a picture of all the dead people on the wall so they can start talking about a different dead person.'"
George said Virginia responded, "You can't do that! That just has no class."
He decided to tweak his slide show plan.
"I just wanted the dead to be represented, so I pulled out a bunch of pictures of dead people and put them up. I add to them."
More pictures of the dead — "some of the real good ones" — have found a place behind the bar.
But don't mistake the large framed photograph featuring skeletons and the catacombs of Rome, Italy for former customers. George picked that up while on vacation in the country. It joins a mishmash of pictures and portraits ranging from movie starlets to baseball stars, all with stories behind them. There's also a large fish and various birds, the works of George's brother, Richard, a retired DEC biologist who is now a taxidermist in Constantia. George's daughter Amy, who lives in Albany, recently gave him a figurehead, a form of a woman, that looks like it came off a ship. George said he needs to spruce it up for a conversation piece.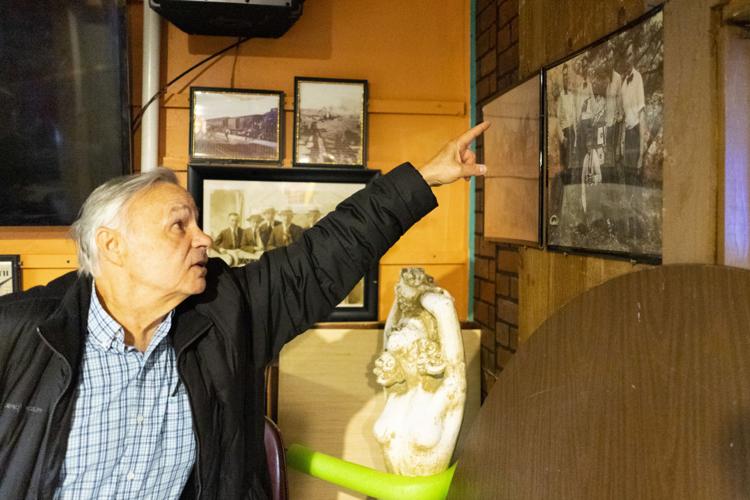 'SHE'S NAKED ON TOP OF THE BALCONY'
Sandy, the full-time bartender, is joined by three part-timers at drink duties.
"He's the best boss I've ever had and will ever work for," Sandy said. "He treats people the way people should be treated."
When it comes to bars, Sandy said that Colesante's is an "easy" place to work.
"We don't have a lot of problems in here. These are just down-home people," she said.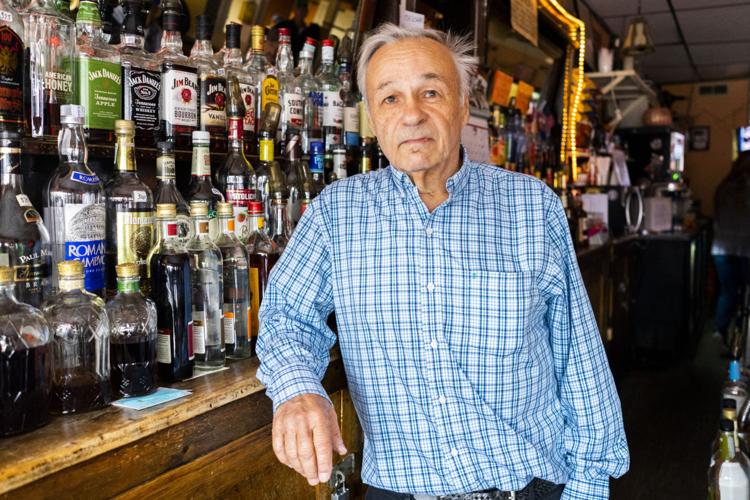 George said that Sandy holds the record, 10 years, for the time span of not having to summon police to the establishment. George recalled when the string had to be broken and the police called.
"A girl took off all her clothes," he said. "She went outside and was standing up in the back balcony. I didn't know what the hell to do with her. She's naked on the top balcony. We broke our record because of a naked girl standing on top of the back balcony. It had nothing to do with fights or anything else."
According to Times' files, another rare police call came in October of 1978. Two men were hugging each other at the bar after the New York Yankees won the World Series. In their exuberance, they crashed through a 6-by-3-foot window.
Thomas Strickland, one of George's first customers, has seen it all.
"He's been coming in since I got out of the Navy," George said.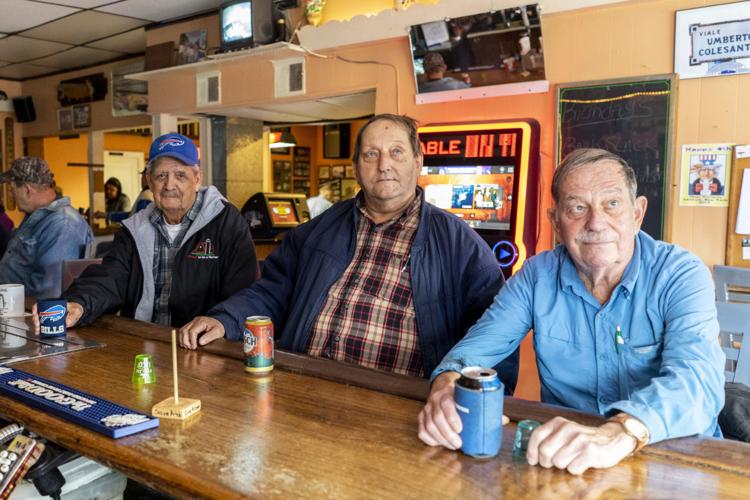 "It's a good, friendly neighborhood bar," Tom said. "There's no issues or drama and you don't feel nervous."
George, who arrives at his place at 6 a.m. each day, said some people have offered to purchase the bar, but he didn't take them seriously. "It was mostly just mouth," he said.
But for the immediate future, he still plans to continue as owner.
"I never know what's going to happen to me," he said. "I just renewed my license, so I'll be here for two more years, anyway."
George and Virginia have four children who he said have shown no serious interest in keeping Colsesante's in the family.
Those children: Robert Colesante, the youngest, is a professor at Sienna College, Loudonville; David, the oldest is the chief operating officer of a cyber security firm operating out of Dallas; Michael, in Houston, owns a company that secures and stores data; Amy Colesante, the middle child, lives in Albany and is the CEO of the Mental Health Empowerment Project, a nonprofit corporation organized in 1988 to develop and strengthen self-help and mutual support/recovery activities throughout the United States.
Together, George and Virginia have eight grandchildren with one on the way.
George was asked about his and his wife's tactics in raising four very successful children.
"I raised them all to be independent," he said. "Of course, my wife was at home, she was a stay-at-home mom and was always there when I had to go out, so we always had somebody there."
He added, "They had no qualms about leaving Watertown and finding someplace where they could make a good living and I didn't hold them back."
George said his wife cried when their children were sent to college and as two got jobs out of state.
"But they're all independent kids," George said. "They've never asked me for money. What would anyone want more than that with four kids?"
Amy, in a phone interview, said her dad's "big heart" and integrity influenced her and her brothers.
"It hides sometime, but it's there in a way people need," Amy said. "I've seen my dad give people places to live when they didn't have a place to live. I've seen him take people to rehab who needed it. I've seen my dad refuse to serve drinks to people who are in recovery from alcoholism He gives people jobs that they can't do just to give them jobs. That's my dad. And that's what I saw growing up and what I think had a big influence on my choice of work when I grew up."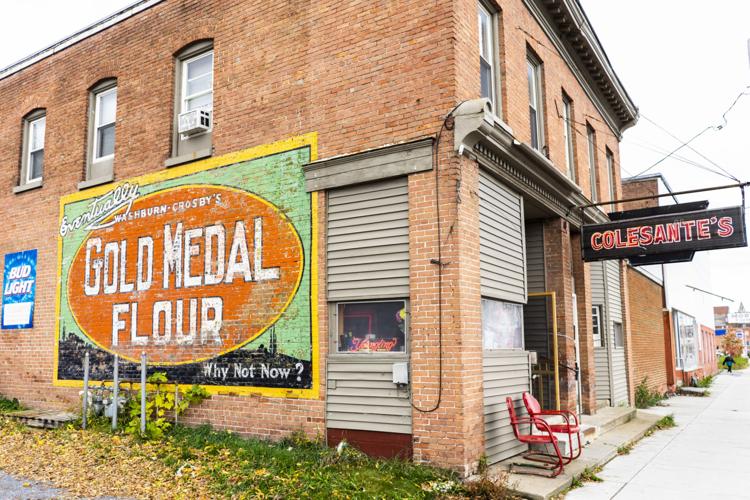 Family, Amy said, always came first for her mom and dad. She said her parents have known each other since they were pre-teens.
"They always helped us make our own decisions and they supported us," she said. "And I think in a way they had good parenting strategies before we were even thought of. We were just able to be our own people."
Amy recalled that while growing up, an after-church ritual following services at Holy Family involved a family trip to the bar when it wasn't open for regular hours.
"The four of us would go there and sit at the bar and he would give us soda and we'd help him clean before it opened. We did the glasses and played the jukebox. It was sort of a Sunday morning routine."
No doubt, life lessons were instilled in those visits. Now, when Amy thinks of Colesante's, she thinks of a larger community.
"It's a family," she said. "And I think of my dad as heart of the family and the people who work for him as being in the middle of the community."
"Sunday Portrait" is an occasional column featured in the Watertown Daily Times' Sunday edition. Write to Chris Brock at cbrock@wdt.net or at the Watertown Daily Times, 260 Washington St., Watertown, NY, 13601.