MASSENA — It was the pizzagate conspiracy theory of its time.
But in 1928, the internet wasn't required to fuel misguided speculation in the aftermath of a girl's disappearance which caused divisions in the Massena community. It just required healthy doses of xenophobia and hysteria.
The belief that took hold: a village brown-haired girl, Barbara Griffiths, 4, was supposedly kidnapped by Massena Jews and murdered in September of 1928 in a "blood libel" sacrifice for Yom Kippur, the Jewish holiday of atonement.
In less than a day, the rumor spread and people believed it. Luckily, the girl was found, preventing a situation that could have spiraled further out of control.
"That was the detective work I tried to do," said Mr. Berenson, a professor of history at New York University, Manhattan. "Where did this come from? How did it get to Massena?"
The case has previously attracted critical attention. In 1978, "The Incident at Massena" by Saul S. Friedman and published by Stein and Day also explored the only incident of a blood libel accusation in the U.S.
In his book's preface, Mr. Friedman wrote, "I affirm that this book has been written not from vindictiveness but with a view toward educating Jew and gentile alike on the baseness of the ritual murder canard so that what happened in Massena might never happen again."
For his book, Mr. Berenson acted as a sleuth to discover how such an accusation was established. He grew up in Massena, but his family moved away when he was 3. His Massena family is on his grandmother's side; his father's mother was a Kauffman. The family arrived in Massena in the late 1800s and eventually began a department store. Kauffman's closed in the 1970s.
"Even though I didn't grow up in Massena, we remained connected to the place," Mr. Berenson said in a phone interview from Tarrytown, Westchester County. "We would go and visit every summer."
The blood libel case, he said, was an occasional family discussion topic, he said.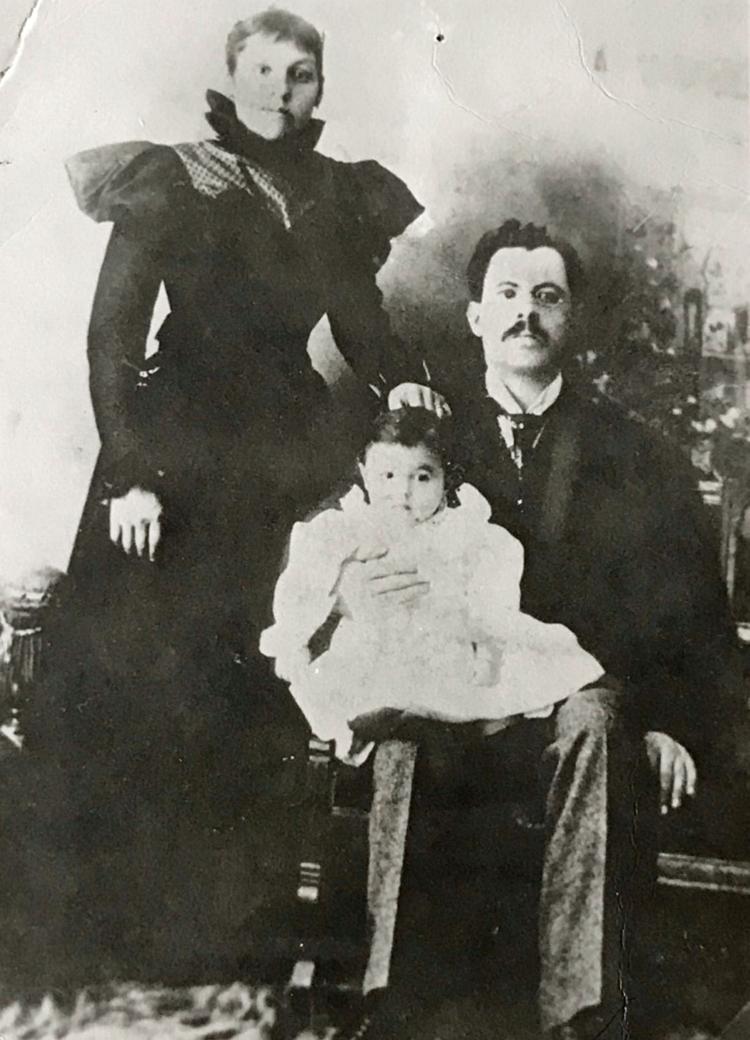 "I always heard something about it," Mr. Berenson said. "It was just kind of there in the background as family lore."
Mr. Berenson is a cultural historian specializing in the history of modern France and its empire, with additional interests in the history of Britain and the U.S. His previous book was "Europe in the Modern World," published in 2016.
He visited Massena and interviewed people and examined documentation, including a scrapbook of press clippings collected by Barnara (Griffiths) Klemens, the girl who had gone missing and who died in August at the age of 94 at an adult home in Hermon.
"It just seemed to me that this was an incredibly interesting story that I could tell and also connect it to larger stories," Mr. Berenson said.
One of those larger story elements was the presidential race of 1928.
POLARIZED
In 1928, Republican Secretary of Commerce Herbert Hoover, a Republican, faced Democratic Gov. Al Smith of New York state for U.S. president.
"We all worry about how polarized we are nowadays," Mr. Berenson said. "I think our polarization is nothing compared to what it was in 1928. Or at least it's not as extreme."
Mr. Hoover, the author said, was from "small-town Midwest" with family roots in northern Europe.
"He represented the traditional small-town Protestant America," Mr. Berenson said.
Meanwhile, candidate Mr. Smith was from New York City, the descendant of Catholic immigrants and Catholic himself.
"He represented a new America and a much more diverse America, an America that was created by the mass immigration that started in the late 19th century and up through the middle of the 1920s," Mr. Berenson said. "You had the presidential election that kind of embodies the two Americas.'
The political campaign rhetoric became extremely heated, especially since Mr. Smith was the first Catholic person to run for president of the two major political parties.
"He was mercilessly attacked for being Catholic," Mr. Berenson said.
He added that rumors included that the pope was going to take over the U.S. and that no Catholic could believe in liberty because "the church was hierarchic and authoritarian."
"The Democrats hit back," Mr. Berenson said. "They accused the other side of being prejudiced and being filled with hatred."
Massena, Mr. Berenson said, encapsulated a changing America.
"It was a small town, rural and Protestant," he said. "Most of the people came from northern Europe, and suddenly when the power canal got built in the late 19th century and Alcoa opened in 1902, and you had to attract a large work force, those workers came from Europe. They mostly were from Catholic Europe and Jewish Europe. So all of a sudden this town that had been Protestant and rural all of a sudden takes on some of the characteristics of the industrial society that's much more diverse."
This all helped to frame the accusation that surfaced in September of 1928, the author said.
"A fair number of Protestants from rural areas and small towns were really afraid that the America they knew was being subverted," Mr. Berenson said. "So they lashed out. It's not like the Democrats were blameless. They hit back hard. But I think the worst of the hostile rhetoric came from the side that felt threatened from a new America that they didn't like very much."
Newspapers and the developing medium of radio helped to spread rhetoric.
"The Massena incident spread like wildfire all around the country," Mr. Berenson said. "Barbara was missing for a little more than 24 hours. It's during that time she was missing that this explosive rumor started flying around about the Jews."
ARCHAIC FABRICATION
According to the United States Holocaust Memorial Museum, the earliest references to blood libel charges against the Jews can be traced back more than two centuries.
"Historically, blood libels often took place close to Passover, when Jews were charged with using the blood of Christian children to bake matzahs," the museum's website explains. "The proximity of such charges to Easter was thus also often associated with the continuing belief that Jews were responsible for the passion and crucifixion of Jesus. Blood libels, together with allegations of well poisoning, were a major theme in Jewish persecution in Europe throughout the Middle Ages and into the modern period."
The museum notes that the Nazis made effective use of the blood libel charge in their anti-Semitic propaganda. "In 1923, Julius Streicher established his virulently anti-Semitic newspaper, Der Stürmer (The Attacker), which frequently employed the blood libel motif," according to the museum's website.
"People who came from Europe to work at Alcoa, they came from places where this accusation was common," Mr. Berenson said. "It was also common in early 20th-century Quebec."
Mr. Berenson said that in 1928, the relatively new medium of radio helped to fuel the Massena blood libel rumor. He also called the period "the golden age of newspapers."
"You had a thriving local press and they spread these stories around," he said. "This Massena incident spread like wildfire all around the country."
Rabbi Berel Brennglass, a native of Poland, was the leader of the Massena Jewish community at the time. He was questioned by police in regard to the myth.
HER 'GREAT ADVENTURE'
The Watertown Daily Times reported on Monday, Sept. 24, 1928 that Barbara Griffiths's "great adventure" concluded the day before when, missing for a little over 24 hours, she walked out of the woods on the Massena-Raymondville road while more than 500 persons were searching for her "in every direction from the village."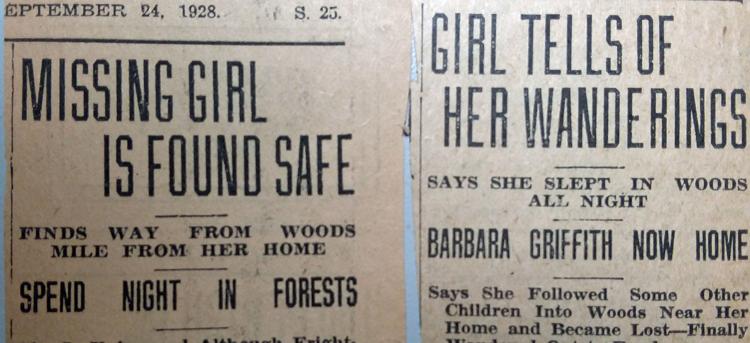 She later told authorities she left her house to look for her brother to give him candy that her father had just brought home. She had seen children entering the woods and followed them. She got lost and found a spot to sleep before finding her way back to civilization.
"She came back, so it was clear that nothing bad had happened," Mr. Berenson said. "But while she was gone, the leaders of the Massena Jewish community got in touch with two men from New York (City) who were the leaders of the national Jewish community."
Those leaders were veteran lawyer Lewis Marshall and the Rabbi Stephen Wise.
"Once it became clear that the accusation against the Jews was entirely false and had no bearing in reality, these two Jewish leaders decided they wanted to publicize (it) to kind of teach people in this country a lesson about the evils of anti-Semitism," Mr. Berenson said. "They played a major role that this story got to be known."
This upset many people in Massena, the author said.
"The non-Jews wanted to say, 'You're making a too big deal out of this. It's all a misunderstanding,'" Mr. Berenson said. "There was a fair amount of unhappiness that all of a sudden Massena became the center of a national story about prejudice against Jewish people."
In December of 1928, the Watertown Daily Times reported that the trooper who questioned Rabbi Brennglass was suspended and "the mayor of Massena (W. Gilbert Hawes) also apologized for the incident."
Over the years, memories of the incident largely melted away.
"Once that media storm blew over, the whole incident could sort of be tucked away in the recesses of peoples' minds," Mr. Berenson said. "There wasn't any reason to dwell on it because it did have a happy ending."
'WORTH REMEMBERING'
In 1941, when it was reported in the Times that Rabbi Brennglass was retiring from his Massena post after 23 years of service and moving to New York City, no mention was made of the 1928 situation.
"It absolutely was forgotten, which is one reason I wanted to write about it," Mr. Berenson said. "It revealed things that are worth remembering."
It also revealed lessons for today, he said.
"We have to be vigilant," Mr. Berenson said. "In the last year or so, there have been a couple of really terrible attacks on Jews. It's a fringe kind of thing, but nowadays on social media, the fringe and crazy and obnoxious ideas can spread. The fact that it happens once doesn't mean that inevitably it's going to happen again. But it does mean we should be vigilant that something like this could resurface."
Rabbi Brennglass, who died in 1966, was also looking to the future in the aftermath of the blood libel case.
According to the American Jewish Historical Society, the rabbi told his congregation at Kol Nidre services in 1928:
"We must forever remind ourselves that this happened in America, not tsarist Russia, among people we have come to regard as our friends. We must show our neighbors that their hatred originates in fear, and that this fear has its roots in ignorance. We must tell the world this story so it will never happen again."