BLACK LAKE — Beneath a cloud-covered sky Tuesday afternoon, Bob J. Gordon mowed an expansive field — at the bottom of a lake.
He cut about 6,000 pounds of wet weeds in less than two hours, part of a summer-long effort to cut a channel at Black Lake's northern end and increase access to the 20-mile stretch of open water for the county's northern residents off the Oswegatchie River.
"You think of the lake and you think of young kids swimming off the side of the dock, you think of fishing," Mr. Gordon said as he stood on the lakeshore off Lost Village Road, joined by fellow Black Lake Association members.
"But no one's jumping into that," BLA Vice President Jay J. Carter said, pointing to the thick weeded swamp on the shoreline extending out to the open water.
Carved out by the Laurentide Ice Sheet thousands of years ago, Black Lake draws outdoor enthusiasts from across the state. The largest lake in St. Lawrence County boasts bass, walleye, northern pike and crappie, with popular fishing and camping destinations along its 60 miles of shore. Estimates vary by year, but Black Lake recreation generates millions in tourism revenue annually.
In the last few decades, the lake's weedy, northern-most portion has clogged hulls and deterred boaters from entering the lake from the Oswegatchie River. Patches of weeds greet the water's surface near every dock, and nearly invisible from a distance on a windy day, matted greenery creates a basin of weeds seven-feet-deep in some spots.
More than a decade ago, local businesses and residents formed the Black Lake Invasive Weed Committee to develop a management plan with the state Department of Environmental Conservation. In 2012, State Sen. Patricia A. Ritchie secured $50,000 for invasive species management on Black Lake. Clarkson University conducts Black Lake research and has installed sensors for data collection on shore.
Efforts to address the longstanding weed problem have been multifaceted, and after the reimagination of BLA and its mission last year, members and year-round residents hope to bolster those efforts.
Previous BLA leadership, Mr. Carter said, did not allocate donations and membership dues for practical projects and meetings were often closed to the public. While donations accumulated in the BLA savings account, weed growth and unsafe boat launch issues persisted.
"We thought this association should be working for the people and the people should be part of it," Mr. Carter said. "No more closed meetings, everything wide open."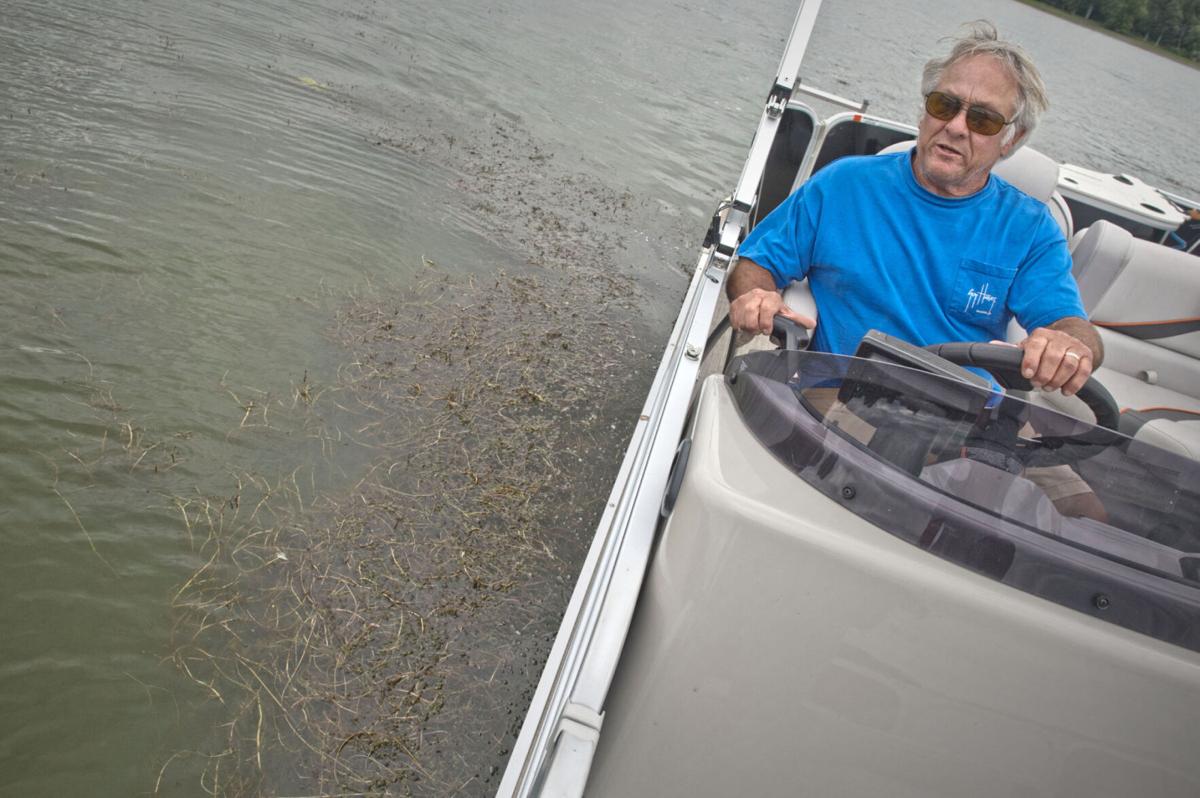 BLA has since formed a full board and hosted a handful of meetings this year. General membership is at 226 and continues to grow, according to board member Mike T. Kotash, who neighbors about 1,000 other residents along the lake.
With membership dues and donations, BLA hired Mr. Gordon to "mow the lake" this summer. The $5,500-job covers the cutting of a channel from Spile Bridge Road, less than a mile south of where the lake waters meet the Oswegatchie, southward to Stone Church Road. The 2.7-mile channel provides smoother passage for boaters from the northern end of the lake to the much clearer and wider mid-range and southern portions.
To prevent disturbing spawning fish this spring, Mr. Gordon's channel work began late June, using an aquatic weed harvester — a powered cutter that catches clippings on a conveyor belt and deposits them into the vessel's flat bed. Once full, the harvester pulls into a second conveyor belt on shore, attached to a truck and empty trailer. The weeds are then transferred into the trailer and have been taken to Andrew Bertrand's dairy farm near Morristown, to be used as fertilizer this summer.
On a calm day, a road-like passage is visible through the glassy surface. The channel is marked by temporary buoys and spans at least 15 feet wide, and wider in some sections.
Driving his pontoon boat toward the channel Tuesday, Mr. Kotash paused to demonstrate the difference between the cleared and uncleared areas. Anchor dropped briefly, Mr. Kotash's boat became a magnet for weeds, which seemed to spread and wrap like tentacles around the boat's water pump, propeller and anchor.
The weeds have a name — other than obscenities uttered in frustration on entangled watercraft.
The non-native Eurasian milfoil outcompetes native vegetation and presents management challenges in waterways across North America.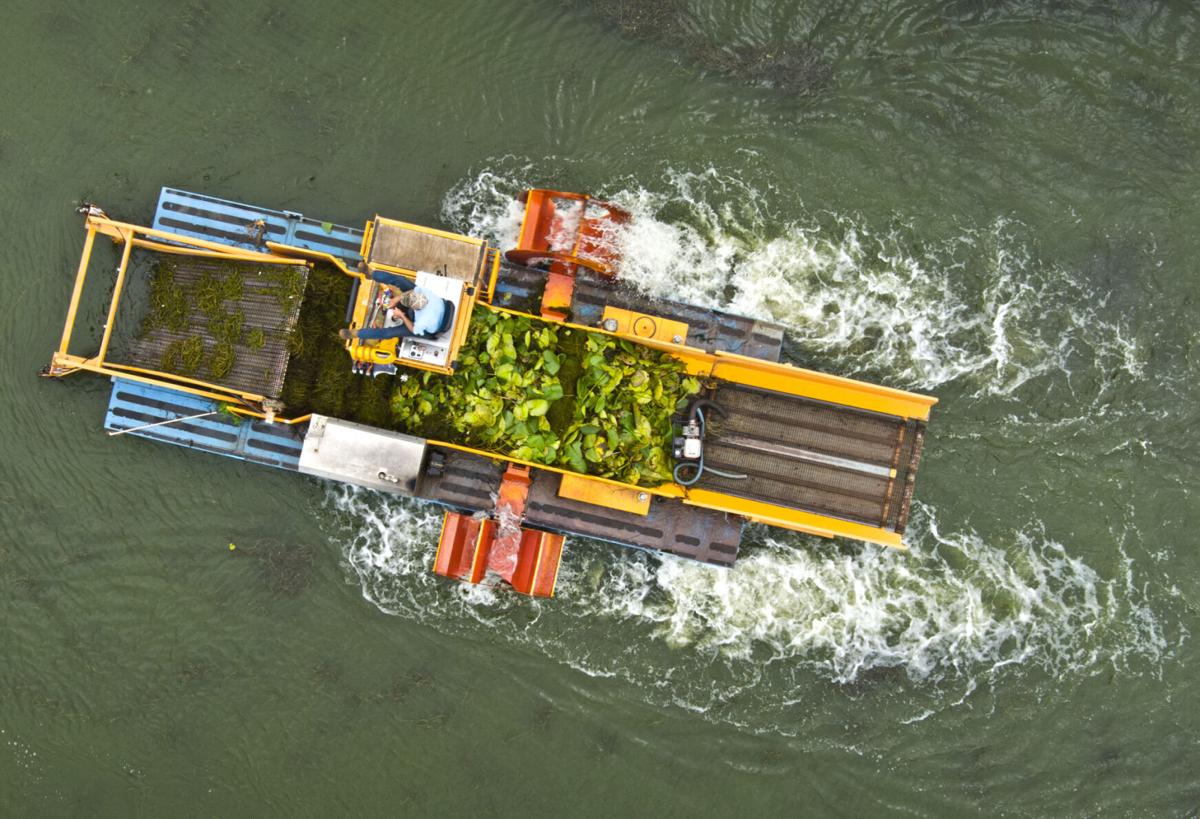 The Eurasian variety is believed by experts to have arrived on the East Coast of the United States in the 1940s, and resembles the native Northern milfoil. The native species' rigid, feather-like leaves can provide needed shade and shelter for fish. Eurasian leaves are limp out of water, amassing in clumps, crowding out other aquatic plant species and reducing essential biodiversity in wetlands and waterways.
Management is a years-long and ongoing process, and BLA hopes to foster continued and new relationships with Black Lake property owners and strengthen existing work led by conservationists, DEC, the Black Lake Fish and Game Association, university researchers and recreationists. Progress will be gradual, Mr. Carter said, adding that diverse voices are needed to build a comprehensive plan for future projects and grant funding.
"This is something we can get done now," he said of the small channel that has now opened up the northern end of the lake for late season boaters, "and we're working on the rest of it."
BLA's next meeting is scheduled for 9 a.m. Sept. 26, at Bella-Brooke Vineyard in Hammond.