At nearly 200 pages, the Proposed Lake Ontario National Marine Sanctuary Draft Environmental Impact Statement and Draft Management Plan released earlier this summer is a deep dive.
In it, there's background, graphs, maps, a glossary and results of research. But in the coming weeks, attention will shift to input from the general public.
A U.S. National Marine Sanctuary is managed by NOAA. Northeast Michigan's Thunder Bay National Marine Sanctuary, established in 2000, was the first freshwater national marine sanctuary in the U.S. It protects a nationally significant collection of nearly 100 historic shipwrecks in Lake Huron.
On July 23, NOAA published the final rule for the Wisconsin Shipwreck Coast National Marine Sanctuary. It will be officially designated as a sanctuary after 45 days of continuous Congressional sessions (likely in mid August). Lake Ontario would become the third Great Lake sanctuary and the 16th National Marine Sanctuary.
The proposed sanctuary in Lake Ontario and possibly portions of the St. Lawrence River mainly focuses on protecting and interpreting a "nationally significant" collection of historic shipwrecks. NOAA's proposal does not include restrictions to shipping. NOAA would exclude the ports and harbors of Oswego, Pultneyville, Little Sodus, Great Sodus and Port Ontario from the boundary of the sanctuary.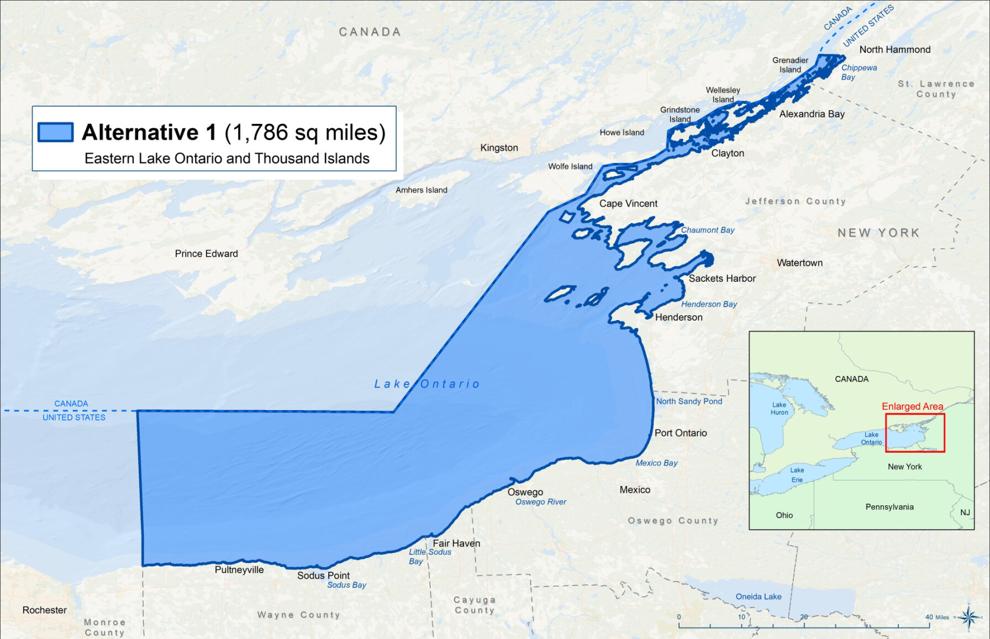 In late July, public, in-person meetings scheduled for Aug. 18 in Oswego and Aug. 19 in Clayton had their formats shifted to online versions due to the pandemic. There's a total of four upcoming virtual meetings.
In April 2019, NOAA proposed the designation of a national marine sanctuary in eastern Lake Ontario to protect historically significant shipwrecks and maritime heritage resources. It was in response to a nomination submitted in 2017 by the state of New York, the city of Oswego and the counties of Oswego, Jefferson, Wayne and Cayuga.
NOAA established a sanctuary advisory council to bring members of the local community together to provide advice to the administration. The advisory council's 15 voting members represent a variety of interests, from recreation and tourism to education and research.
Katie Malinowski is vice chairwoman of the proposed Lake Ontario National Maritime Sanctuary advisory council and a citizen at large member — volunteer roles separate from her professional job as executive director of the Tug Hill Commission.
Ms. Malinowski, a native of Sterling, on the shores of Lake Ontario in Cayuga County, said it's important for people to review the sanctuary's EIS and to provide input. Comments can be made at the online meetings by leaving them online at NOAA or by using the U.S. Postal Service.
"We want to hear from people," Ms. Malinowski said. "This has been a locally driven process from the beginning. We want people to come, hear what's being proposed, tell us what they think, because I truly believe that all this input we'll get will be factored into the next step."
NOAA is considering two possible boundaries for the proposed sanctuary. The sanctuary, it says, would "provide a national stage for promoting tourism and recreation." NOAA would also "provide opportunities for people to learn about and explore the maritime landscape above and beneath the waves."
The Alternative 1 boundary encompasses a portion of eastern Lake Ontario and a segment of the Thousand Islands region of the St. Lawrence River, while Alternative 2 only encompasses the same portion of eastern Lake Ontario.
Also being evaluated by NOAA is a "No Action Alternative" in which it would not move forward with a sanctuary plan.
In its draft EIS and management plan, NOAA says the collection of "significant, historic, underwater cultural resources" in this area would benefit from the long-term protection and management afforded by the National Marine Sanctuaries Act by reducing threats, both "natural processes and human activities."
Natural processes "include the damaging impacts of wind, waves, currents, storms, ice and invasive species."
Human threats include "anchor damage, damage due to poorly attached mooring lines, artifact removal, artifacts being moved within a shipwreck site and remotely operated vehicle tethers or fishing gear becoming entangled on a shipwreck."
The draft EIS says that to address these threats, NOAA would implement a management plan with regulatory and nonregulatory activities to reduce them. For example, NOAA would install mooring buoys and other access points to provide safe access to shipwrecks. The agency would also develop site-specific regulations to complement and supplement existing federal and state statutes and enforcement efforts designed to protect underwater cultural resources.
NOAA's proposed management plan for either alternative consists of five action plans:
n Sanctuary operations: Create a sanctuary infrastructure and program support to ensure effective implementation of the management plan.
n Education and outreach: Enhance public awareness, understanding and stewardship of the sanctuary, the Great Lakes and "the ocean."
n Research and monitoring: Conduct research to support resource protection, resource management and education initiatives.
n Tourism and economic development: Create opportunities to promote the sanctuary to enhance tourism and the business sector.
n Resource protection: Strengthen resource protection by conducting on-water resource protection activities, promoting responsible use of sanctuary resources, developing education initiatives for users and enhancing enforcement efforts.
Ms. Malinowski said the area could benefit from NOAA's educational and research tools if the sanctuary advances by the study of issues ranging from wrecks to weather.
"There's so much technology related to exploration in the lake and ocean," she said. "We can bring in some of that and hopefully engage some local schools with getting involved in remote vehicles on the floor of the lake to do exploration. There's all kinds of technology that I think would benefit students in the next generation in the area."
As for the "tourism and economic development" action plan element, Corey Fram, director of the 1000 Islands International Tourism Council and a member of the sanctuary advisory council, doesn't see the proposed sanctuary as a big "demand generator."
"Asking the sanctuary designation to do that is a big ask," Mr. Fram said. "But I think what it can do is allow the existing tourism operations to better market themselves and attract folks in a stronger manner."
For example, he said sites like Tibbetts Point Lighthouse in Cape Vincent and the H. Lee White Marine Museum in Oswego could develop site-related programs.
"To have the ability to better research what is out there so that you can develop better programming is exciting, and that could be done potentially by the federal government if that designation happens," Mr. Fram said.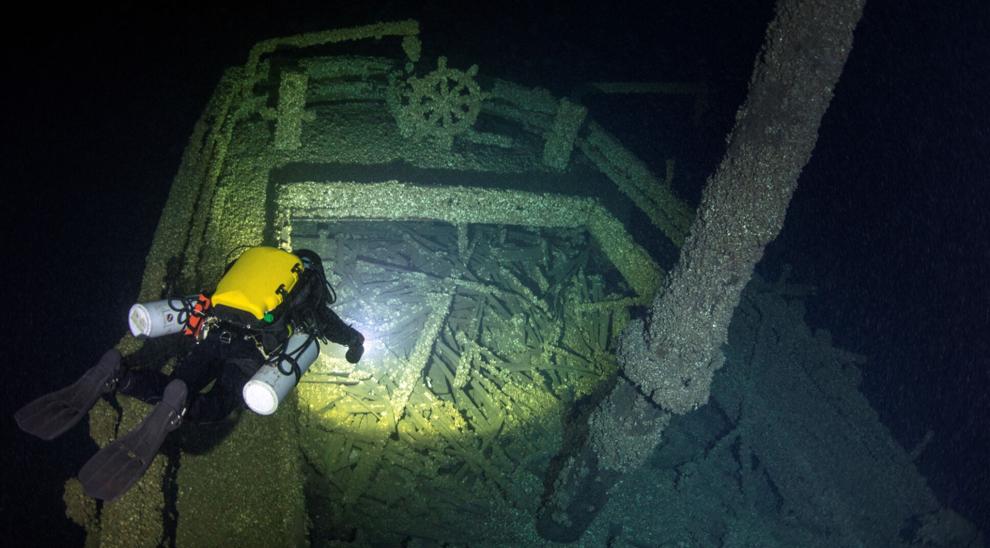 However, Mr. Fram and Ms. Malinowski are cognizant of the fears that arise in some people when the term "federal government" is mentioned in terms of arriving in an area and helping to "manage" it.
"Anytime somebody hears that the federal government is involved, I understand that gives some people pause," Mr. Fram said. "The public meetings coming up are a good opportunity to reach out and just participate and ask a few questions. NOAA has been very accommodating to the questions we've asked as an advisory council. I certainly wouldn't want anybody to be completely turned off by a project they just don't know enough about."
The sanctuary designation would not change existing "riparian rights" of property owners. Also, the designation would not include restrictions on commercial or recreational fishing.
About the potential for wind energy and turbines, NOAA's report says, it would work with New York state to ensure that any proposed wind turbines and supporting infrastructure would be properly sited to avoid negative impacts to underwater cultural resources within the proposed sanctuary.
"All of us on the council are sensitive to sometimes people are worried about bringing in other different layers of government to be part of what goes on here," Ms. Malinowski said. "But we feel this National Marine Sanctuary program is very much a partnership program that values the local, state and federal partnerships."
In July, Dennis R. and Kathi McCarthy of Cape Vincent resigned from the advisory council after Mr. McCarthy accepted an offer to be on the board of directors at Fort de la Presentation in Ogdensburg.
"We can participate in the Sanctuary Advisory Council as public members and we (the SLRHF) have a good working relationship with the NOAA people working on the sanctuary," Mr. McCarthy said.
Mr. McCarthy has been a certified scuba diver for more than 40 years and made his first dives in the St. Lawrence in 1971. The couple met years ago while attending a scuba diving meeting in Sackets Harbor.
"It was a functional decision," Mr. McCarthy said of his leaving the advisory council. "I'm not pro-sanctuary or anti-sanctuary. My main interest is to get the information out, what shipwrecks are out there, and what we've known about for a number of years."
Some aspects of NOAA's draft environmental impact statement, Mr. McCarthy said, seem "rushed."
"I think NOAA has got to build a case of, how historic are these wrecks? How meaningful? What will they do to the academic studies and is there anything to be learned from them? Or are they essentially interesting to scuba divers? But what's the point where they're worth spending a lot of money on that could be used for other things?"
Mr. McCarthy said that half of the shipwrecks in the Thousand Islands are under the Seaway's navigation channel.
"They're dangerous places to dive," he said. "There's been a good track record with the diving community, because most of the charters are small numbers and divers get screened pretty good. But there's extreme high risk on some of those wrecks."
The proposed sanctuary designation would not include restrictions on access for recreational diving activity.
Mr. McCarthy provided a "fact sheet" concerning the proposed sanctuary, which includes info on shipwrecks he compiled with three other shipwreck explorers/researchers. Among its data:
n Total shipwrecks in the proposed Lake Ontario sanctuary are estimated to be 62.
n Eleven of the Thousand Islands shipwrecks lie under or next to the Seaway channel.
n "There are no major undiscovered shipwrecks in the Thousand Islands alternative area and all sites are known by the scuba diving community."
n "Twelve of the 18 Thousand Islands shipwrecks are not popular dive sites. Some are uninteresting. Some are located in high boat traffic areas or in shallow water without shore access."
Mr. McCarthy has posted his comments about the sanctuary on the Federal Register, which he said NOAA reviews. On Wednesday, he posted his opinion that Cape Vincent harbor should be excluded from the sanctuary boundary.
"None of the underwater cultural resources sited in the DEIS are in the harbor of Cape Vincent," he wrote.
In that post, he added: "The Seaway navigation channels and all shipwrecks under or near it should be excluded from the sanctuary because of safety concerns."
"The bottom line is, I'm not for or against it," Mr. McCarthy said of the proposed sanctuary. "I want to provide as much information as I can, but I really think there needs to be a serious, 'Does this rise to the level?' question and will this actually generate the tourism that everybody thinks it does."
Ms. Malinowski pointed out that the draft EIS and draft management plan by NOAA on the proposed sanctuary do not include draft rules. NOAA's intention, she said, is to take public input and then come up with the draft rules.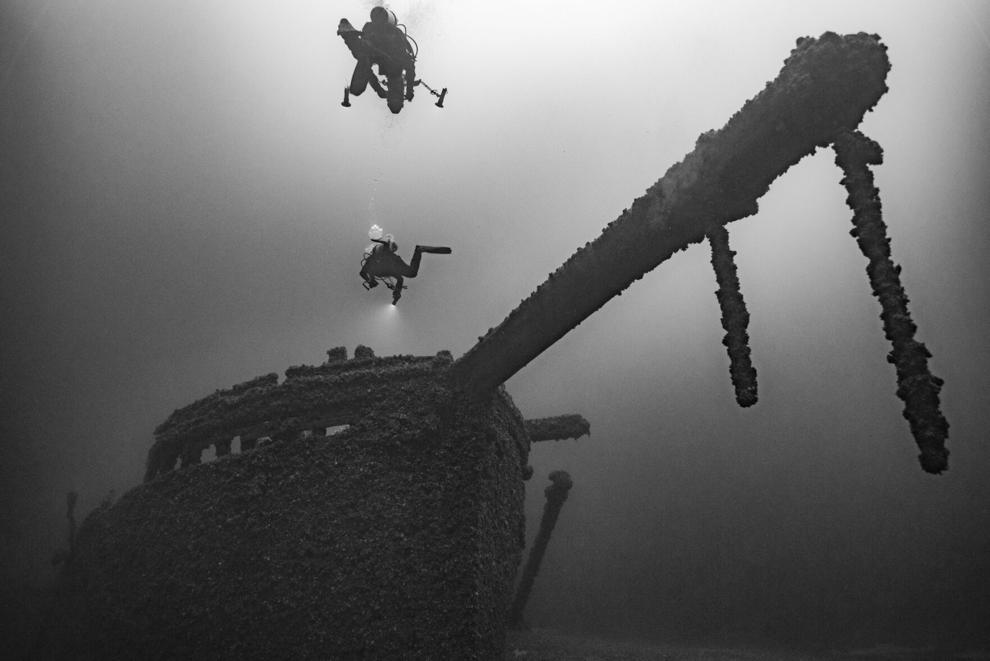 "So they're really tailoring what becomes the rules and regulations around this to what people want," she said. "So, there will probably be another round of public comment on draft rules, probably in the spring."
NOAA's management plan would fulfill functions such as outlining staffing and budget needs and "setting priorities and performance measures for resource protection, research and education programs." It would chart the course for the proposed sanctuary for the next five to 10 years.
The draft report says that regulations would complement and supplement existing New York state statutes protecting underwater cultural resources.
NOAA is seeking members of the public to fill three seats on the advisory council. The seats are for Maritime History and Interpretation (member); Education (alternate) and Citizen-at-Large (alternate). Applications will be accepted through Sept. 1.
Submit applications by mail or fax to: Ellen Brody, Great Lakes Regional Coordinator, NOAA Office of National Marine Sanctuaries, 4840 South State Road, Ann Arbor, Mich., 48108.
Fax number: 734-741-2055.
Applications are available at wdt.me/advapp
n WHAT: Public comment meetings on proposed Lake Ontario National Marine Sanctuary.
NOAA originally planned to host in-person meetings in Oswego and Clayton. But the meetings to gather public comment will now be held virtually due to COVID restrictions.
Wednesday, Aug. 18: 6:30 to 8:30 p.m. Go to the web link wdt.me/aug18 to sign up.
By phone: (415) 655-0060 PIN: 439-509-724.
Thursday, Aug. 19: 6:30 to 8:30 p.m. Go to the web link wdt.me/aug19 to sign up.
By phone: (914) 614-3221 PIN: 237-285-132
Tuesday, Aug. 24: 2:30 to 4 p.m. Go to the web link wdt.me/aug24 to sign up.
By phone: (562) 247-8422 PIN: 346-751-009
Thursday, Aug. 26: 6:30 to 8 p.m. Go to the web link wdt.me/aug26 to sign up.
By phone: (415) 655-0052 PIN: 819-641-913
In addition to the four virtual meetings, NOAA is accepting public comments online and by mail through Sept. 10.
The public can provide comments online at www.regulations.gov, using docket code NOAA-NOS-2021-0050.
Comments can also be sent through the U.S. Postal Service to Ellen Brody, Great Lakes Regional Coordinator, NOAA Office of National Marine Sanctuaries, 4840 South State Road, Ann Arbor, Mich., 48108.
n OF NOTE: To view the sanctuary's draft environmental impact statement and draft management plan, go to wdt.me/sanctuaryplan.
For a NOAA video on the proposed sanctuary, go to wdt.me/noaavid.