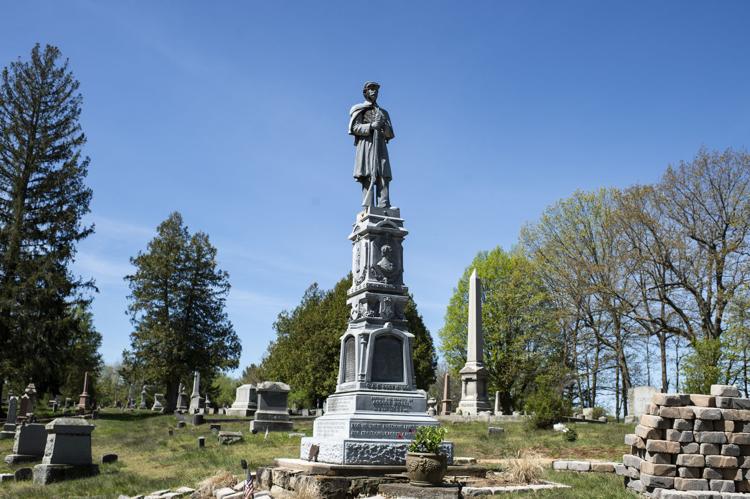 August Kissel, a cousin of my great-grandfather, was a native of Germany who, with several relatives, emigrated to this country at the age of 15 in 1857. August's obituary in the Watertown Daily Times edition of March 29, 1923 stated that he arrived in Theresa by stagecoach from Evans Mills on Sept. 9, 1857. He adopted Theresa as his hometown and, other than his service time in the Union Army, lived there the remainder of his life.
Four years after his arrival, the Watertown Daily Reformer carried the following notice in its weekly edition of Oct. 14, 1861:
Volunteers Fom Clayton Center — A meeting was held at Clayton Center, Saturday evening, the 5th inst., for the purpose of obtaining recruits for Capt. Snell's company, now forming in that vicinity.
After listening to some excellent remarks from Dr. Stevens, Elder Ford, Capt. Snell, and J. Tallman, Esq., ... the roll of enlistment was presented and four noble fellows, to wit: Horace Cook, Charles Rundell, Chester Gloyd, August Kissel, added their names to its columns."
In a journalistic flair befitting the sense of patriotism gripping the North in 1861, the paper added "May their names be as immortal as the flag under which they fight."
Upstate New York was a hotbed of abolitionism in the years leading up to the Civil War. Frederick Douglas and John Brown were visitors to the region, and Watertown was a stop on the Underground Railroad, one of the final departure points for an alternate freedom route to nearby Canada. Notably, nearby Antwerp was the birthplace of the very last Civil War soldier to die, Albert Woolson.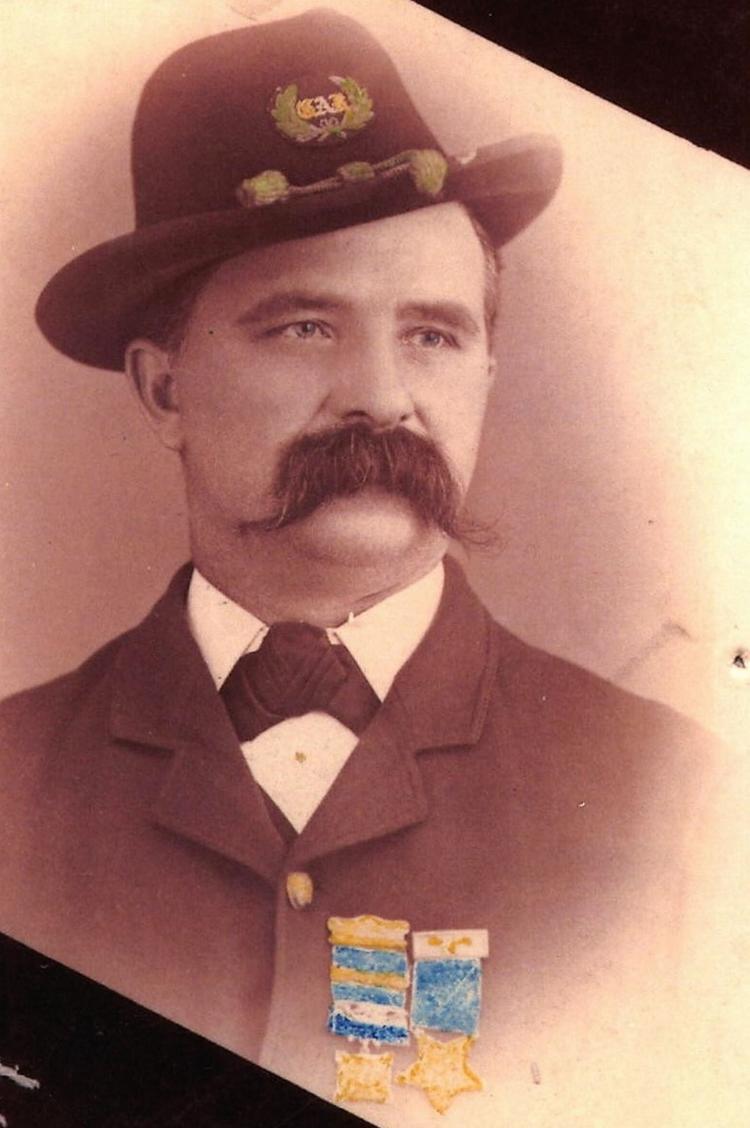 August was 19 years old when he enlisted. His occupation was given as mason. Two weeks after enlistment, the new recruits were transferred from Clayton to Sackets Harbor for training. Snell's regiment became Co. B of the 94th New York Infantry Regiment, known as the "Belle Jefferson Rifles."
In the Second Battle of Bull Run, the 94th NY was called into action late in the afternoon of Aug. 30, 1862. Although the Confederate victory was virtually sealed by then, the regiment's efforts impressed even the enemy. One of them, Alex Hunter of the 17th Virginia regiment, recalled that the Northerners' appearance was "truly terrific," and wrote that he unwittingly let out a "cry of admiration."
At company roll call the next day, August was reported "Missing at Centerville." He was admitted to Carver Hospital in the City of Washington on Sept. 3, where a bullet was extracted from his right leg. Although August recovered from the hole in his leg to fight many more days, the nasty injury would bother him the remainder of his life, causing pain and still oozing pus many years later into his old age. In the fall of 1862, however, his unit needed him, and he was eager to re-join the fight.
After his release from Carver Hospital in late November, August rejoined the 94th New York Infantry shortly before the disastrous engagement in December 1862 at Fredericksburg, Va. The regiment was a key element in one of the few Union advances during the high point of the battle, but was forced to withdraw from its position due to a lack of support. During the action, August received a concussion when the blast of a cannonball knocked him senseless.
The 94th N.Y. helped defend the Union's right flank at the Battle of Chancellorsville in May of 1863. A beautiful relic of the north country's contribution to the war effort — the regiment's drum — is on display at the National Park Service visitor center there. The description informs the visitor that the 94th New York Regiment of the I Corps helped stem the tide. This drum was used by Charles W. Beresford of Company A.
One of the drumsticks is inscribed "C.W. Beresford, Fredericksburg 1862." Charles W. Beresford from Carthage had enlisted on Nov. 7, 1862 at the tender age of 13 or 14 years. The drum was donated by the boy's grandson, Charles Beresford, in 1961.
August was assigned to the 5th Maine Battery in May 1863 on the way to Gettysburg. With the Maine unit, August found himself in the center of the action northwest of Gettysburg on the first day. At about 3 p.m. on July 1, a minie ball stuck the back of his left knee. Years later, he wrote that he "did not leave the field for every man was needed."
At about the time of Confederate General George Pickett's ill-fated infantry charge on July 3, a recoiling artillery piece slammed into August's right hip and back. Henry Dietrich, a corporal in the 94th New York who witnessed August's injury, provided this description:
"I was sitting behind a rock nearby when said Kissel was so injured — about 10 or 12 feet distant & was looking at him. was acquainted with him at the time being from Same co. There were at the time but three men to manage Said gun & Said Kissel cought [sic] hold of the wheel to Keep the gun from recoiling down the hill and the wheel crushed him down."
August was sent to St. John's hospital in Annapolis on July 19, 1863, where he remained until Jan. 28, 1864. He rejoined Grant's Army in time for the siege of Petersburg, Va., that spring. On Aug. 19, August was on picket duty with William Gillette of Depauville. When rebel forces tried a charge to retake the Weldon Railroad, August captured several of them. According to an account he gave to the Watertown Daily Times years later, "feeling highly elated over his capture of several prisoners, he started to march them to the rear, only to find that he had marched them into a squad of the enemy and he himself was captured."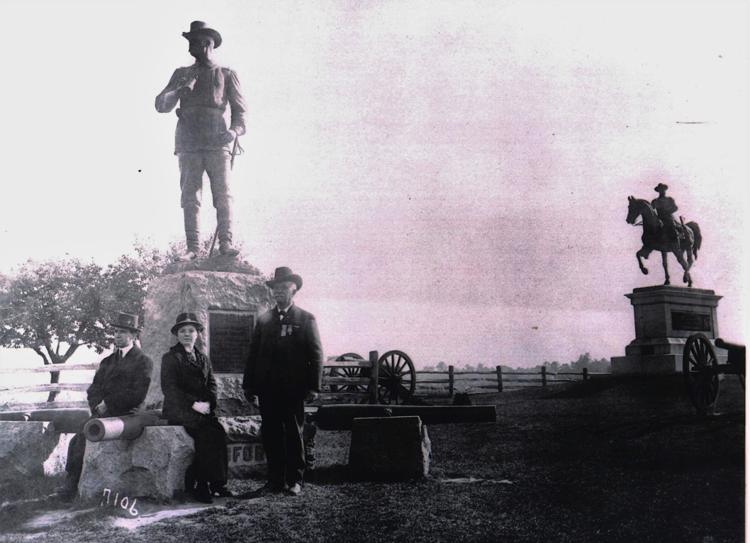 The Union prisoners were marched to Pocahontas Island, on the Appomattox River in the City of Petersburg, and transferred to Libby Prison in Richmond, then to Belle Isle on the James River. From there, August and the other captives were put on boxcars and shipped to Salisbury, N.C., arriving there on Saturday, Oct. 8, 1864, three years to the day from his enlistment on the pleasant shores of Lake Ontario far to the north. By late 1864 Salisbury Prison was filthy, teeming with 11,000 captives, stripped of all living quarters, denuded of all vegetation, and perilously short on food and potable water.
In interviews with various newspaper reporters over the years, August Kissel recalled that by the time he was incarcerated, the prisoners were living like moles in "subterranean chambers" that they had dug beneath the ground to afford themselves limited shelter in the absence of any dwellings.
August recalled that after a failed prison revolt on Nov. 25, 1864, Prison Commandant Gee declared that if prisoners did not take an oath against the Union, "he'd stow them to Hell." In an interview published in the Syracuse Herald on July 9, 1905, August further recalled that every voice in the prison responded "Death Before Dishonor." The reporter noted that the words "Death Before Dishonor" were inscribed on August's escaped prisoner of war badge which "is one of the Theresa man's most prized possessions."
In another incident, Benjamin Merrill from Pillar Point was shot through the windpipe while trying to escape and fell at August's feet. Merrill lived a half-hour, but under threat of a bayonet, the guard wouldn't let August speak to Merrill to take a dying message home for his fellow Jefferson-countian.
August eventually befriended a prison guard and arranged to bribe him with Yankee dollars for a chance to escape. On Friday, Jan. 27, 1865, a new moon presented a good opportunity for traveling unseen. Seven comrades escaped with August that night, all dressed in gray Confederate clothes that they had traded for.
The region to the northwest of Salisbury, particularly Iredell and Wilkes counties in North Carolina, was among the most pro-Union anywhere in the South. August received crucial assistance from many rural North Carolinians who sheltered him on his escape path, the most critical of whom was Barsina ("Sina") Myers, a young woman whose parents sheltered and fed August and a companion.
Sina offered to escort the men northward into Wilkes County under cover of night, even though it was bitter cold. At about 2 a.m., they came to a creek that was badly swollen and not passable on foot. Mounting a horse borrowed from a nearby house, Sina rode the refugees through the roaring, ice-cold waters to the other side, her teeth chattering uncontrollably from the penetrating cold. Years later, August called Sina Myers' deed "one of the bravest acts he ever knew."
Joining with a group of ex-prisoners and Union sympathizers, August reached the main Union lines at Knoxville, Tenn., on March 2, 1865. He had traveled some 250 miles from Salisbury in five weeks. August was sent to Camp Parole, Md., for processing and then to Albany, where he was discharged on April 24, 1865. He was paid 32 dollars for the months of January and February when he had been prisoner and an escapee.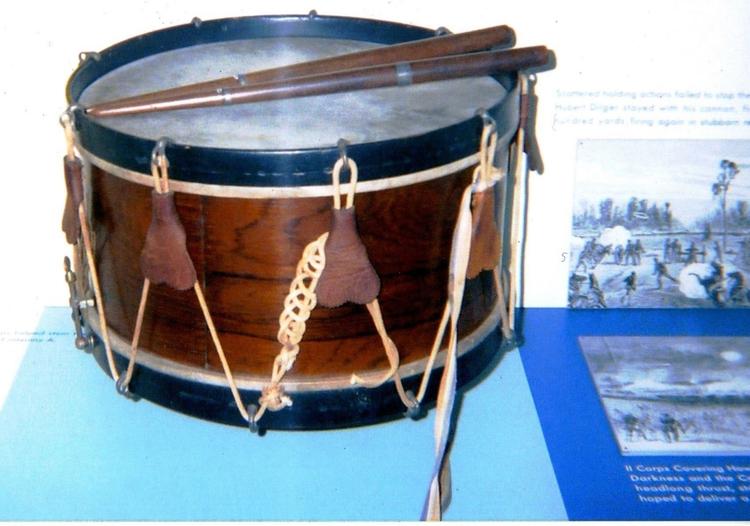 After returning to Theresa, August married Julia Levere DeBarr, whose first husband had been mortally wounded at the Battle of Cold Harbor. The couple had three children. August resumed his stone mason trade, although he could not perform normal physical labor as before due to his injuries. In 1879 a physician found that when August's leg wound broke open it "acted like a boil." The doctor observed "spasmodic twitching of muscles below the wound" and said August, who was then only 37 years old, could not walk any distance without pain.
Despite his injuries, August and his old comrades continued to devote their lives to honoring the sacrifices of Union Civil War veterans. He was elected Commander of G.W. Flower Post No. 306 of the Grand Army of the Republic ("GAR"), the union veterans' organization formed after the war. The reunion of Feb. 11, 1885 carried the news that August and several other veterans of the G.W. Flower Post attended a "great State Encampment" at Utica in February 1885.
On March 14, 1890, the veterans of the 94th New York held a reunion on the 28th anniversary of their departure for the front. In the summer of 1897, August and several colleagues from the G.W. Flower Post embarked on a journey to Buffalo to attend another GAR encampment.
In October 1902, 60-year old August attended a GAR reunion in Washington, then traveled to Iredell County, N.C., where he visited Sina Myers Summers, then living with her daughter and son-in-law. An article in the Statesville (N.C.) Landmark on Oct. 14, 1902 described in detail August's escape adventure and Sina Myers' heroic actions to assist the refugees. August and Sina talked almost all night, recalling their brief dramatic adventure in the middle of the night in the dead of winter of 1865, and all that had happened in their lives since.
The timing of their reunion was fortuitous. Before another year had passed, August received word that Sina had died.
On Memorial Day 1911, August dedicated the monument he built to the men from the north country who served in the Revolutionary War, the War of 1812 and the Civil War. The dedication ceremony on May 30 was a grand occasion in the village of Theresa, which had sent many young men to defend the Union.
A large crowd filled the streets of the little village. In the morning, a committee decorated the graves of the soldiers in Oakwood Cemetery. The proceedings began with a parade, led by the Theresa Fire Department band, from the village center to the cemetery. The band played several pieces suitable to the occasion and August then presented the memorial to the local GAR Commander, David D. Angsbury.
August's dedication address acknowledged his fellow soldiers who were killed defending the Union, expressing sorrow at "the many vacant places once occupied by our chivalrous companions." He also expressed his hope that the government for which he and all the veterans fought will stand "forever." He concluded by emphasizing that men volunteered from all places and walks of life:
"When this country called for men we came from foreign country, workshops, farm and factory our Union ranks to fill. We left our pleasant, happy homes and firesides we loved so well, to vanquish all the Union foes, or fall where others fell."
The monument bears the names of 58 Northern New Yorkers who fought in those three wars. Below a life-sized figure of a Union soldier holding a musket is a base relief depiction of Abraham Lincoln. In a lower panel is an inscription "to the memory of all ex-prisoners of war" adorning a scene of escaped POWs being pursued by dogs, an experience August knew first-hand. On the other side is a panel which reads "Three Female Heroes — Sina Summers of Hunter Creek [sic], N.C., and Jennie Tipton and Jennie Wait [sic] of Gettysburg, Pa." It is notable that of the three heroes, the Southern woman who assisted his escape was given primary billing over the two Northerners.
August returned to Gettysburg for the 50th reunion of the great battle in July 1913 with his granddaughter, 22-year-old Mae Wescott, and Mae's future husband, Eugene Walsh. Seven decades later, Mae Wescott Walsh still remembered what a thrill it was for her to go to the reunion with her grandfather August, and how meaningful it was for him. In an interview in her Theresa apartment in September 1983, a year before her death, 93-year-old Mae described to this writer in vivid detail how she and her granddad toured around the battlefield. She also remembered Gen. Abner Doubleday's large presence. Mae said there were activities from 7:30 in the morning until 10:00 at night, featuring speeches from veteran commanders and politicians.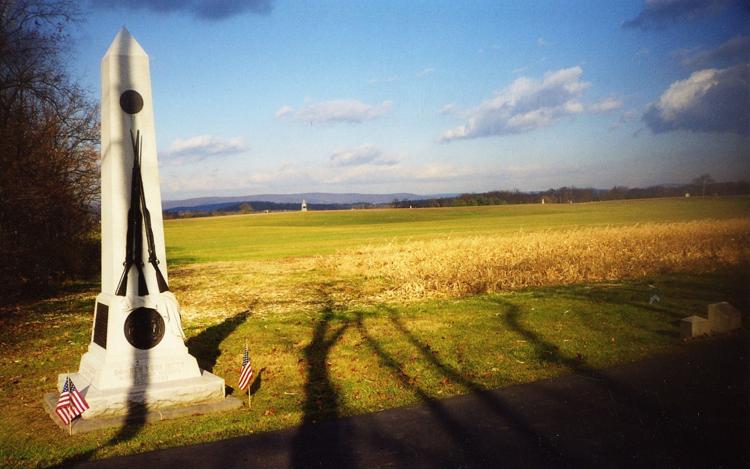 A picture from that occasion shows August, in his Sunday best attire proudly displaying his medals, standing respectfully by the statue of Gen. John Buford. Behind August is the statue of Gen. John Reynolds, posed on his horse with one foot up, signifying his death beside the Chambersburg Pike in the opening moments of the pivotal battle for American democracy. Also in the picture, seated on the base of Gen. Buford's statue, are Mae and Eugene Walsh, who were married later that year on Nov. 26, 1913.
In 1917, August made a return trip to Gettysburg for the dedication of monuments to Gens. Abner Doubleday and John C. Robinson, under whom August had fought (Doubleday at Gettysburg; Robinson at Chancellorsville).
After his return from Gettysburg the second time, August's health declined further and failed rapidly in the spring of 1922. August was operated on for an enlarged prostate gland in Ogdensburg Hospital on Aug. 3, 1922. He returned home in an extremely weak condition and died on March 28, 1923 at the age of 80. His life had spanned two centuries, nine decades, two continents, three wars, and 15 presidents and four battlefield wounds.
The monument dedicated on Memorial Day 1911 contains an epitaph that provides a key to why August Kissel fought to keep the states united and free, and dedicated his life to America. It reads in part:
Passenger, if thou art a friend of a soldier
drop a tear over the dust of all heroes.
For us their precious lives they gave
for freedom's sacred cause they died.
Peter Kissel is a native of Watertown and attended Watertown High School, Syracuse University, and Washington College of Law. He has been a lifelong student of the Civil War. Peter lives in Washington, D.C ., with his wife Sharon. This article is based on Mr. Kissel's forthcoming book, "Three Patriots: My Immigrant Ancestors and the American Civil War."