MADRID — The St. Lawrence Power and Equipment Museum welcomed a new piece of history on Saturday to honor nearly 6,000 St. Lawrence County residents who left home to serve during the Civil War.
An official opening ceremony was held for Fort Tribute, a new Civil War-era historical interpretive center that was recently constructed on the grounds.
A monument on the fort pays tribute to Medal of Honor recipients from St. Lawrence County from 1861 to 1865 — James Allen, Newton Martin Curtis, Francis B. Hall, Follette Johnson, John T. Rutherford, Dayton P. Clarke, John C. Gilmore, Charles H. Houghton, John H. Moffitt, William Walling and Thomas M. Wells. It's the only single permanent recognition monument to the Civil War Medal of Honor recipients from St. Lawrence County.
St. Lawrence County men had served in the regiments of the New York 16th, 18th, 50th, 60th, 75th, 78th, 86th, 92nd, 93rd, 98th, 100th, 102nd, 105th, 106th, 142nd, 164th and 193rd Volunteer Infantry, as well as 2nd, 6th, 11th, 12th, 13th, 16th, 18th, 20th and 26th Volunteer Cavalry and 1st, 13th, 14th and 16th Volunteer Artillery.
"Although no battles were fought in New York, our state provided more troops to the Union Army than any other state," said Scott A. Wilson, volunteer fort project coordinator.
New York provided 400,000 to 460,000 men during the war, nearly 21 percent of all the men in the state. They fought in artillery, infantry, cavalry, engineer and other regiments.
"Nearly 6,000 men enlisted in regiments here in St. Lawrence County. The men of St. Lawrence County answered that call. Many were farm boys who had never left the county or even rode on a train. Yet, they answered the call to arms in defense of the Union. This is the least we can do to show our devotion to those who sacrificed so much. It is a great privilege to be associated with a project that honors those who came before us and who ultimately ensured our country remained unified," Mr. Wilson said.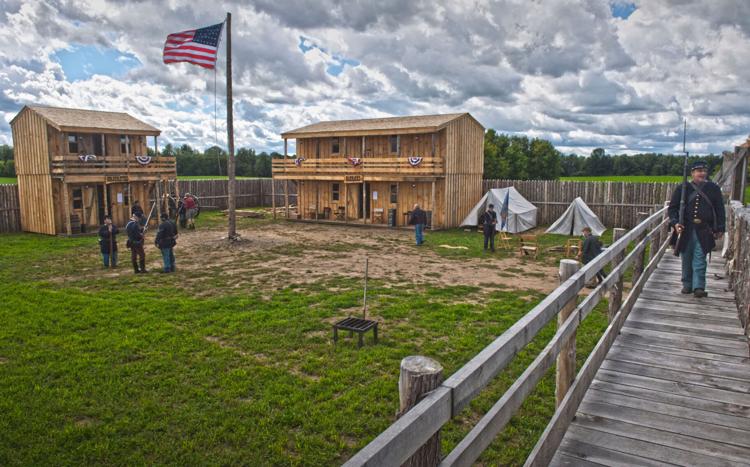 "In our district in the north country we have a history of service going back to our nation's founding. No state committed more soldiers to serve the Union than New York. That's something we can be very proud of," said Rep. Elise M. Stefanik, R-Schuylerville.
That service continues today with military members serving at Fort Drum and around the world, she said.
She recalled the story of some local Medal of Honor winners, some of the "heroes throughout the congressional district." The Medal of Honor was established by President Abraham Lincoln.
One Medal of Honor recipient was Newton Martin Curtis, who was born on May 21, 1835 in De Peyster and served as a Union officer during the Civil War and was later a member of the United States House of Representatives. Ms. Stefanik said that, before his service, he was a local teacher, lawyer and postmaster. He volunteered to serve in 1861 and was wounded four times during the war.
"We are proud of our nation's history. We are proud of generation after generation answering the call to serve, and we are grateful to veterans in the audience today and their families," she said.
Ronald Sheppard, president of the St. Lawrence Power and Equipment Museum Board of Trustees, said Fort Tribute was not just a tribute to veterans of the Civil War era, but to all veterans in St. Lawrence County.
"I think today is a really great day for our museum and also for the local area and St. Lawrence County in general," he said.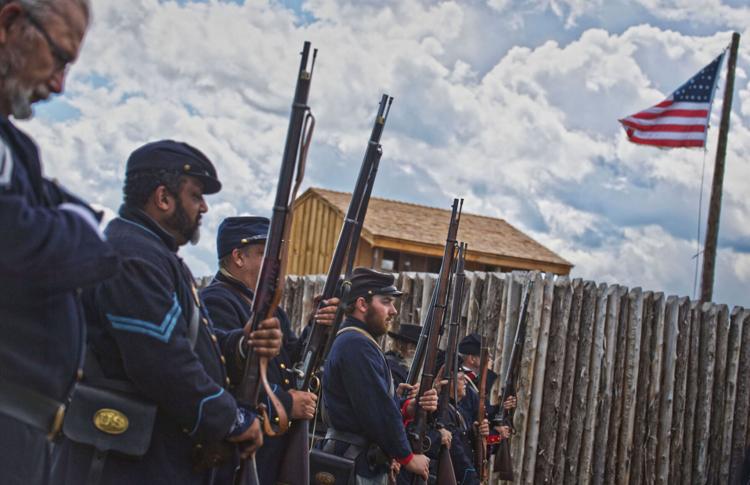 Roger Austin, secretary of the St. Lawrence Power and Equipment Museum Board of Trustees, recalled the history of the museum, which is located on 115 acres on state Route 345 in Madrid. Needing a permanent home for its exhibits, he said they selected their current location from among 19 possibilities in 2006. He said they paid $100,000 for the $215,000 property with the stipulations that they raise the money through donations, not borrow any money, and have enough enthusiasm to raise the money in one year.
The first structure went up in 2008, and Mr. Austin said almost two dozen structures had gone up since then. Coming soon are a new wood shop, historic church and historical print shop.
Now Fort Tribute is a part of the landscape.
"Fort Tribute is an extraordinary, beautiful monument... recognizing the American Civil War, a war that was fought to preserve the Union and end slavery," Mr. Austin said. "Fort Tribute will become the center, the home for the study of the American Civil War, its history and evolution. War shapes the lives of everyone. The Civil War took everyone's life in one manner or another."
Mr. Wilson said the fort is located on "prime real estate here at the museum. They were gracious enough to give us this location." But, in order to make the project a reality, he said they had to raise the funds, had to build it, and have to take care of it.
"All of those things were huge components," he said.
Some funding for the project came from the New York Power Authority. The $25,000 funding award from NYPA is from the Northern New York Power Proceeds Program, which applies net earnings from unutilized hydropower from Massena's St. Lawrence-Franklin D. Roosevelt Power Project to St. Lawrence County businesses and institutions.
"NYPA is proud to support this important monument to the north country's Civil War heroes," said Judge Eugene L. Nicandri, NYPA vice chairman and Massena resident. "The Power Authority's Power Proceeds Program leverages the low-cost hydropower from our St. Lawrence-FDR Power Project in support of a multitude of economic development opportunities in the north county, including culturally rich tourist attractions like this one developed by the St. Lawrence Power and Equipment Museum."
"We are so pleased that the New York Power Authority is assisting the museum with funding and thereby heightening its ability to attract needed tourism, which is expected to have a significant impact on the future landscape of our regional economy," Mr. Wilson said.
Fort Tribute includes a barracks, headquarters and parade ground with a flagpole as its center piece, acting as a working model to demonstrate Civil War garrison life. But, it will be more than just a tourist attraction for those visiting the St. Lawrence Power and Equipment Museum. It will also serve as a Civil War Educational Center with a focus on grades four, seven and 11, and will be the backdrop for the Civil War Reenactment Weekend, which is moving from Massena to Madrid. This year's event has been canceled because of the coronavirus pandemic, but organizers hope to bring it back next year.