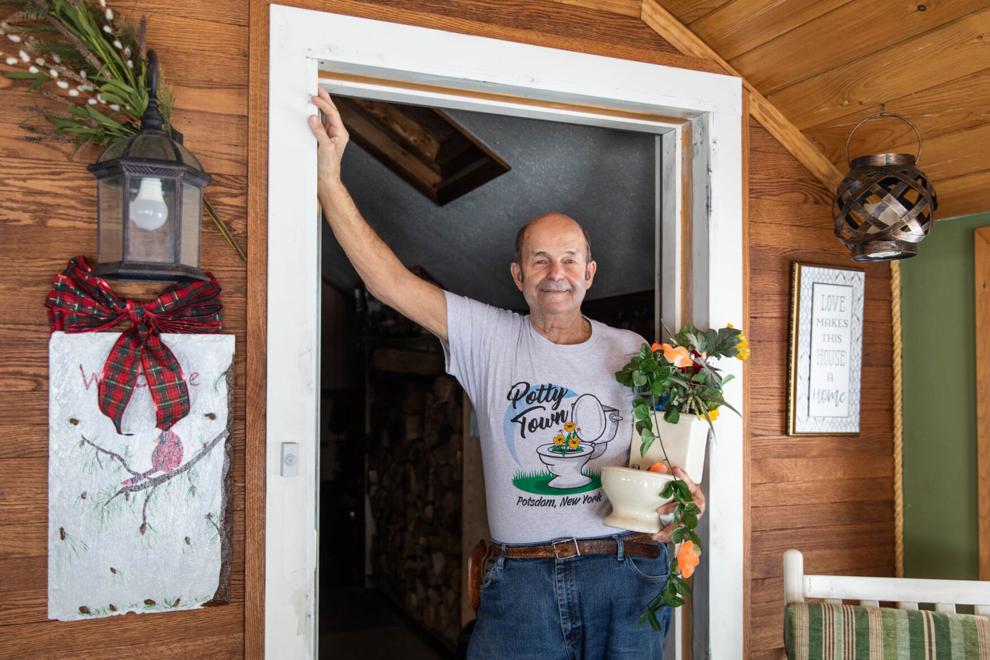 POTSDAM — It all began some 17 years ago, when Frederick J. "Hank" Robar Sr. asked the village for a zoning change at one of his properties on Market Street.
POTSDAM — When Morgan D. Elliott was 8 years old, the village's first toilet garden was seed…
When the village said no, Mr. Robar decided to put about a dozen toilets on his lot at the corner of Market and Pleasant streets. The toilets have since multiplied; there are now dozens more fixtures spread across the village.
Sitting inside his screened-in porch on South Canton Road, a few miles outside the village, Mr. Robar earlier this month told the rather uneventful story of how his first toilet garden emerged. No toilets adorn the lawn outside his home, but he does wear a "Potty Town" T-shirt and keeps a miniature replica of a flowered toilet, gifted to him several years ago.
He sat in a comfortable chair with two of his three miniature poodles — Bailey and Oreo — soundly sleeping in his lap.
"People ask me where I'm from, I always tell them Madstop," Mr. Robar said with a chuckle. (It's Potsdam spelled backwards.)
When he gets up from his chair to retrieve the replica toilet, the word "Madstop" can be seen on the back of his shirt. It's a place he's proud to call his home.
What started as a way of poking the village has turned Mr. Robar into an international sensation, with people from all over the world visiting Potsdam to see the toilet gardens he's erected at six of his seven properties.
"I think people are realizing now that it's like, you go to Niagara Falls to see the falls, you go to the Grand Canyon to see the canyon and (people) come all the way to Potsdam just to look at the toilet gardens," Mr. Robar said during an interview at his home Feb. 9. "It's becoming a national thing, it really is."
Mr. Robar was again spotlighted last year when he filed a federal lawsuit against the village for what he alleges is a violation of his First Amendment rights, among other things. He's currently seeking no less than $7 million in damages from the village.
But that all comes later.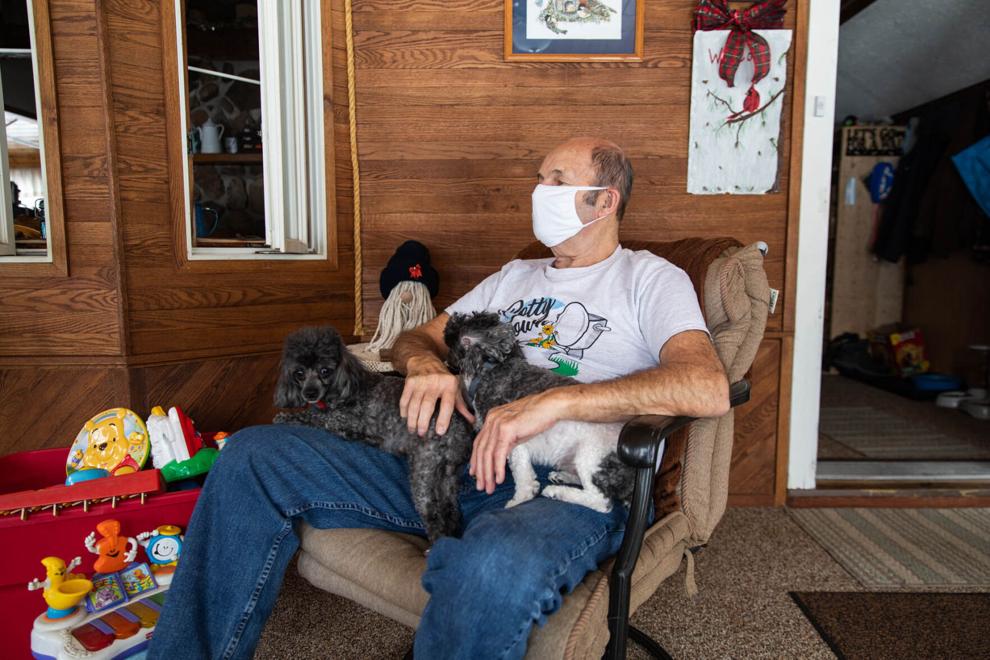 Full circle
Mr. Robar has lived in Potsdam all 79 years of his life. It'll be 80 years come his birthday on May 23, but he's still young at heart and sharp as ever.
He was born in 1941 and lived at the end of Elderkin Street just off Market for most of his childhood.
Standing on the corner of Market and Pleasant streets — the site of his first-ever toilet garden — Mr. Robar's childhood home at 18 Elderkin St. is just out of view at the end of the block. He was born just three doors down at 12 Elderkin St.
Two of the bathtubs at his Market Street toilet garden came from his grandmother's old house at 13 Elderkin St., just across the street from where he grew up. He said he doesn't have a favorite porcelain fixture, but those two bathtubs come to mind.
For Mr. Robar, this is where it all comes full circle.
Mr. Robar is from a big family; he's the third oldest of nine children — five brothers and three sisters.
One of his two living brothers, Bobby, still resides on the same block of Elderkin Street. His other brother Harry lives in Madrid. The brothers are still close as the rest of their siblings are dead.
His mother was also from Potsdam and grew up on Elderkin Street, just like her children. His father was from South Colton. His parents were hardworking people; his mother used to run a taxi cab company, called Robar's Taxi, in the late 1960s, and his father worked in the construction field. His father died in 1960 and his mother died in 1986, not long after the Space Shuttle Challenger blew up on Jan. 28 of that year.
Mr. Robar said that over the years, people have asked him what his late mother and father would think of him putting the toilets up.
"They'd be so happy," he said of his parents.
Mr. Robar's business ventures began more than 60 years ago when he purchased a Sunoco gas station in 1960. He no longer owns the gas station, but when he first went into business, he said he worked six days a week from early in the morning until late at night.
Mr. Robar began acquiring property around the village in the 1990s with the purchase of the former College Motor Lodge, which no longer exists. He would go on to buy homes and fix them up in order to rent them out. He had 41 homes across all his properties at one point, but now he has just 16. He has only seven properties, but some have multiple apartments in one house, resulting in 16 rental units.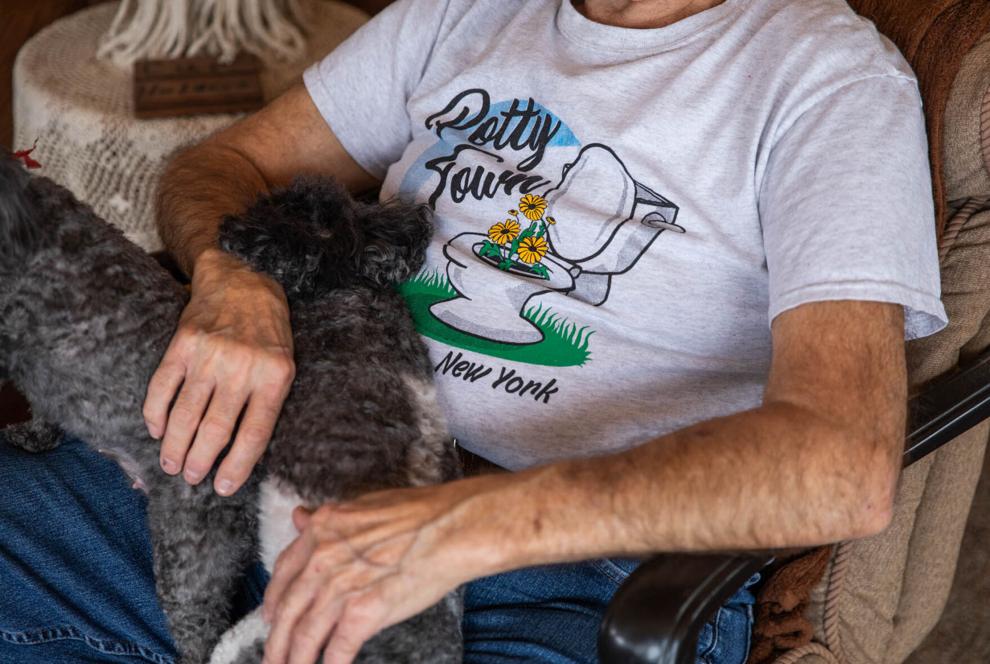 Each of Mr. Robar's properties, except for 13 Cedar St., has a toilet garden on the lot. He said the fixtures have never caused a problem with tenants like they have with the village.
"Most of them like it," Mr. Robar said of how his tenants feel about the toilet gardens.
Toilet gardens dot the lawns of 10 Pine St.; 79 Maple St.; 81-83 Maple St.; 85 Maple St.; 87 Maple St.; and 82-84 Market St.
He now lives on South Canton Road, about three miles from where he grew up. He's lived there for about 35 years and never once thought about moving.
"It's my home," he said of Potsdam, adding that he doesn't like to travel much.
"I don't do much of anything," he chuckled, which is why he loves his toilets so much. But he does like to play cards.
He makes the 30-mile drive to Akwesasne Mohawk Casino Resort on the St. Regis Mohawk Reservation near Hogansburg, Franklin County, about once or twice a week to play his favorite game, a simple poker-based table game known as Mississippi Stud.
"That's what the girls used to call me," he joked.
Sitting in his chair, with his third miniature poodle, Daisy, attempting to jump into his lap, children's toys dot the room for when his grandchildren come over for a visit. He laughed and said he doesn't even know how many grandchildren he has; he estimated between eight and 10.
"I can't keep track of them," he chuckled.
Mr. Robar has been married twice, but all four of his children are from his first marriage. He has three daughters and a son, who lives down the street from him on South Canton Road. Two of his daughters live locally as well — one in Lisbon and the other in Norfolk. His third daughter lives in the Syracuse area.
Tina M. Thomas, one of Mr. Robar's daughters, said when she first heard about the toilets, she just laughed. She also never expected her father's creations to blow up the way they have, but she now embraces them.
"I think the more (village officials) fight him, the more he enjoys it," Mrs. Thomas said of her father.
His family loves the toilet gardens, Mr. Robar said. It's something he said he plans to pass down to his children and grandchildren when he dies.
"I'm gonna put it in my will so they have to maintain it," Mr. Robar laughed.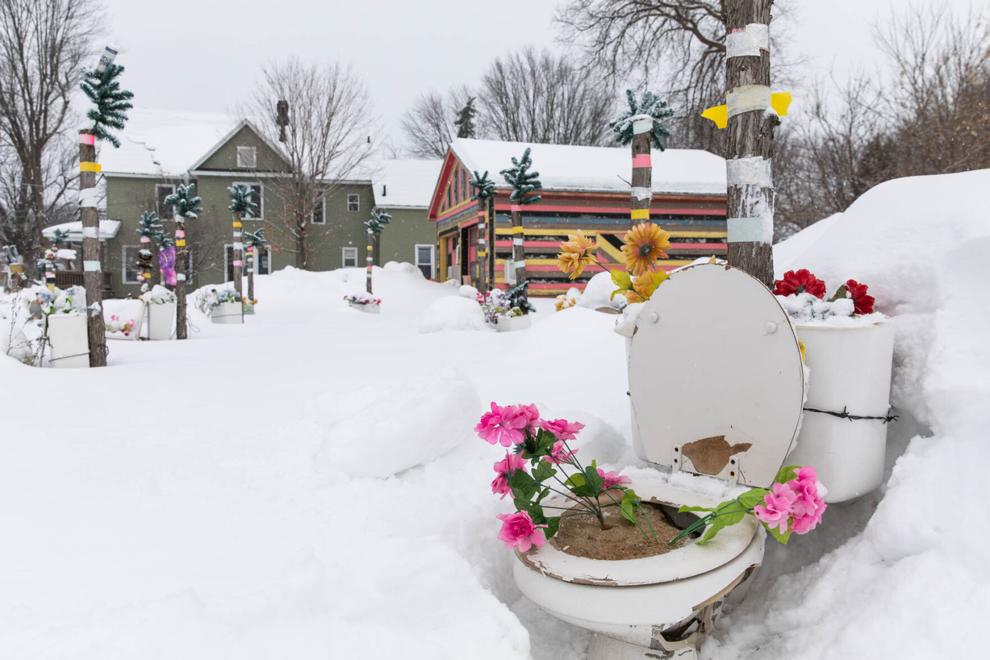 The first toilet garden
The story of how the first toilet garden came to be all started in 2004 when a buyer was interested in purchasing 82-84 Market St. — the corner of Market and Pleasant streets. The corner part of the lot had nothing on it at the time, but there was a home and detached garage Mr. Robar said the buyer would have knocked down to make room for a Dunkin' Donuts coffee chain.
But in order to build the coffee chain store, the property needed to be rezoned.
He went to the village board seeking the zoning change, but was told no because of traffic concerns. Mr. Robar isn't convinced of the village's reasoning for denying his request because a Dunkin' was built about three blocks up the road after its approval in 2005. There was also a Stewart's Shop on the adjacent Market Street corner, which is now occupied by a Five Guys burger chain. Before it was a Stewart's it was a gas station Mr. Robar once owned.
Mr. Robar said that at about the same time, a realty company from Watertown was interested in buying another one of his properties across the street from Clarkson University. He said once his zoning change request for the Market Street property was shot down, he asked if the board would instead change the zoning for one of his lots on Maple Street across from the school.
But he remembers a board member telling him something that has stuck with him all these years.
Mr. Robar said he was told that the Maple Street property "will never be changed, just like your property on Market."
"That's about when I started," Mr. Robar said of when he began building the toilet gardens.
The inspiration for the toilet gardens came about after Mr. Robar saw another place in Potsdam displaying the fixtures similarly for more than 20 years.
When he first started, he would go dumpster diving to find toilets, urinals, sinks or bathtubs, but now people just drop them off. Each fixture is adorned with artificial flowers, something he said he spends about $500 a year on.
"I try to keep them looking good," Mr. Robar said, adding that he likes to think of different ways to spruce up the fixtures as he goes. Each has a hole in the bottom where a pole is put through in order to hold it upright, then filled with sand and decorated with flowers. The poles help the fixtures stay in place, especially in the winter. Right now, with all the snow the village has received recently, only the roughly 8-foot-tall poles are visible under the snow cover.
When the weather warms up, Mr. Robar will be out in the sun, mowing the lawns and fixing up any damage the fixtures sustained during the cold winter months. Some of them break from the cold, he said.
"It gives me something to do," he said. "I really honestly enjoy it — fixing them up, keeping them looking good."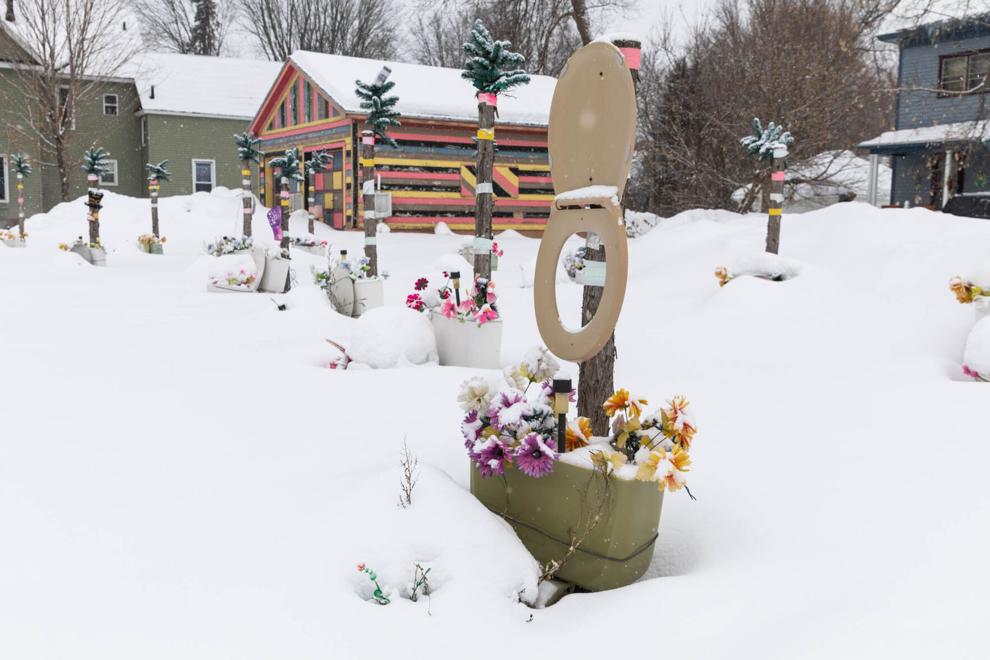 Federal lawsuit
In December 2018, the village adopted its own junk storage law. The law stated that the accumulation or maintenance of "junk material" is prohibited in the village where people can see it while traveling public streets.
Last summer, the village passed a resolution ordering Mr. Robar to remove his fixtures, in accordance with the junk storage law, by Sept. 1, 2020. But in late August, Mr. Robar filed a federal lawsuit against the village. He was seeking a preliminary and permanent injunction — asking that the judge prevent the village from removing any fixtures from his properties — and no less than $7 million in damages.
In his lawsuit, Mr. Robar alleged that the village's junk storage law was adopted in retaliation of his political speech and artistic expression. He also alleged that the village violated his First Amendment rights to artistic expression and political protest, his Fourteenth Amendment rights to equal protection and rights under the Visual Artists Rights Act of 1990.
"Everybody's got their own rights," Mr. Robar said earlier this month, "and the biggest problem, I think, is that people don't stick up for their rights."
The judge granted Mr. Robar's injunction in September, and the case quietly moved into the discovery phase. But on Feb. 1, the village board unanimously voted to rescind its junk storage law, allowing the toilets to stay. The move left the fate of Mr. Robar's suit in limbo.
It was unknown to Mr. Robar's attorney, Jon E. Crain, that the village was going to rescind its resolution, but he confirmed Feb. 2 that the suit will be moving forward. He was unable to provide further details as it's a pending lawsuit, but he did confirm Wednesday that shortly after the resolution's passing, the village's legal team reached out with discovery demands. Mr. Crain said this leads him to believe the village is looking to move forward with the lawsuit.
"I think (village leadership) just realized that they've overstepped their power," Mr. Robar said.
Mrs. Thomas, Mr. Robar's daughter, said it's been an "interesting ride" to watch her father's ongoing dispute with the village.
"I'm proud of him for standing his ground," she said.
On Feb. 2, village Mayor Reinhold J. Tischler — one of many defendants named in Mr. Robar's suit — said the village's repeal of its resolution pertaining to Mr. Robar's properties was a "direct order" from Senior U.S. District Court Judge Lawrence E. Kahn.
The judge's decision handed down Sept. 21, 2020, says the defendants are "restrained, until further order of the Court, from enforcing" the junk storage law as it applies to Mr. Robar's toilet gardens, but stopped short of ordering the village to rescind its resolution requiring him to remove the fixtures. There has been no further order of the court since Judge Kahn's ruling last year, which also granted Mr. Robar's injunction.
"If they were smart, they would've embraced (the toilets)," Mrs. Thomas said of the village.
The village's latest move marks the third time officials have tried, and failed, to have Mr. Robar dismantle his toilet gardens.
In 2008, the village issued Mr. Robar an appearance ticket for a code violation, which resulted in a hearing. Mr. Robar argued the toilet gardens were art and it's his First Amendment right to have them.
During the hearing, St. Lawrence Health System Chief Executive Officer David B. Acker spoke to the board as both a private resident of the village and as a representative of the hospital system. The toilet gardens, he said, made it difficult to recruit young doctors who would want to stay and invest in the community.
Mr. Robar said that the hospital system and Clarkson University are the two entities lobbying hardest for the removal of the toilets.
The 2008 case was dismissed because Code Enforcement Officer John F. Hill failed to bring documents to the court.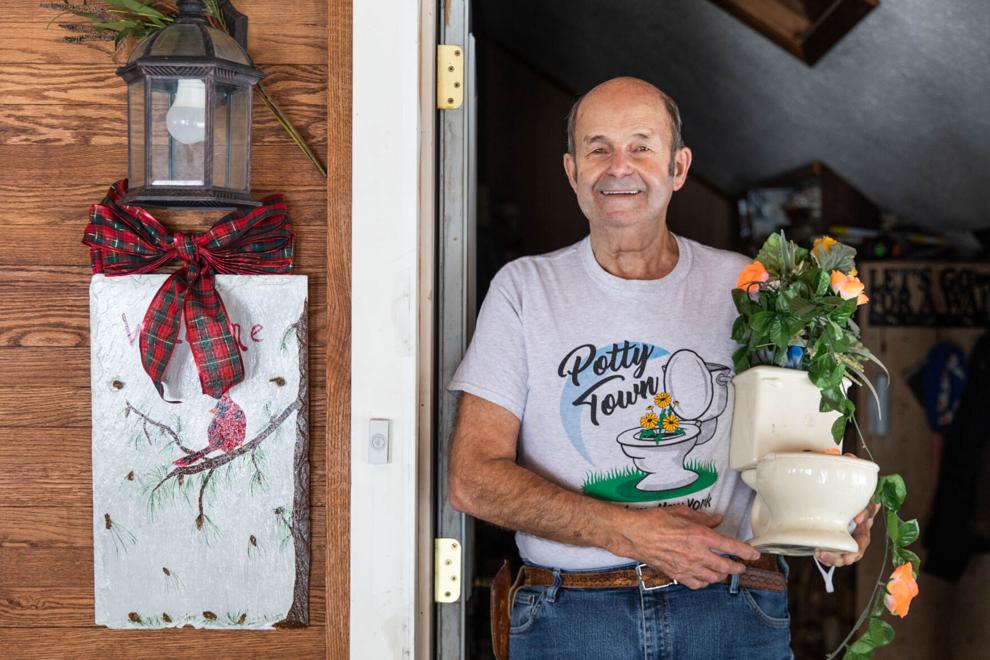 In 2010, the village tried again, but after the presiding judge resigned amid cocaine-use allegations, the case was dropped and the village decided not to pursue it.
Mr. Robar said if prompted, at his age, he might sell his properties so the toilets gardens could be taken down, but the price would have to be "right."
"It would be high," he said of the price with a laugh. "Everything's for sale if the price is right."
For now, Mr. Robar plans to wait for the snow to melt before he starts cleaning up his toilet gardens from the winter damage. It'll be another year of maintaining the creations he's fought so hard to keep a village staple for so many years.
The fate of Mr. Robar's suit still remains unclear, but he said that as long as he's alive, his toilet gardens are here to stay.