THERESA — The co-owners of a new cafe and boutique here will be preserving history and making some of their own in this 180-year-old village.
When it opens on Memorial Day weekend, Jezi's Cafe and Boutique will serve up a side order of optimism.
"It's about business, it's about tourism, it's about history and dreaming big," said Desiree M. Howard, who owns Jezi's Cafe and Boutique with business partner Jessie M. Taylor. "If you can pursue your dreams, I think that's what you should do."
Adjacent to the property, not connected to it but also bringing a sense of optimism to the village, a stone wall that is falling apart will get new life thanks to an effort being spearheaded by Theresa Rotary Club with help from the owners of the new eatery.
"The wall fell down and Jessie and Desi bought the annex, which was ready to be demolished," said Jill Van Hoesen, secretary of Theresa Rotary. "They've done a wonderful job of revitalizing it. It's a big deal that they took it out of disrepair and basically remodeled it and will open a brand new business in downtown Theresa."
Mrs. Howard and Ms. Taylor purchased the historic "Mary's Annex" at 207-09 Commercial St. last summer for $4,000. The property was once part of the estate of William D. Chapman. At Main and Commercial streets in Theresa, he started a factory that produced metal fishing lures, an innovation for his day. Certain Chapman lures, which in the late 1800s were selling over the counter at $9 per dozen, are today collectors' items commanding thousands of dollars.
Mr. Chapman, a Theresa native, was born in 1820 and entered the jewelry and watch businesses before founding his lure company in the mid-1850s. He died in 1909. His home would later be converted into a hospital and in 1962 it opened as an adult home. It now houses apartments.
"Mary's Annex" is in front of the former Chapman home at 211 Commercial St. Mrs. Howard said the annex received that name because Mr. Chapman built the small building for his wife, Mary, in 1890. It's now a property owned separately from the main structure, built in 1850, behind it. Over the years, the annex has been used as a beauty salon and barber shop. It's been empty and falling into disrepair for about three decades.
"The building is so unique," Mrs. Howard said of the octagon-shaped structure to which she and Ms. Taylor built an extension.
"We had to remove 37 tons of stone by hand via a jackhammer and five-gallon buckets to make room for the addition of the cafe," Mrs. Howard said.
After they purchased the building, they may have seen lots of hope, but inside it, they were staring at a challenge.
"It was very dilapidated and in disrepair," Mrs. Howard said. "There were lots of holes that needed to be filled and it was full of a lot of junk. You really needed to have a vision when you walked in."
When she had visitors to the rundown structure, Mrs. Howard offered two key pieces of advice:
"Be careful where you walk."
"Keep an open mind."
That strategy has paid off.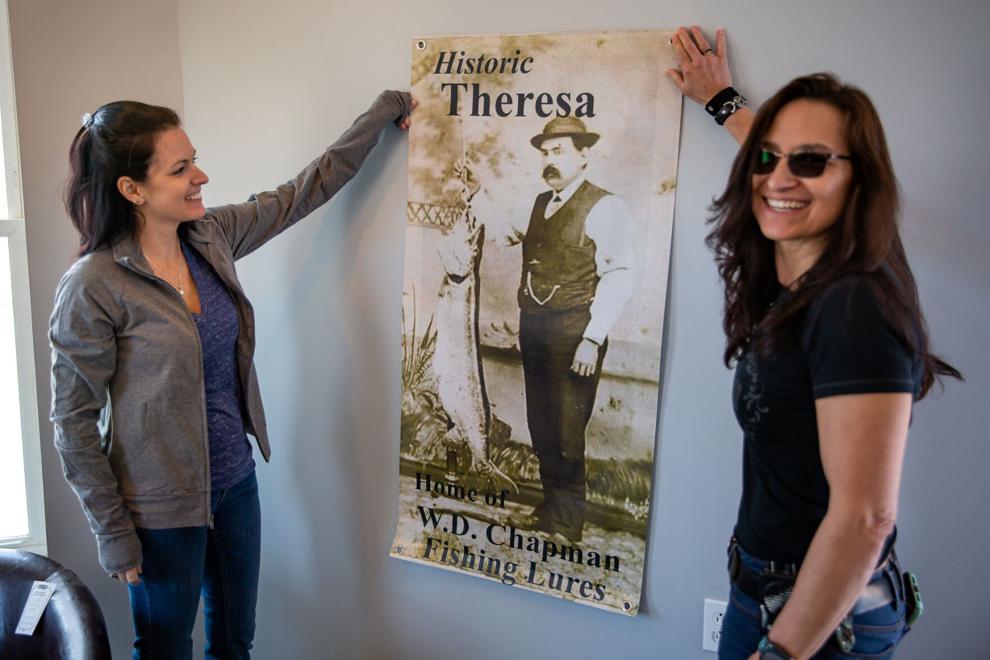 "We've had people who've walked in when it was a hot mess," Mrs. Howard said. "People who have walked in since have gone, 'My God — everything you said you were going to do, I can see it now.'"
Mrs. Howard said that she and Mrs. Taylor want to "enhance" the selection of offerings found at area eateries. They don't plan to serve up dishes like burgers, pizza or chicken wings.
"Those are already offered at local businesses," she said. "We're doing things like specialty coffees, specialty milk and panini sandwiches. Food will be air fried versus deep fried."
The "boutique" part of the business will offer a spot where local crafters and artists will be able to offer their wares.
The motif of Jezi's Cafe and Boutique is industrial.
"Everything is like gears and things like that,'" Mrs. Howard said.
The business will also be the base for the Theresa Beast Challenge, which will take advantage of the area's outdoor opportunities. Participants will be rewarded with different levels of "beasts" as they complete yearly challenges ranging from kayaking to bicycling.
Mrs. Howard was born in Batavia and grew up in Watertown. She considers Theresa, where she's lived for about 30 years, as her hometown. Ms. Taylor is a native of Texas.
"We met, became best friends and decided to go into business together," Mrs. Howard said. The Jezi's name is a combination of Desi and Jess, Mrs. Howard said.
Theresa Rotary and Jezi's are conducting a "Build the Wall" campaign to reconstruct a portion of the century-old stone wall on Commercial Street. This spring has seen the wall deteriorate to the point where the walkway is obstructed by fallen debris. The cost to reconstruct it is estimated at $2,800. It's hoped that the original stone of the wall will be used in the reconstruction.
"The stone is still there," Mrs. Van Hoesen said. "It's just like it's decayed enough to have it fallen apart. We're going to take the original material and try to build the wall to its original grandeur as best we can. We don't want to change the look of it. Those stones probably came from the masons who lived in Theresa."
Hopefully the wall project will be completed by Memorial Day, Mrs. Van Hoesen said, in time for the parade and other festivities sponsored by Rotary.
"It's obstructing the sidewalk and it's a busy thoroughfare," Mrs. Van Hoesen said. "We'd like to get this cleaned up for when all the kids will be going back to school by the fall. And we want it cleaned up and looking good for our Memorial Day that Theresa Rotary sponsors. This is just another step in the beautification and restoration of downtown Theresa."
Donations for the wall project may be sent to Theresa Rotary Club, P.O. Box 543, Theresa, NY 13691.
Times archive librarian Kelly Burdick contributed to this report.